Make Halloween fun at home with these 50 Halloween crafts for kids! You'll love these quick and easy activities, great for children of all ages.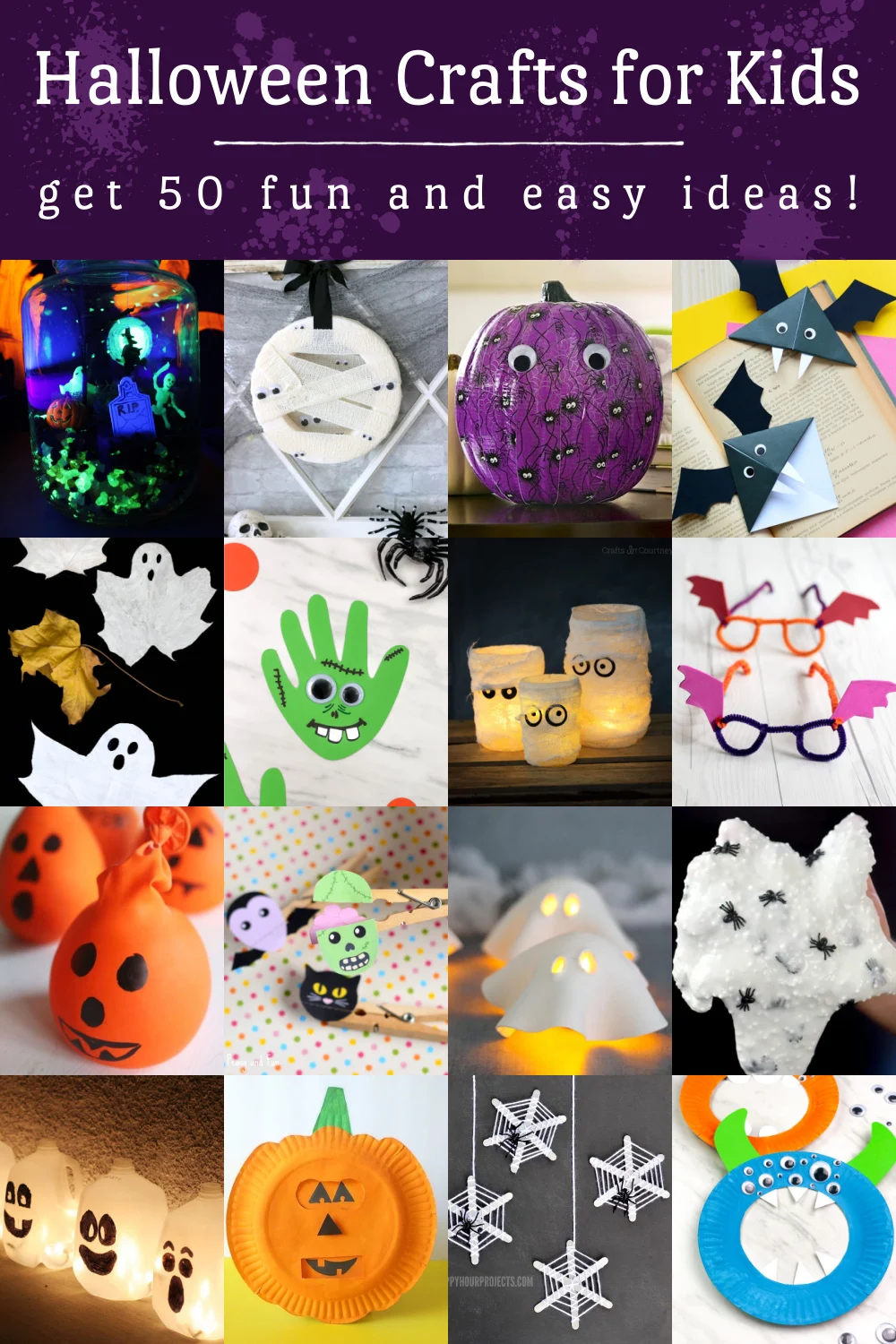 Anyone that knows me in person knows that Halloween is my favorite holiday! There are so many things I love about it. I actually prefer a holiday where the focus isn't on gifts, it's on dressing up and candy.
Not that I have anything against gifts, but the pressure is off on Halloween as far as I'm concerned. It's less about stress and more about having a great time.
One of the best parts about Halloween besides candy is the creativity. I absolutely love Halloween arts and crafts for kids! There's a lot of orange paper, googly eyes, and glow in the dark glitter.
Some of my favorite supplies are used during Halloween, and when else are you going to combine orange with purple and black?
I decided to pull together my favorite Halloween crafts for kids and share them with you in this collection. Most of these easy Halloween kids crafts can be made in 30 minutes to an hour using items that you have around the house! No special tools or skills are required.
So what can you expect with these Halloween ideas? You'll be using a lot of recycled materials like jars, toilet paper rolls, milk jugs, and more. It's nice to be able to dig through your recycle bin and grab free surfaces, right?
As far as supplies, you'll use pretty standard kids craft supplies like Mod Podge, Duck Tape, pipe cleaners, paper plates, popsicle sticks, etc. I'm sure if you have children you have a lot of these items on hand, and if you don't, it won't be too expensive to grab some goodies from Amazon or the craft store in preparation.
One thing I can guarantee about these Halloween crafts for kids? As an adult, you're going to love these too. I know you're thinking I'm crazy, but trust me – take a peek at this list and you're going to have just as much fun as your littles with these ideas.
Honestly, I feel like I've said too much already. It's time to dive into the crafts. Simply scroll down and check out the list below, then let me know your favorites in the comments!
Halloween Crafts for Kids
Kids absolutely love Halloween crafts! You're going to love these quick and easy ideas, perfect for children of all ages.
---
If you enjoyed these craft projects for the littles, I'd love for you to check out these other posts: