If you're looking for easy crafts for adults, here are 50 ideas to try! Whether you're starting a new hobby or making to sell, you'll love these projects.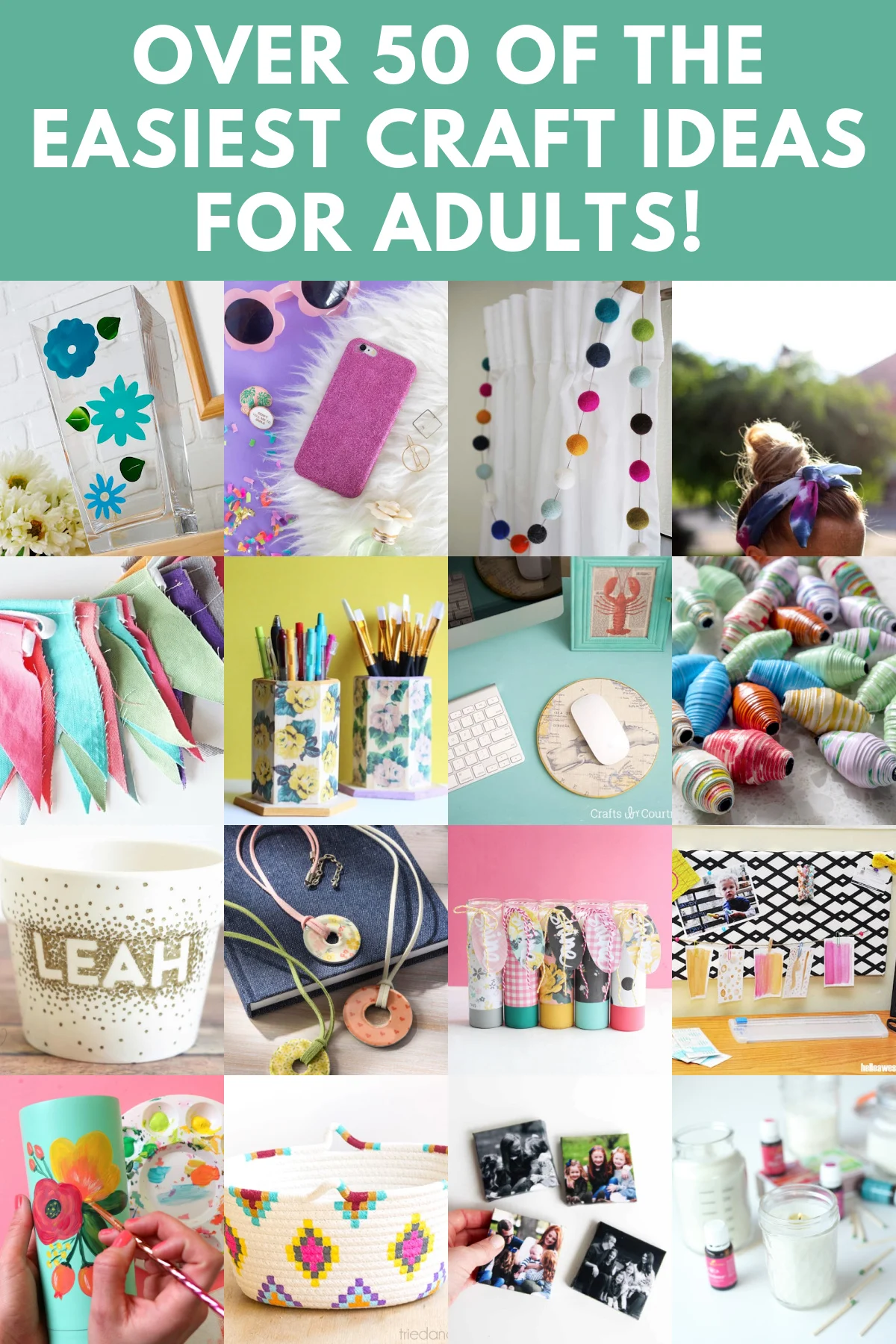 I've been crafting ever since I was young, but you know what I've realized as I get older? Not everybody has. Some of you have gotten into crafts later in life, and for that – I salute you.
It's never easy to try something new as an adult (maybe it's just me?), but the thing is – you're never too old to start crafting. The only question you might have is a pretty common one:
Where do I start with adult crafts?
Never fear my friends; I have your back. I've got a great list of arts and crafts for adults. Did I mention I have fifty ideas? There's a little something for everyone on this list, so no matter what you like you'll find something.
I will say – not all of these easy crafts for adults use Mod Podge, but most of them do. I had to throw a few in there that I love but aren't all about the decoupage.
All of these are crafts to do at home. There are art activities including jewelry making, painting, paper crafting, stamping, hot glue crafts, fashion crafting, dollar store crafts, and more. There's something for everyone on this list no matter your skill level.
I'm going to be curious which of these craft ideas for adults you decide you try – or which you've already attempted. If you're a newbie crafter, I'm here for you. Let me know what you tackle and how it turns out in the comments!
Easy Crafts for Adults
Try one of these 50 fun craft ideas for adults. These simple projects are a great place to start when learning a new hobby. Pick your favorite from below!
---
Do you like arts and crafts? I'd love for you to check out some other DIY craft ideas! I think you'll like these fun adult crafting posts:
50+ Fun Crafts • Crafts for Seniors • Easy Things to Paint • Valentine's Day • St. Patrick's Day • Spring • Easter • Fall • Halloween • Thanksgiving • Christmas • Winter