If you've never tried Mod Podge jewelry before, here are 30+ ideas you'll love! Decoupage jewelry is fun, easy and great for gifts.
Skills Required: Beginner. All of these projects are perfect for beginning crafters! All you need is to make sure you have some jewelry tools and basic knowledge of how to attach jump rings and bend wire. It's relatively easy.
Lately I've been seeing an influx of decoupage jewelry ideas, and I thought about it – I too love making Mod Podge jewelry! In fact, I've made quite a bit.
The reason I'm so obsessed with it? Because it's easy (I'm not talking fancy wiring here), it's relatively quick, and you can use up items from your stash (scrap paper, embellishments, etc) since the items are typically small. I also love the gift-ability of it.
DIY Jewelry
Before we dive into how to make jewelry, I want to share some tips for success. First, I'll discuss Dimensional Magic and then my preferred supplies. Then you'll be ready to try!
Using Dimensional Magic
I'm going to introduce you to a really cool Mod Podge formula that you're going to love using in your decoupage jewelry projects. It's called , and it acts like a resin, but it's non-toxic.
Dimensional Magic – even though it's a Mod Podge product – is not used to glue things down. Instead, it's used to put a glossy-like finish over the top of your jewelry crafts. Let's say you Mod Podge a piece of scrapbook paper to the top of a pendant. What do you put over the top?
Dimensional Magic.
You really need to see it believe it, but it adds a special finish over the top and your piece will look complete. The finished is raised, hence the dimensional part of the name.
It's also truly magic, so you see how it all comes together!
Of course you don't need to use DM on your Mod Podge jewelry, but if you've never used it before, you're going to fall in love (and if you do use it, please read my FAQ for that product!).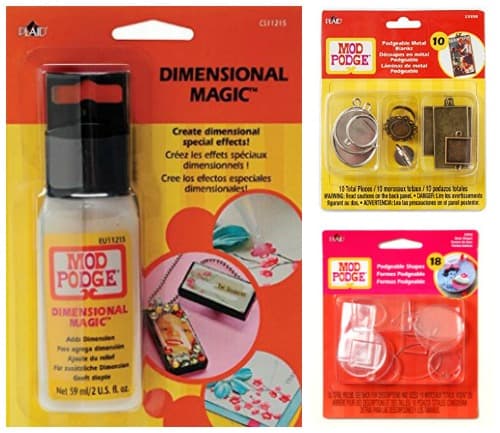 Supplies You'll Need for Decoupage Jewelry
I'm not an advanced jeweler, so I just have basic supplies including:
Findings (earring wires, necklace chain, jump rings to attach everything)
Wire
Tweezers
Jewelry pliers
You can get a basic set online or at the craft store. Typically the cheaper the findings, the more flimsy or lower quality – this has been my experience.
I generally stick with sterling silver but it really depends on what I'm making. I like metal blanks and acrylic shapes for my inexpensive jewelry projects. They look good but they don't break the bank!
Ready for over 30 Mod Podge jewelry projects? Scroll down to see them. Which one will you make first?
Mod Podge Jewelry
Get tons of ideas for making jewelry - necklaces, bracelets, earrings, and more! All these projects use Mod Podge products and are easy enough for beginners.
---
Want to see more DIY jewelry projects made with Mod Podge? Click to see some easy necklace projects! I'd also love for you to check out these posts: