Are you wondering what it means to "decoupage?" I run a Mod Podge blog and I'm here to explain everything. Click through to learn more!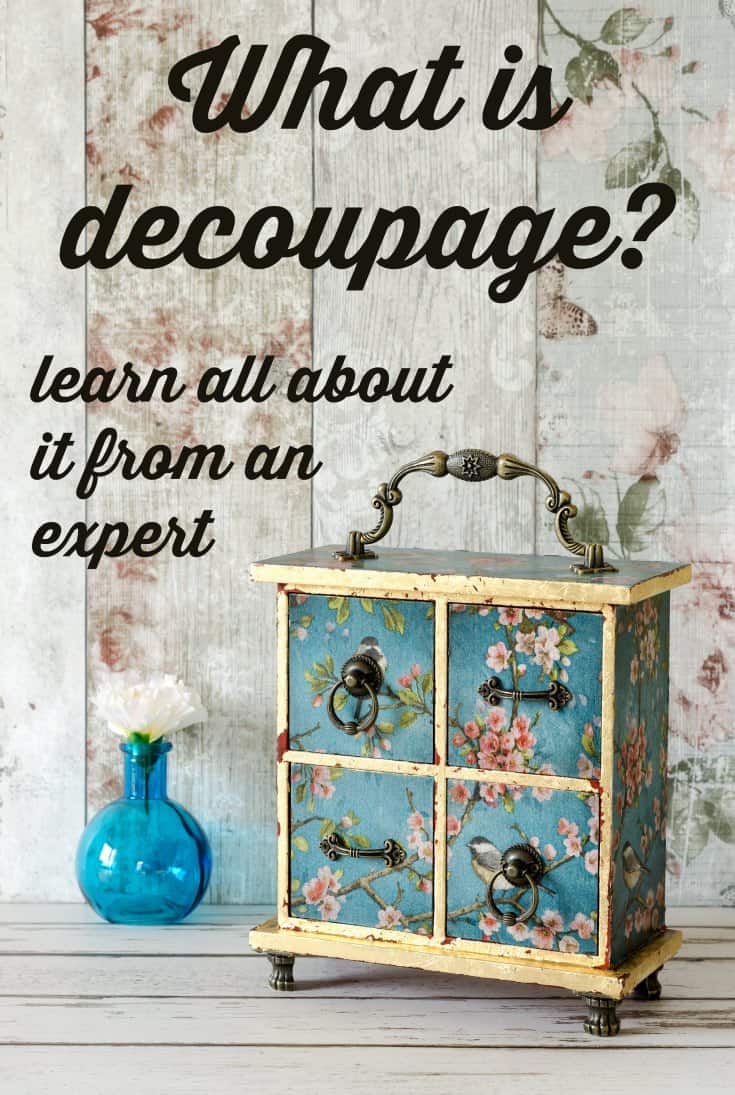 As the purveyor of a Mod Podge blog, you can imagine I get asked one very important question ALL the time:
What is Decoupage?
I'll admit that decoupage seems like a more complicated concept than it really is because the word sounds fancy. "Decoupage" actually comes from the French word "decouper," which means to cut out or cut from something else.
If you are a decoupager, that means that you engage in the artistic pursuit of gluing items to a surface. Which – although it might sound like something kids do in kindergarten – is absolutely NOT THAT AT ALL.
Decoupage is an Art Form
Decoupage truly is an art form. Sure, you can make it more basic if you like (and I do), but many a fine artist has used a decoupage medium to create a unique piece.
Projects are enhanced not only with papers and fabric, but with painting effects, gold leaf, ink, embellishments, and even other mediums.
I'm constantly amazed at what people are doing with Mod Podge in my Facebook group, and generally impressed with the level of talent. It's not just a craft.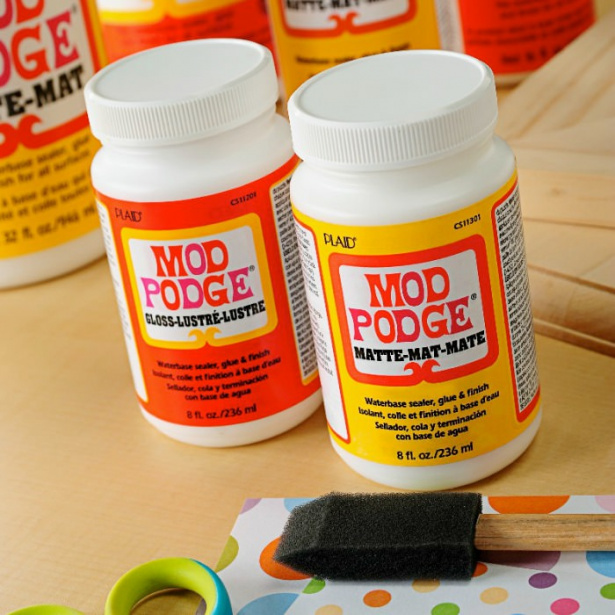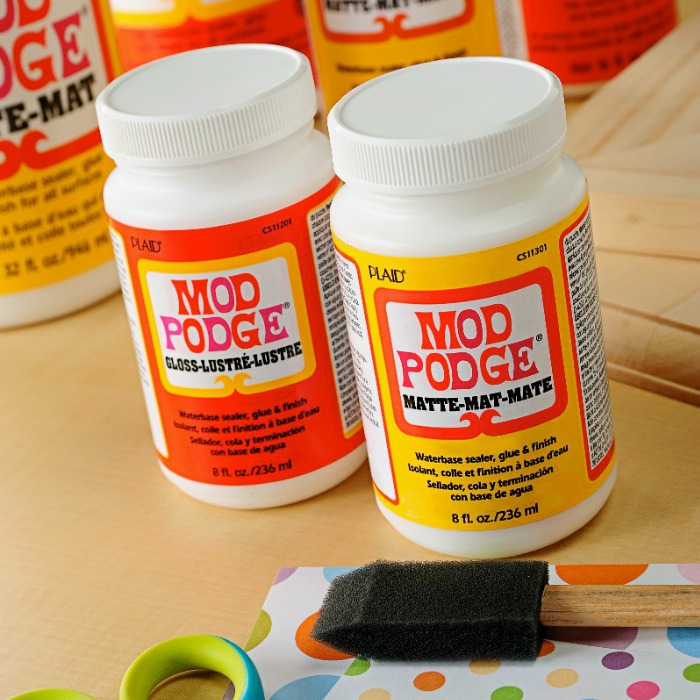 As for me, I typically use the word in two ways. I use it as a noun with the Wikipedia definition: "the art of decorating an object by gluing colored paper cutouts onto it." I also use it as a verb . . . such as, "to decoupage paper onto a surface." And of course I do this all with Mod Podge!
The Basics of Mod Podge
If you want to engage in the art of decoupage, it's very easy to get started. You'll pick a surface, prepare it, and then decorate with paint or other effects (you can also leave it bare if you like that look). Here are common surfaces:
Wood
Tin
Glass
Ceramic
Metal
Fabric (including clothing and shoes)
Terra Cotta
Once you decide on a surface, you'll pick something you want to adhere to the surface:
THEN you'll choose your medium to bring it all together. Many believe that a decoupage medium is simply school glue or a vinegar/water/corn starch, but that is not the case (learn more here).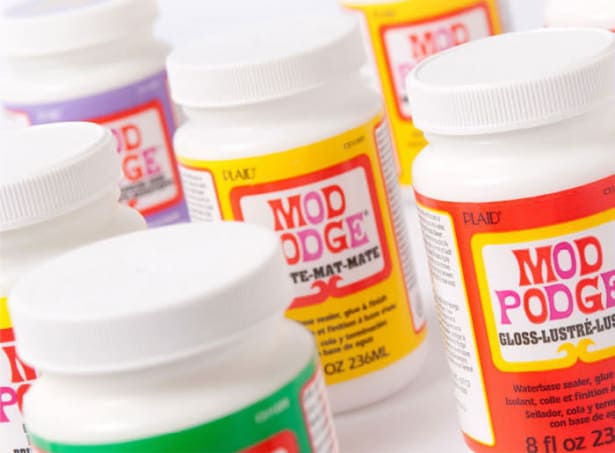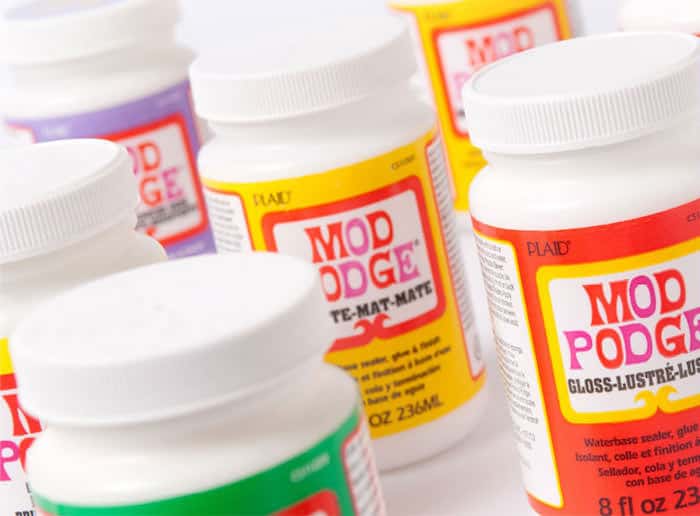 What is Mod Podge?
My medium of choice is Mod Podge, and it is a glue, sealer, and finish all in one. Mod Podge has ingredients and properties that a regular school/craft glue doesn't have, and that is why Mod Podge projects that were created 40+ years ago are still around.
I've seen projects made by the original inventor of Mod Podge, Jan Wetstone, with my own eyes – and they are in perfect condition. That is what a good decoupage medium does for you!
If you are wondering which Mod Podge to use (there are quite a few), I've written a formula guide to help you select the appropriate type. You can access it for free by clicking the link below:
How to Start Decoupaging
Decoupaging isn't hard, but it does take practice. What I LOVE about it is that you won't need to make a huge investment to get started, and you don't have to be an expert crafter to try it.
I'll never forget when I started knitting at 15 years old; there was a huge learning curve. This is nothing like that!
My #1 piece of advice when starting just about anything, but particularly this new hobby, is to dive in. Start with something easy (I have 20 Mod Podge crafts for beginners here) and expect to fail a few times. Go to the dollar store to purchase surfaces or buy a few $1 plaques at the craft store, and practice, practice, practice!
My first project was a tray loaded with bubbles and wrinkles and ended up in the garbage. Before long, I was decoupaging with ease, and now there's nothing I can't do!
Yield: 1 project
Decoupage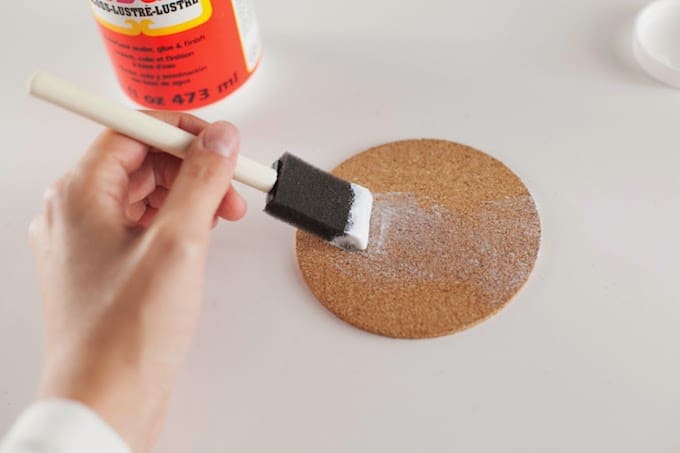 Do you want to learn how to decoupage the right way? This tutorial shows you the seven most important steps to Mod Podging correctly!
Materials
Surface
Mod Podge
Scrapbook paper or fabric
Acrylic paint (optional)
Tools
Paintbrush
Scissors
Ruler
Pencil
Craft knife and mat (optional)
Instructions
Prepare your surface. Almost any surface can be used to create a decoupage project. Suitable surfaces include wood, papier mache, terra cotta, tin, cardboard and glass. Optional: basecoat your surface with acrylic paint.
Pick your Mod Podge formula.
Prepare Items to be Mod Podged. Cut out the paper or whatever it is that you are planning to decoupage. Experiment with design elements to determine the layout of the piece.
Cut items to fit the surface. Measure as necessary, with a ruler and a pencil, and trim items to fit.
Adhere each element with your Mod Podge. Always start with the underlying design elements and work upward (when layering). Apply a medium coat of Mod Podge to the surface.
Smooth, Smooth, Smooth. Keep smoothing until all of the bubbles are removed. Then, AND THIS IS IMPORTANT, let the project dry for 15 – 20 minutes. Don't put a top coat on right away.
Add a protective coat of Mod Podge to the project using a sponge or flat brush. Allow to dry and then repeat. Let dry before using.
Notes
Only SOME plastics are okay for decoupage – I recommend testing a small area before completing your entire project to make sure that the Mod Podge will adhere.
---
Are you ready to get started with decoupage? I have one more article to share with you. My 7 steps to perfect Mod Podging are below; just click on the image. Let me know what your first project is and how it went in the comments, or share with my Facebook group here. Happy decoupaging!