What is Mod Podge? It's a decoupage medium – an all-in-one, glue, sealer, and finish. Learn more about Mod Podge and how to use it here!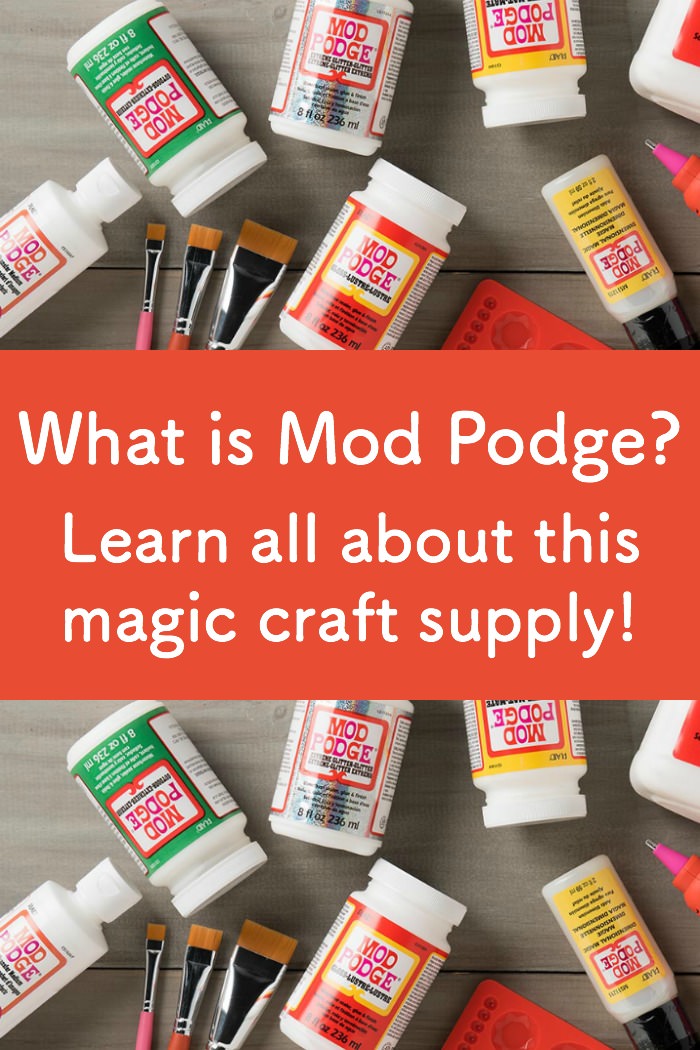 I'm so excited to dive into the magical world of Mod Podge with you today! If you're just visiting the blog for the first time, welcome. I'm sure you can tell just by the URL that I'm obsessed. If you're wondering, "what is Mod Podge?" then you've come to the right place.
It's basically the best craft supply of all time.
At least, in my humble opinion! And I'm looking forward to telling you all the details.
What is Mod Podge?
Let's start with the obvious – what is Mod Podge? It's all-in-one glue, and finish that does three things:
Glue: you can use it to adhere items to porous surfaces
Sealer: paint a protective coat over the project, to seal in your work
Finish: add a final finish to the project, which depends on the formula
Mod Podge is used in the art of decoupage, or gluing paper/fabric to surfaces. In fact, the name comes from combining "modern decoupage."
When was it invented?
Jan Wetstone invented the product over 50 years ago, in 1967. Before I ever picked up a bottle, I recognized the logo. I feel it's really memorable:
You've probably seen it before if you're here! Mod Podge is at every major craft chain, Dollar Tree, Target, Walmart, and a variety of other stores in the US and worldwide.
What exactly is Mod Podge?
If you want to get down to the nitty gritty, Mod Podge is a polymer that contains polyvinyl acetate, defined as "a synthetic resin made by polymerizing vinyl acetate, used chiefly in paints and adhesives."
If you open a bottle of the good stuff, it's white, creamy, and of medium viscosity. Though I will say, some formulas are thicker than others. It's easy to paint on and it dries clear.
What it is NOT is Elmer's glue, and you shouldn't make your own (find out why).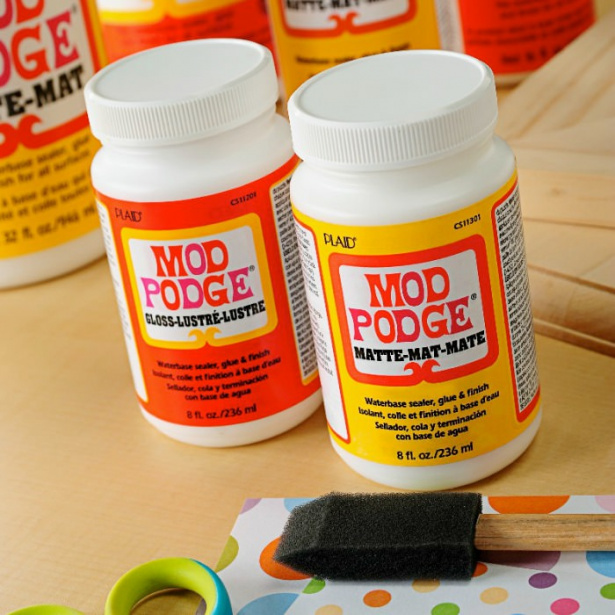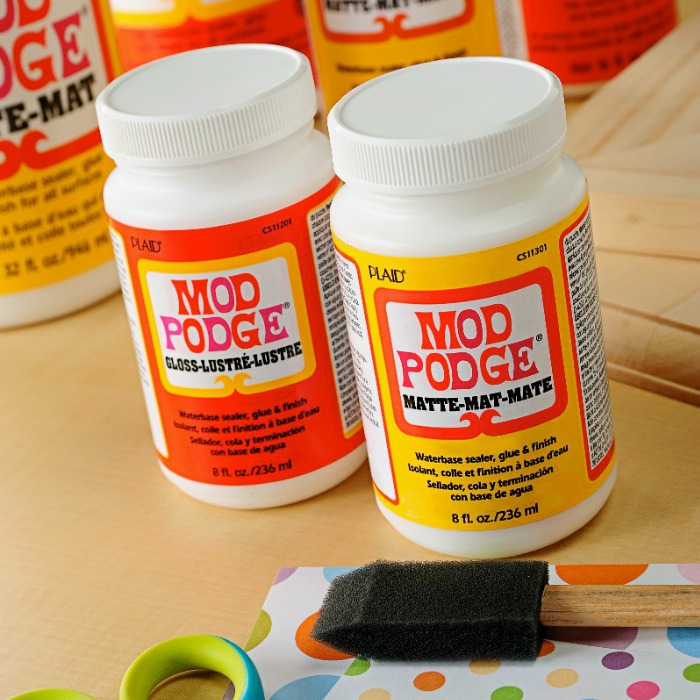 Is it the same as PVA glue?
Mod Podge contains PVA, but it's not the same. There are other ingredients.
What can be used instead of Mod Podge?
I know some of you don't have access to Mod Podge – especially internationally. If it's not available where you live, I recommend PVA glue. PVA isn't perfect, but it will have to do 🙂
Mod Podge Projects
Now that you've learned exactly what Mod Podge is, you're probably wondering what to do with it! I think it's time to share some projects in a few categories to give you a flavor of what it can do.
I'm going to go over some popular surfaces with you, and sample projects. I will tell you that most of the time, I'm using decoupage medium to adhere paper to wood or fabric to wood.
Having said that, Mod Podge works on paper, wood, fabric, glass, ceramic, terra cotta, tin . . . and even some plastics. Let's dig in to how decoupage will work on various surfaces, so you can get an idea of what you'll be doing (plus sample projects!).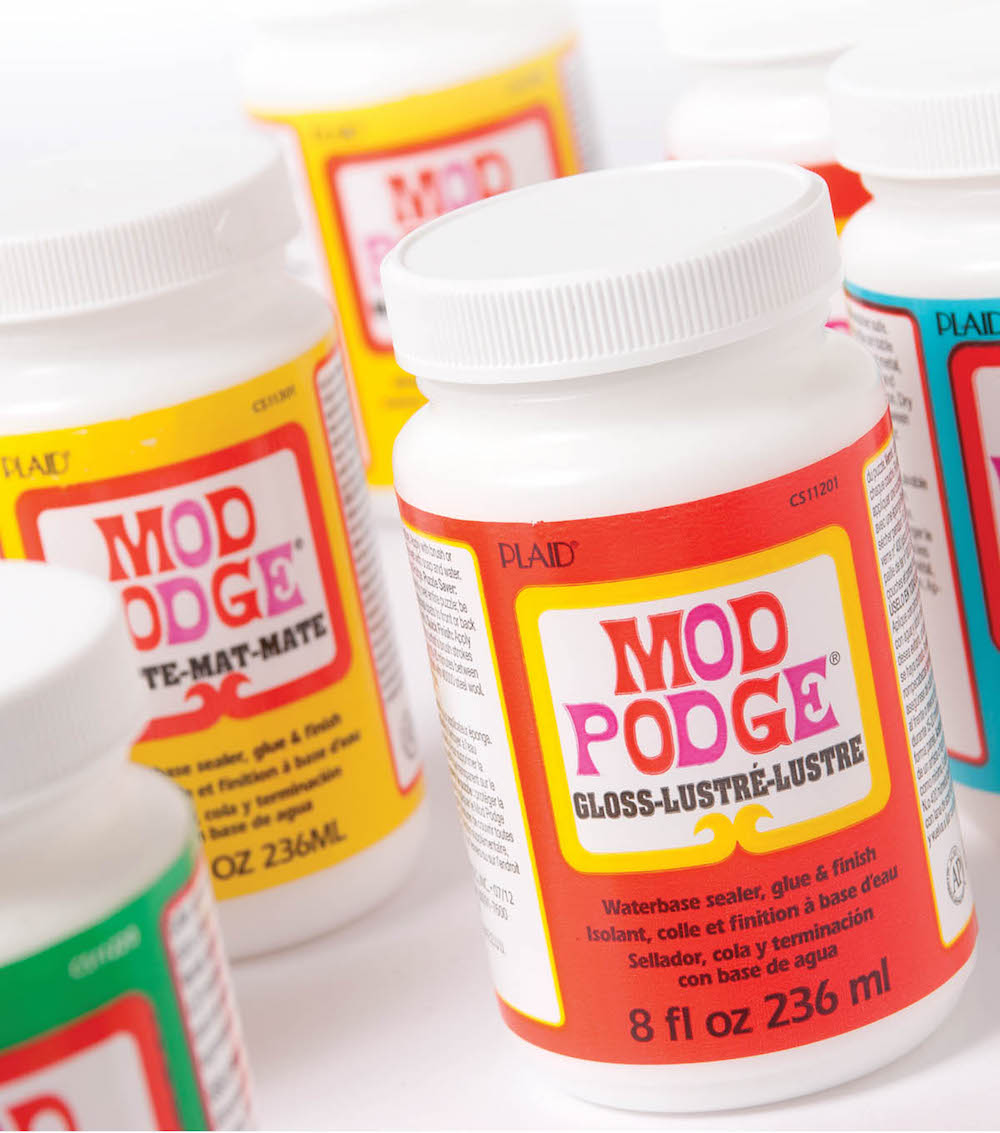 I told you that most of the time I use decoupage medium to attach paper or fabric to wood, and that's true. If you're going to apply Mod Podge to wood, It's a four-step process:
Prepare the wood surface. This can include painting with acrylic paint – but the painting is optional.
Cut out your items to decoupage to the surface, whether they be fabric, paper, etc.
Paint Mod Podge on the surface. You can paint Mod Podge on the back of the item (the fabric or paper) as well. Smooth down to the surface. Let dry 15 – 20 minutes.
Add a top coat of decoupage medium and let dry. Repeat as desired (I usually do about 2 – 3 coats).
It's a relatively straightforward and simple process, though I do recommend practicing before you get started. I always recommend that crafters purchase a $1 wood plaque (or frame, whatever is cheap) from the craft store to begin.
Grab a single piece of scrapbook paper, newspaper, or fabric. Use the process above to attach the piece of paper or fabric to the plaque. Practice a bit before you get started. We have a great list of beginner craft projects here.
If you want to see some sample projects using wood, check out these ideas from the blog:
You can absolutely decoupage on glass, and it's a very cool effect! There are a few ways you can take your project. Generally speaking, you'll do the same thing with glass that you did with wood, though there are some changes in step 3:
Prepare the glass surface by cleaning with mild soap and water. Dry. You can also use a multisurface paint or glass paint (optional).
Cut out the items to decoupage.
Paint Mod Podge on the back of the item and smooth down to the glass surface. Wipe away any medium that comes out from under the item. Let dry 15 – 20 minutes.
Apply a top coat over the item only. Wipe away any excess Mod Podge around the edges. Repeat as desired.
You should be a lot more vigilant as to where glue is being applied when you're dealing with glass – if it dries on the glass in an unintended area, you'll be able to see it.
If you're covering an entire glass surface as I did in this dollar store vase project, you don't have to be as cognizant of where the Mod Podge is going. However, if you put a small photo on a vase (for example), you're going to want to make sure to stay in the edges as much as possible.
Tip: You can remove dried Mod Podge from glass using an X-Acto knife or razor blade and some scraping power. However, I try to minimize clean up like this because it's time consuming and a pain. So I attempt to be neat when decoupaging glass as much as possible!
If you want to see some sample projects using glass, check out these ideas from the blog:
I love Mod Podge on canvas! Besides wood, wall art is one of my favorite things to decoupage. The process is very similar to what I've outlined before, with one exception – you're going to use a bit more Mod Podge:
No preparation is needed for a canvas, unless you are going to paint. Use acrylic paint for this step. Let dry.
Cut out the items to decoupage.
Paint Mod Podge onto the canvas liberally AND the back of the item; smooth down on the surface. Wipe away any medium that comes out from under the item or sides of the canvas. Let dry 15 – 20 minutes.
Apply a top coat, and wipe away any excess medium that squeezes out around the edges. Let dry and repeat as desired.
TIP: Decoupage on canvas is relatively easy since canvas is so porous. However, I do find that I need to "slop on" a little bit more Podge to get this to stick.
ALSO, I have a little trick that I like to use. I will attach my item to the canvas and then flip it over onto a silicone mat and smooth from the backside.
This works well, and helps the item attach better. A canvas is somewhat flexible around the frame, so smoothing from the backside provides that resistance you're looking for when you smooth.
If you want to see some sample projects using canvas, check out these ideas from the blog:
Mod Podge can be used to attach fabric to fabric or fabric to wood. Depending on what you are doing, you may be using this formula.
I won't go into the steps for using Mod Podge with fabric, because they are very similar to glass. You're going to follow the same steps under the glass section above, including being mindful of where the decoupage medium is placed (you WILL be able to see the outline of Mod Podge around a fabric patch, for example).
IMPORTANT TO NOTE: once you've painted any decoupage medium onto fabric, it's on there. You may be able to wash it out – use our guide to removing Mod Podge.
If you are decoupaging fabric to fabric, definitely play with scraps before you get started. To see some sample projects using fabric, check out these ideas from the blog:
Other Formulas
Not all of the Mod Podge formulas are great for decoupage – some of them are used in decoupage projects, but aren't necessarily specifically for attaching paper or fabric to a surface.
Once you're down the road a bit in your decoupage journey, you can check out additional formulas like photo transfer medium and Dimensional Magic. They will change your life!
---
Are you ready to dive in? Leave me your comments, questions, and thoughts below! And before you go for good – don't forget to see the decoupage car. It's epic!