Use food coloring and Mod Podge to tint any glass the shade you want – this tutorial on how to color glass is amazing, and really easy!
Skills Required: None. Even if you've never Mod Podged before or have little crafting experience, you should have success with this project.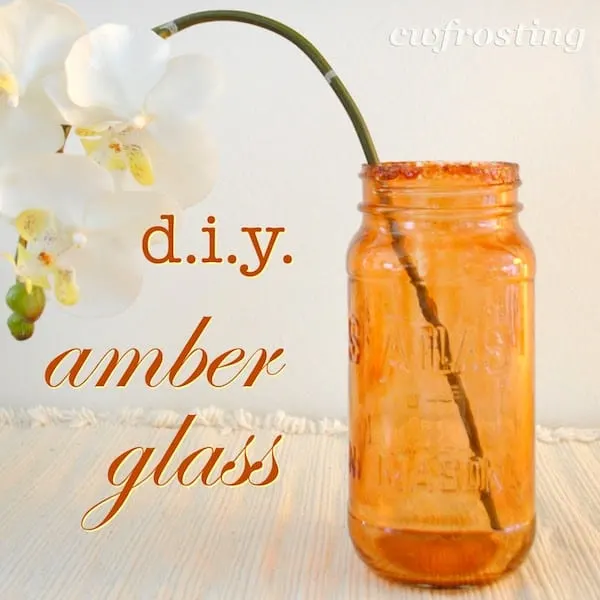 Learn how to make amber glass with a simple tutorial. Did you know that you can add food coloring to Mod Podge to make amber glass?? Yes, you can.
And you can use said food coloring/Mod Podge mixture to create a stained glass look on mason jars, like Carolina did. She's going to have amber jars as one of the centerpieces at her wedding, and what a great budget way to do it.
Follow her tutorial to stain glass any shade that you like. Learn how to color glass with Mod Podge by reading her instructions below.
---
Faux Colored Glass. One of my wedding centerpiece elements will be amber glass jars. I chose amber to coordinate with the traditional brown glass of beer bottles.
Of the many Mod Podge and food coloring methods around, I chose to follow the tutorial at Carolyn's homework because she had done some protocol troubleshooting.
For coloring, I started with the "light brown" recipe on the back of a food coloring box and tweaked it several times to get the right color.
Even with Carolyn's instructions, it took S-I-X attempts to get my colored glass to look presentable. I didn't even take a picture of the first attempt (the Mod Podge never dried!)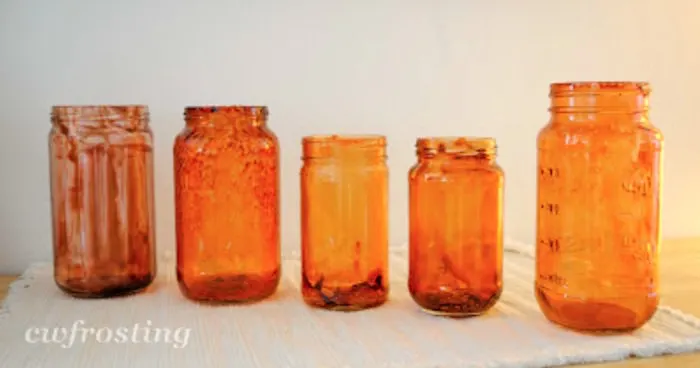 Amber Glass Attempts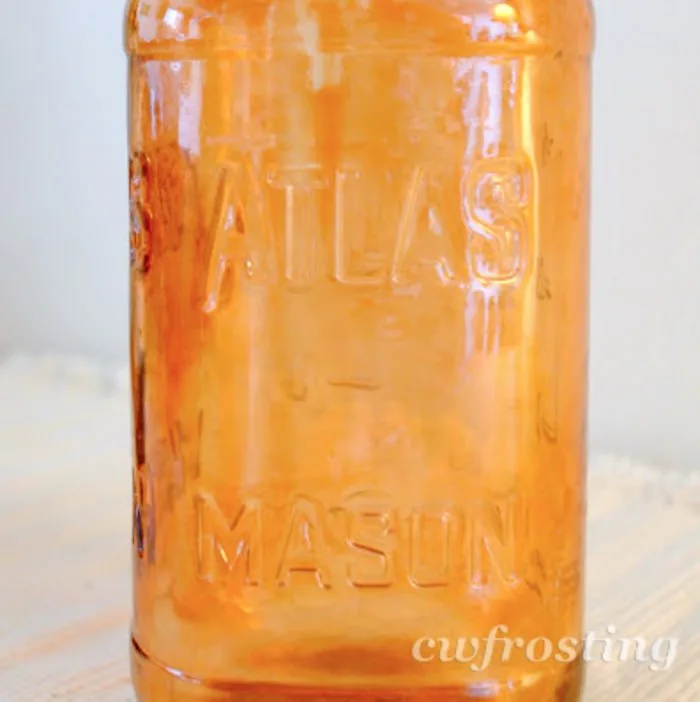 No brush marks, bubbles or crusty goop! Here's what I did below.
Amber Glass
Ingredients
Glass Bottles
Food Coloring
Wax Paper
Teaspoon
Aluminum Foil
Baking Pan
Total Cost = $4
If you have jars, Mod Podge, and food coloring on hand – this could be a free or very cheap project for you! I highly encourage you to save glass jars from the recycle bin just for this purpose.
Let's get into the how-to. *You may notice the tutorial pictures are pieced together from different jar "attempts"!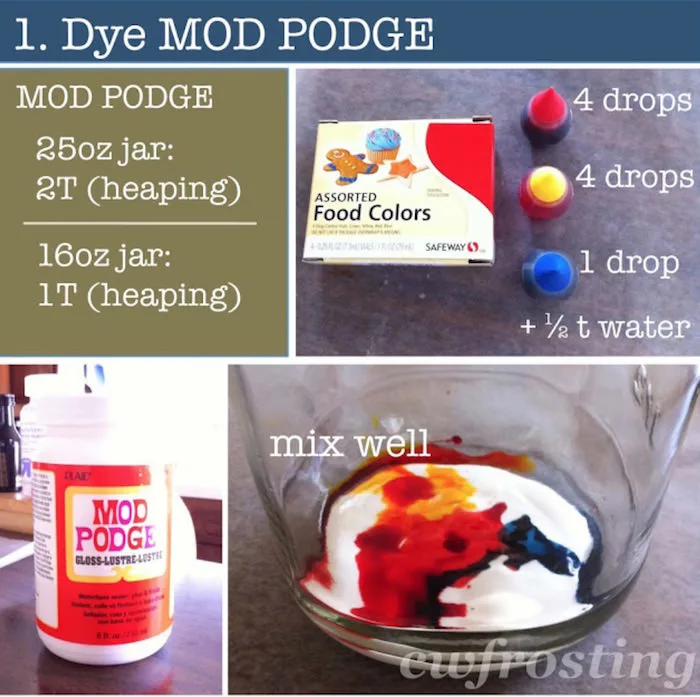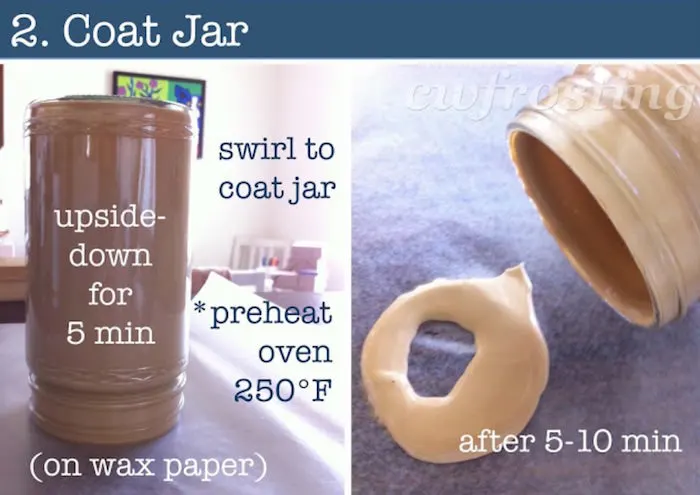 Have you found a good mason jar painting method? I'd love to know in the comments! Enjoy!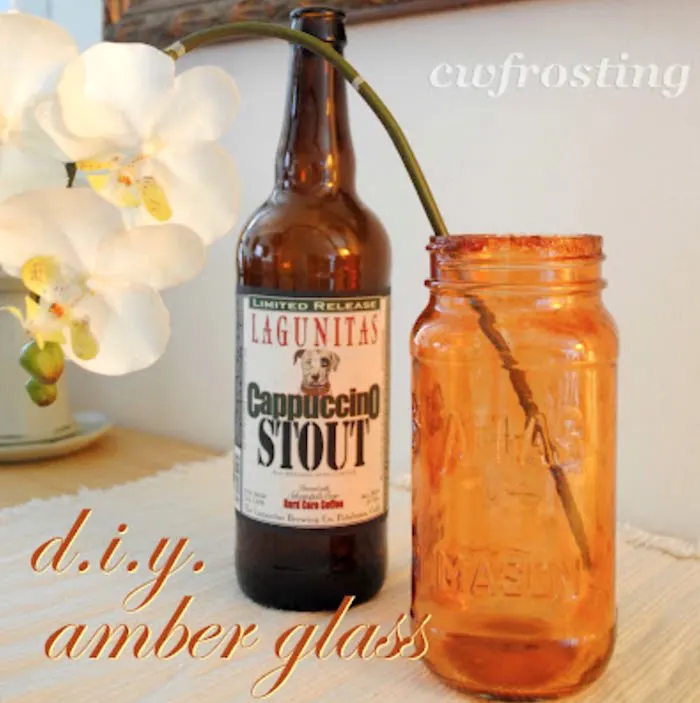 Yield: 1 jar
How to Color Glass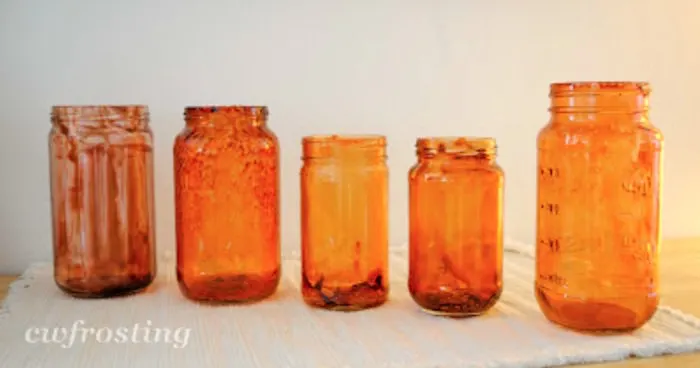 Learn how to tint glass using Mod Podge and food coloring! You'll be able to dye glass any color you like with this tutorial.
Total Time
1 day
40 minutes
Materials
Glass jar(s)
Mod Podge
Food coloring
Tools
Bowl
Mixing spoon
Wax paper (to cover work surface)
Instructions
Clean the glass jar with soap and water or rubbing alcohol; let dry.
Add two heaping tablespoons of Mod Podge to a container.
Add 8 - 10 drops of food coloring (you can mix colors) plus 1/2 teaspoon water and mix well.
Pour the Mod Podge into the jar and swirl to coat. Place upside down on your work surface to let drain. Allow to sit until all excess Mod Podge is fully drained.
Turn over and allow to dry for 24 hours. Alternatively, you can place in a 200 degree oven and bake until dry (do not leave unattended).
Notes
The more thoroughly you mix the food coloring, the less streaking that will occur in the finished product.
If you notice the Mod Podge mixture doesn't reach certain areas of the jar inside, you can use a paintbrush to assist.