Do you love mason jar crafts? I'm obsessed with the countless ways to decorate jars; here are some DIY projects using glass jars I think you'll love.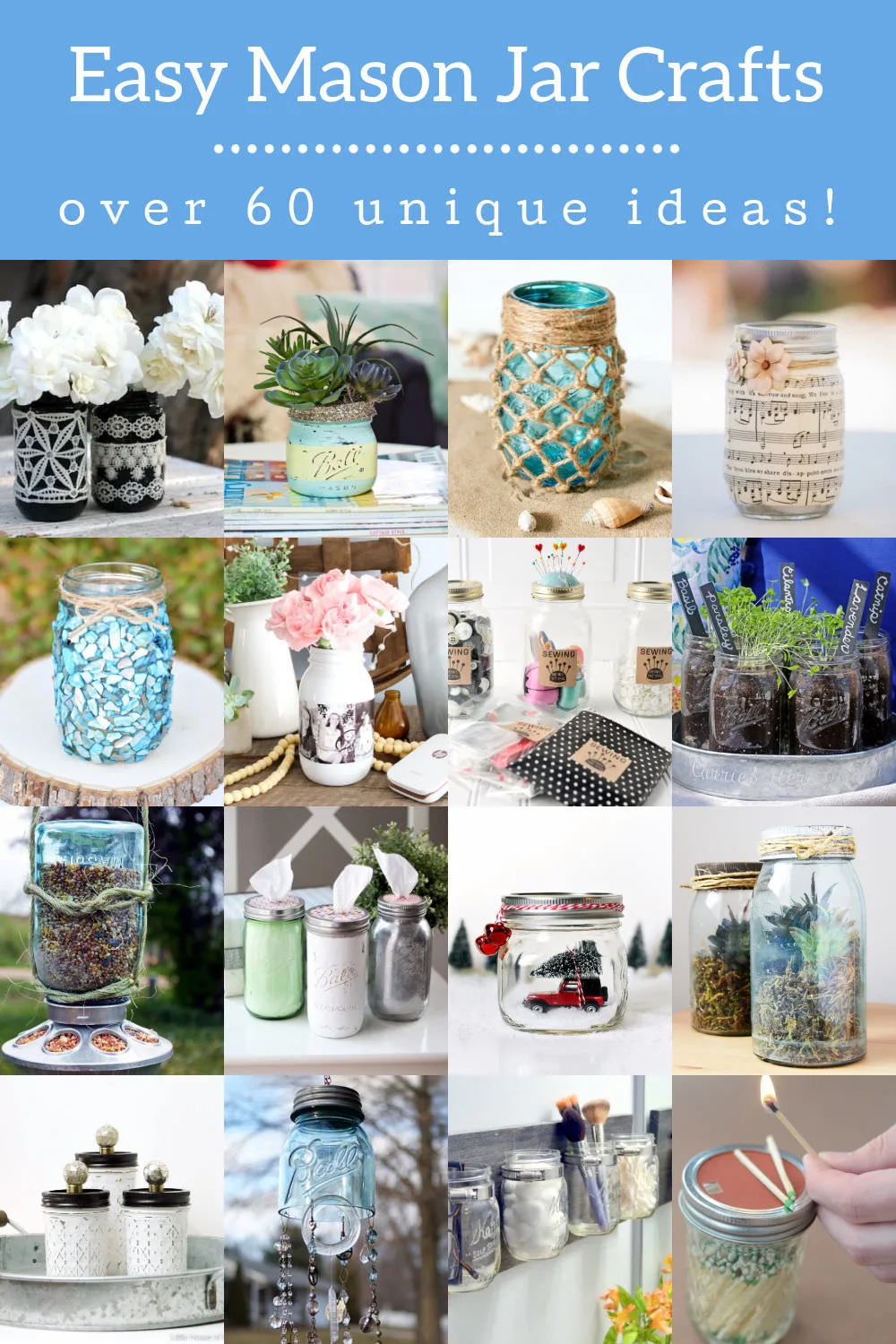 Are you wanting to try some creative jar DIY ideas? Of course you are – they are all the rage right now! There are so many things I love about mason jars, and one of the biggest is that they are really easy to craft with.
I'm talking about instant gratification. I've done a few projects with mason jars and loved the results.
Mason Jar Decor Ideas
A lot of people are intimidated by working with glass of any sort, but there's no reason to be. It's basically the same as working with other craft surfaces, you just have to be more careful since the likelihood of breaking is obviously increased.
Mason jar crafts are perfect for decor and gifts – those are my two favorite uses. Making decor with mason jars is pretty awesome, especially when you can dig jars out of the recycling bin (hello, free!).
I also love giving gifts in mason jars because the packaging is also the gift. Me likey giving and receiving mason jar gifts. If you feel that way too you'll love our Christmas mason jars, by the way.
Preparing Jars for Crafts
Before you get started, remove labels from the jars using one of our DIY sticker remover methods.
Mason jars tend to get greasy fingerprints on the outside from so much handling, so I always recommend washing them with a mild soap and water and letting dry. You can also use rubbing alcohol and a cotton ball to clean the glass if you need.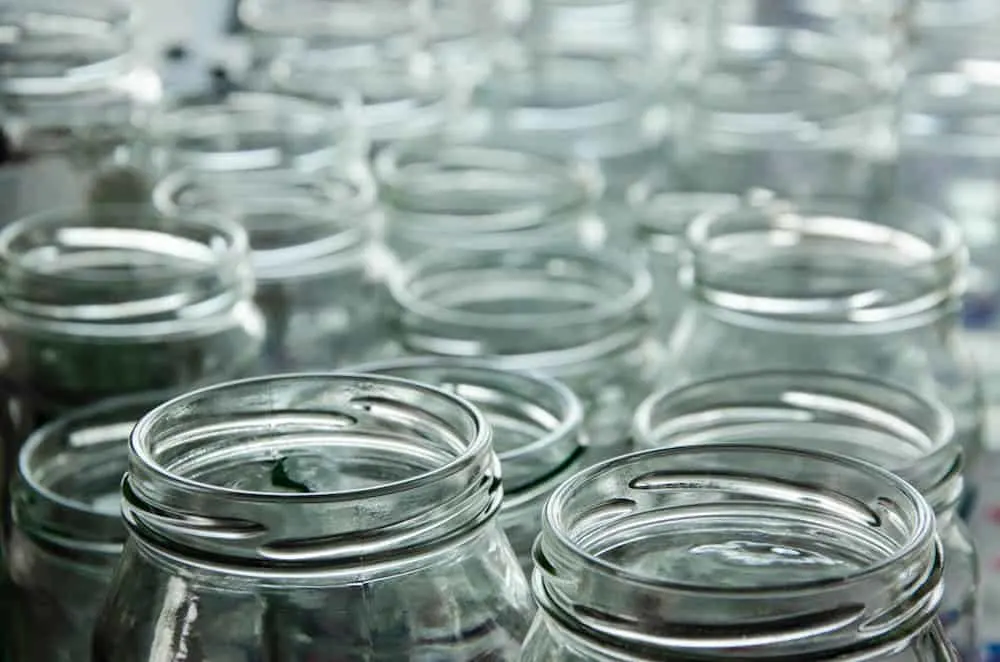 Painting Mason Jars
You can paint mason jars before decoupaging over the top. If you use any sort of paint, it should be either a spray paint (like a primer) or an acrylic paint made for glass.
This means the paint needs to be an enamel or multi surface paint. You should definitely make sure to clean the jars before painting if you want it to stick.
Get my best tips for painting on glass.
You can also DYE mason jars with Mod Podge and drops of food coloring. Learn how to do that here. I also have a post so you can learn how to Mod Podge on glass.
Mod Podge is an acrylic product so it works with/over the top of acrylic paint just fine. You can also use chalk paint or milk paint. You'll see some painted mason jars in the projects below. We have a guide on how to paint mason jars you'll definitely want to reference.
Decoupage Formula
You can use just about any Mod Podge formula with mason jars. Glass is shiny by nature, so Gloss is the most commonly used on mason jar decor. However, you can always use the Matte or Satin formulas if you are looking for a bit of a different finish.
Using Lights
You can absolutely use tea lights for mason jar lights – real or battery powered. Just keep in mind that the Mod Podge should be on the outside of the jar if you are planning on using real tea lights.
The glass will act as a barrier and, while the jar might get a little hot, it'll be fine and nothing will melt (PS – Mod Podge is non-flammable, but it can melt when exposed to direct flame or heat).
You can also use Christmas lights or fairy lights in your mason jar decor. They look great!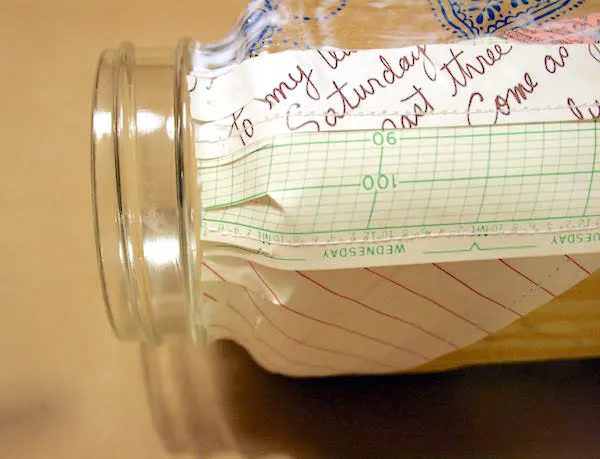 Special Techniques
Remember that both the tops and bottoms of mason jars are curved. If you are going to Mod Podge mason jars completely from top to bottom, you're going to need to place darts in the paper or fabric (similar to a sewing pattern).
To adds darts means to cut a triangle in the paper or fabric and then fold over. You can see in the image above.
Do you want to color mason jars with Mod Podge? Get our colored mason jars technique here on the blog. It's a fun one.
---
Besides the above, there's not much else you need to do besides experiment and have fun! Putting Mod Podge on a jar is simple, and there are a lot of options.
In fact, here are 60+ unique ways to decoupage mason jars. Which one inspires you the most?
If you love jar decoration ideas, this is the ultimate list of crafts! Pick your favorite and get creative. Decorate for gifts or for home decor. All of these are easy enough for beginning crafters.
---
Which of these creative jar DIY ideas is your favorite? Let me know in the comments!
Want to see our tips for crafting with mason jars in video format? Click PLAY on the video in this post to see them!
Have you tried any of these jar decoration ideas? I'd love to hear in the comments – especially if you've done something new that I've never seen!