Are you wondering how to make a banner? There are so many possibilities – get 20 ideas that are perfect for your home or next party!
Skills Required: None. One thing I love about banners . . . they are so easy to make. None of these projects require any prior crafting experience.
If you want to make a banner, you've come to the right place! Around here we absolutely love making garlands – for every occasion, and whenever possible (learn how to make a banner from scratch here!).
With warmer weather right around the corner, summer holidays, and birthday and pool parties upcoming I figured it was time to share 20 ways to make a bunting that you can enjoy as well.
There are so many ways to do it . . . these are 20 of my favorites! There's a little bit of something for everyone here, in a variety of styles.
If you love garlands, you've come to the right place. Visit these projects from my friends below to get inspired. Then let me know which one you like the best in the comments!
How to Make a Banner
Yield: 1 banner
How to Make a Banner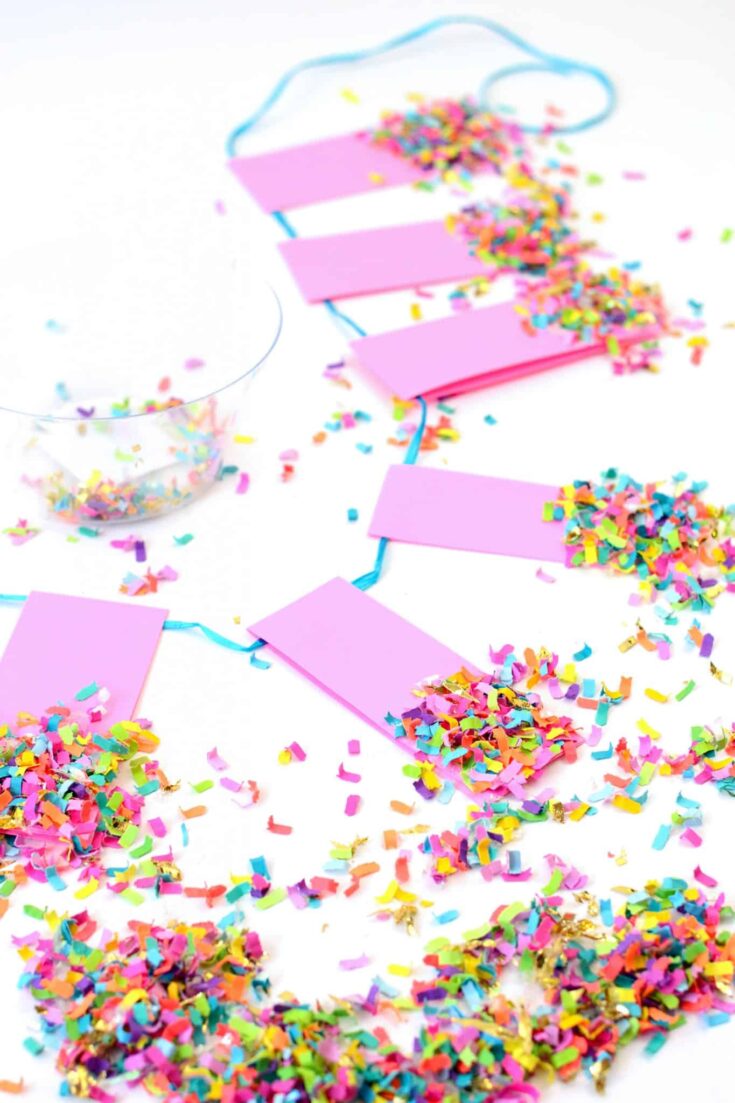 This DIY banner is easy to make with paper, Mod Podge, and confetti! Perfect for birthday, graduation, wedding, and more.
Materials
Cardstock (in the color of your choice)
Confetti
Mod Podge
Double-sided tape
Ribbon, twine, or raffia
Instructions
Fold your 8.5″x11″ piece of cardstock in half and divide it into four equal pieces.
Cut the paper into strips, leaving the folded edge intact.
Using a piece of double-sided tape, attach the ribbon between the edges of the cardstock.
Space the banner pieces evenly on the ribbon and secure.
Coat the bottom half of each banner piece with a layer of Mod Podge. Sprinkle on some confetti, press down, and shake off the excess.
Let your banner dry for an hour before hanging.
Would you try to make a banner? Let me know in the comments!