Learn how to make 35+ Halloween garlands for a spooky party or to decorate your home for the holidays! You'll love these unique tutorials.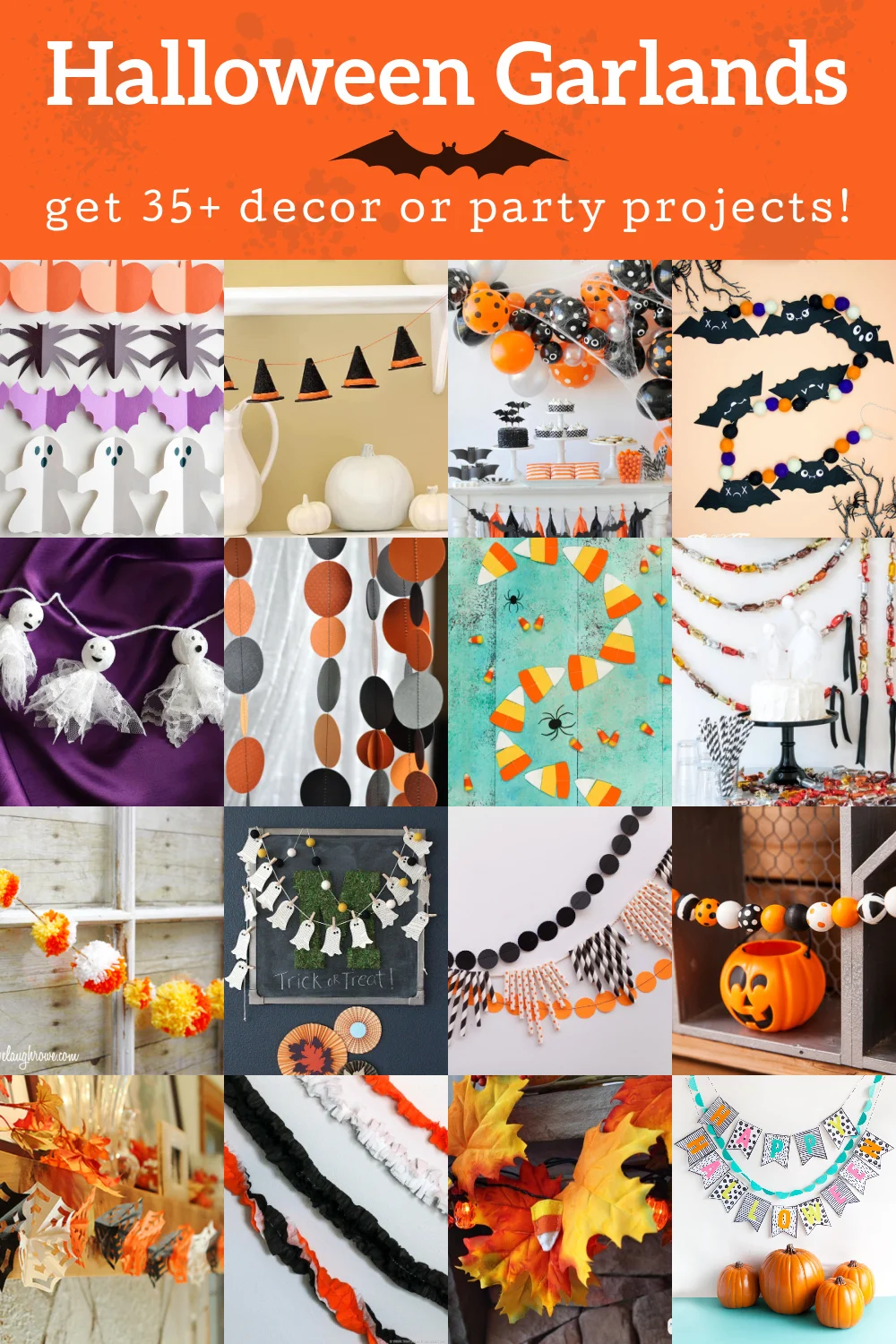 If you know me, you're going to think this next statement is crazy – I've never had a Halloween party. With my undying love for all things black and orange, and candy, and unique costumes . . . it's just never happened.
I think I'm intimidated by the scale to which I feel I would need to have said Halloween party, when really a small gathering of people with some candy in a bowl would do. Do you need to go all out to have a great celebration? Absolutely not!
Regardless of whether you are having an All Hallows Eve party this year or you wouldn't host if your life depended on it, I have some great DIYs for you today: Halloween garlands! I never realized how much I liked making garlands until I did it for the first time. They are REALLY fun to make!
Halloween garlands serve a lot of purposes. They are obviously party decor, but they are great for holiday home decorating as well. I love the unique ability of garlands to fill spaces as well as add interest to a simple Halloween display. Plus garlands are typically very easy to put together, which makes them a perfect craft for beginners. Even kids can get it on the action!
If you'd like to create a Halloween garland of your very own, whether for celebration or decor, I've got a great list for you below. Over 35 ideas for the cutest and/or spookiest buntings you've ever seen. All of them are easy to make, and all of them would look great on your mantel. Okay maybe not all of them at once.
Keep reading to get some great ideas, then let me know which ones you try in the comments. I'd also love to know . . . have you ever hosted a Halloween party?
DIY Halloween Garlands
Learn how to make these DIY Halloween garlands that are perfect for celebrating the holiday! Use them to decorate for a party or to add to a mantel for unique Halloween decor.
---
Did you enjoy these Halloween garlands? I'd love for you to check out these other festive ideas: