Decorating pumpkins without a big mess is so easy! Get 75+ ideas for unique pumpkin decor that is perfect for fall and Halloween. These projects are all great for beginners.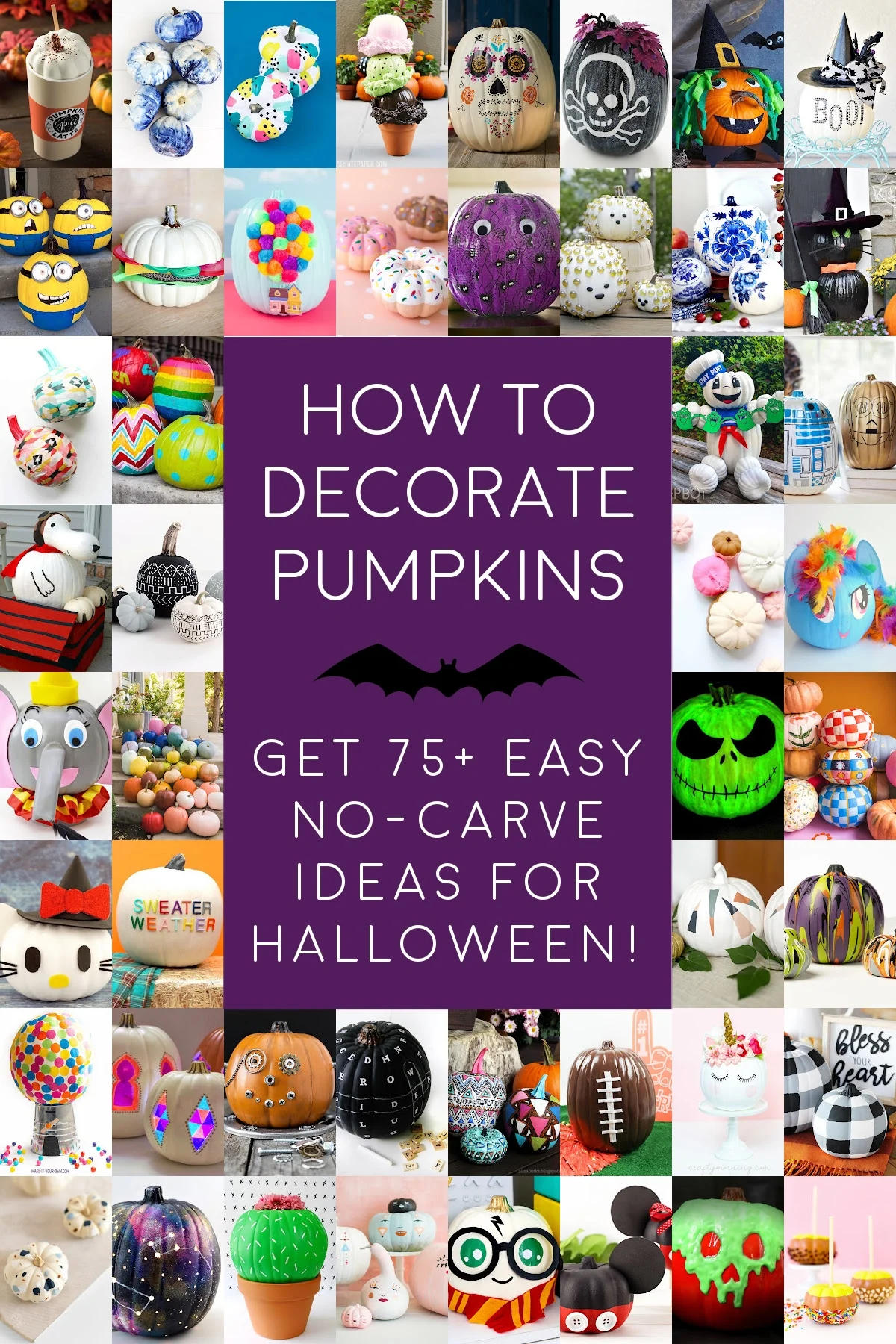 I'll never forget the biggest pumpkin I've ever seen in my life. My dad surprised me and my fourth brothers with a ginormous gourd on a garbage cart, because it was too heavy to lift.
It was so big we even named it! I can't remember the name, but it was girthy just like the pumpkin. And we were both excited and scared to carve it. It was probably only 4′ wide or so, and not terribly tall. But in my mind's eye it was ten feet tall and filled with pumpkin guts.
Because the truth is, I've never really liked carving pumpkins for Halloween. For whatever reason that I'm sure is chemical or genetic, I hate the smell of the innards. They turn my stomach. And the texture? Makes me gag as well.
I know I'm being picky, but the whole process really grosses me out. And usually I would consider myself a little bit tougher. Especially when it comes to Halloween crafting. I mean . . . that's my jam. I will go to great lengths to make the season fabulous.
Carving isn't a requirement, though. While carving is very cool, there are other ways to decorate pumpkins. And I'm going to give you over 75 ideas for how to do exactly that!
There are a variety of craft items you can use for decorating pumpkins. They include but are not limited to: painting, decoupage, hot glue, pom poms, stickers, vinyl, gems, feathers, and more.
AND there are a few carving ideas in here, but they are fake pumpkins, so the experience is very different. Some fake pumpkins you can carve, some you cannot (check the tag).
If you're ready to grab a huge list ideas for pumpkin decorating (without the smell), check out the list below! Then let me know in the comments which you try!
Decorating Pumpkins
You're going to love these no carve pumpkin decorating ideas! Instead of carving, use your favorite craft supplies to decorate these pumpkins with a lot less mess.
---
If you enjoyed these fall and Halloween pumpkins, I'd love for you to check out these other posts: