Learn how to decoupage Easter eggs using Mod Podge and a variety of materials – napkins, scrapbook paper, wrapping paper, tissue, and more. Great ideas for home decorating and the whole family can get in on the creativity.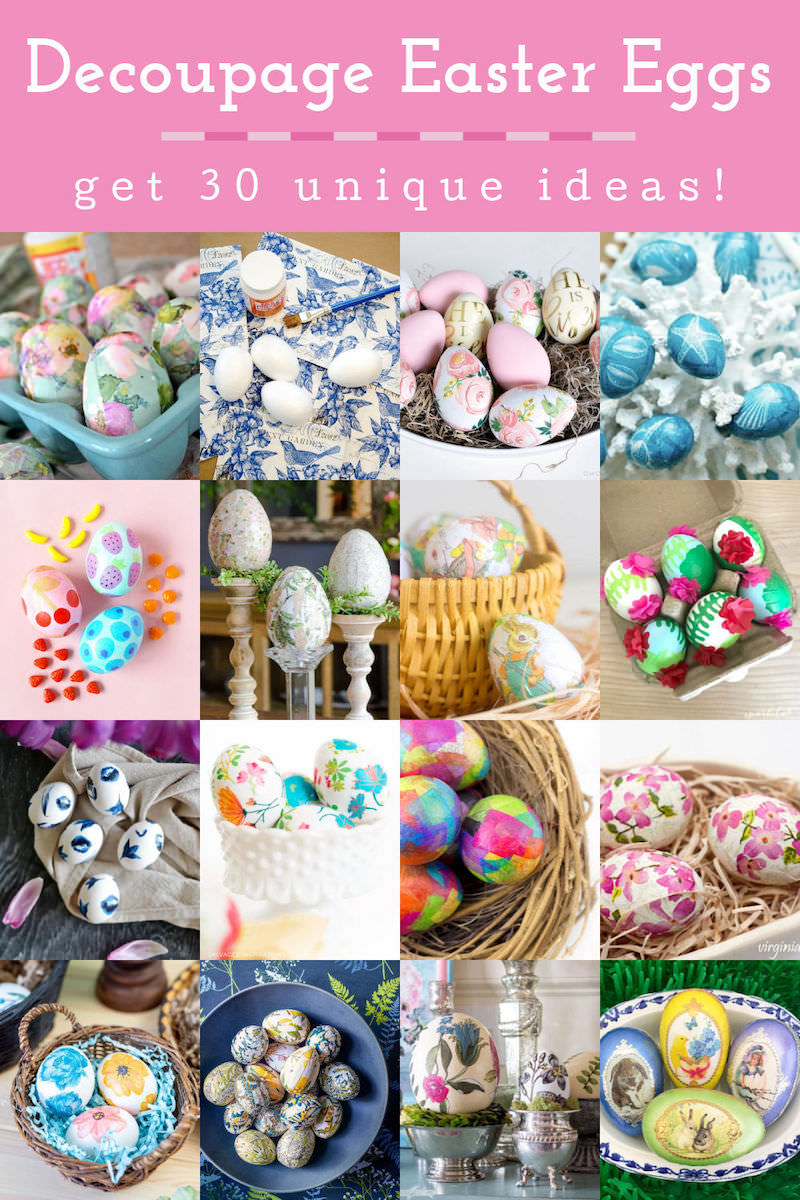 Easter is coming faster than you know it! That means you have all week to do a Mod Podge project, right? Here are some decoupage Easter eggs to get you in the mood.
What I love about decoupaging eggs is that the surface is so small . . . it's one of those holiday projects that is really easy to do. And it's quick.
Within a few minutes you can have an entire display and you've spent little time and hardly used any Mod Podge! But the results are so cute.
Decoupage Eggs
Eggs are easy and eggs are fun, so that is what I bring you – 30 decoupage Easter eggs. Before we dive into the ideas, I've got an FAQ for you. If you're not interested, go ahead and skip down to the list. Otherwise I hope these answers help you as they've helped others!
Should I use real eggs? What type of eggs can I use?
You absolutely can use real eggs (learn how to blow the yolk out below). You can also use plastic, wood, paper mache, foam, or pretty much whatever other surface you can imagine.
You'll see examples of all types of projects in the list. For plastic – you may need to prime first with plastic primer to get the Mod Podge to stick (or you can try sanding).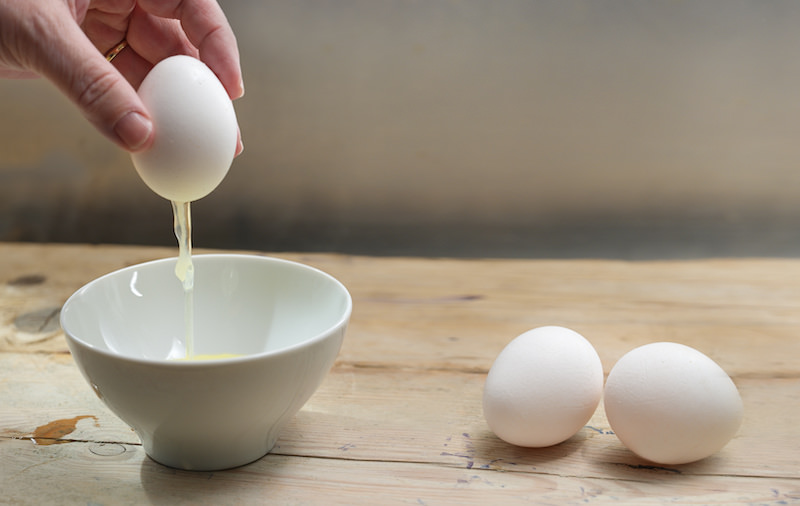 How do you hollow out real eggs for decorating?
The basic steps are to first tape both ends of the egg to prevent breaking. You'll poke a small hole in the top of the egg with a tack or push pin. Twist to widen the hole.
Flip the egg over and make a slightly larger hole in the bottom. Push a paperclip in and break up the yolk. The blow through the hole at the top to send it out the bottom. Rinse and let dry. Get more details here.
How do you decoupage Easter eggs?
You'll do it the same way as you would decoupage anything else! It's just a smaller surface. You can use any formula depending on the finish you like – Gloss, Matte, or Satin. They will strengthen the shells of the real eggs.
You don't necessarily need to prep the surface (except plastic), and you can use acrylic paint, chalk paint, chalkboard paint, glitter paint, or spray paint. In terms of material, you can use scrapbook pages, tissue paper, wrapping paper, napkins, book pages, glitter, sprinkles, and more.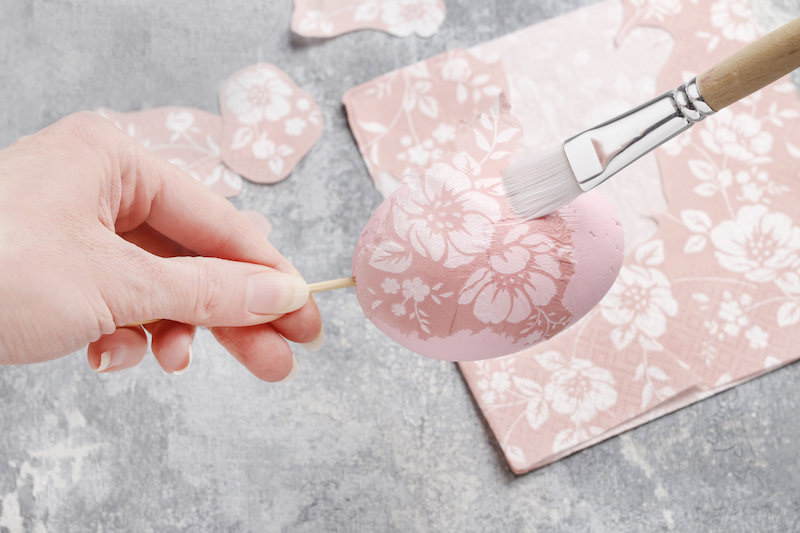 How do you decoupage eggs with napkins?
It's going to take some practice but you'll get the hang of it! Start by separating the napkin layers (just use the top design) and then decide if you're going to 1) use the napkin as is; 2) tear it into pieces; 3) cut out portions of the design.
Apply a thin layer of decoupage to the egg and press the napkin down. Smoothly gently with a finger or tap down with a stencil type brush. It helps to use some plastic wrap to smooth the napkins out on occasion.
Also to note: if you choose to use the entire napkin, you're going to have wrinkles. It's a flat item covering a spherical surface. But the wrinkles are to be embraced in my humble opinion. Check out the projects and you'll see.
---
Enjoy these pretty Easter egg crafts – they are so easy that you won't believe it!
Decoupage Easter Eggs
Learn how to decoupage eggs using Mod Podge! Get great ideas using all types of eggs (real, plastic, paper mache, styrofoam, wood) as well as all types of materials including paper and napkins.
---
Did you enjoy these Mod Podge Easter eggs? I'd love for you to check out these other ideas: