These scrapbook paper crafts are perfect for using up leftover sheets and scraps! If you love pretty paper, you'll love these creative ideas.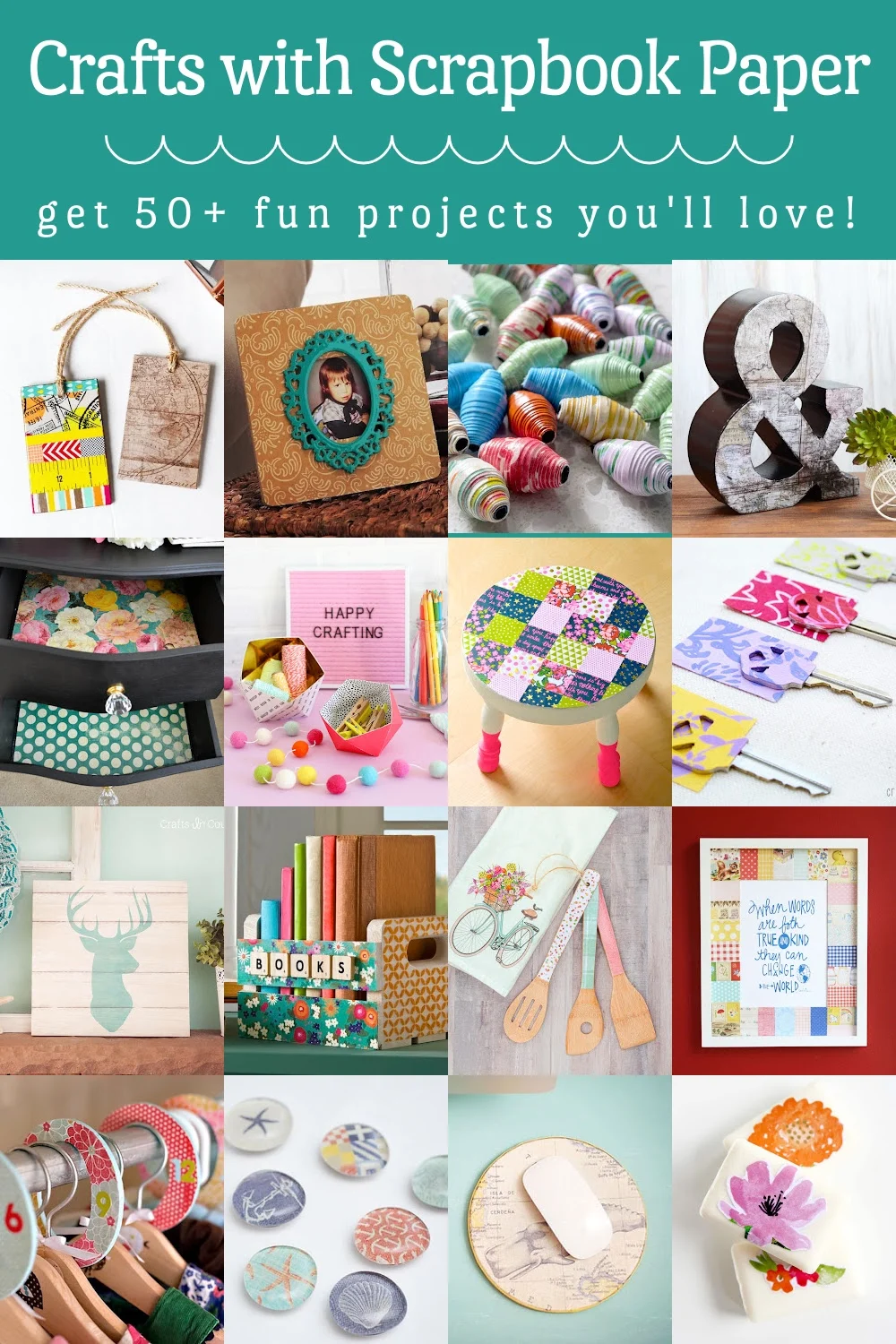 I've been blogging since 2008 – and I can't believe it. That's almost FOURTEEN YEARS of making Mod Podge magic! And collecting magical ideas from others. And it might surprise you, but I still love it as much now as I did then.
My very first project was a frame that ended up going in the garbage. I tried to Mod Podge scrapbook paper to a recessed wood frame, and there were more wrinkles than on a shar pei. I got frustrated so I chucked it – but I wasn't done. I was determined!
Since the beginning, I've had a pretty decent collection of scrapbook papers. And since that time, I've also learned how to use the paper on frames, as well as a variety of other surfaces. There are no more frame-in-the-garbage incidents, luckily.
Since I started this blog with scrapbook paper and Mod Podge, I decided to share some scrapbook paper crafts with you today. LOTS of them include decoupage medium (though not every single one of them). I've included my own crafts as well as some ideas from friends.
Because the truth is, whether you scrapbook or simply buy papers that you think are pretty without intention (guilty) – there's a lot you can do with scrapbook paper. As well as the scraps. And I want to share over 50 ideas with you today!
If you've got some papers in your stash, it's time to dig them out and try some projects. There are some very Pinterest worthy ideas below that I hope you'll enjoy, and the size of paper required ranges from small to full sheets.
There's a little something for everyone on this list! Scroll down and let me know what you think, and which idea is your favorite.
Scrapbook Paper Crafts
What can you make out of scrapbook paper? So many crafts, ranging from home decor to gifts and more! Get over 50 great ideas here.
---
Did you enjoy these crafts with scrapbook paper? I hope you'll let me know in the comments! I'd also love for you to check out these other ideas: