Create unique DIY bowls for your home! Unleash your creativity and transform craft supplies into eye-catching, functional masterpieces.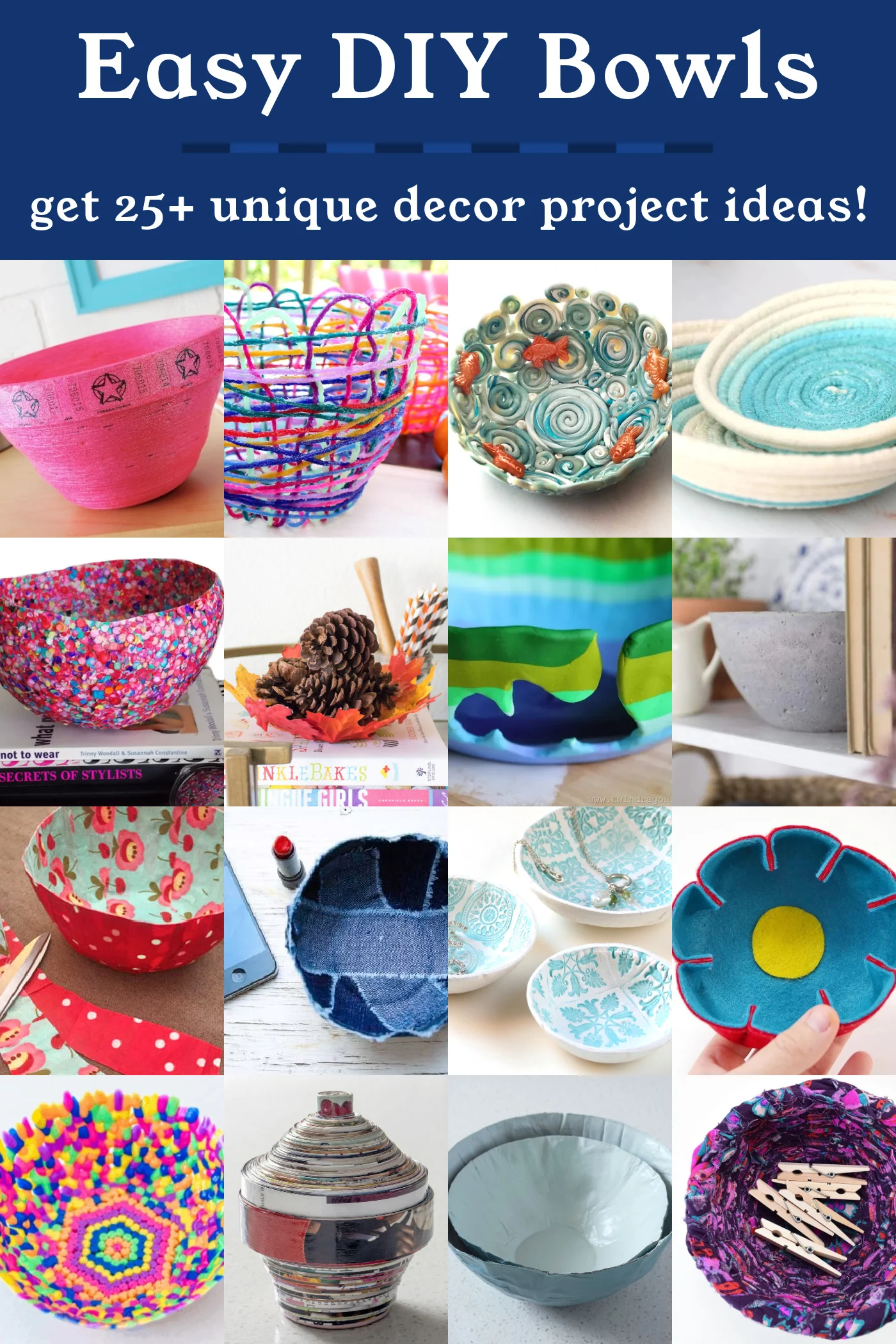 Imagine this: you're setting the table for a lovely dinner with your family or friends. As they come in and sit down, they notice something in the center. A handmade bowl that is part of the tablescape.
"Is that new? Where did you buy it?"
And the smile slowly appears on your face . . . because you didn't buy anything. You made it!
Yes, you can make a bowl.
Whether you're an experienced DIY enthusiast or a crafting newbie, making your own bowls is a fantastic way to inject your personality and style into your home.
I'm about to guide you through the exciting world of DIY bowls, exploring a variety of materials and techniques that cater to all skill levels.
From repurposing household items to using craft supplies like clay or paper mache, you'll be amazed at the endless possibilities for creating one-of-a-kind bowls that perfectly suit your taste and style.
As you scroll through the projects, you'll discover that there's no shortage of variety when it comes to materials and methods. Are you a fan of the rustic, natural look? Try crafting a bowl with rope, sea glass, or even pebbles.
Prefer a more modern, minimalist aesthetic? Experiment with concrete or clay to create sleek, contemporary designs.
And if you're looking for a fun, family-friendly project, why not or use colorful yarn to create playful, vibrant bowls that'll make both children and adults squeal?
I'm telling you, after you take a look at these projects, you're going to see every item in your home as a potential bowl. Can you melt it or carve it or craft it into a vessel? That's what you'll be asking yourself about everything!
NOTE: *most* DIY bowls are for decorative use only, or can be used with wrapped foods and/or individually wrapped candies. Decoupage mediums and glues aren't food safe, even though they are non-toxic.
My recommended Mod Podge formula for making the bowls that require it is Hard Coat. However, if you use regular Mod Podge (Gloss, Matte, or Satin), the world won't end! Hard Coat is very durable though.
If you're ready, I'm excited to share the projects! You'll soon be enjoying the fruits of your labor as you admire your very own handmade bowls. So keep reading.
Let me know which ones you try. Happy crafting!
DIY Bowls
Discover the magic of making your own bowls! Use these great ideas to make a functional item for your home or a gift.
---
If you enjoyed these bowl projects, I'd love to hear in the comments! I'd also love for you to take a peek at the following posts: