Learn to make a super cool confetti bowl in three easy steps! You don't need any crafting skills for this, and the results are SO fun!
Skills Required: None. You don't need any prior crafting experience to complete this project. You do need to know how to inflate a balloon, however.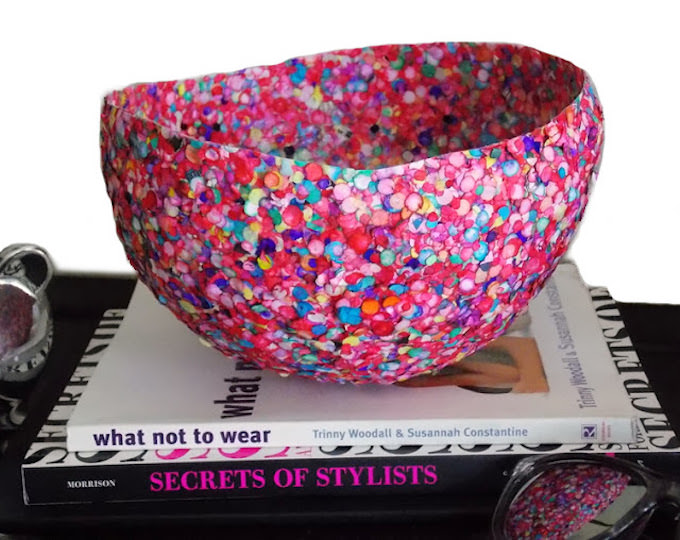 Have you ever worked with confetti in your crafts before? We've tried gift bags, a tray, candle holders, and even shoes (I know; they're so fun!).
If there's one project that a crafter needs to try in their lifetime, it's a confetti bowl. Let me give you three reasons why:
Easy to make
Fun to make
Cute
Which is pretty much the criteria for any project I try. Not that I don't want an advanced craft every now and again, but with limited time available, easy crafts are usually the most appealing.
Is it fun to make? Are the results cute? Those are other questions I ask about what I make, and I'm sure (even without knowing) you ask yourself the same thing.
Like I said, this confetti bowl meets all the criteria! Anyone can make it, and I mean anyone. V Juliet made this bowl with her kids, and they even popped the balloon for her. Which I totally respect because I too would like someone to pop the balloon for me. And open the Pillsbury dough container. You know??
There are three easy steps to this DIY confetti balloon bowl, and let me share them with you now. You're going to: 1) Inflate a balloon; 2) Mod Podge the confetti on the bowl and let dry; 3) Pop the balloon and trim.
Oh, plus you can customize it with any color of confetti. What about black and orange for Halloween? Green and red for Christmas?? I think you're convinced by now, so let's jump into this balloon bowl DIY. I know you're ready. Keep reading!
DIY Confetti Bowl
Gather These Supplies
Confetti
1 balloon
Sponge brush
Scissors
Vase, cup, or something else to hold the balloon while you work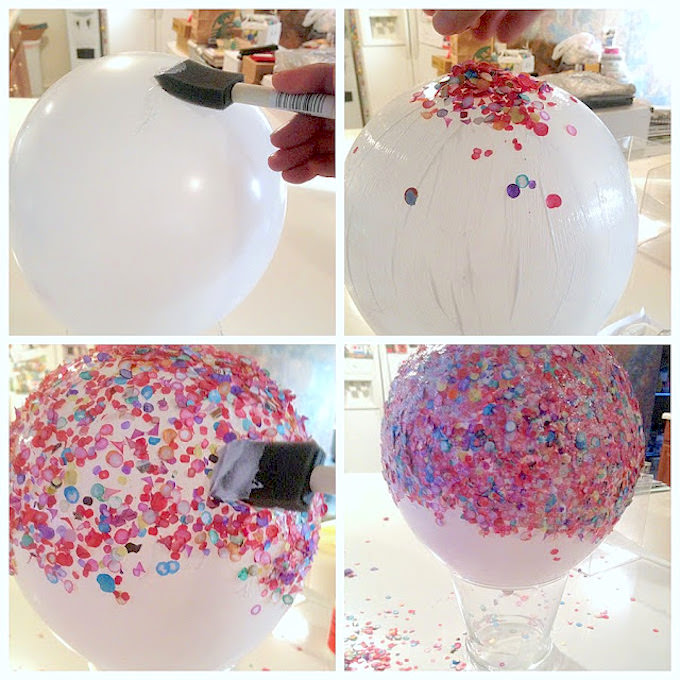 Inflate your balloon, then set it onto a vase so it's sturdier to work with.
Add Mod Podge to the top half of the balloon with a sponge brush, then sprinkle confetti all over. You can remove the balloon from the vase and hold it to add the confetti on the sides.
Let dry and add another coat of glue and confetti. Repeat. When you feel like the confetti is thick enough, let dry for a final time. However, you'll still keep Mod Podging. You will need to add several coats until you achieve a thick coat (about 3 – 4 coats; this is for stability). Let it dry for 8 – 10 hours.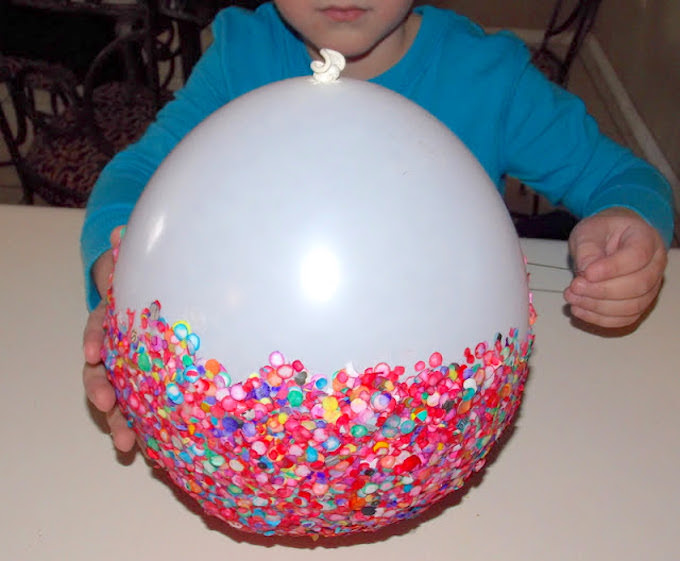 Turn your balloon and pop it with a needle, I couldn't do this because I've always been afraid of the noise. Get a little to help if you need.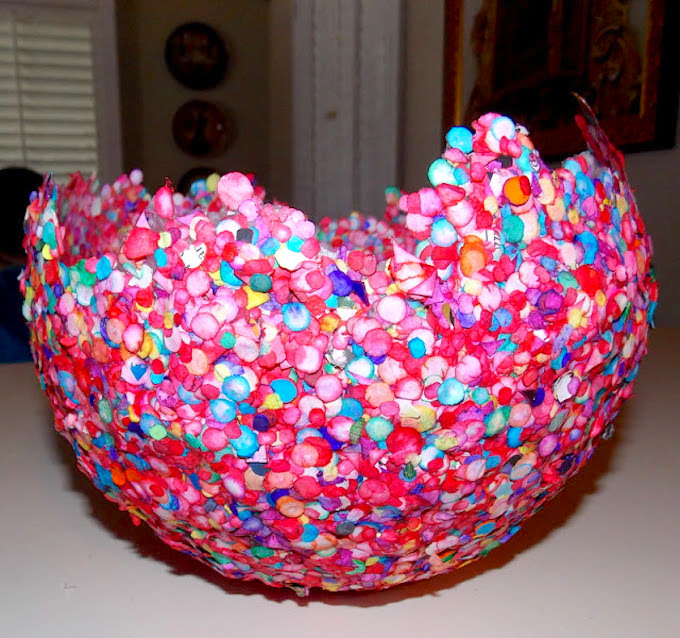 Now you'll have a colorful confetti bowl!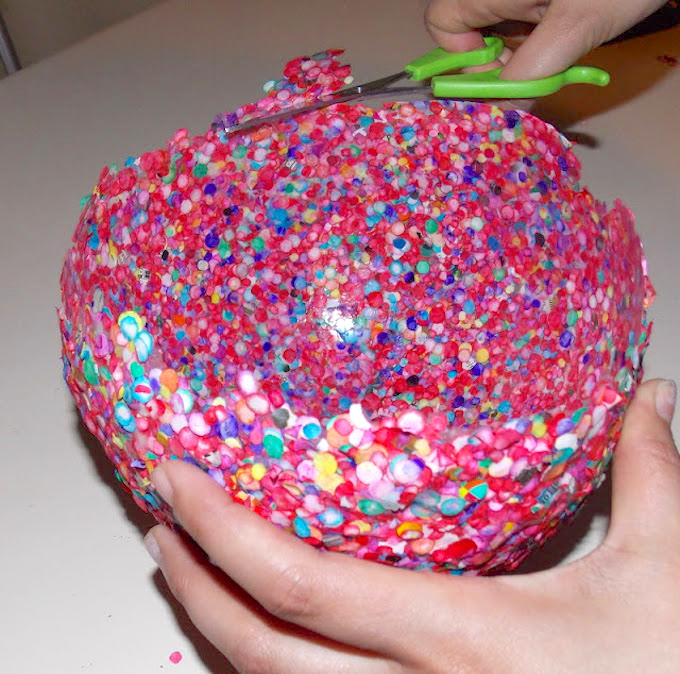 You can either let it remain with irregular edges, or you can cut them as I did. I like a smooth edge on a bowl but I'm not going to judge if you want a little something different.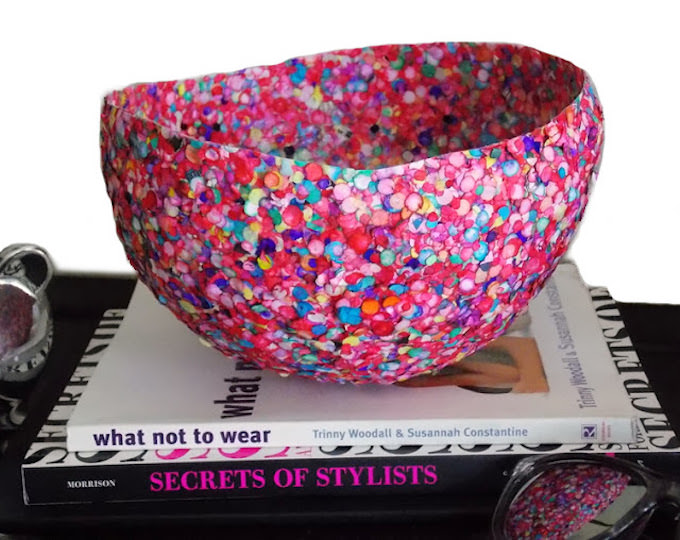 What do you think about this balloon bowl DIY? Easy, right? Now when someone asks if you made a bowl with confetti, you can say, yes!! They won't believe it.
Let me know if you try this confetti bowl in the comments. Project courtesy of V Juliet!