Create these unique DIY gift bags with your favorite Mod Podge formula and sparkly confetti. This is perfect for gift wrapping on a budget! Not only that, but they make great favor bags for parties. So versatile.
Skills Required: None. If you've never crafted in your life, you'll still be able to do this DIY gift bag project. Even young kids can make these!
Scroll down towards the bottom of the post to get a video of bonus ideas for gift and favor bags you can try once you've completed this project. You'll never buy goodie bags again once you see it, trust me!
Gift bags are a great way to wrap holiday gifts . . . but they can get pricey, can't they? I love unique gift wrap ideas that don't break the bank.
I came up with an easy and inexpensive way to give a gift in a gift bag . . . that is still fun and festive. . . just add a little confetti! Sparkle always works around Christmas, right? These DIY gift bags with sparkly, colorful confetti definitely deliver.
You can get plain gift bags at the craft store a lot cheaper than the fancy holiday themed ones in the stores. I picked up these simple white paper sacks at three for a dollar . . . but any plain, white gift bag will work.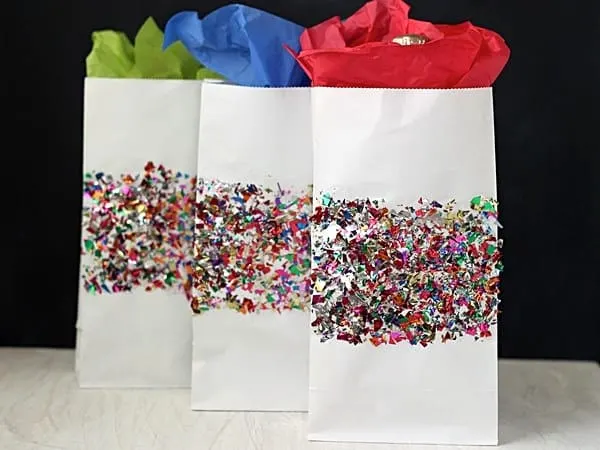 Want to see how to make these sparkly gift bags? It is really easy! And actually, this makes a great Christmas craft for kids – because it's very easy to place Mod Podge down and sprinkle glitter. Kids of all ages can do it, with all types of glitter.
So what I'm saying is, moms, you can get your gift bags made AND keep your littles busy at the same time! Here's how.
How to Make a Gift Bag
Gather These Supplies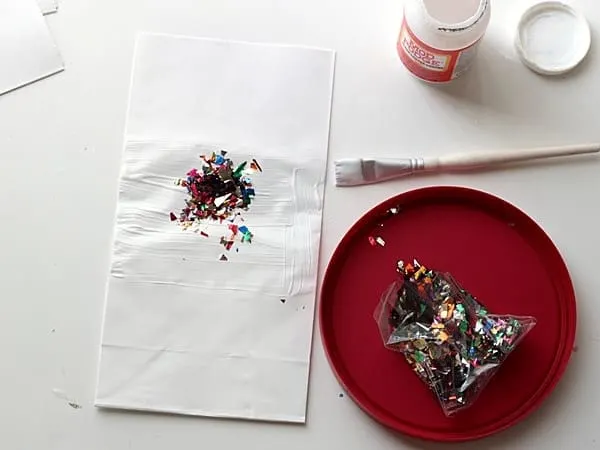 Brush on a wide, thick stripe of decoupage medium across the front of the bag.
Sprinkle on the colorful confetti and shake off any excess. This has the potential to be a messy process . . . but just wait, it is worth it!
To minimize the mess, have a tray or trash can handy nearby to catch any of the loose confetti so that you'll be able to use it again for another project.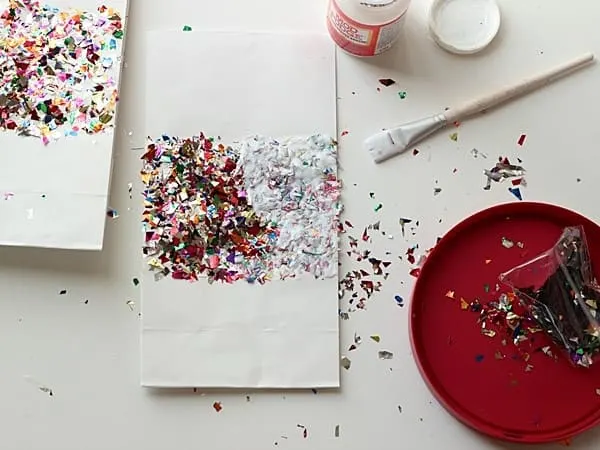 Once the decoupage is dry, brush another coat of Mod Podge over top of the confetti to seal it down.
Allow the bag to dry and fill it with a gift for the holiday!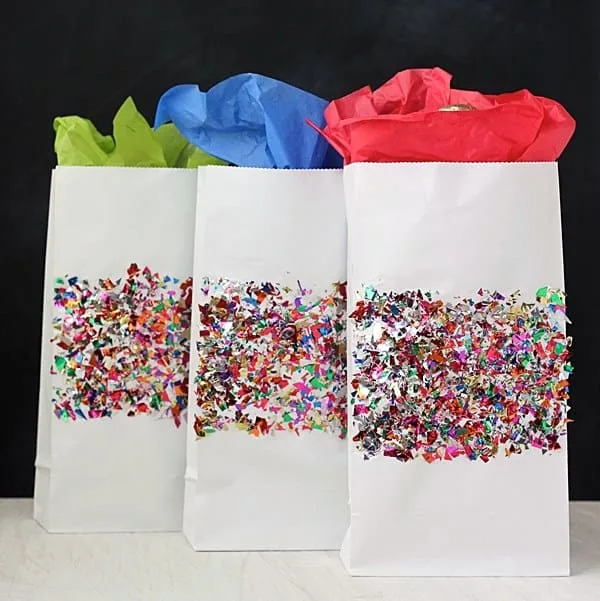 With the confetti that I used, this would also be a great way to wrap a hostess gift around New Years Eve, too! I'm planning to use these simple paper gift bags as wine bags for hostess gifts this coming month.
Fun, simple and sparkly . . . my kinda gift wrapping!
---
Are you ready to take your DIY gift bag skills to the next level? Simply press "PLAY" in the center of the video in this post to get some additional ideas with Mod Podge!
If you like these DIY gift bags, you'll also like these gift wrap ideas: