I fell in love with beautiful gift wrap from a magazine – so I made my own DIY wrapping paper using stamps and glitter. So pretty! Learn how to make your own wrapping paper below.
Skills Required: Beginner. You'll be doing relatively easy stamping as well as covering tags with Mod Podge and glitter. You don't need prior crafting experience to accomplish this project.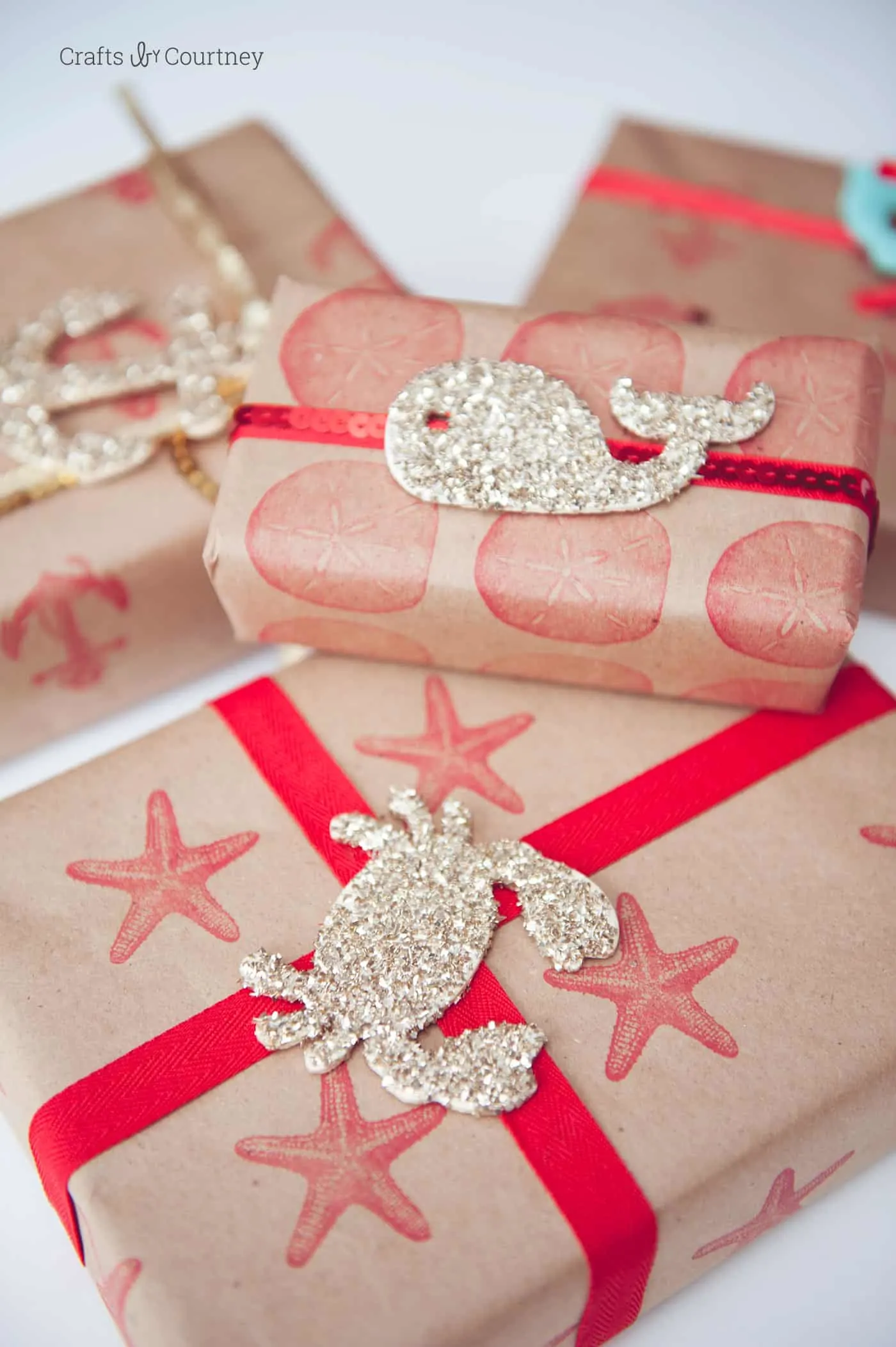 Happy holidays everyone!!
Last year I got a Southern Living Christmas Magazine, and while flipping through the pages I spotted this beautiful nautical inspired Christmas wrapping paper. I fell in LOVE!
BUT it was getting close to Christmas and I didn't want to order it. I wouldn't have had the time to receive and wrap presents as well.
So I decided to save this DIY Christmas wrapping paper idea in an attempt to make it for myself the following year. I had the page pinned to my inspiration board in my craft room for a year . . . and it was finally the time to try.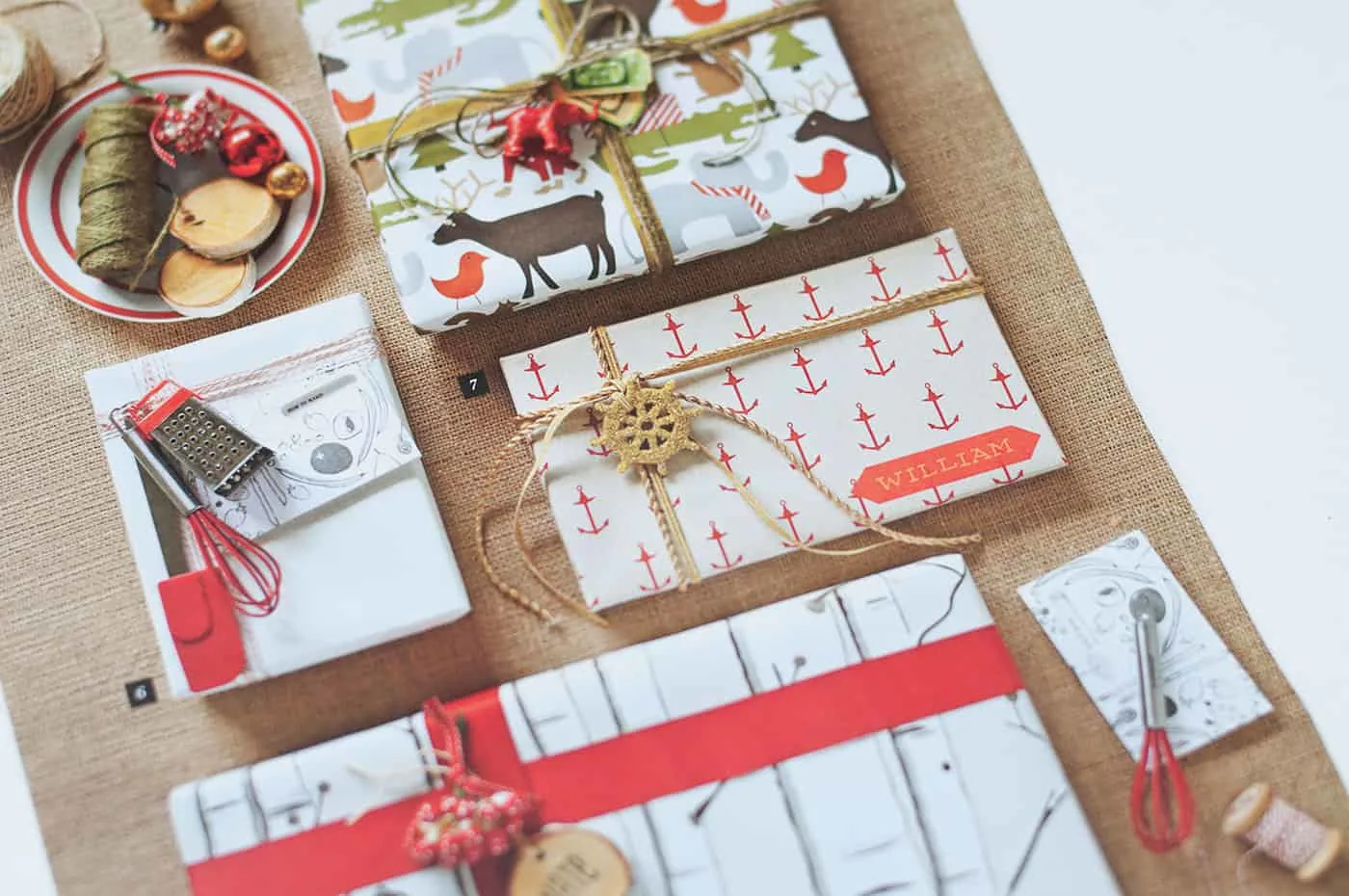 This past year, I bought some great nautical stamps that I've been saving for this craft. You can use any kind of stamps you want and customize this wrapping paper to your style.
Make Your Own Wrapping Paper
The biggest question I get about how to make wrapping paper is, "what should I use as the base?" I love using the packing paper from the Dollar Tree that comes on a roll. Last year I wrapped all my gifts in it.
Kraft Paper
You'll hear this brown paper referred to as "kraft paper" and "butcher paper" as well. You can purchase it from a variety of places, like The UPS Store, WalMart, Target, Michaels . . . or even online.
In addition, kraft paper comes in white if you aren't digging the brown. You can also use packing paper that comes in the sheets – however, that's more like newsprint.
The stamps won't be as vibrant on the newsprint. My personal favorite is the brown kraft paper, but you do have options!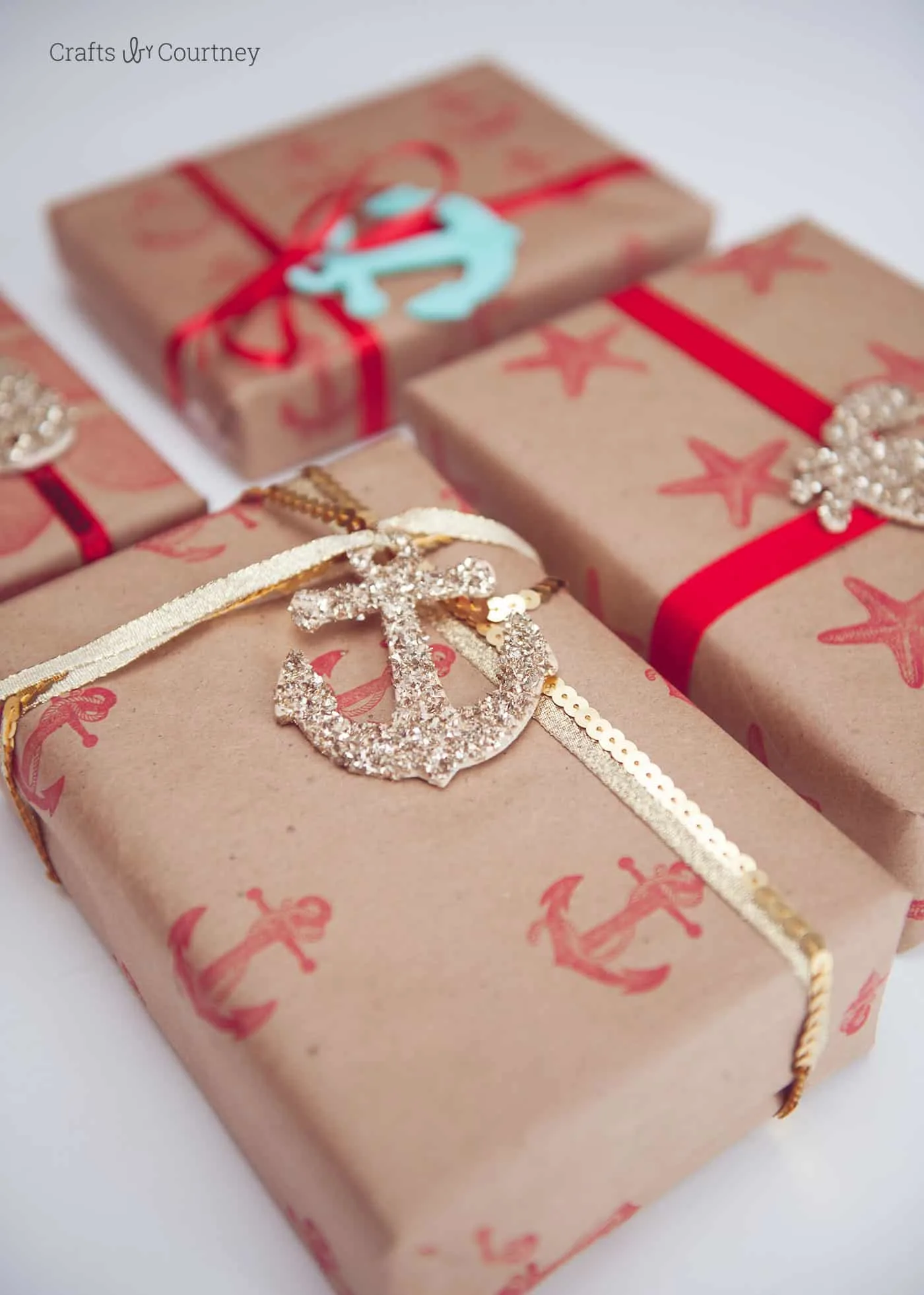 Adorning Your Gifts
When you head to the craft store, select several different ribbons for your packages. But what are you going to Mod Podge, you ask? Well, the embellishments for the wrapping! You'll choose wood shapes (going along with the theme of your wrapping).
In addition, you'll want to grab glitter, which you'll adhere to the shapes with the Mod Podge. Use a thicker, chunky glitter if you don't want to paint the wood shapes, so the coverage is better.
Are you ready to learn how to make your own wrapping paper? Keep reading.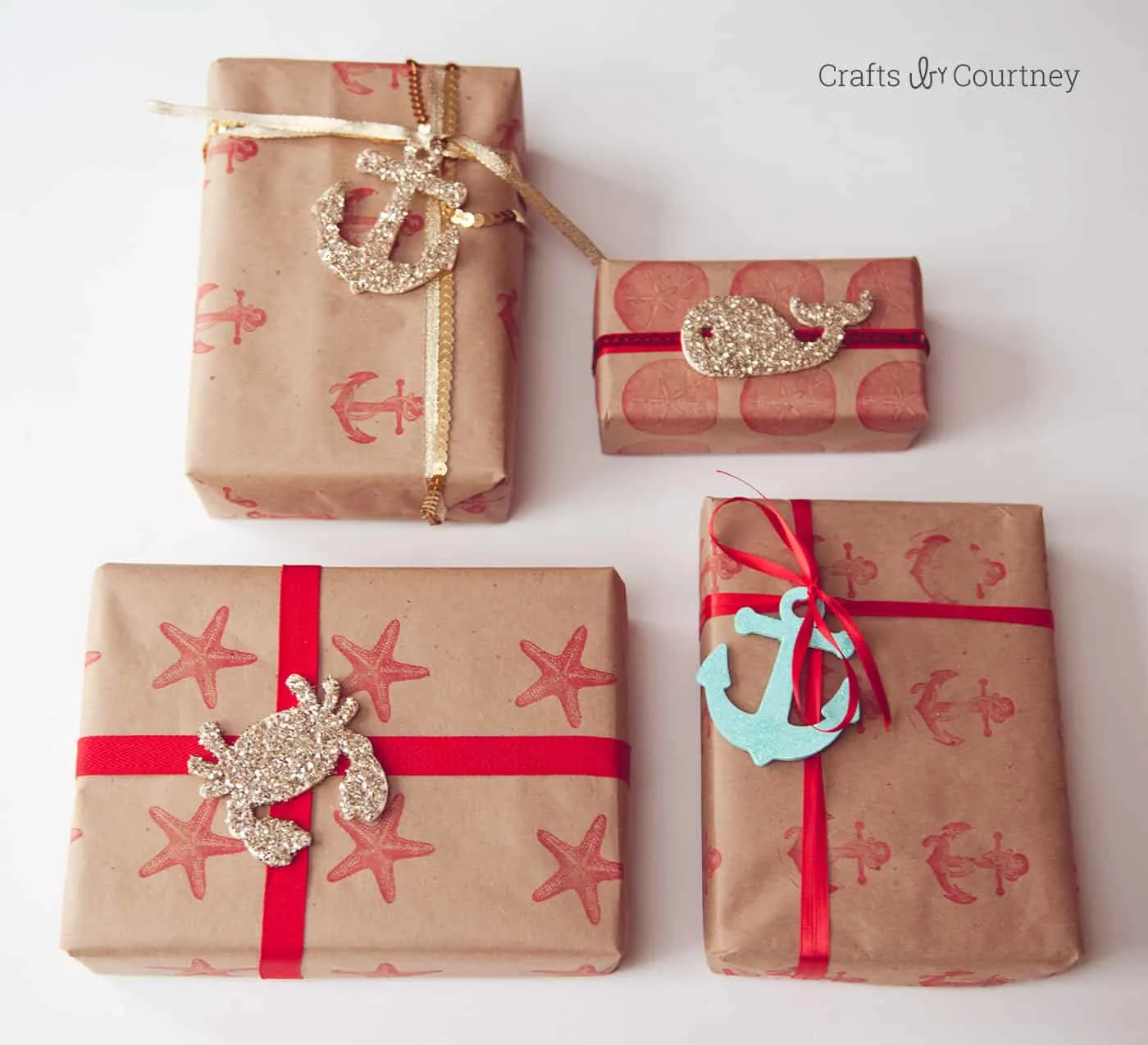 For this festive homemade wrapping paper you're going to need:
Gather These Supplies
Kraft Paper or Packing Paper
Stamps
Glitter
Ribbon
Stamp Ink
Wooden Embellishments
Scissors
Paintbrushes
Tape
Getting Started
I had to go to a few stores to get my supplies. WalMart had a great variety of Christmas ribbon for $1.00, which was awesome for the pocketbook. Then I headed to Michaels for my wooden anchor, whale, and crab.
I already had the glitter, ink, and Mod Podge Gloss in my craft stash.
I have my Christmas music on (Mariah Carey) and a cup of coffee in hand; time to get Christmas crafting!!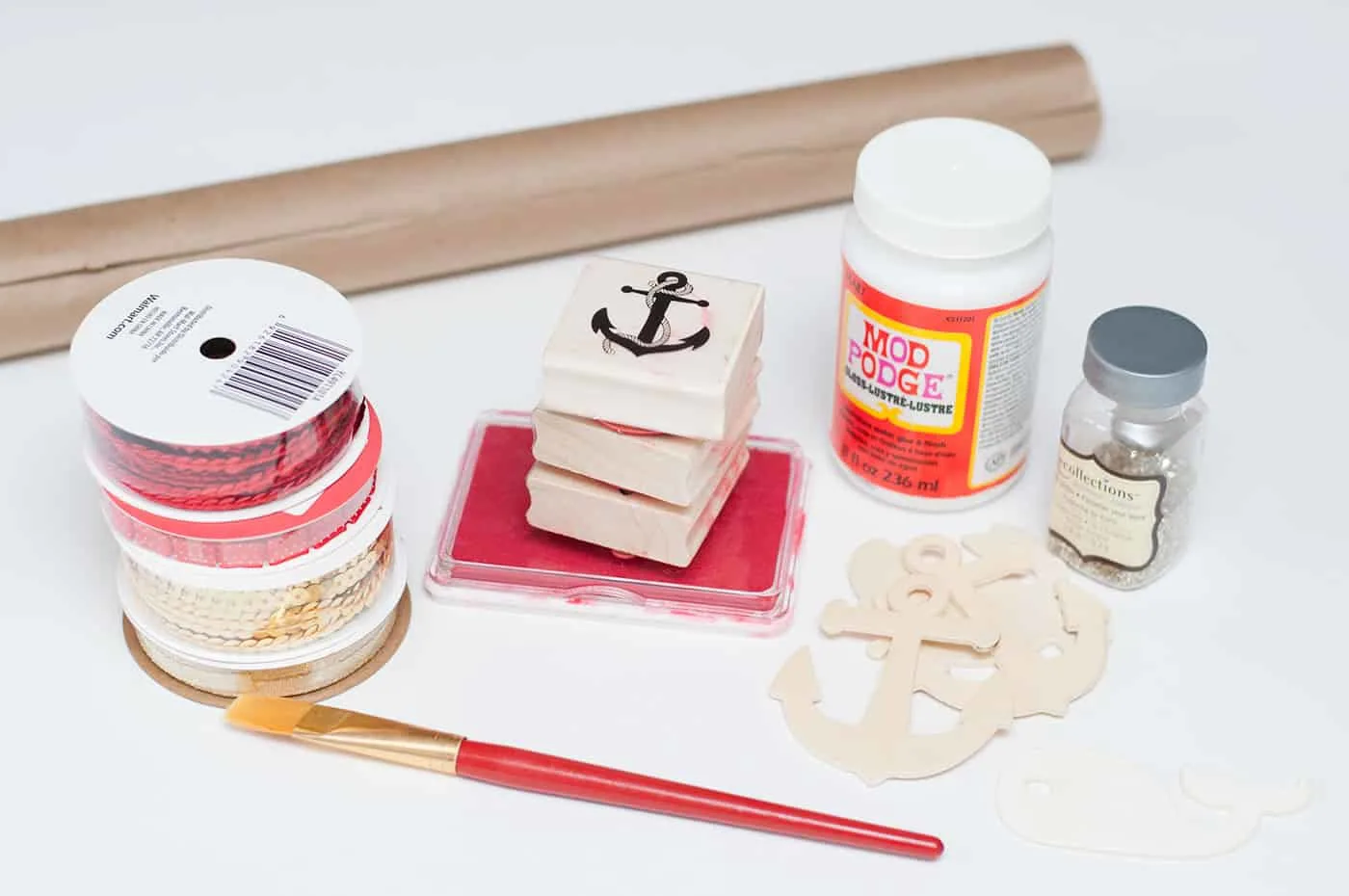 Step 1 – Stamp on Your Pattern
I cut my paper to fit the size of my gift, then gently (but firmly) stamped my shape onto the paper (before wrapping). For my nautical theme, I purchased these great stamps from Michaels in the dollar bin ($1.50 each) during summer.
Usually the stamps are around $7.00 each in the stamp section, so this was a deal!! Keep your eyes out for sales during the year so that by the time the holidays roll around, you have a bunch of stamps to make your own wrapping paper.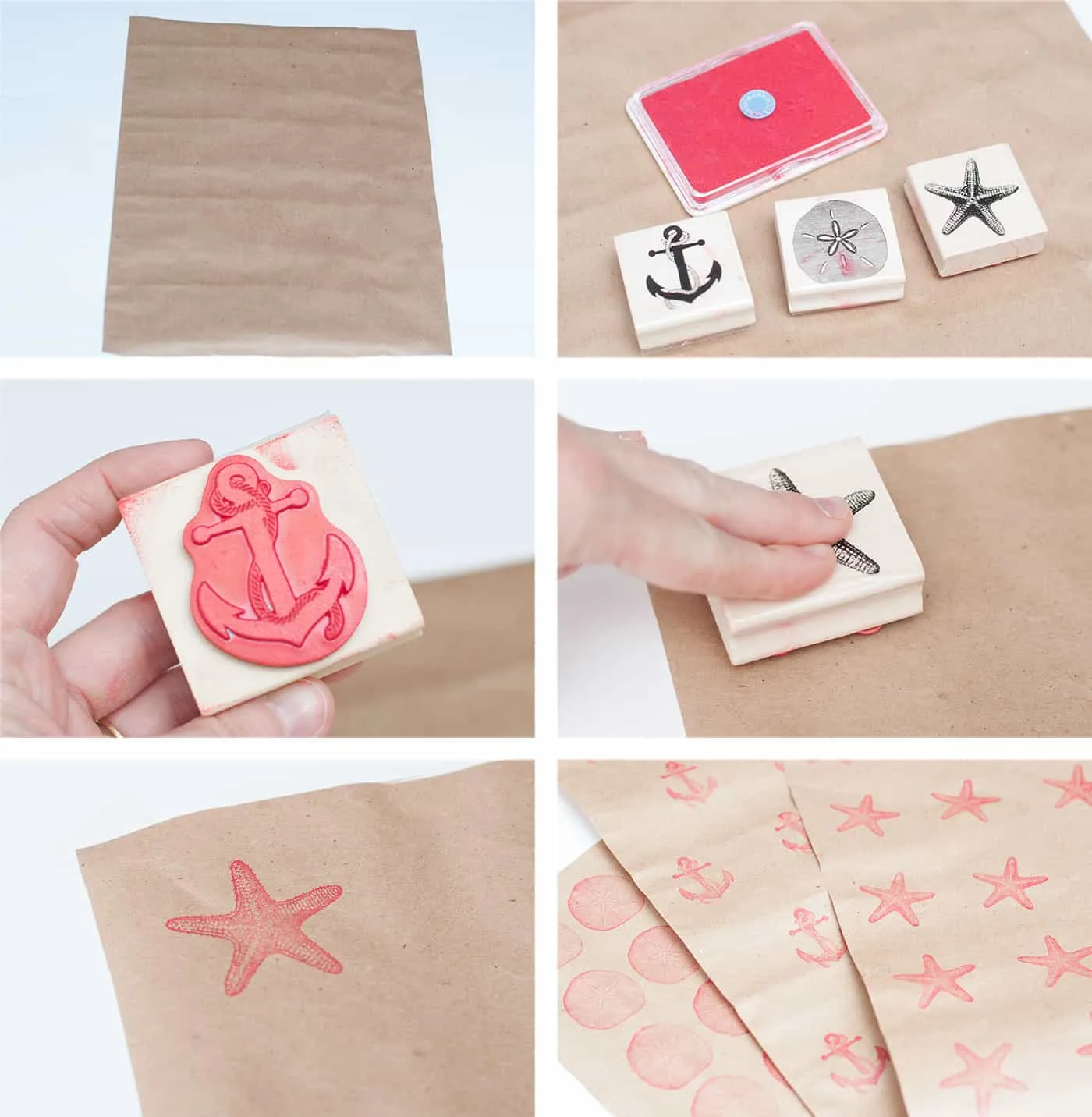 Step 2 – Wrap Presents
Next I wrapped my gifts with the stamped kraft paper. Just a quick tip: I hot glue the ends of my gifts so no one sees any tape. Don't you think Martha Stewart would be proud? I heard she has a room devoted strictly to gift wrapping . . .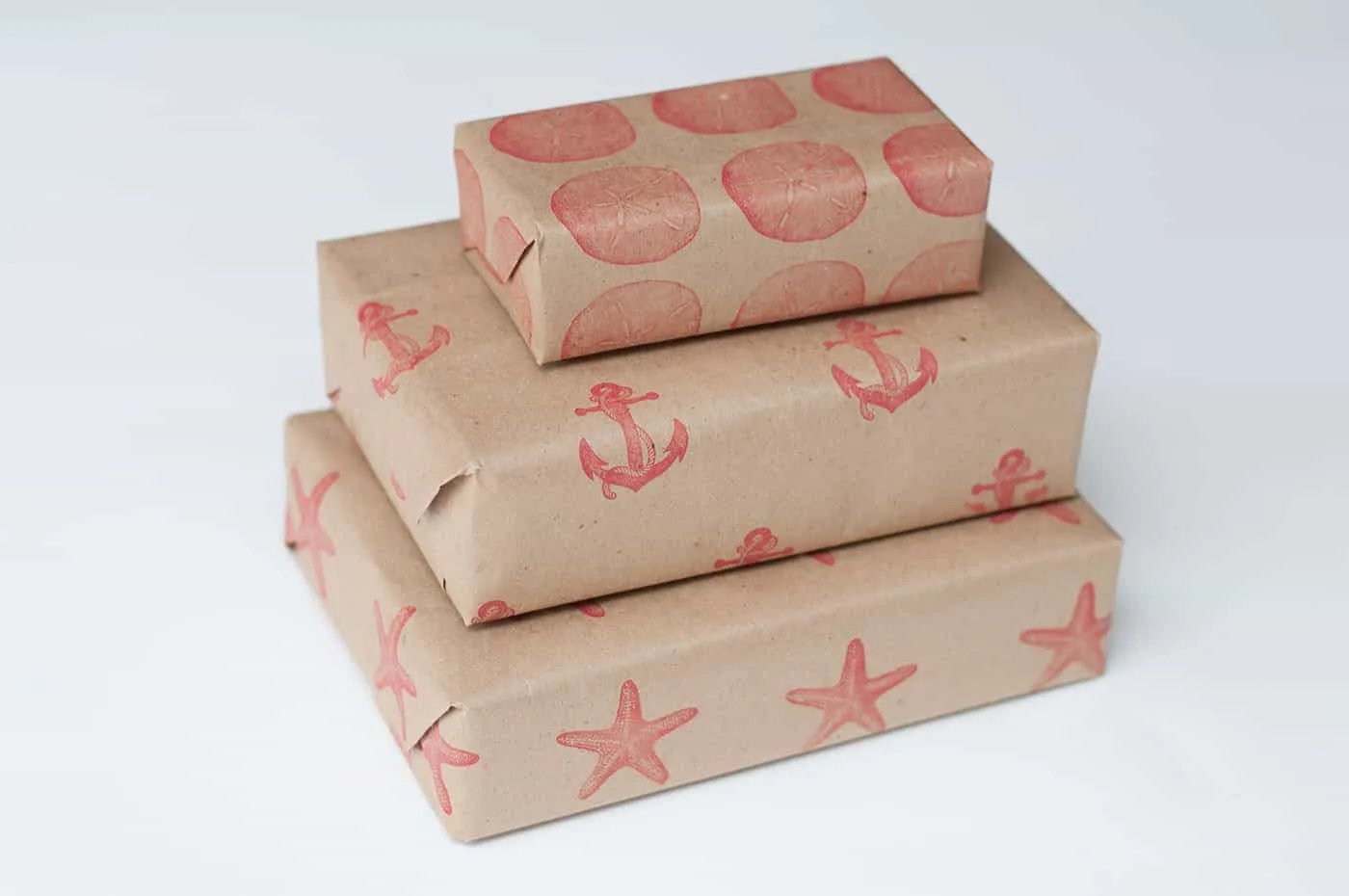 Step 3 – Add Your Decorative Ribbon
Next I added my fun decorative ribbon. You can get as creative as you want with this step! I encourage you to use a variety of styles and textures, though don't make it too wide – you'll cover up that beautiful DIY wrapping paper you made!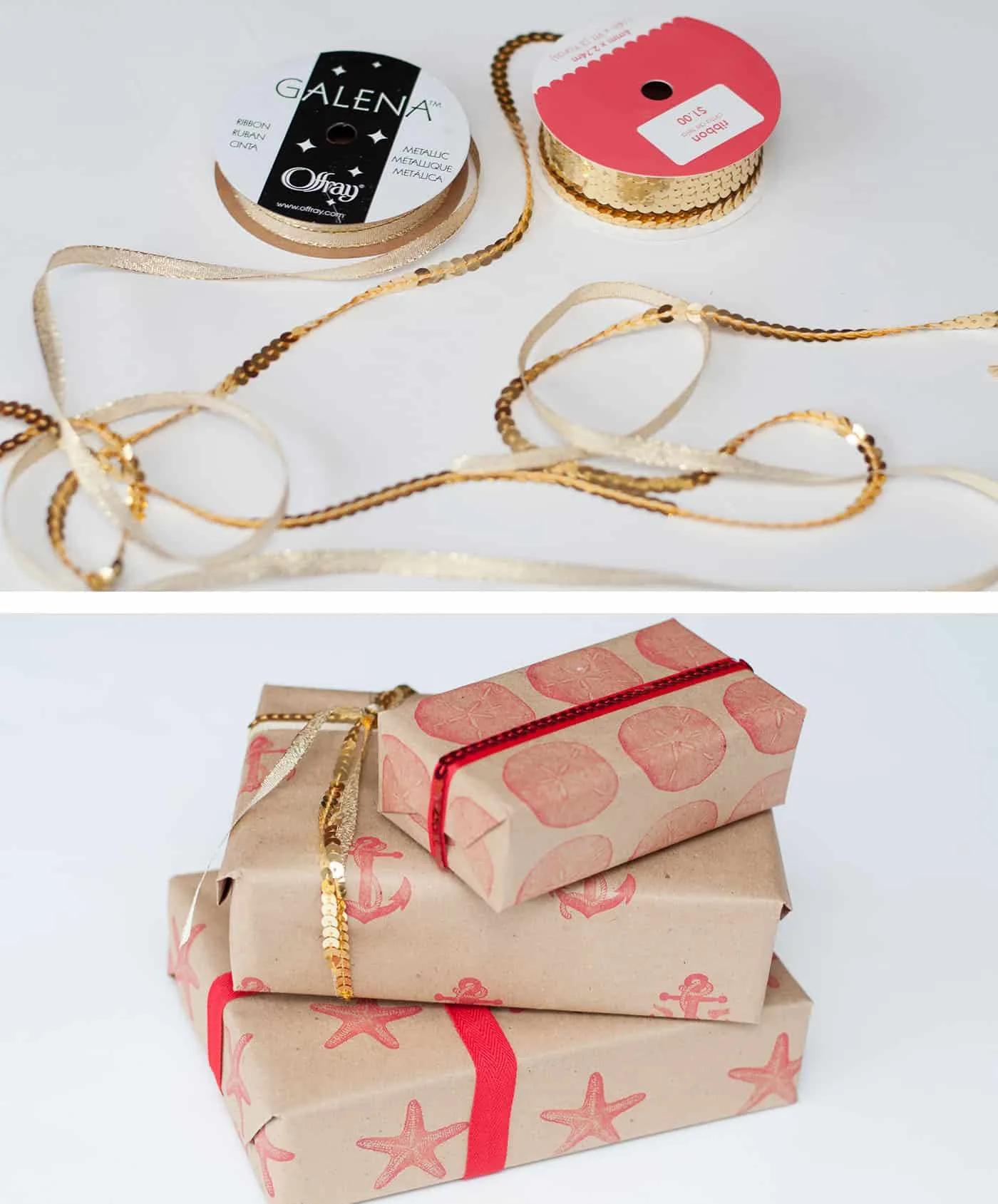 Step 4 – Add Your Glitter
Now let's add our embellishments to our homemade wrapping paper! I just love these shapes. Every time I'm in Michaels I grab a couple, so I always have them on hand.
I covered them with my "handy dandy" Mod Podge then sprinkled my glitter on top! Let them dry for 30 minutes.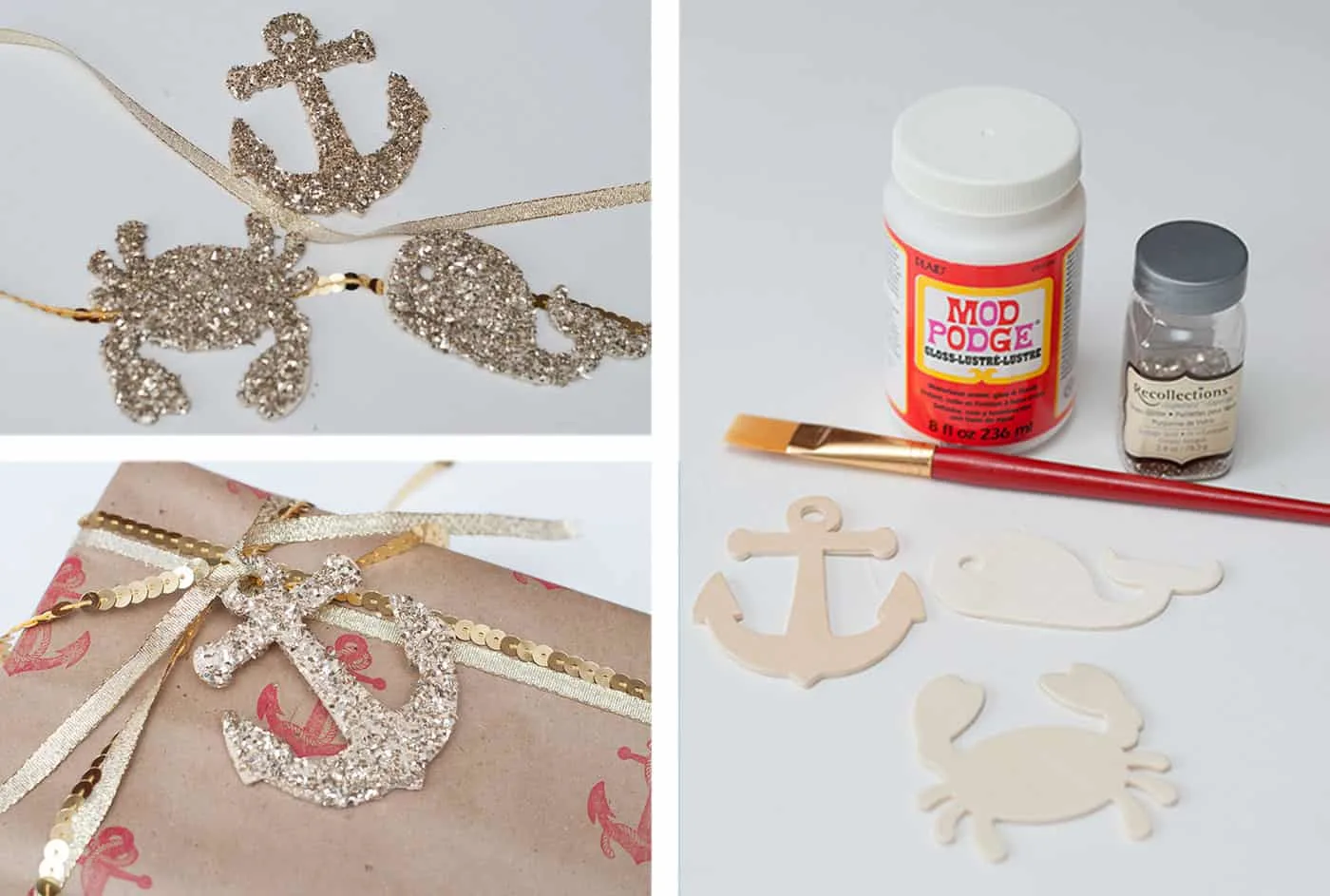 Finishing Touches
I was able to tie the anchor to the ribbon due to the hole, but the crab and whale were hot glued to the packages. You can re-use the shapes, by the way. The person opening the gift should just peel off the paper. Hello . . . instant ornament?!
My DIY wrapping paper turned out perfectly!! This process was so easy; I'll be doing all my gifts like this.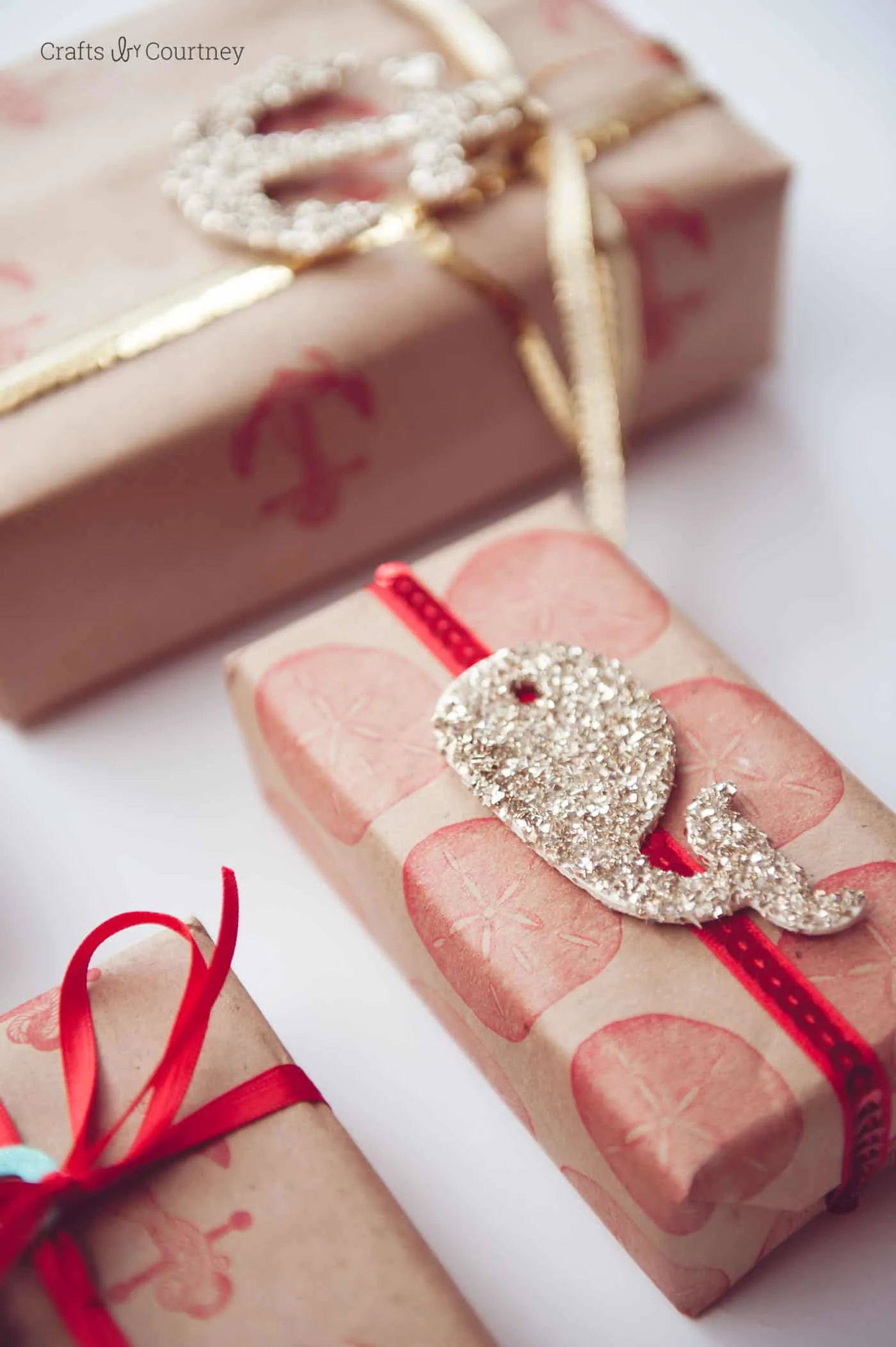 Now that you know how to make your own Christmas wrapping paper, you can style yours any way you like.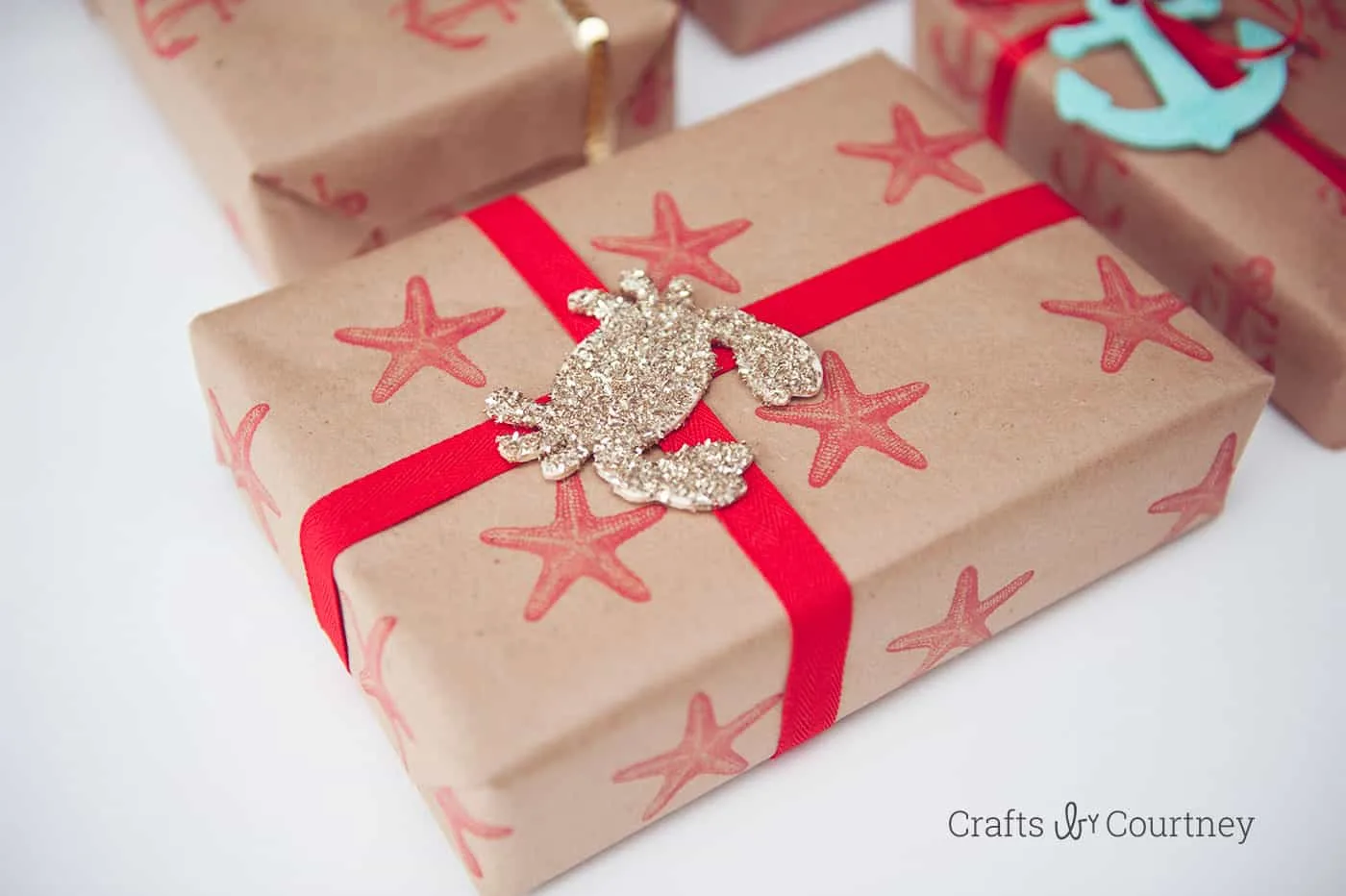 What stamp pattern and wood pieces will you use? Let me know in the comments!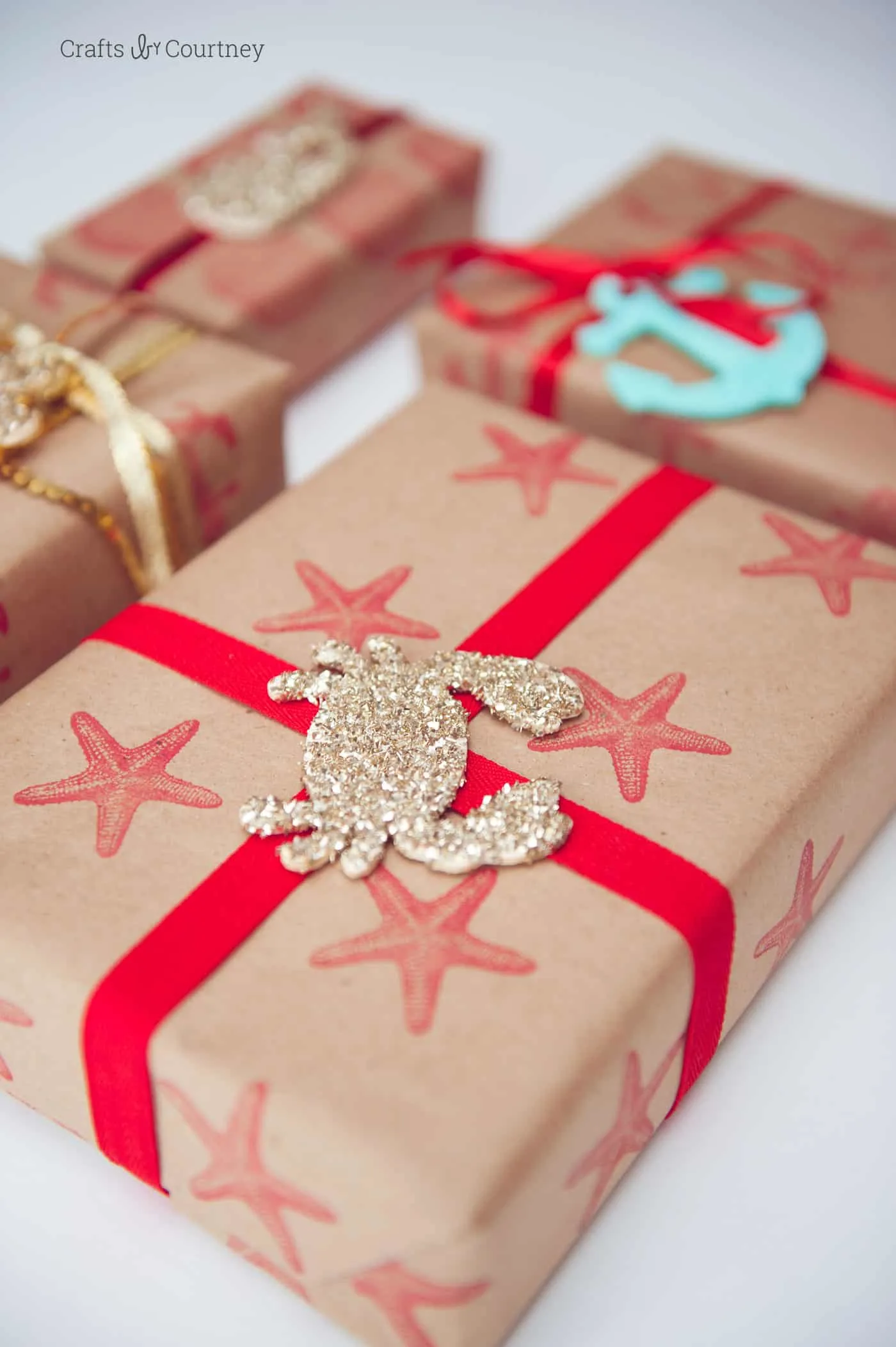 Last year I started working on my coastal Christmas decor with some coastal ornaments for my tree. This year I have added my coastal glittery Christmas Trees. I still have a couple more things to do to complete my look this year.
But I think these gifts are a perfect addition!
Yield: 5 gifts
DIY Wrapping Paper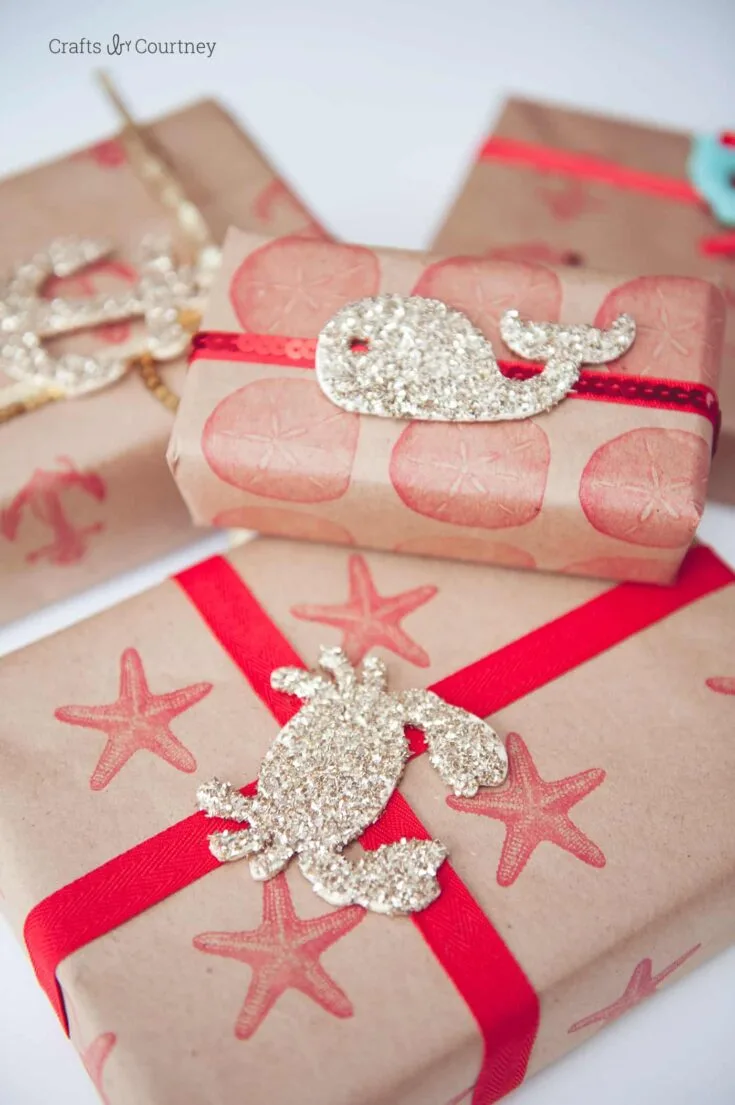 Learn how to make your own wrapping paper with stamps, ink, and wooden tags! You can customize this a variety of ways.
Materials
Mod Podge Gloss
Kraft Paper or Packing Paper
Stamps
Glitter
Ribbon
Stamp Ink
Wooden Embellishments
Tools
Scissors
Paintbrushes
Hot Glue Gun and Glue Sticks
Instructions
Cut the paper to fit the size of your gifts. Lay out the paper on a working surface.
Select your stamps and figure out the pattern you would like. Ink your stamps and firmly stamp them on them onto the paper.
Wrap the gifts with the stamped kraft paper. Hot glue the ends to seal.
Measure the decorative ribbon, cut with scissors, and wrap around the packages. Combine textures and styles.
Apply Mod Podge to a wood shape and sprinkle on glitter. Let dry. Repeat to fill in any areas that are sparse. Let dry completely.
Add the embellishments to the packages using additional ribbon or a hot glue gun.
---
If you like this craft, I have an idea for what you can put in the packages that you wrap: beach themed oatmeal soap. It's easy to make!
If you guys want to get even more crafting inspiration, be sure and visit the following posts: