Have you ever tried chalkboard paper? This secret ingredient adds a special touch to this display of Christmas chalkboard trees! Learn how to make a chalkboard Christmas tree below.
Skills Required: Beginner. You don't need much crafting experience to make this homemade decor. You'll be using Mod Podge to adhere paper to wood blocks.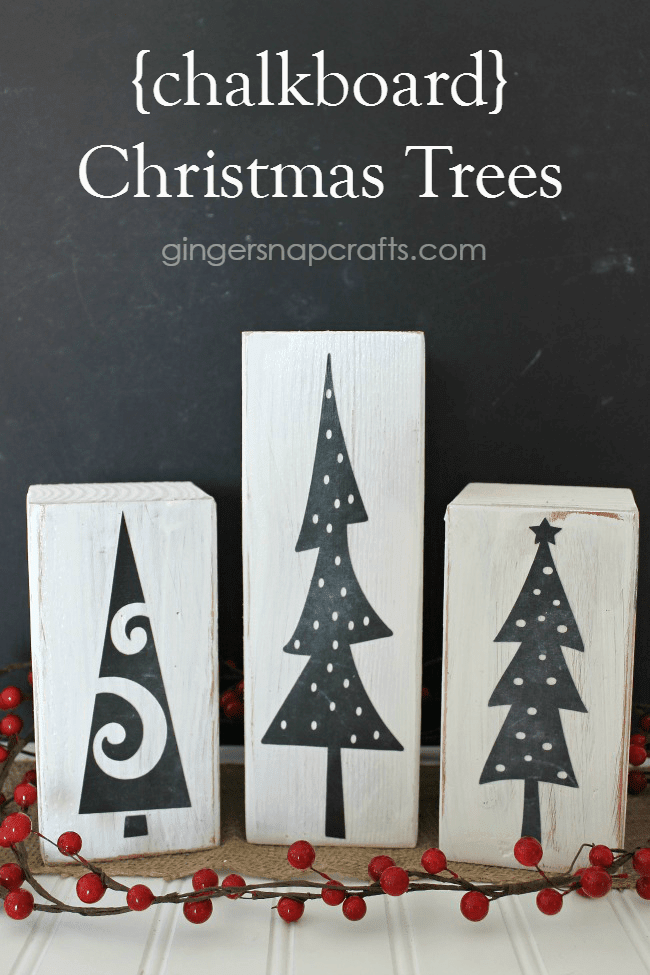 Hello! It's Ginger from Ginger Snap Crafts, & I am so excited to be here with all of you! Over on my blog I love sharing simple crafts, my latest DIY projects, easy recipes, organization tips & more!
I also share a little bit about my life with one amazing hubby and five wild and crazy kiddos. I'd love to have you over sometime. 🙂 I love the look of chalkboard, but I'm not so crazy about the mess!
So a faux Chalkboard Christmas Tree is perfect. Plus they are so simple to make! So let's get started on this wood Christmas craft.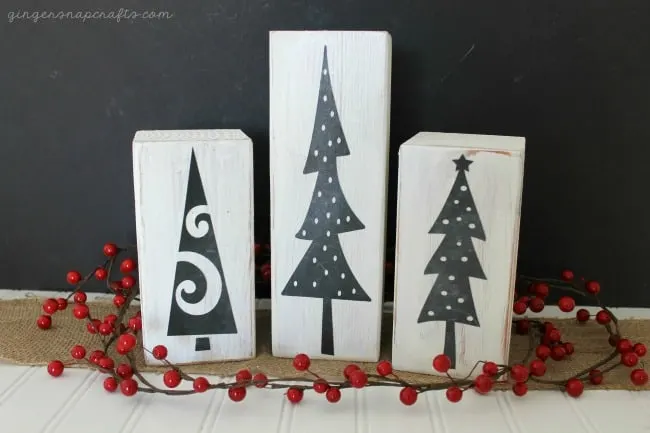 Christmas Chalkboard Trees
You'll need a few supplies to get started:
Mod Podge Gloss (though just about any kind would work!)
4×4 piece of untreated wood cut into 3 blocks (10 inch, 7 inch & another 7 inch)
white chalk or acrylic paint
sandpaper (optional)
foam brush
chalkboard scrapbook paper
this image & this image from the Silhouette store (or you could freehand your own Christmas tree shapes or search for clipart as well)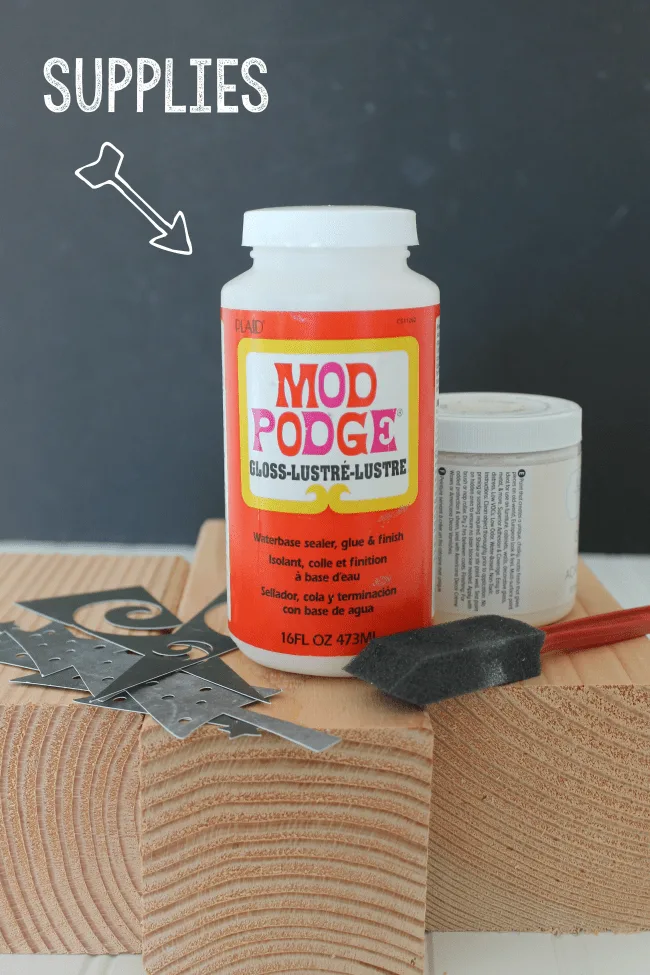 I cut out my trees using my Silhouette & the chalkboard paper. You could also freehand some Christmas trees & do it that way as well.
Then I painted my wood blocks white with chalk paint. I love chalk paint. It gives a nice soft look. You really could use any type of paint though ~ even spray paint. It's a little bit too cold where I live to break out the spray paint though! 😉
After the paint dried, I roughed up my blocks just a little bit with a piece of sandpaper. If you like that look, too you can do that as well.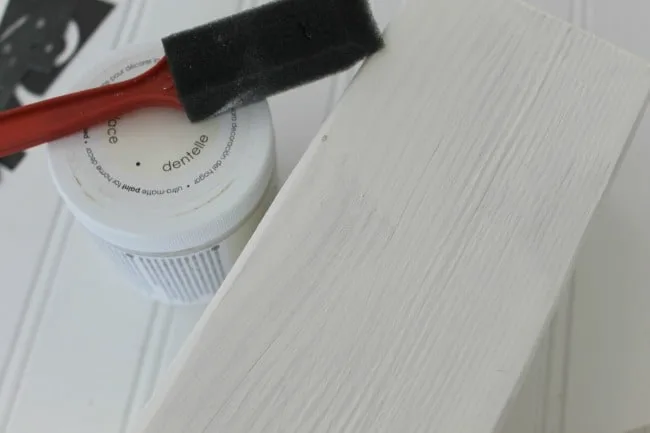 Next I put one coat of Mod Podge on my wood block with a foam brush. I love using Mod Podge to give my surface a smooth finish.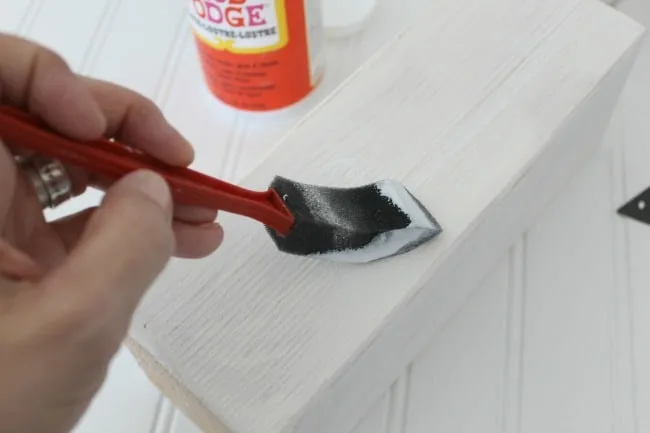 Next I put my paper chalkboard tree that I had previously cut out on top of the layer of wet Mod Podge. Then I applied a coat of Mod Podge on top of the paper chalkboard tree.
I pressed down with my brush as I was applying the Mod Podge to make sure that I got out any bubbles or "loose" spots. Then I let it dry. Repeat for the other two blocks. That's it! So easy!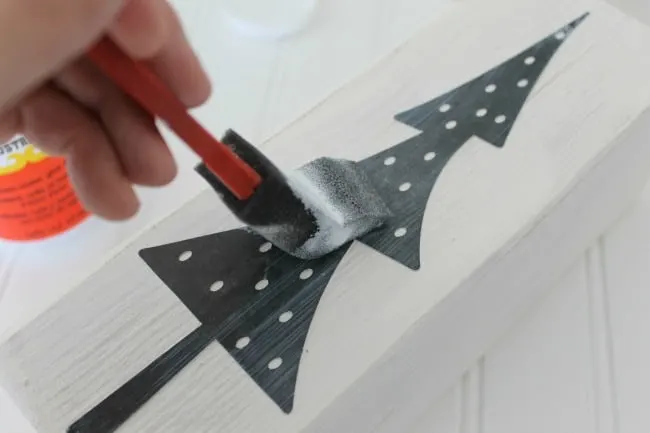 These are going to look so cute on my winter mantel. I love the contrast of the white & black in a Christmas craft. 🙂 I hope you all have a very Merry Christmas! Thank you so much for having me over Amy! If you try a chalkboard Christmas tree, let me know in the comments.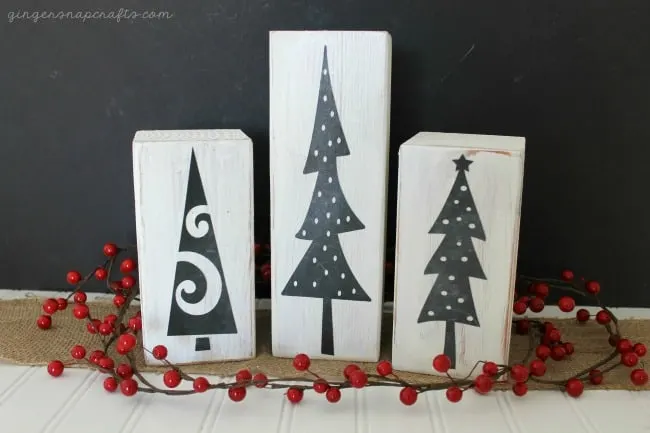 Yield: 3 trees
Chalkboard Christmas Tree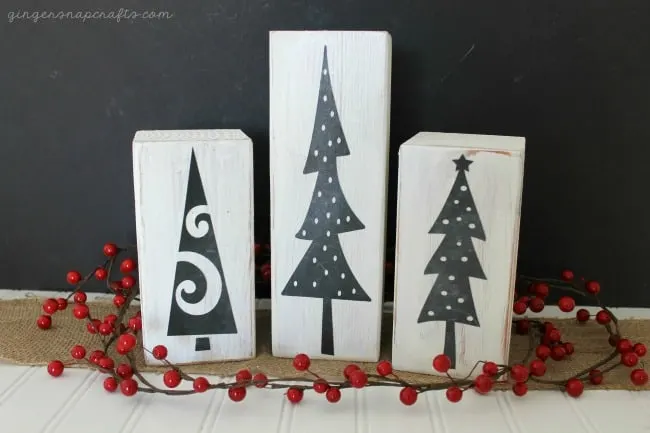 Learn how to make a chalkboard Christmas tree display using Mod Podge! Great for a holiday mantel.
Materials
Mod Podge Gloss
4 × 4 piece of wood cut into three blocks (10 inch, 7 inch & 7 inch)
Chalk paint
Sandpaper (optional)
Cutting machine and art or craft knife and clip art
Instructions
Cut the trees from the chalkboard paper using either a cutting machine or craft knife and clip art. Make sure to size to the wood blocks.
Paint the blocks with a few coats of chalk paint and let dry.
Use the sandpaper to rough up the blocks slightly and distress them. Wipe away any dust.
Add a medium layer of Mod Podge to one of the wood blocks using the foam brush.
Place the tree cutout down and smooth. Let dry.
Add a top coat of Mod Podge to the entire block (avoid the tree if desired). Let dry.
Repeat with the additional blocks. Let dry before displaying.
Notes
If you want to be able to write on the chalkboard paper, simply avoid doing a top coat of Mod Podge. Mod Podge will prevent the chalkboard paper from being writable.
---
I would love to hear what you think about these trees. If you want to see some additional Christmas decor projects I've done, check these out: