Learn how to transfer an image to canvas with Mod Podge. I did this with a few of my favorite prints – you can do it with your favorites too!
Skills Required: Beginner. It helps to have experience with Mod Podge to avoid wrinkles. You'll be painting canvases and then decoupaging printed images to the fronts of them.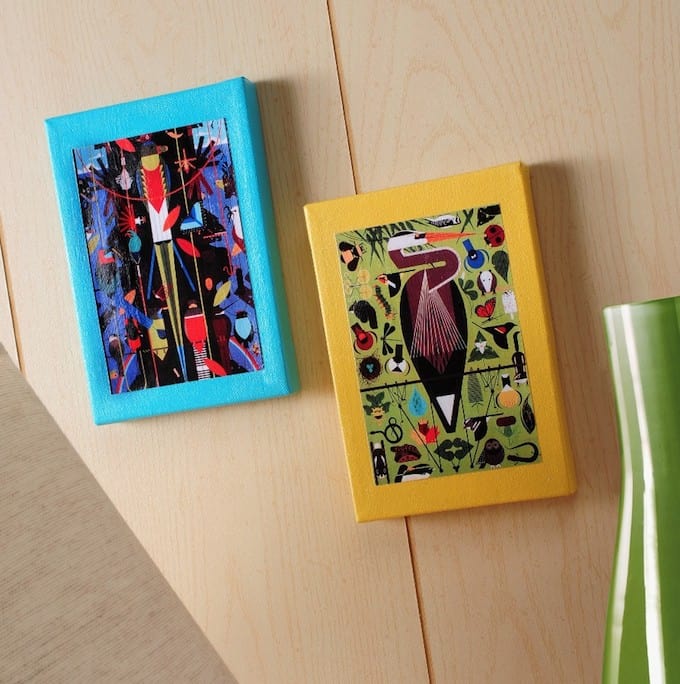 I'm a huge fan of wall art! One of my favorite things about Mod Podge is that it's so easy to put image to canvas, and on a budget.
You can pick prints you love (from anything really), and turn them into something you can hang on your wall. I particularly love scanning things and turning them into projects (not for re-sale, but for personal use).
This is one of those DIY canvas art projects that uses a scanner . . . and it's *really* beginner. For those of you who have done decoupage before, you may roll your eyes at this one . . . but just bear with me.
There are a few newbies out there who have never used the Podge before, and this is about the easiest place to begin. I mean it!
So as you can see, I did two mini-canvases featuring one of my favorite artist ever, Charley Harper. I love his work, and I own a few of his prints (lithographs) as well as this coffee table book:
I decided to go ahead and make some wall art with some scans from the book. Before I go on I have to say that when you scan things that are not yours, it can be for personal use ONLY.
You aren't allowed to sell them or claim them as yours. You probably already knew that, but I just wanted to make sure. So here's how you make the canvases.
Image Transfer to Canvas
Gather These Supplies
Scanner (I used the Flip-Pal mobile scanner)
Computer and printer
FolkArt Paint – colors of your choice
5″ x 7″ canvases – two
Paintbrush
I first scanned in two little illustrations from the book that I liked. I like the Flip-Pal mobile scanner because you can take the door off and turn it over.
Perhaps why they call it "flip" pal? I scanned at 300 dpi, but you can scan at 600 dpi too so that you can blow the picture up.
Print out the images of your choice and trim them to fit the canvases. I will tell you that if you printed them on a laserjet printer, you can go ahead and decoupage them after this.
For an inkjet printer, you MUST spray the sheets with a clear acrylic sealer before Mod Podging, or the ink will smear.
Paint the canvases with the colors of your choice.
Spread a medium layer of Mod Podge down on the canvas and smooth the design down to the top.
My technique with canvases is to turn them over and smooth from the backside too, since the canvas is very flexible in the middle. Smooth all of the bubbles out and wait 15 – 20 minutes for drying.
Put a top coat on your image and then the entire canvas. Repeat for the other canvas. You are done with your DIY canvas art; didn't I tell you that was easy?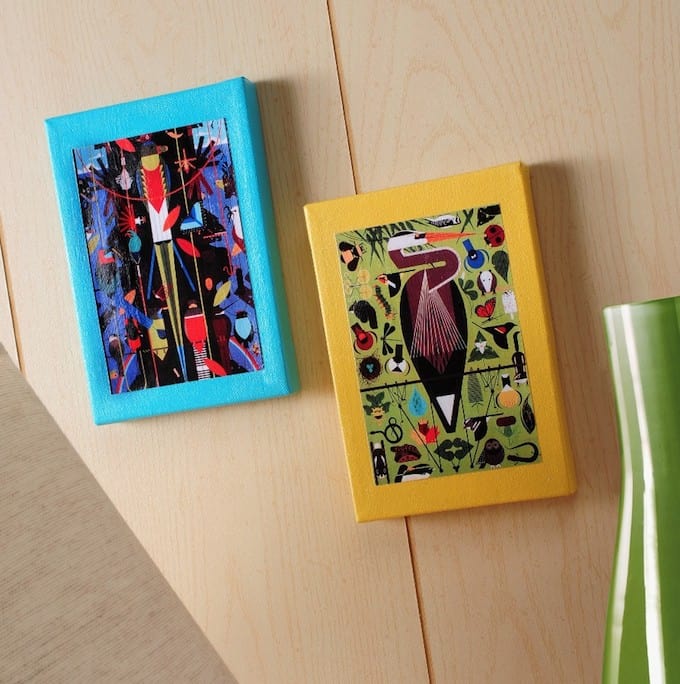 ---
If you love this DIY wall art, you'll want to check out this collection of Mod Podge wall art projects below: