A photo transfer to canvas gives your photo and your project a slightly vintage feel – it's a beautiful twist on a traditional decoupage craft!
Skills Required: Intermediate. Photo transfer takes a little practice, particularly with learning how much of the paper you can rub on. I'd try a sample project first in case there's a learning curve for you.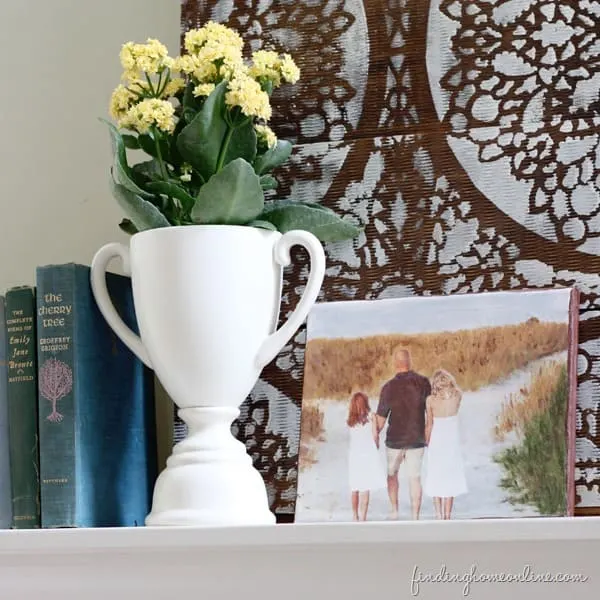 Doing a photo transfer to canvas – this is a project I get asked about ALL the time. Making a project like this requires one of my favorite Mod Podge products, the photo transfer medium! If you haven't tried it, it's kind of amazing. And that's what Laura used to create this fabulous DIY canvas.
I know what your question is going to be. Why would you do a photo transfer as opposed to just decoupaging the printed image directly to the canvas? Well, my friends, Mod Podge photo transfer medium just gives an image a different look.
I love the vintage, (slightly) faded feel, and you also don't have to worry about wrinkles, which is pretty nice since canvas isn't the easiest surface to Mod Podge a sheet of paper to.
If you've been holding off on trying the photo transfer medium, give it a go – it's pretty fun. Give this transfer a few tries and I promise you'll be good to go! Learn how to make this canvas idea below.
Yield: 1 canvas
Photo Transfer to Canvas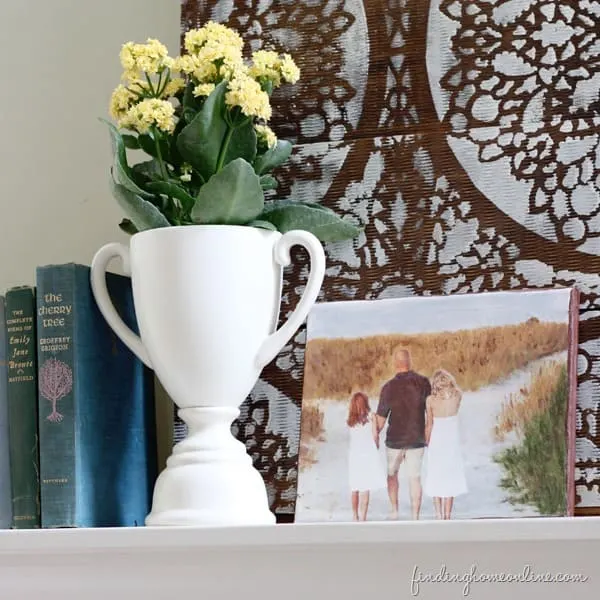 Learn how to do an image transfer to canvas using Mod Podge photo transfer medium.
Total Time
12 hours
55 minutes
Materials
Mod Podge Photo Transfer Medium
Mod Podge Matte
Acrylic paint
Canvas
Laserjet printout to fit the canvas
Parchment or wax paper
Small bowl of water
Sponge
Tools
Foam brush
Scissors
Paintbrushes
Instructions
Lay out a piece of parchment paper. Using your foam brush, cover the picture with an even and thick coating of the photo transfer medium. You should barely be able to see the image.
Place the image face down on the canvas and smooth out any bumps. Wipe away any medium that comes out the sides.
Leave overnight (at least 12 hours) to dry.
Once dry, begin removing the paper with water and a sponge. Wet and slowly begin rubbing and removing the paper.
You will begin to see the image appearing. Continue but don't rush, until all the paper is removed.
Once idry, using the craft paint to layer in colors and create your desired image (optional).
Cover the canvas with a coat of Mod Podge Matte. Let dry.
Paint the sides to finish; let dry before displaying or hanging.
Painted canvas: Mod Podge photo transfer at Finding Home
---
Love this home decor idea? Check out these other photo craft ideas here: