Learn how to transfer photos to wood in three simple steps! All you need for this photo transfer to wood is your favorite image and a medium. It's easy! Don't forget to watch the video in this post that shows you exactly what to do.
Skills Required: Advanced Beginner. A photo transfer to wood takes some knowledge of how to apply mediums as well as a little bit of practice.
NOTE: This tutorial uses a laserjet image and Mod Podge photo transfer medium. If you'd like to do a transfer with an inkjet image and regular Mod Podge, go here.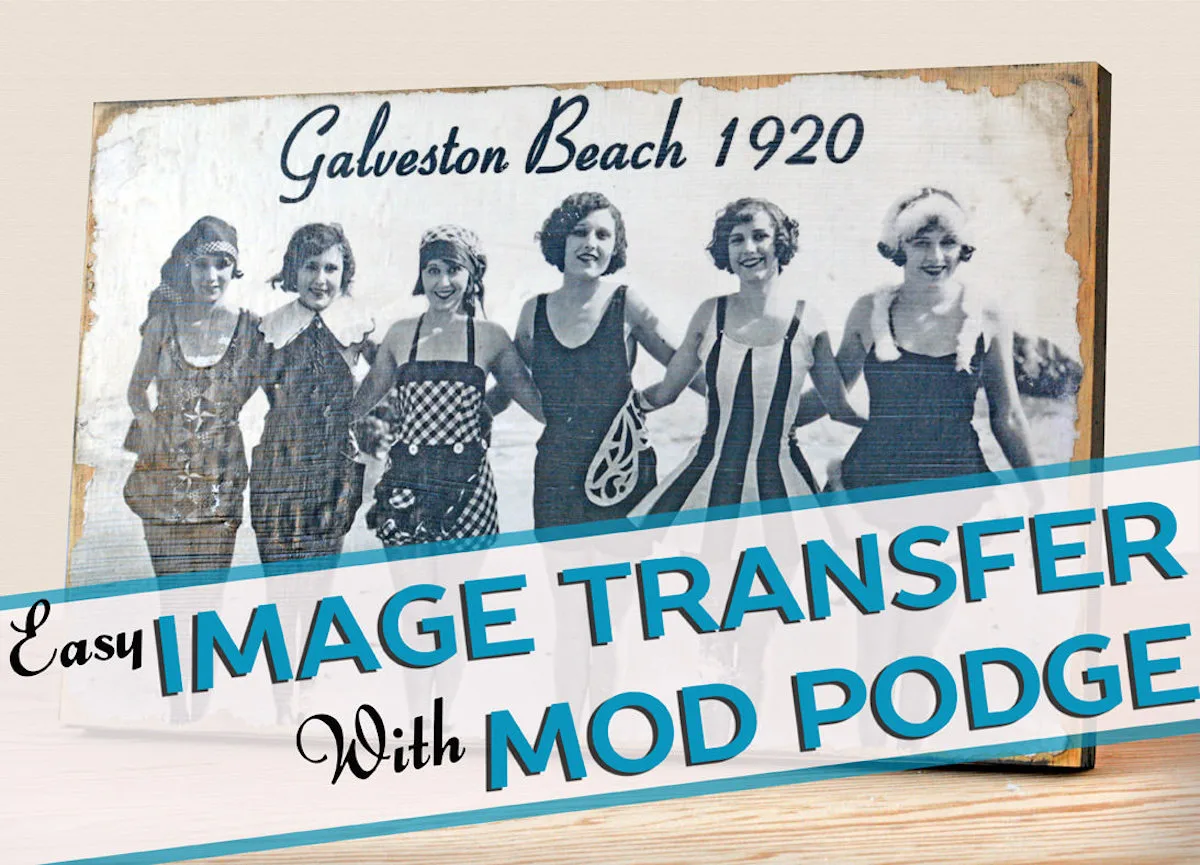 Hi, it's David from Cheltenham Road with a quick tutorial on my favorite thing to do: a photo transfer to wood with Mod Podge Photo Transfer Medium. This medium is easy to use and creates terrific results. In fact, I'll show you how to transfer photos to wood in three simple steps!
Any painting of the wood is an additional step if you choose to do so . . . the photo transfer itself is simple as can be and makes great decor on its own. (get more craft ideas using Mod Podge Photo Transfer Medium!)
Transferring Pictures to Wood
If you're wondering how to transfer photos to wood, it's a relatively simple process. You'll print a photo out on a dry ink printer (like laserjet or an HP). You'll paint a medium on the front of the photo, and then smooth it onto an unfinished or painted surface.
The image will need to dry on the surface overnight, and then you will wet the surface and rub off the paper, leaving the image from the ink and the dried medium behind. This particular medium will give your image a white background (as opposed to clear).
Choosing Pictures
If you follow my blog you know I'm all about vintage graphics, so I thought I'd use one of my favorite images and just do a simple transfer to a piece of everyday plywood.
Black and white photos look great with this technique since there's a rustic vibe, however, you can use color photos as well.
When you print out your photo(s), make sure they 1) they fit the surface you are transferring to and 2) any words should be backwards. When they are transferred to the surface, the words will be going the correct way.
Transfer Photos to Other Surfaces
The exciting thing about this project? You can use this same method to transfer photos to fabric or canvas. I'm showing you how to do it on wood, but don't limit yourself.
Oh, and if you want to learn how to transfer photos to glass, that's an entirely different method you'll see here.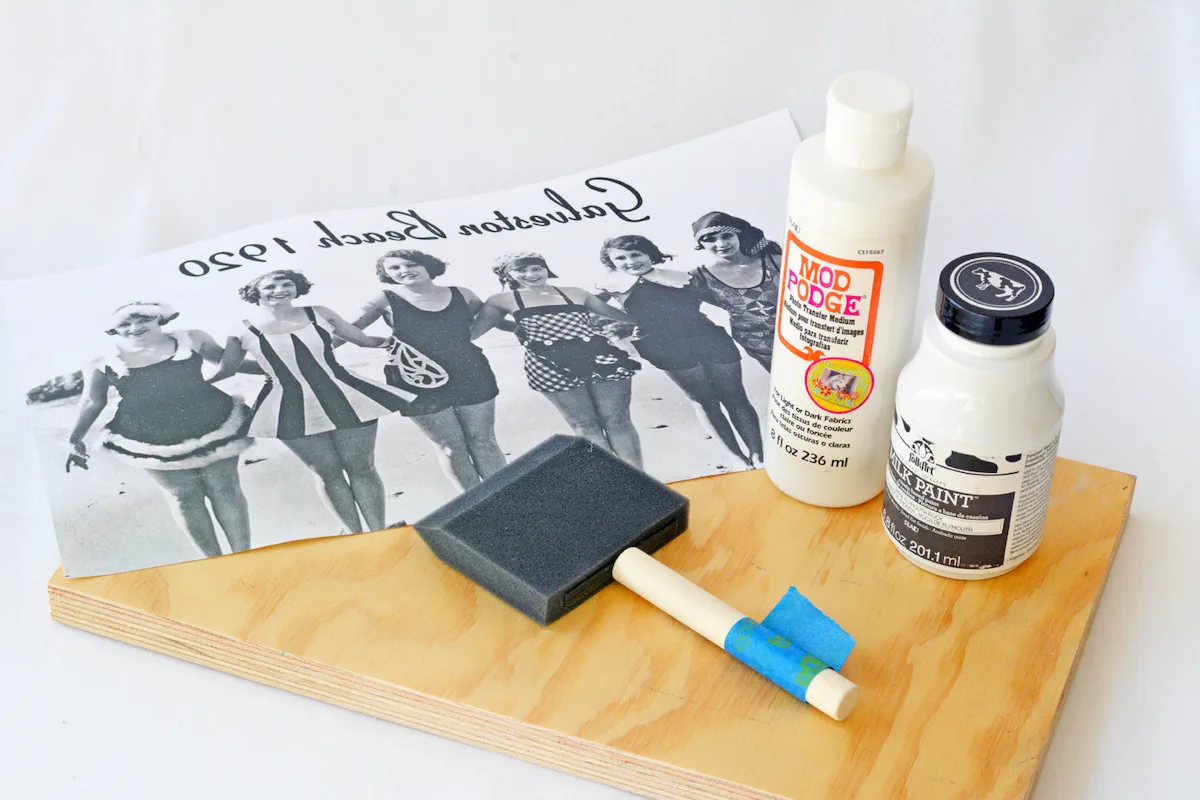 ---
Learn how to transfer photos to wood the easy way below!
Here's what I used for this project:
1/4″ plywood cut to 13 x 8 (you can also use a wood plaque from the craft store)
Mod Podge Photo Transfer Medium
Folk Art Milk Paint: Plymouth Rock
Foam Brush
Damp rag or wet sponge
Image printed on regular paper using a laser printer or photocopier
Sharp craft knife
Brayer (useful but not absolutely necessary)
Silicone craft mat (useful but not absolutely necessary)
Tips and Tricks for This Project
Painting the board is optional. You can use any acrylic paint, milk paint, or chalk paint. You'll let the paint dry completely before doing the transfer on top.
Reverse text before printing. Since the photo has text, I reversed the image before printing it onto plain paper using my laser printer.
Use DRY ink. Laser prints work as well as DRY ink toner prints (like HP ink). You may have to do some research or experiment to see if your printer has dry ink.
Protect your workspace. I laid everything on a silicone mat, which is great for this. You can use wax paper if you'd like but make sure to protect your work surface.
A brayer is great for smoothing. I smoothed out any air bubbles using my fingers and the brayer (the brayer is great but if you don't have one use a rolling pin, a glass bottle, etc).
Distress if you want to. I wanted a very vintage/beat up feel so I went in with my sander and sanded away the edges of the graphic, revealing the plywood. Once I was happy with the look I sealed the whole thing with two coats of Mod Podge Matte.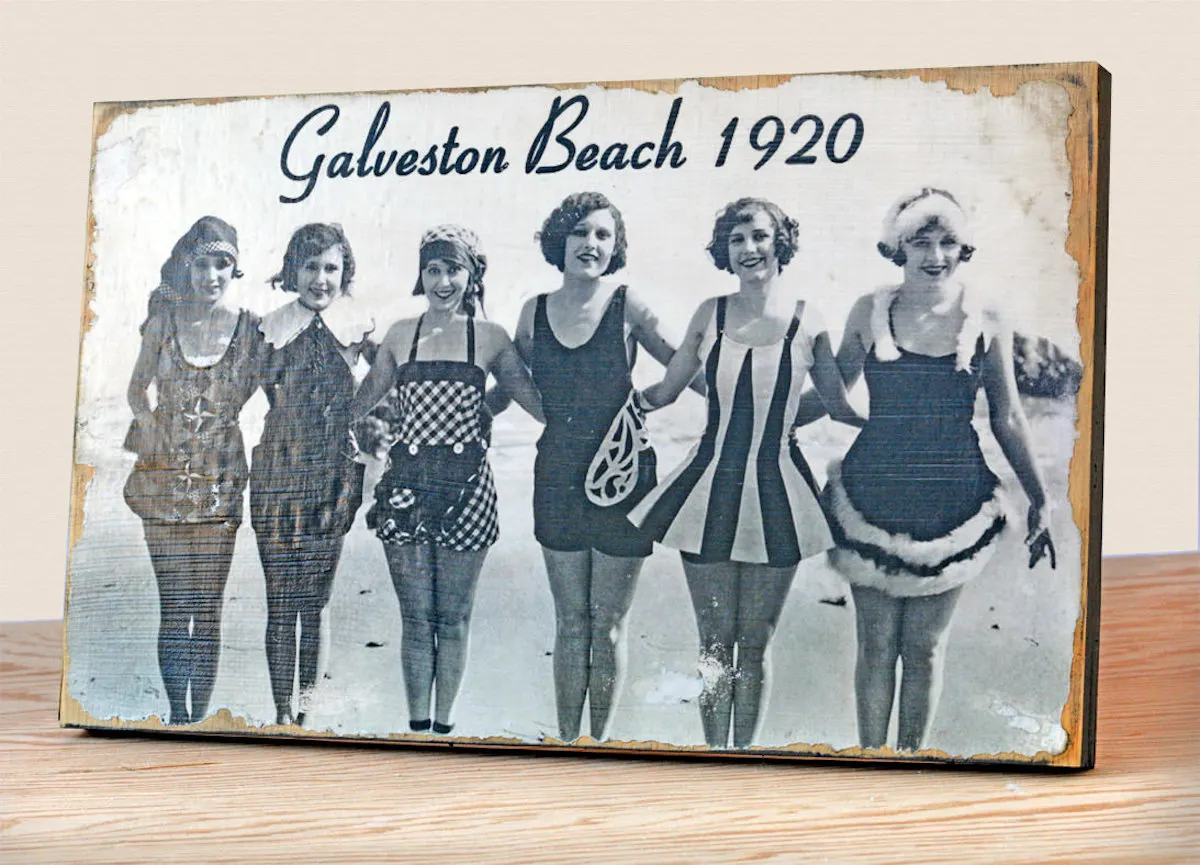 Now you know how to transfer photos to wood! Easy, sorta quick (if you don't count the passive drying time), and inexpensive wall art!
TIP: I've worked with Mod Podge Photo Transfer Medium a lot, but if you're new to it, do a little tester piece before tackling a big project. And please check out the extremely useful list of tips that Amy has compiled for working with Transfer Medium here.
Yield: 1 transfer
Photo Transfer to Wood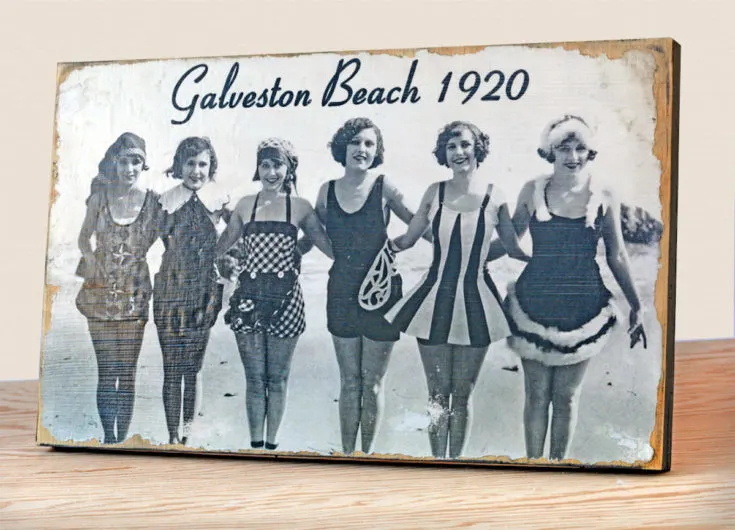 Learn how to transfer photos to wood in three simple steps! All you need is your favorite image and a medium.
Total Time
1 day
30 minutes
Materials
1/4″ plywood cut to 13 x 8 (or the size of your choice)
Mod Podge Photo Transfer Medium
Matte Mod Podge
Acrylic paint
Damp rag
Image printed on regular paper using a laser printer or photocopier
Tools
Foam brush
Sharp craft knife
Brayer
Silicone craft mat
Instructions
Print the image or photograph to fit the surface using a laserjet toner printer. Remember to reverse any words so that they will read correctly.
Paint the surface with acrylic paint. Let dry completely.
Place your image on a mat with the ink side up. Squeeze a generous amount of Mod Podge Photo Transfer Medium onto the photo and spread with a foam brush.
Continue spreading the medium until it obscures the image. Be sure to get the corners well.
Lay the picture image side down onto the surface. Smooth down, removing any air bubbles. A brayer helps here, as does having a wet rag (see Notes section).
Set aside for 24 hours to dry.
Place a damp cloth down onto the back of the photo for several minutes. Start rubbing away the paper very, very gently. Rub harder as you get more comfortable, but use a light touch.
After removing the top layer of paper, let dry a little and then repeat. It's better to rub gently and repeat the wetting process several times than to rub too hard and rub the image away.
Once you're satisfied with the image, further distress the piece with sandpaper if you like. Add a coat of Mod Podge Matte (or two) on top and let dry.
Notes
Your best source for laserjet print outs is a copy store like FedEx Kinko's! But I'm sure you can order them online as well.
Make sure to keep a damp rag nearby to clean up any oozy extra transfer medium (like you see on the bottom edge of the plywood in the picture) as when it dries it dries pretty hard and it tough to get rid of.
---
Are you ready to see the video of the process? Just click PLAY on the video in this post. In this example, you'll learn how to transfer an Instagram picture to a wood block. I'd love for you to check out the following posts as well: