Use transfer medium to do a Mod Podge photo transfer to fabric. This vintage pillow project is so easy and the results are pretty!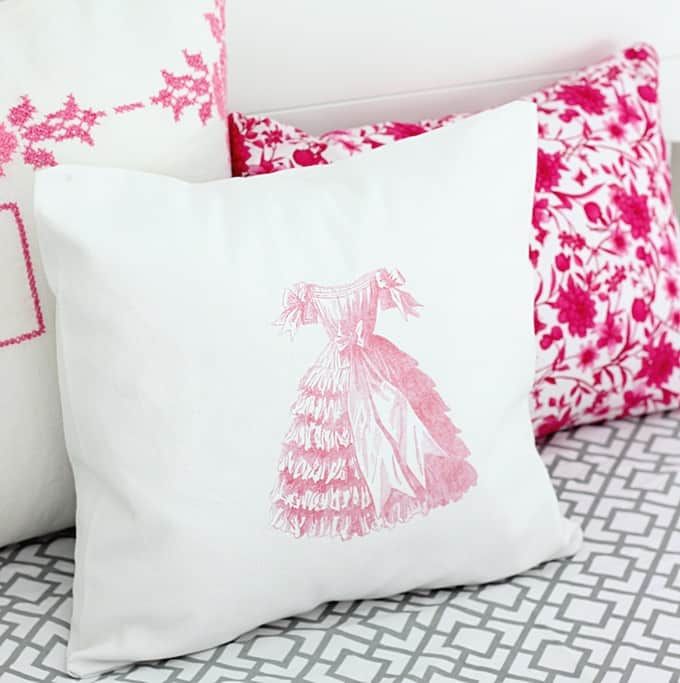 Hi there! It's Shannon from Rosyscription again and after last month's baby blocks, I thought I'd show you another fun Mod Podge project I made for our daughter's nursery. With this project you'll learn how to do a Mod Podge photo transfer to fabric!
Did you know that it is really easy to make a custom pillow for your home with an image transfer? You can buy a plain pillow cover (or sew your own like I did with my easy envelope pillow tutorial) and decorate it in so many ways.
My new favorite approach to decorate a pillow is to transfer a graphic onto the fabric using Mod Podge Photo Transfer Medium.
I found this adorable vintage dress image from The Graphic Fairy and knew it would coordinate with some of the other vintage elements that I planned for the nursery. With a few simple steps, I was able to take that image and transfer it onto to my pillow. Let me show you how.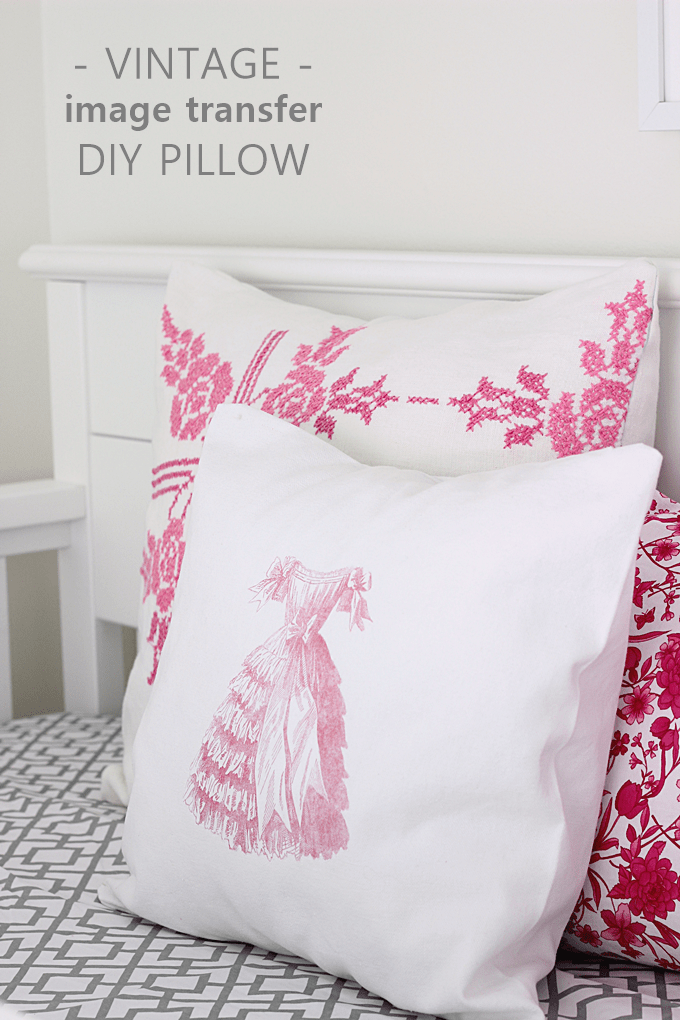 Mod Podge Photo Transfer to Fabric
Supplies needed:
Plain, white pillow cover
Mirror image photocopy of desired graphic
Cutting mat
Brushes
Wax paper
Squeegee
Sponge or rag
How to transfer an image transfer onto fabric: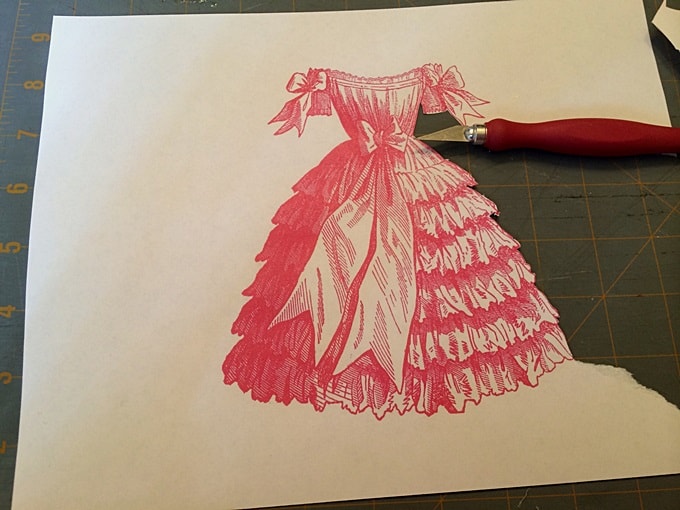 Get a photocopy of your desired image made. (It is important to use a photo copy of the image OR print it using a laser printer. Ink jet printed images will not work well.)
Use a craft knife and carefully cut out your image. Do your best to trim off any excess white around the edges, otherwise it will also transfer to the fabric.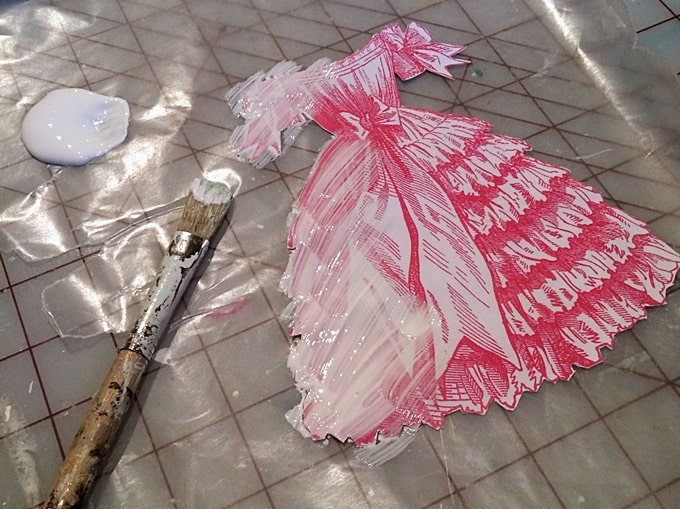 Protect your work space using wax paper. Also, lay a sheet of wax paper inside the pillow cover so that the back of the pillow cover is protected.
Brush a thick layer of transfer medium over the ink on your image and lay the paper glue-side down on the fabric where you desire it.
Smooth out any bubbles in the glue using a squeegee and clean up any of the medium that extends beyond the paper. Allow the glue and paper to dry for 24 hours.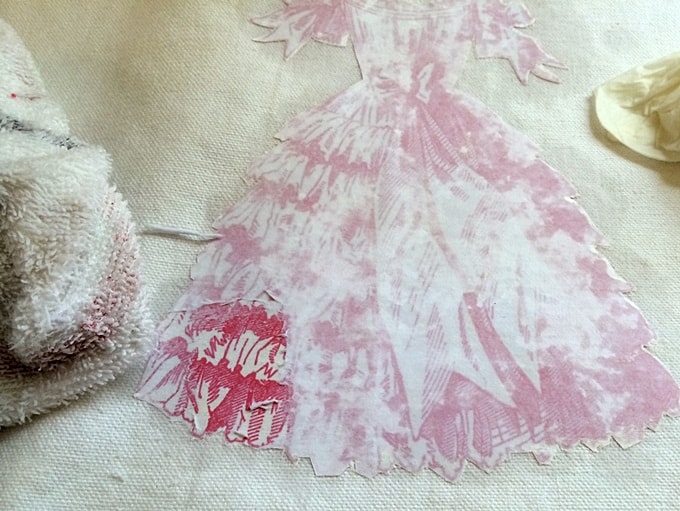 The final step of your Mod Podge photo transfer to fabric is to remove the paper. Using a damp rag, moisten the paper. After about a minute, use a damp sponge or rag and gently rub the paper off in a circular motion to reveal the image below. The key is to work slowly and carefully so you do not tear or rub the image off.
Once all of the paper is rubbed off, you can add a pillow form inside your cover and enjoy your newly decorated pillow! The fabric cover can be washed cold and hung dry.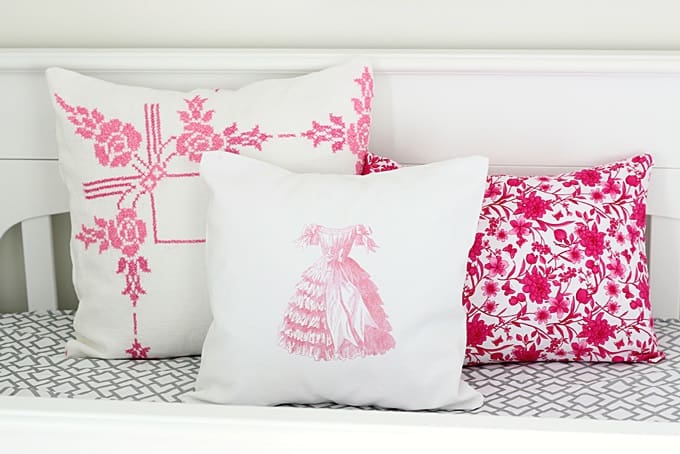 The little dress on the pillow is a sweet addition for our baby girl's room. We plan to use the pillows as décor only and will pull them out of the crib when she is sleeping in there. I love how the dress image coordinates with the other pillows we have in her room.
If you liked this Mod Podge transfer to fabric, you'll also like these photo pillows: