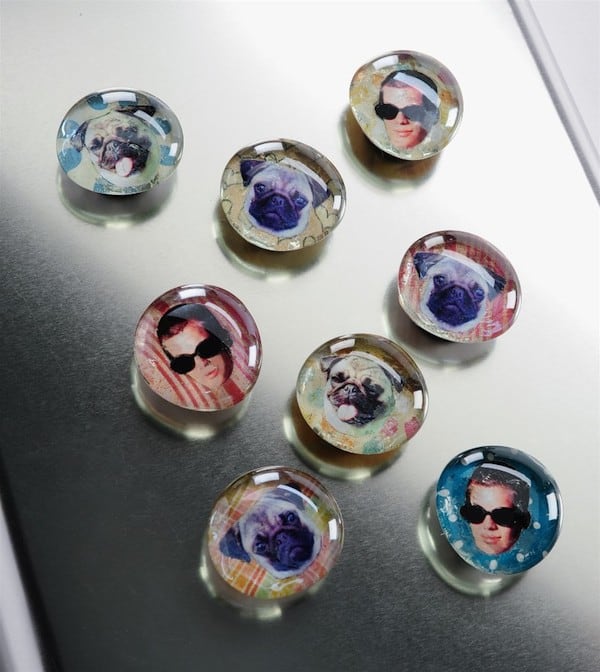 I have a confession. I've never made glass magnets with Mod Podge. Eek! Don't be mad. I'm doing the Flip-Pal mobile scanner blog hop again this week, and I thought it would be the perfect time to try a project I never have. The analogy is living in Seattle and never going to the Space Needle. It's always seemed too obvious, so I've never done it. I hope you will forgive me, because I think the picture I'm about to show you of myself will make up for everything. Before I begin, here's the little guy I'll be using in today's post: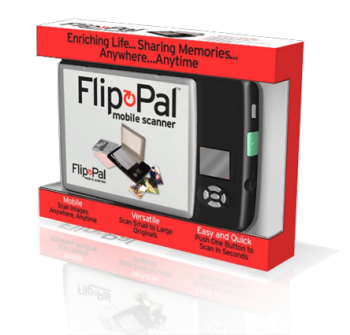 YOU DO NOT HAVE to use this Flip Pal to make your magnets . . . any scanner will do. I just like it because it's portable. To make these photo glass magnets, I dug some pictures out of the archives that weren't digital. Here's one that I think you will like.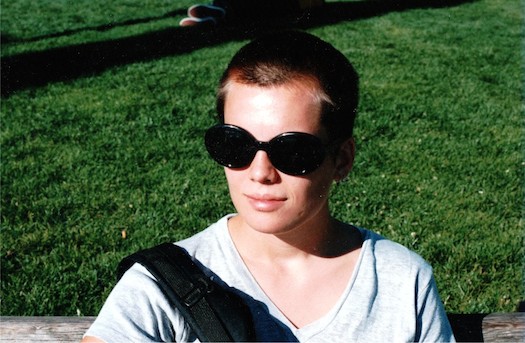 Yep, it's me. I shaved my head when I was 22 years old. My hair was long, past my shoulders, and I had a boyfriend at that time who didn't know I shaved my head until he came over to my house and saw it. Yipes (he didn't mind). Why did I do it, you ask? I had always had long hair and I wanted to know what it felt like to have short hair. I wasn't sure how to cut it, so I just got rid of it. I didn't fully realize what I had done until the hair was on the ground . . . I guess doing wild stuff is the fun part of being young. I love my hair now, and I'm so glad I shaved my head.  It's a true test of your womanhood, for sure. You can imagine the looks I got and what people thought about me. It's an eye-opener!
Now onto the project. I wanted to commemorate the shaved head times as well as my pug Roxie, both when she was young and now.  Here are the pictures I chose for this project; let's dive in to the project instructions.
Gather These Supplies
Computer and printer
Images to scan
Scrapbook paper scraps
Glass beads – my 1 lb. bag is from Dollar Tree
Magnets
Hot glue gun – I love my cordless
Pencil or pen
Scan your photos on your Flip Pal. The great news is that this puppy scans at both 300 and 600 dpi. I could scan these pictures and then blow them up if I wanted to. Because who wouldn't want a poster-sized shaved head Amy on their wall? Maybe right above the bed?
I used my photo software to crop out part of the photo (a simple circle shaped crop), then I printed a few copies in different sizes to see what would work for my glass marbles. I cut out just the head shapes – I wanted floating heads on the back of the glass magnets, because that is more funny.  Set the heads aside.
Here are the glass marbles. They are flat backed on one side, and that is the side you'll be Mod Podging on. A whole bag for $1!
The glass marbles are not completely round, so trace them onto your scrapbook paper pieces and then cut out the shapes just inside the lines. This is a great scrap buster project, by the way – it just takes a small amount of paper.
Use your Mod Podge to adhere the face (right side down on the marble); use a thin layer or it's never going to dry. Smooth it with your fingers and allow to dry for 15 – 20 minutes.
Adhere the scrapbook paper (right side down) on to the marble, allow to dry overnight and then hot glue to the magnets to the back. Don't you love my cordless hot glue gun with a headlight?
Here are the finished glass magnets. Wasn't my piggie cute when she was little? These make great gifts, and they can be whipped up quickly. I hope you'll give them a try.