These EASY photo magnets are so simple that even a kid can make them! Give these glass magnets as gifts, use them as party favors, or keep the kids busy during summer break.
Skills Required: Beginner. If you can cut out paper with scissors, you can make these photo magnets! The time required to make these is minimal, and you can make a lot of these picture magnets at once. You don't have to worry about any wrinkles in this project.
Are you ready, my friends, to make the easiest craft project you've ever made in your life? Then you're ready for these DIY picture magnets! It took me forever to finally try making glass magnets like these, and I thought it would be the perfect time to try while looking for a quick craft idea.
The analogy is living in Seattle and never going to the Space Needle. It's always seemed too obvious, so I've never done it. I hope you will forgive me, because I think the picture I'm about to show you of myself will make up for everything. It's a picture I used it in this project: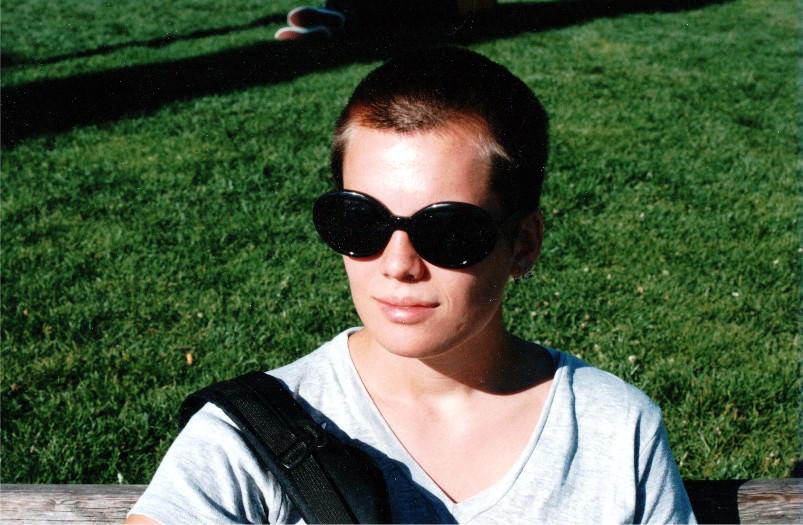 Yep, it's me. I shaved my head when I was 22 years old. My hair was long, past my shoulders, and I had a boyfriend at that time who didn't know I shaved my head until he came over to my house and saw it. Yipes (he didn't mind).
Why did I do it, you ask? After having long hair for my whole (adult) life, I wanted to know what it felt like to have short hair. I wasn't sure how to cut it, so I shaved it off – and didn't fully realize what happened until the hair was on the ground. I guess doing wild stuff is the fun part of being young. But I digress . . .
DIY Photo Magnets
These photo magnets are easy to make, but I do have a few tips and commonly asked questions I wanted to address before we jump into the tutorial.
I originally published this tutorial in 2011 and since then, this is what people want to know. You can read this section or continue to scroll for the how-to.
Type of Beads/Marbles
For these picture magnets you're going to be looking for "flat backed" beads or marbles (they might also be called gems or pebbles). They are commonly used in floral displays I've found.
The flat back is so that you can glue a magnet to the back, so that part is important! Also you want something that you can see through (even if it's not clear). The marbles you select for your photo magnets should be transparent.
Where to Buy Them
For these picture magnets, I got a 1-lb. bag at Dollar Tree. I don't know if they are always there – but I know that Michaels has them in the floral section. In addition, I found them on Amazon and also on Wish (which is good if you want a large quantity for favors).
Personalization Ideas
You can use photos to personalize your glass magnets, however, I do recommend making laserjet copies of the real photos so you don't get any bleed.
Photos are cute for gifts or wedding favors. But you don't *have* to use photos; you can use anything. The idea is to pick a scrap of something (the magnets will end up being about 1″ or so) that has meaning to you or to the recipient.
Paper, Fabric, and More
You can use a variety of materials on the back of the magnets: scrapbook paper, tissue paper, magnets, printed patterns (go for laserjet), fabric, wrapping paper, foil, maps, cardstock, rice paper, and more.
You can paint on the back too. For example, you could put some Sparkle Mod Podge on the back of the marble, let dry, and then paint. Your glass magnets can be anything you want them to be!
Mod Podge Formula to Use with Glass Magnets
Because glass is shiny, I pretty much always use Mod Podge Gloss when glass is my surface. It's just a personal preference, and you can use any formula you like to be honest.
The only formula I wouldn't recommend using is Dimensional Magic. Dimensional Magic is meant to provide a 3-D effect on top of surfaces, not to adhere. Stick with Gloss, Matte, or Satin (but other formulas work too).
Are you ready to see how the glass magnets were made?? Keep reading!
Personalized Magnets
Gather These Supplies
Computer and printer/scanner
Photos to scan
Scrapbook paper scraps
Glass beads – my 1 lb. bag is from Dollar Tree
Magnets
Pencil or pen
Paintbrush
I wanted to commemorate the shaved head times as well as my pug Roxie, both when she was young and now. Here are the pictures I chose: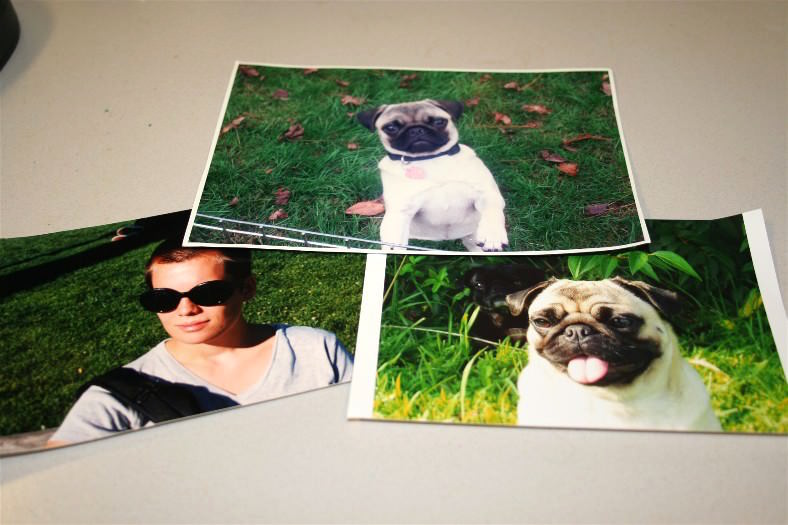 If you use regular photos, scan them in and print them out (preferably on laserjet). I will say that if you have an HP printer, it uses a dry ink, so you're probably safe.
I used my photo software (PicMonkey) to crop out part of the photo (a simple circle shaped crop), then I printed a few copies in different sizes to see what would work for my glass marbles.
I cut out just the head shapes – I wanted floating heads on the back of the glass magnets, because that is more funny. Set the heads aside.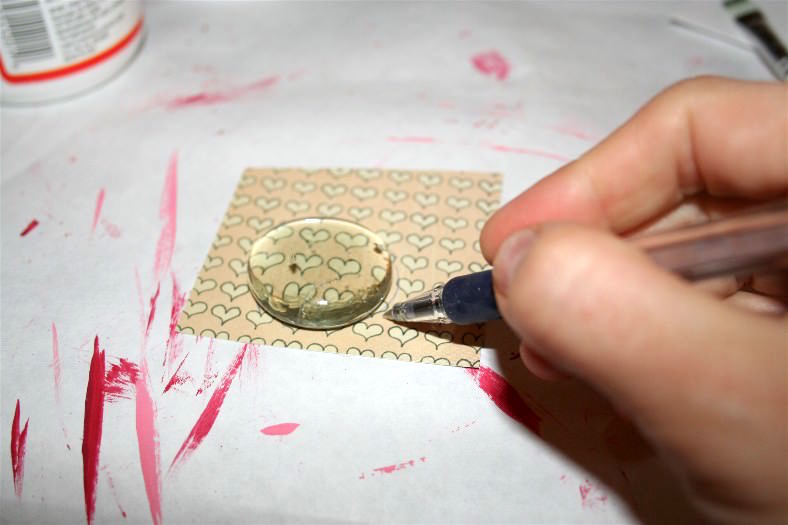 The glass marbles are not completely round, so trace them onto your scrapbook paper pieces and then cut out the shapes just inside the lines. This is a great scrap buster project, by the way – it just takes a small amount of paper.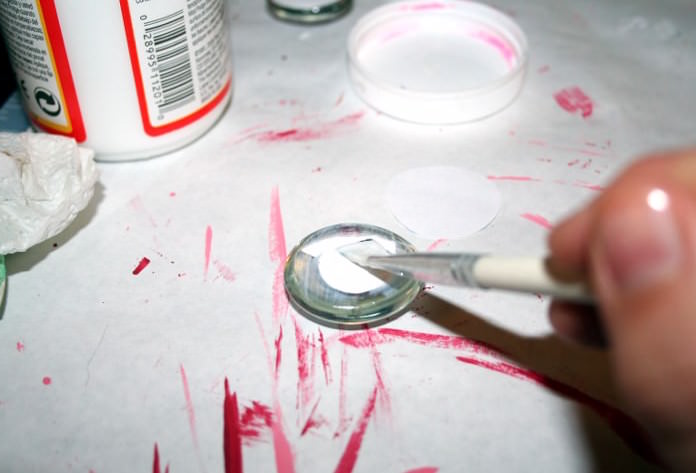 Use your Mod Podge to adhere the face (right side down on the marble); use a thin layer or it's never going to dry. Smooth it with your fingers and allow to dry for 15 – 20 minutes.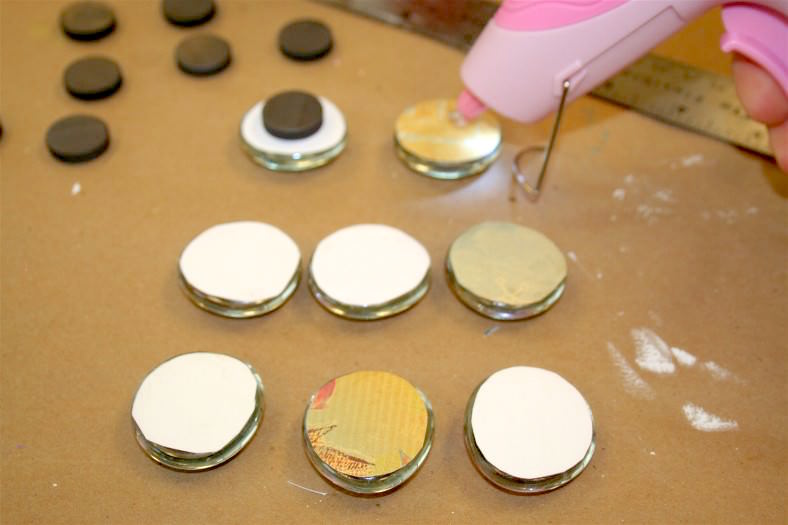 Adhere the scrapbook paper (right side down) on to the marble, allow to dry overnight and then hot glue to the magnets to the back. Don't you love my cordless hot glue gun with a headlight?
Here are the finished photo magnets. Wasn't my piggie cute when she was little? I'd love to see you try these DIY picture magnets and let me know how they turn out in the comments!
Want some additional budget gift ideas? Keep scrolling down for more!
Budget Gift Ideas
Want to get some great ideas for inexpensive gifts? Check out these ideas below!