Learn how to make DIY farmhouse decor for every room of your home! Get ideas for living room, bedroom, bathroom, kitchen, and the holidays.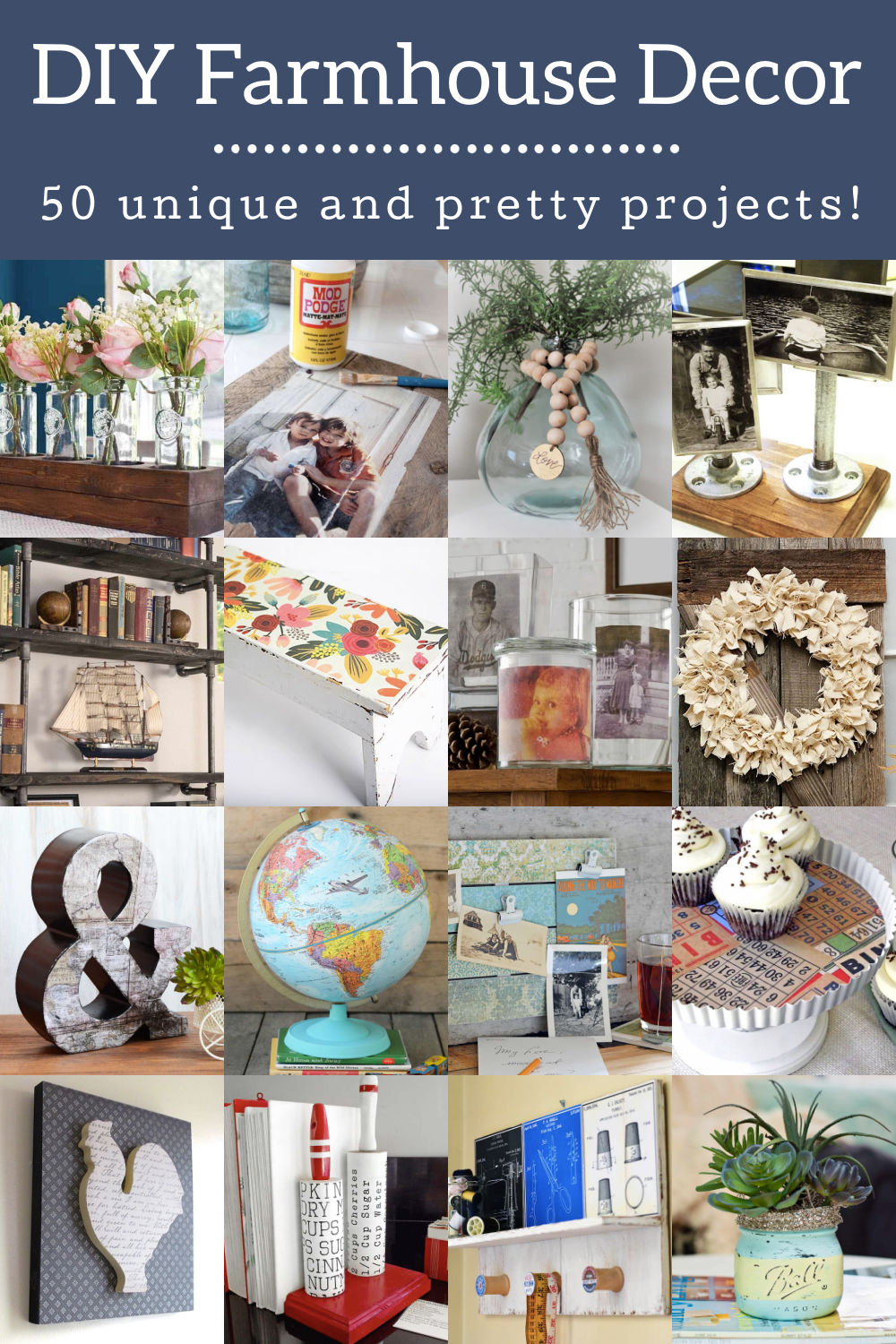 I recently wrote a post on crafts for home decor, and it got me thinking – y'all really love farmhouse decorating! And a lot of you are looking for farmhouse decorating on a budget. Which happens to be right up my alley, because I also love budget decorating as well.
I decided it would be fun to put a collection of DIY farmhouse decor projects together, using as many ideas made with Mod Podge as I could find. And I found a lot! You can get this look without spending a ton of money, and make a lot of these projects with your trusty bottle of decoupage medium. They aren't all Mod Podge projects; it's a comprehensive collection of ideas for your home.
What you'll notice is that most of these follow the standard farmhouse color palette of whites, grays, beiges, and neutrals. However if you've read this blog for any period of time, you know I love color . . . so there's a bit in this list for you to inject into your own decorating.
If you're looking for rustic farmhouse decor, I've got a list of 50 projects below that I love and I think you're going to like as well. I've divided them by living room, kitchen, bedroom, bathroom, and holiday. Because who doesn't love a good rustic holiday idea?
I'd love for you to check out this DIY farmhouse decor and tell me what your favorites are. Have you tried any of these projects? What am I missing that is cheap and cute? I'd love to hear your budget friendly suggestions for my list as well! Leave me a comment, and in the meantime . . . enjoy the list below!
DIY Farmhouse Decor
Learn how to make DIY farmhouse decor for all areas of your home - living room, kitchen, bedroom, bathroom, and more!
What are your favorite farmhouse decor projects? I'd love to hear – let me know in the comments!