Let Hammer Like a Girl show you how to create a decoupage lampshade with your favorite vintage graphics and patterns. Love the results!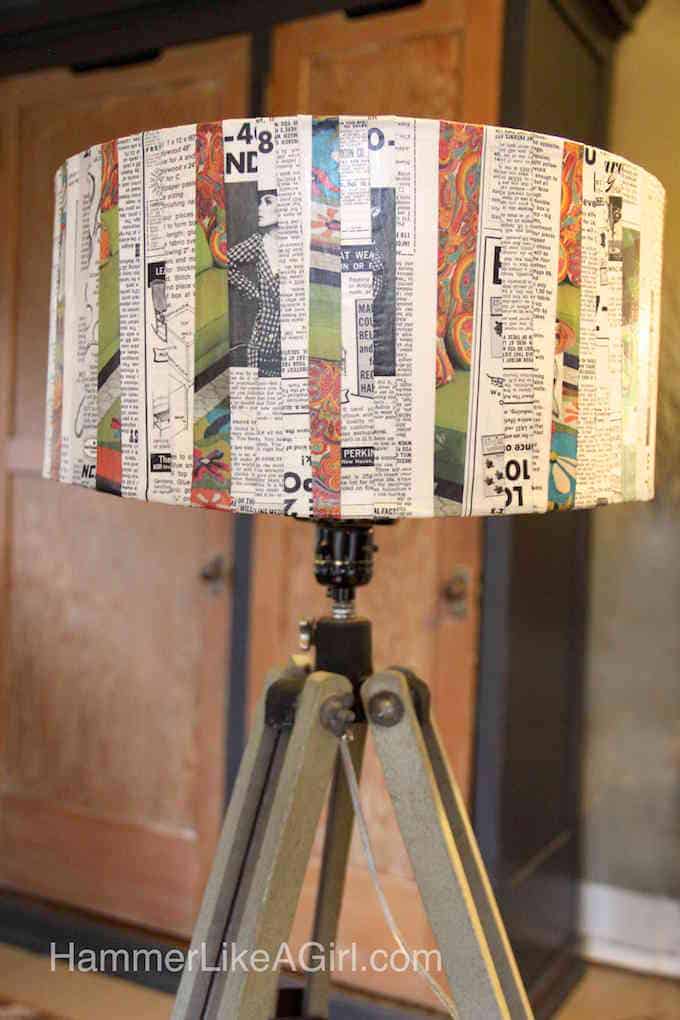 A while back, we made a lamp from an old tripod. It needed an unusual lampshade so we made one from galvanized duct work. But time went by and it was time for a change – something lighter and brighter and funkier.
When I think funky, the first thing that comes to mind is 60's fashion (doesn't everyone?). Learn how to create a decoupage lampshade just like this one below.
Decoupage Lampshade
Gather These Supplies
Plain white drum lampshade
Paper ephemera (we used a 1960's McCalls Pattern and Home Decorating Magazine)
Brush
Paper cutter (scissors would also work)
Scissors
Tape measure
Large paper, for pattern
Pencil
X-Acto knife
Flexible tape measure
Cardstock, for pattern
Clamps & something to clamp the shade to (we used an old car jack) OR just use the lamp base if it is table lamp
We found our lampshade at a lighting outlet store for $5, which made us pretty happy.
We gathered up our wacky old publications and pondered a theme for our decoupage lampshade – Farming? Literature? 60's fashion won out, primarily due to those bows on the models' heads.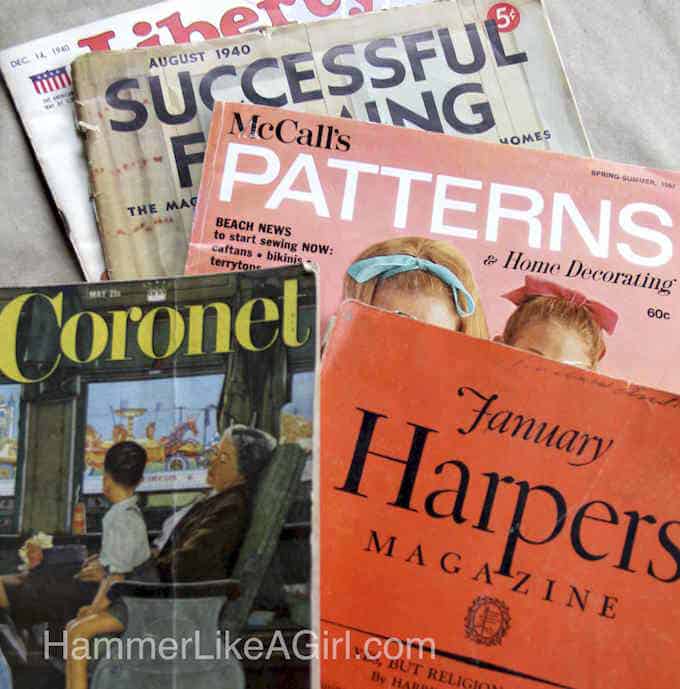 And the mother/daughter dress-alike duo. (and the mother's hair.)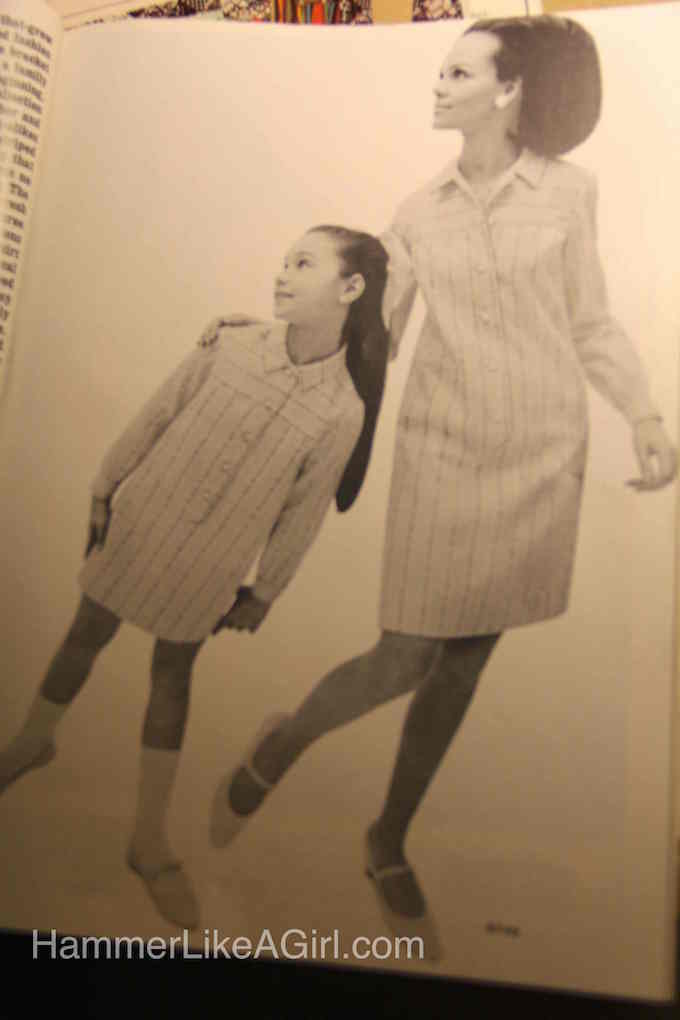 And the stylish dresses: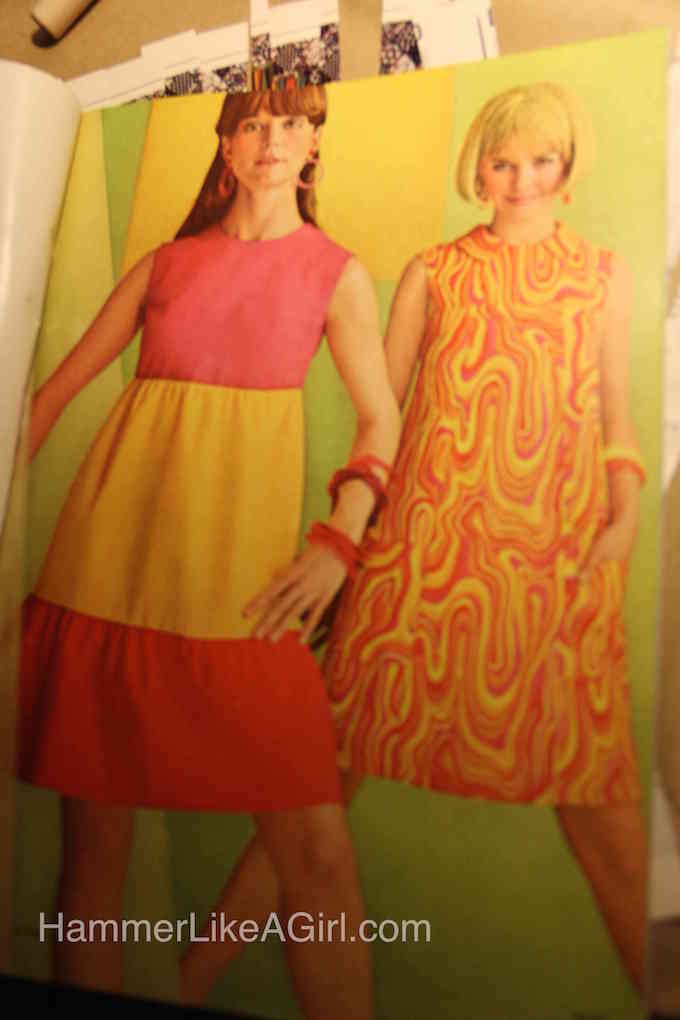 And the most subtle advertising (in the whole wide world):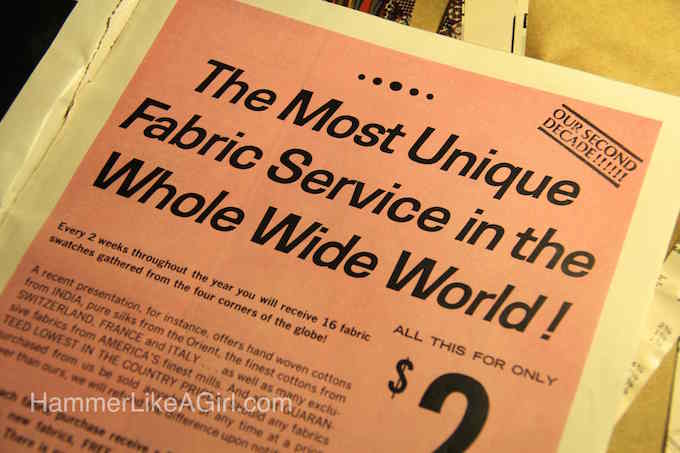 To start, measure the circumference and height of your lampshade.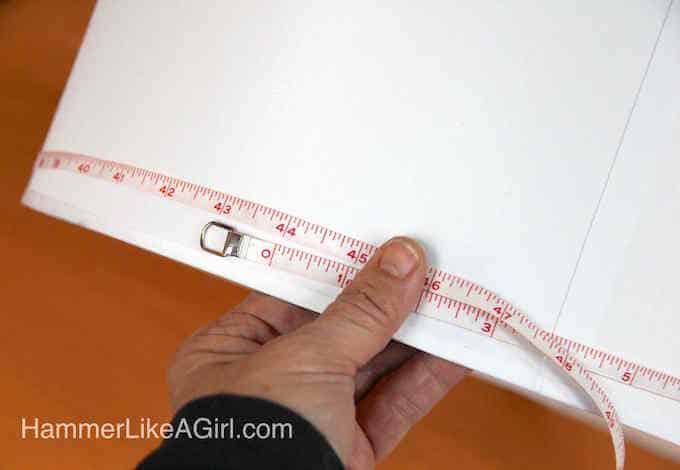 Mark the dimensions out on a large piece of paper.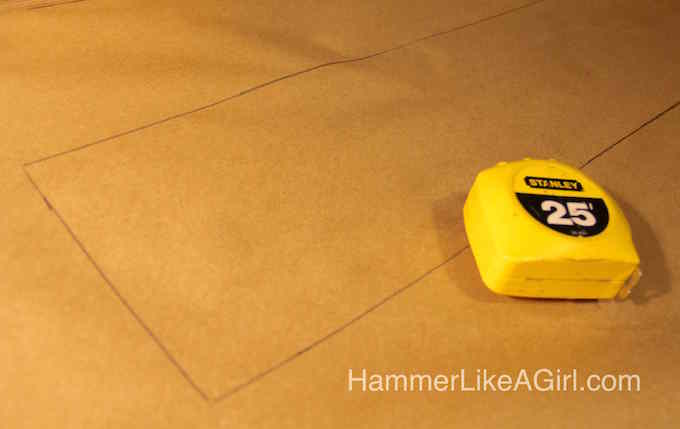 Select interesting pages/patterns, remove from magazine by slicing along binding with an X-Acto knife.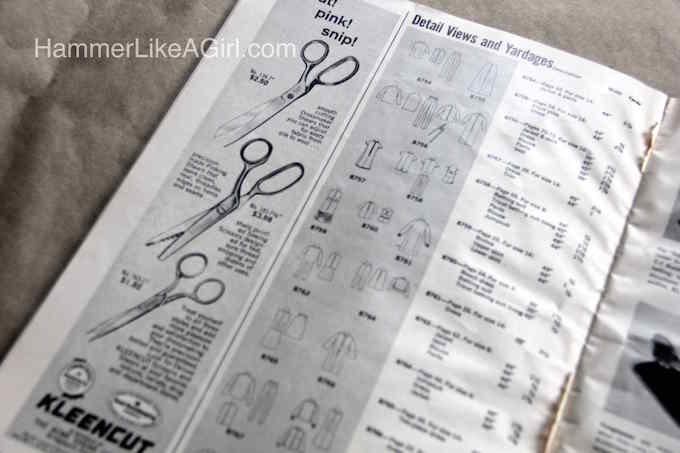 With a paper cutter, cut crooked, irregular strips varying from 1/2″ to 1″ wide. A pair of scissors will work too, but you will need more patience if you go that route.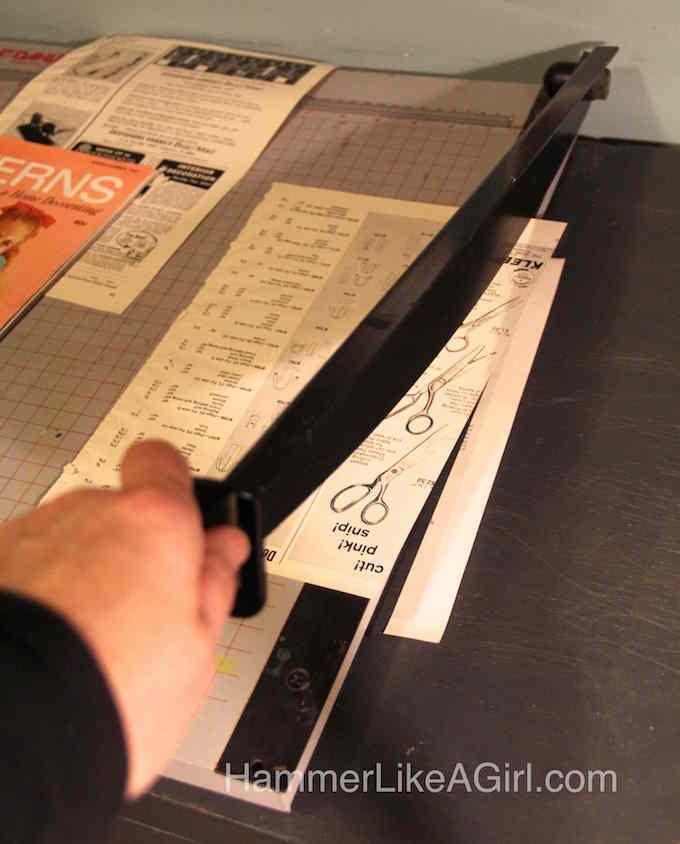 Place the strips onto the template and start laying out the design. We alternated 3 black & white text strips with one color strip so the design would have obvious stripes. We kept the color palette limited to reds, oranges, and greens so it wouldn't get too busy.
Clamp the lampshade to something (we used an old car jack) or attach it to the lamp base, so it is suspended above the working surface and so the shade can be rotated easily as you work your way around.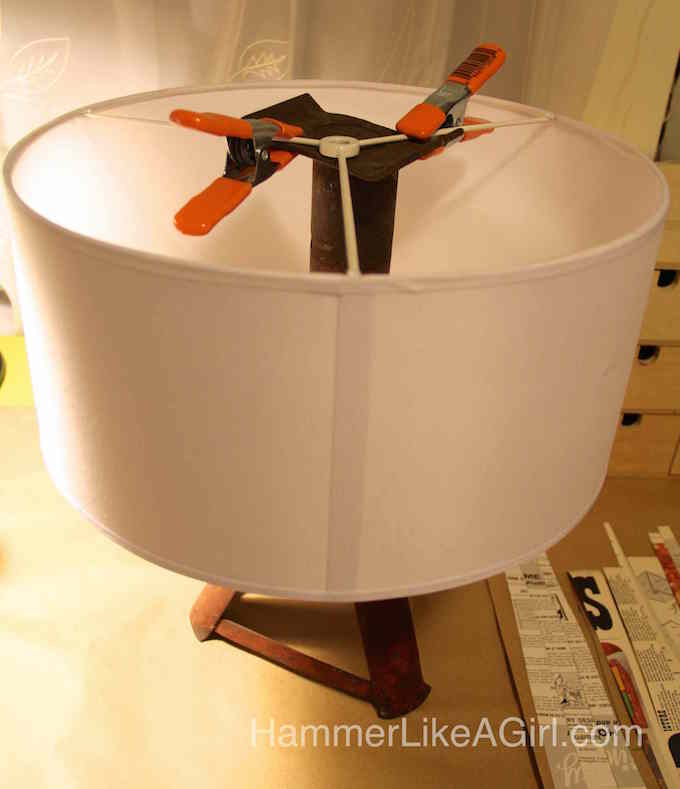 Working with one strip at a time, apply decoupage to the shade and the back of the strip. Let the tops and bottoms of the strips hang free.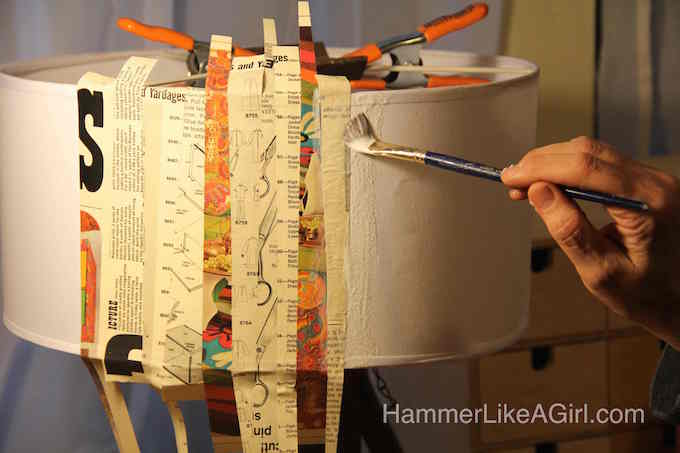 Gently press down the Mod Podged strip with the brush, holding it in place with the other hand. Work your way around the shade, slightly overlapping the strips.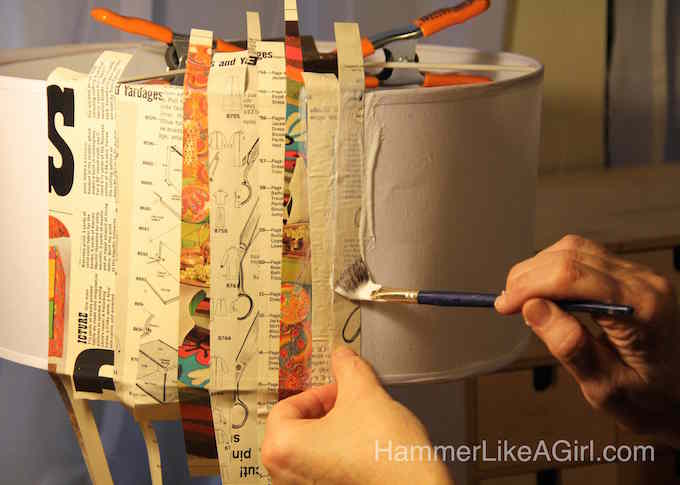 When you have covered the entire shade, let it dry overnight. If you like the "I need a haircut" look, you are done now.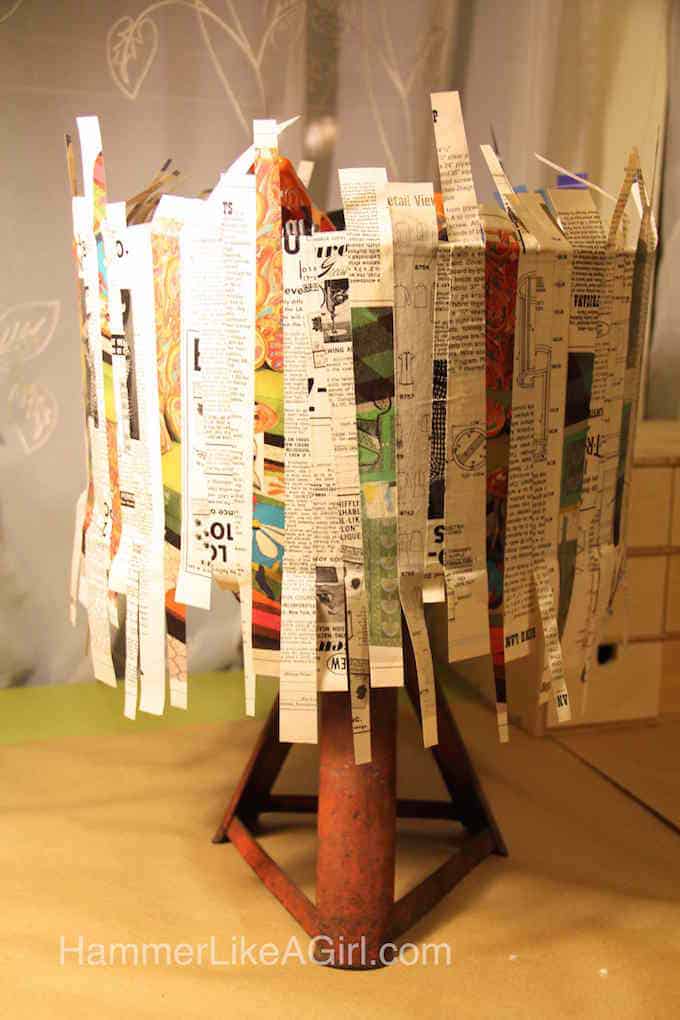 If you don't, it's time to clean your decoupage lampshade; give it a trim and fold the edges to the inside of the shade. Start by folding one of the strips to the inside and marking where the paper needs to end.
Using that measurement, make a little cardstock template.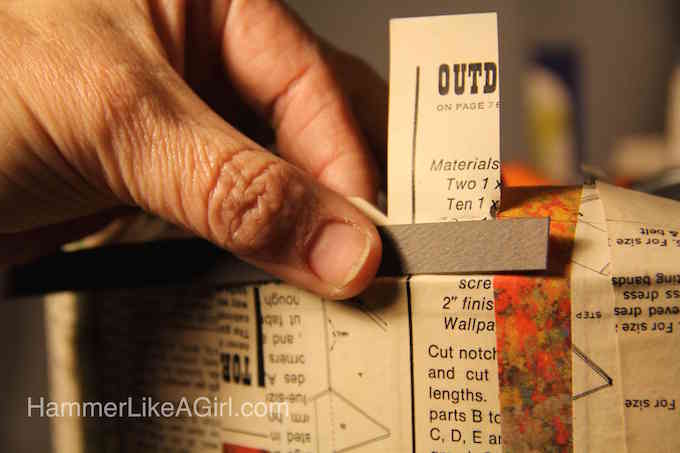 Mark the trim line all the way around the lampshade with a pencil. Repeat along the bottom edge.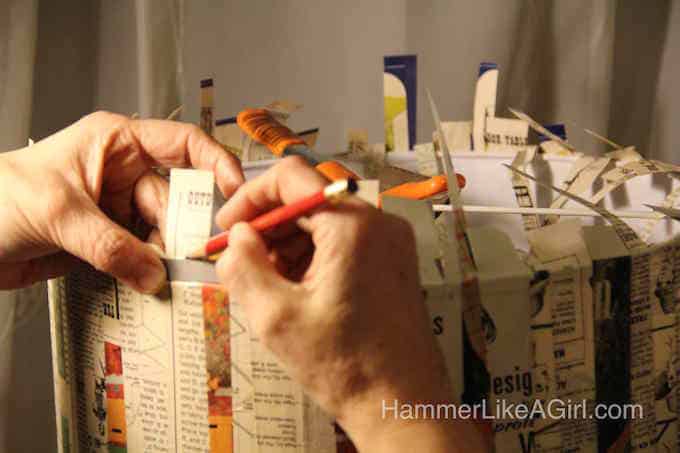 Trim along the pencil marks. Repeat on bottom edge.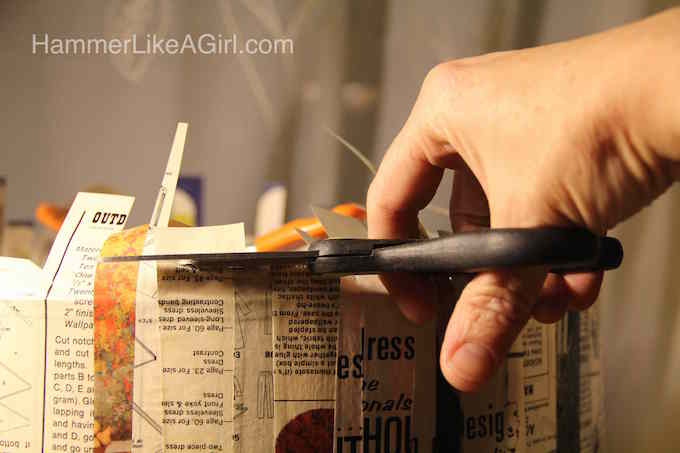 Working in sections of about 5″, apply Mod Podge to the area where the paper will fold over.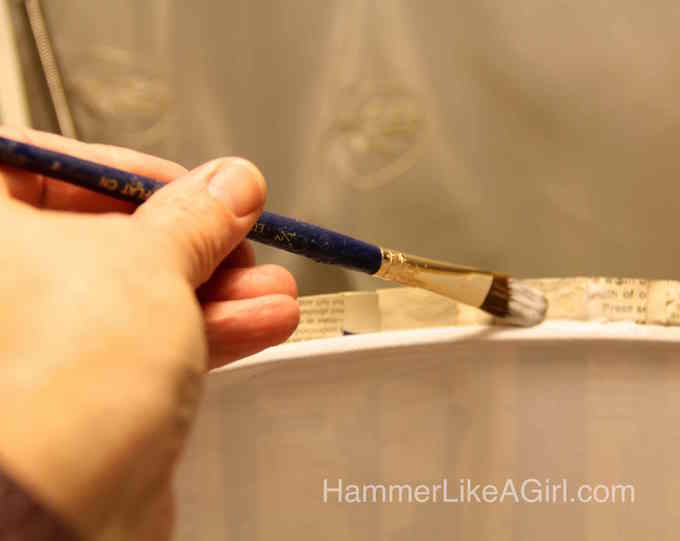 Fold paper over with fingers, pressing down as you go.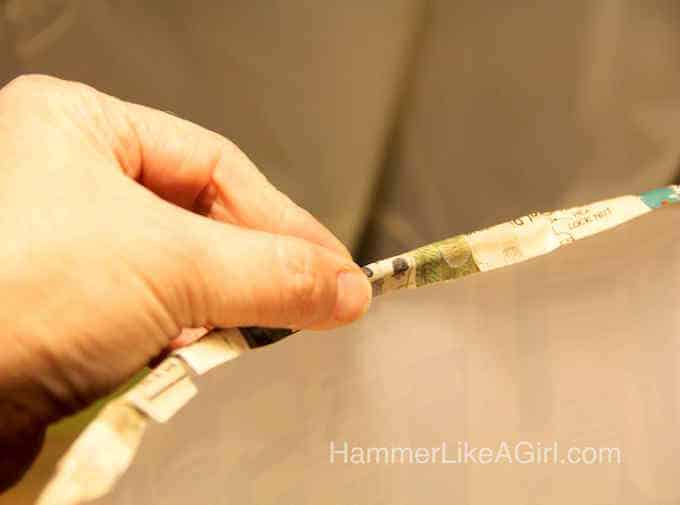 Repeat, repeat, repeat, for the top and bottoms edges. You may need to go back and press down certain areas. This part is a little tricky, but it will give you a nice clean edge. Apply Mod Podge to the turned over edge.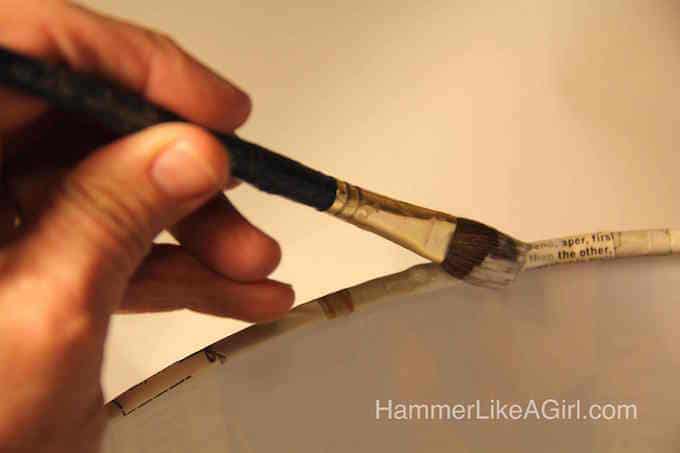 Wait for a couple hours, and then coat the entire shade with Mod Podge.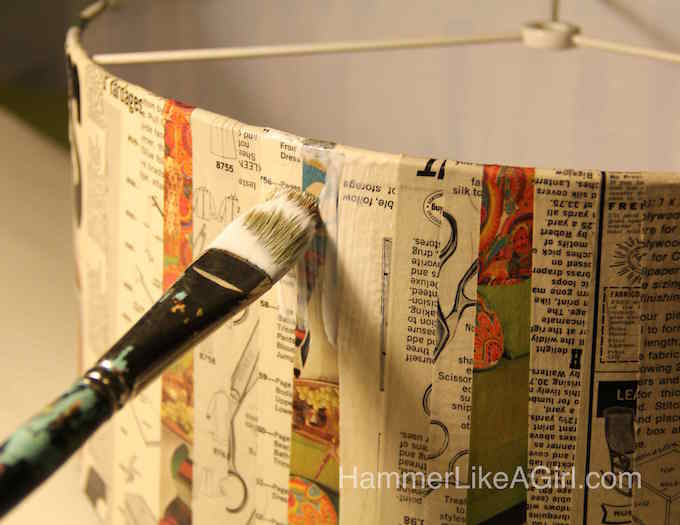 That's it! A decoupage lampshade is a pretty easy project with plenty of room for error. An added benefit: when the lamp is on, there's interesting show-through from the inside.
Good luck and let us know if you try this! To read about some of our other projects and exploits, visit HammerLikeAGirl.com.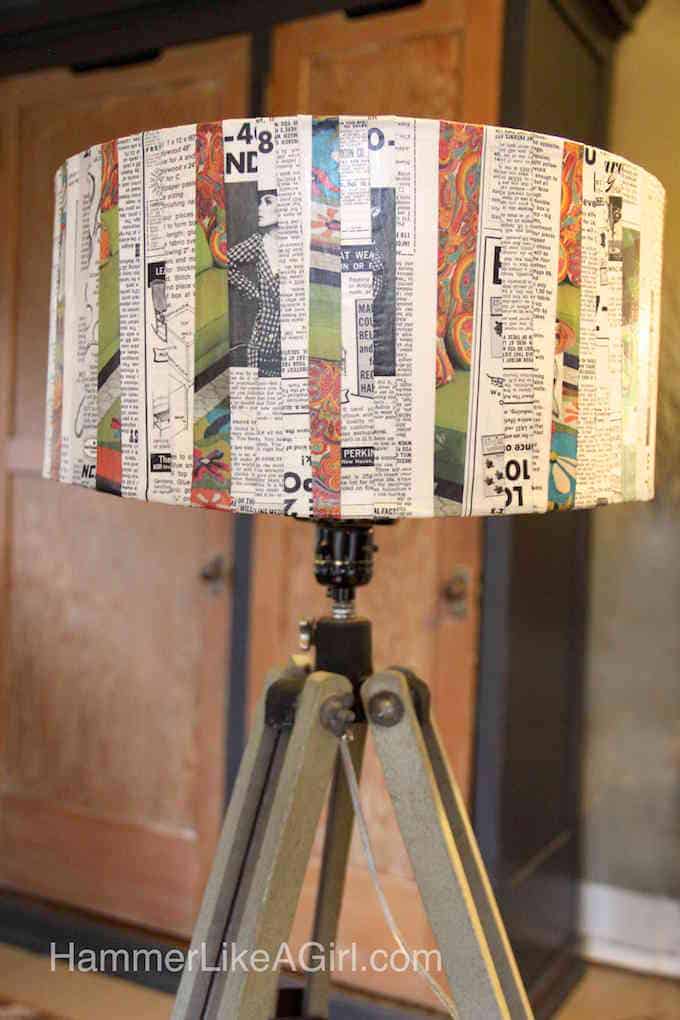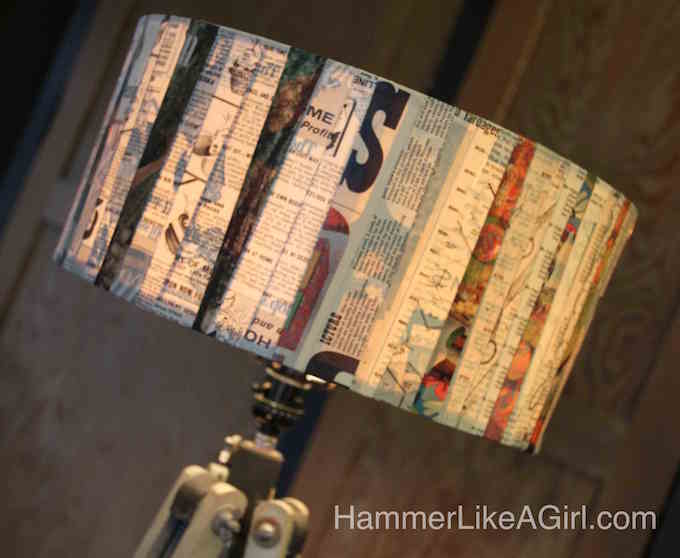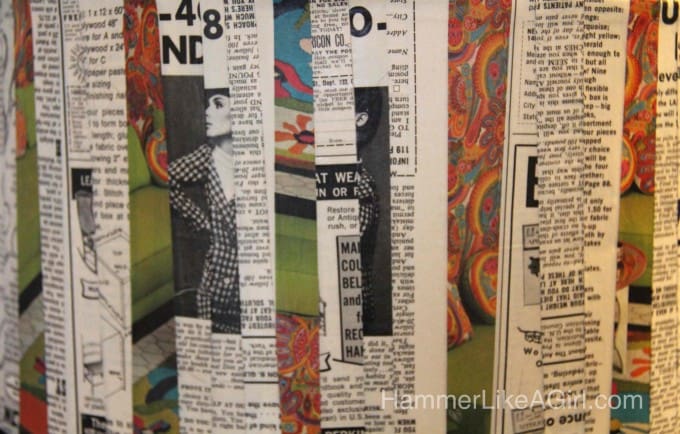 For more vintage themed decoupage projects from Hammer Like a Girl, visit these posts: