Is there a guy in your life who deserves a celebration for being a great dad? Download one of these 20 free Father's Day printables and share!
Can printables really be considered "manly?" That might be stretching it a bit. But hey, we'll take what we can get for Father's Day, right? These 20 free Father's Day printables are perfect for the guy in your life who needs to be celebrated.
Free Father's Day Printables
Being a dad isn't always easy (or at least that's what we will tell them). I love all of these below, but you can probably guess that I love the Star Wars ones the best.
For these free Father's Day printables, I recommend printing on THESE Avery full sheet labels OR a thicker cardstock like this, depending on if you want the printable to be adhesive or not.
When printing, remember to select the "Print Actual Size" option – otherwise they may print to fill the page. You might want to do a test print run first!
Scroll down and pick your favorite printable – they are all so cute. Dad will love them!
If there's one thing a dad will probably always need to do, it's shave. Give him razor kit or subscription to a shaving club, and include some foam with this cool label.
These are such cute Father's Day cards for the awesome dads in your life! Perfect if you have several kids, then each child can write out their own card.
Darth Vader might be the world's worst father – but the fact is, he's still a dad! It could've always been worse, right? This is such an awesome Father's Day printable.
What I love about this little book is that kids get to fill this out and then assemble themselves! There's also a version for Grandpa.
This printable set is so perfect for breakfast in bed! Spoil your pops with his favorites and these cute little labels/signs.
If your dad loves soda, let him know that he's the best pop ever with this fun can sleeve.
I love sweets, and I think I get it from my dad. If your dad likes sugar like mine, then you can get him some cupcakes and stab them with these fun toppers.
Snacks are a crucial part of every father's life, and this is a fun way to gift them to dad. Make the ties any pattern of your choice.
9. Father's Day Subway Art
This is a fun piece of subway art that dad can keep up all year! Just plunk it into a nice frame.
We would like to think we know just what dad wants for Father's Day. A shirt? A tie? New socks? In all honesty, dads probably would just love some good cold beer, some snacks, and some time with the family.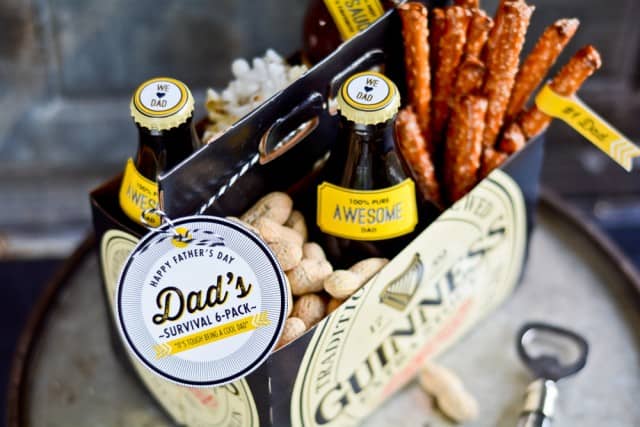 This is a great free printable as an alternative to a Father's Day card – give him a coupon book with some fun ideas inside, as well as the various reasons why pops is a superhero.
12. Father's Day Card and Labels
Give your dad a bottle of his favorite sauce – and include this Father's Day card and printable label.
The set includes a cute tie-shaped "Happy Father's Day" banner, some great tie-shaped centerpiece signs, and cupcake topper sized ties. Customized for dad, grandfather, and stepfather too!
Keep it simple by telling dad all the reasons why you love him. Then make sure he takes it to work and hangs it up for a constant reminder.
Instead of the Father's Day coupons, why not give dad some fun tokens? The freebie includes a label for the lid of the container, as well as five token printables within.
Don't want to think about coupon ideas for dad? This printable cuts right to the chase and lists everything out for you – print out and then pick and choose what you want to offer pops.
Pop, you put the fizz in my life! Tie this onto a soda in a six-pack for a great gift that you know dad will love.
If your dad is a geek like mine, he'll probably love these Star Wars themed printables. Give them to him with his favorite snacks.
Dad is probably used to first class service on work trips, so why not give him the same on Father's Day? This printable lets pops pick out what he wants for breakfast.
Such a special quote for dad – and there are additional quotes at the link above, including one for grandpa and for a father from his wife.
---
If you love these printables, you might also love these related ideas – perfect for DIY'ing and then adding some of the cards/ tags from above! Enjoy: