Get over 40 ideas for Valentine's Day boxes that kids will love to make! These unique Valentine's Day box ideas are perfect for classroom, parties, home, and more – your kids will love these.
Skills Required: Beginner to Intermediate. Most of these are pretty easy . . . but some of them (like the ice cream truck) take a little more time and probably need parents' help.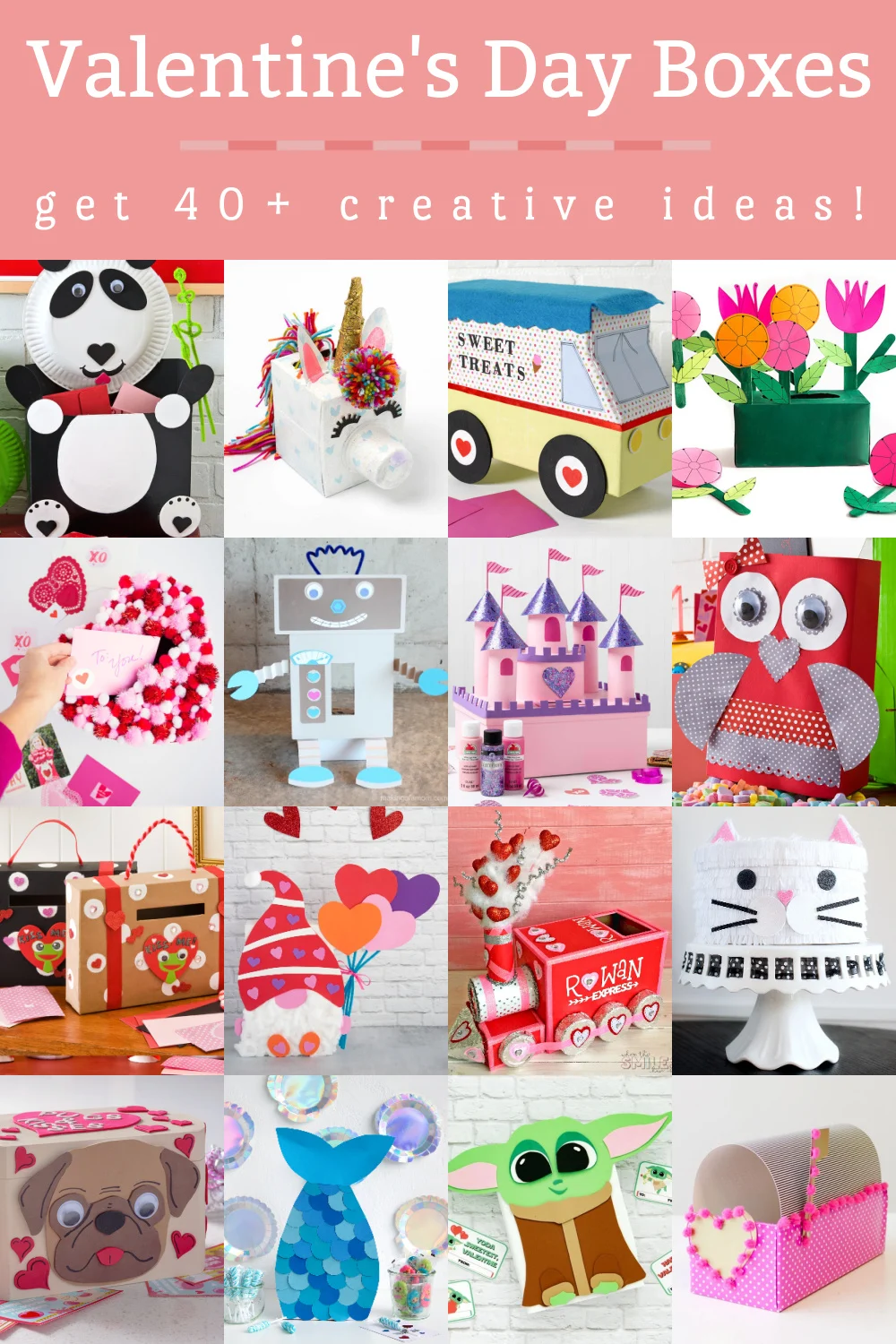 When I was young I took great delight in making my valentine boxes each year. I've been creative my whole life, and Valentine's Day was one of those opportunities I always took to let my little crafty freak flag fly!
My mom always got into thinking about valentine boxes as well and would help me come up with some good ideas . . . then she'd buy the supplies for my execution . . . or get stuff out of the recycling bin.
I have to say my mom was really good at putting cereal/shipping containers and some store bought supplies together to make some really unique and creative Valentine's Day mailboxes for us.
Of course she'd have the most brilliant ideas out of all of us, and then we would execute. It was one of those times that my four brothers and I would work together. We absolutely loved making our boxes!
Valentines Box Ideas
If you're looking for some fun ideas for Valentine's Day boxes for your littles, I've got some great ideas for you! While they look fancy, a lot of household supplies are used (including recyclables) and they are pretty easy to put together.
Because what we're all looking for is a project that 1) is fun to create and 2) looks as good as possible for as little effort as possible. Well – maybe not all the time, but at least for children with a short attention span!
Surfaces You Can Use
Just about anything can be used to make these unique Valentine's Day boxes! I recommend saving cereal boxes, shoeboxes, shipping boxes, oatmeal containers, magazine holders, paper plates, and just about any paper material you can from the recycle bin.
It's fun to take a shape of a container and visualize what it could be. I like to do this with all sorts of crafts, but it's especially fun for this type of holiday craft.
Paint to Use
For these projects (the ones that use paint), I recommend Apple Barrel brand. The reason is because it's waterbase, acrylic, and made in the USA. It's safe for kids and easy to clean up. Plus it's budget friendly!
---
These homemade Valentine's Day boxes are going to thrill your kids. And probably you as well. If you make one to take to work and put on your desk, I won't blame you. Check out the ideas below!
Valentine's Day Boxes
Get Valentine's Day box ideas that both kids and adults are going to love to make! Perfect for the classroom.
---
If you like these unique Valentine's Day box ideas, check out this tutorial for this DIY valentine's tic tac toe game! You can put candy or free Valentine's printables within. It makes a great gift that you can use again and again: