A collection of 8 unique and fun ideas for valentine boxes! These valentine box ideas are perfect for classroom, parties, home, and more – your kids will love these.
Skills Required: Beginner to Intermediate. Most of these are pretty easy . . . but some of them (like the ice cream truck) take a little more time and probably need parents' help.
When I was young I took great delight in making my valentine boxes each year. I've been creative my whole life, and Valentine's Day was one of those opportunities I always took to let my little crafty freak flag fly!
My mom always got into thinking about valentine boxes as well and would help me come up with some good ideas . . . then she'd buy the supplies for my execution . . . or get stuff out of the recycling bin.
I have to say my mom was really good at putting cereal/shipping containers and some store bought supplies together to make some really unique and creative Valentine's Day mailboxes for us.
Of course she'd have the most brilliant ideas out of all of us, and then we would execute. It was one of those times that my four brothers and I would work together. We absolutely loved making our boxes!
Valentine's Day Boxes
If you're looking for some fun ideas for Valentine's Day boxes for your littles, I've got some great ideas for you! While they look fancy, a lot of household supplies are used (including recyclables) and they are pretty easy to put together.
Because what we're all looking for is a project that 1) is fun to create and 2) looks as good as possible for as little effort as possible. Well – maybe not all the time, but at least for children with a short attention span!
Surfaces for Valentine Boxes
Just about anything can be used to make these unique valentine box ideas! I recommend saving cereal boxes, shoeboxes, shipping boxes, oatmeal containers, magazine holders, paper plates, and just about any paper material you can from the recycle bin.
It's fun to take a shape of a container and visualize what it could be. I like to do this with all sorts of crafts, but it's especially fun for this type of holiday craft.
Paint to Use
For these valentine box ideas (the ones that use paint), I recommend Apple Barrel brand. The reason is because it's waterbase, acrylic, and made in the USA. It's safe for kids and easy to clean up. Plus it's budget friendly!
Valentine Box Ideas
These homemade valentine boxes are going to thrill your kids. And probably you as well. If you make one to take to work and put on your desk, I won't blame you. Check out these eight ideas for valentines boxes below!
Inexpensive and earth friendly! Turn leftover cereal cardboard containers into cute Valentine boxes. This is one of the easiest ideas we've seen – so easy that even a child can make their own. Once they're filled up, just grab the handle and take it home.
This one is made from a cereal box and paper plates! You can make the feet and eye circles with either wood pieces or with craft foam.
Do you ever use craft foam? I love it but don't use it enough! Also – the pipe cleaner bamboo is just about as cute as it gets.
Want to turn a cereal box into an owl? You can!! It's just a matter of cutting out pieces of paper and using Mod Podge to apply them.
Decorative punches can be used to achieve the scalloped edges, but you don't need them. But what you do need are the wiggly eyes. They make this Valentine's Day box!
This ice cream truck is one of my favorite valentine box ideas of all time! This will likely need parental help for assembly, but I think it's worth it, don't you? It's made out of a cardboard magazine holder, which is kind of (okay, completely!) genius.
Tip: if you don't want to get the stencils suggested in the post, just use adhesive letters from the craft store. You can probably find ice cream cone stickers too!
Make a valentine box for school that is actually school themed – with this cute locker! I love that this is made from a value sized fruit snack box . . . plus you can decorate the inside any way you like, like a kid would their real school locker!
I love it when a craft using several materials in a unique way. You can make this out of a shipping box with paper plates . . . and the toes of this frog are hilarious, made of popsicle sticks and wood circles. This unique mailbox is just too fun!
Lots of people do valentine boxes, but do they do totes? This is a great idea for teacher to make for her desk! You can use a cereal box to make it. Create the "XOXO" out of stencils or adhesive letters.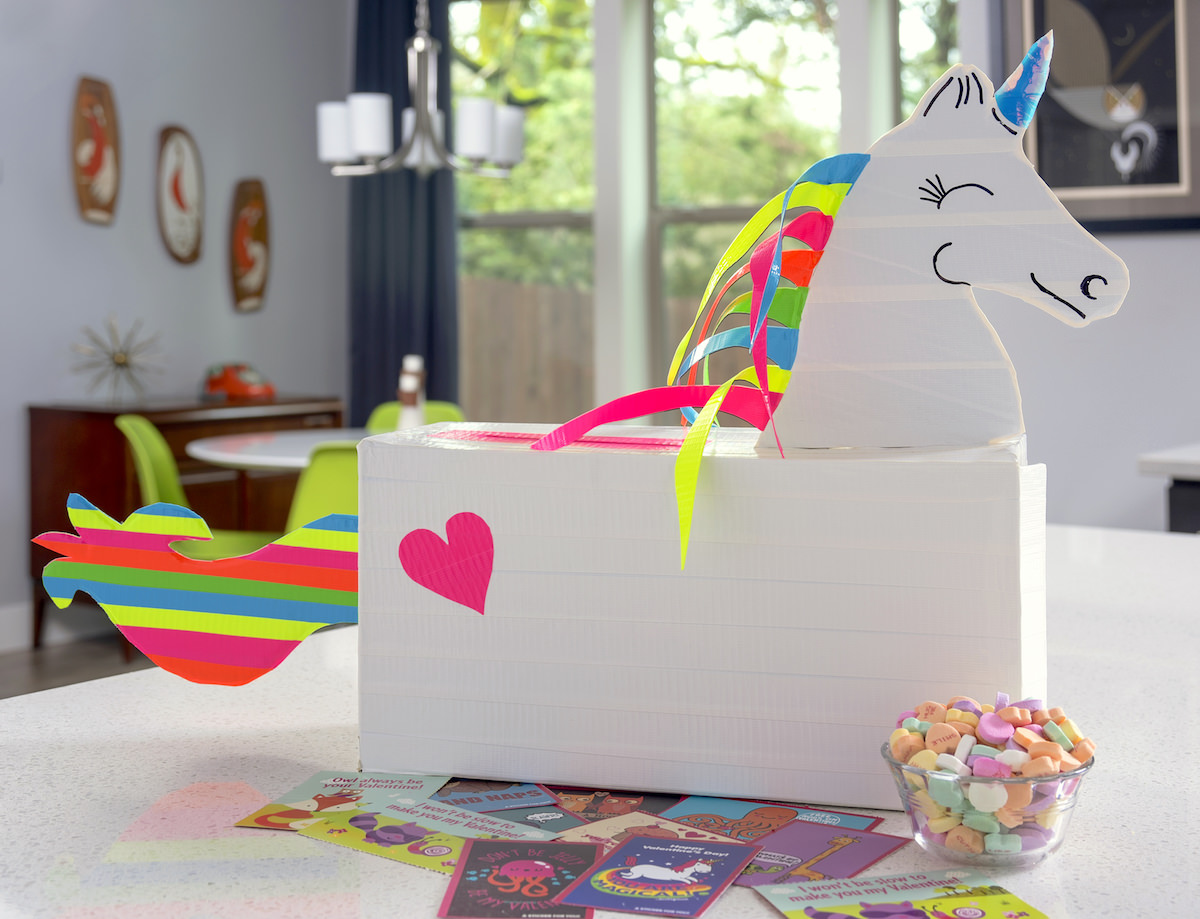 Lots of little girls love valentine box ideas with unicorns – and this one is easy to make using a shoebox and Duck Tape! They even used the hologram Duck Tape for the horn, which gives it a little pizazz . . . don't you think?
---
If you like these unique valentines box ideas, check out this tutorial for this DIY valentine's tic tac toe game! You can put candy within. It makes a great gift that you can use again and again: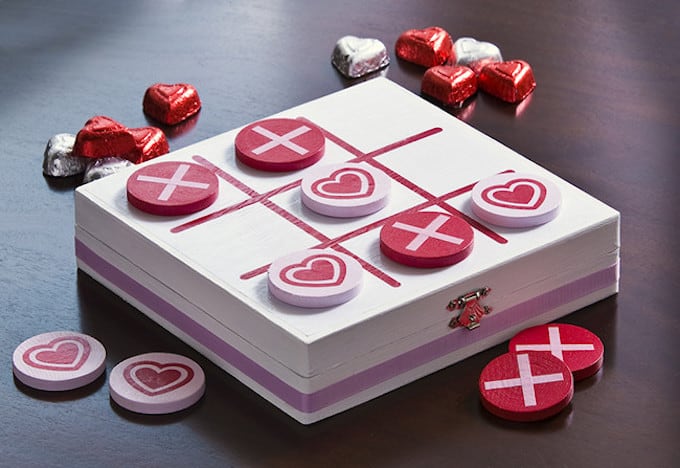 We also did this pug dog Valentine box with a wood container, and we dig it as well. It really looks like our dog Otto. Happy Valentine's Day!