Don't throw those cardboard tubes away – try these toilet paper roll crafts instead! Here are 50+ easy projects you're going to love.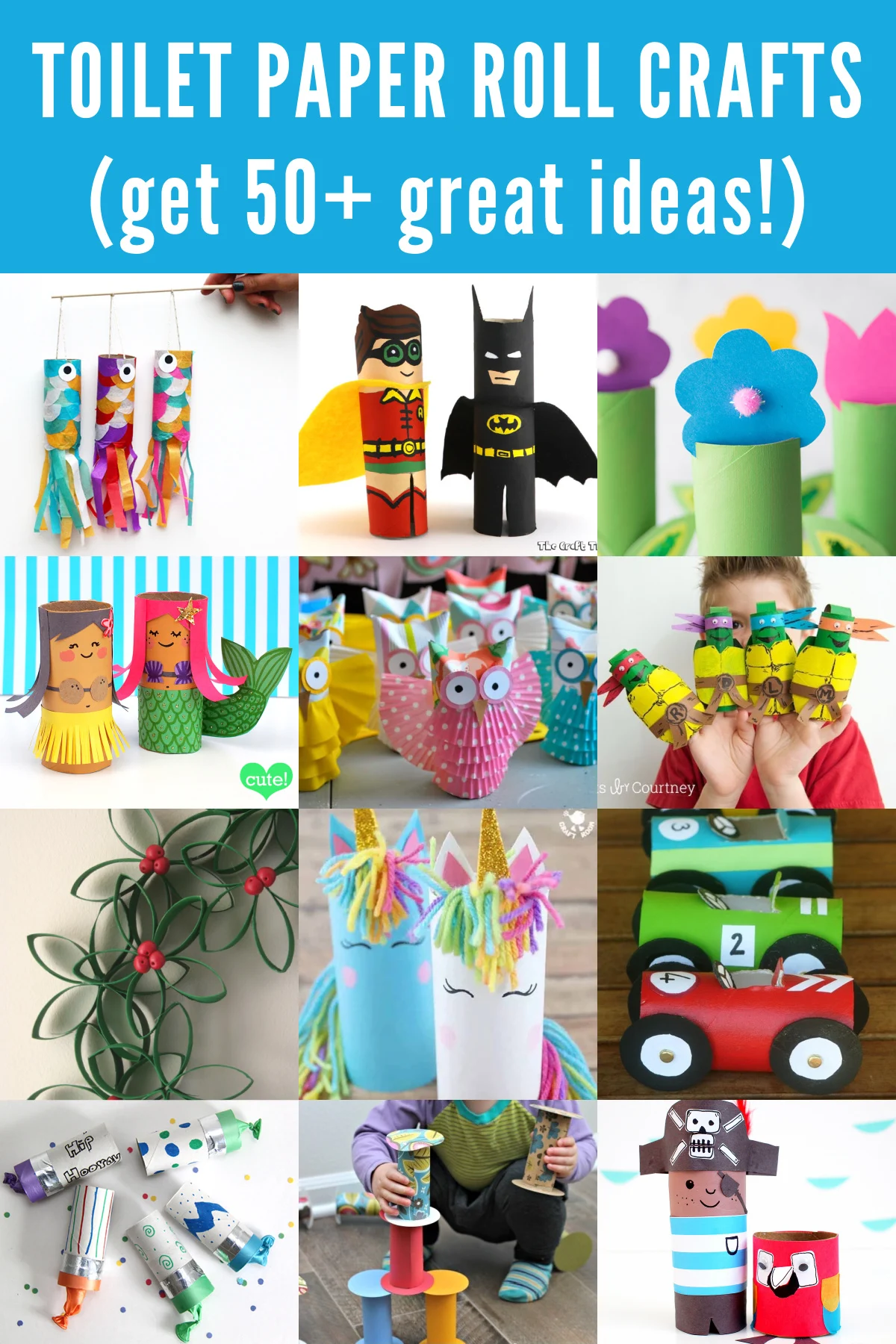 I'm a "saver," and I know that some of you completely get what I'm talking about. That's what happens when you're a crafter, right? Any surface that can possibly receive a little paint and/or Mod Podge is saved from the Goodwill pile.
Because – one day – I swear I'm going to use it.
Typically I could admit this statement is a farce, and then would be honest with you and say that eventually the surfaces I save get recycled or given away. However, this isn't the case with toilet paper rolls.
I have a big bag of cardboard tubes in my craft room right now. They're not just mine; my mom also saves them and gives them to me (does craft hoarding run in my family??). They're waiting for some fun toilet paper roll crafts, and I will (and do!) use them.
There are all kinds of recycled crafts with toilet paper rolls you can try, ranging from wall art to wreaths to jewelry. Having said that, most of the projects you'll do with the tubes are kid related. I've got some of both in the list down below.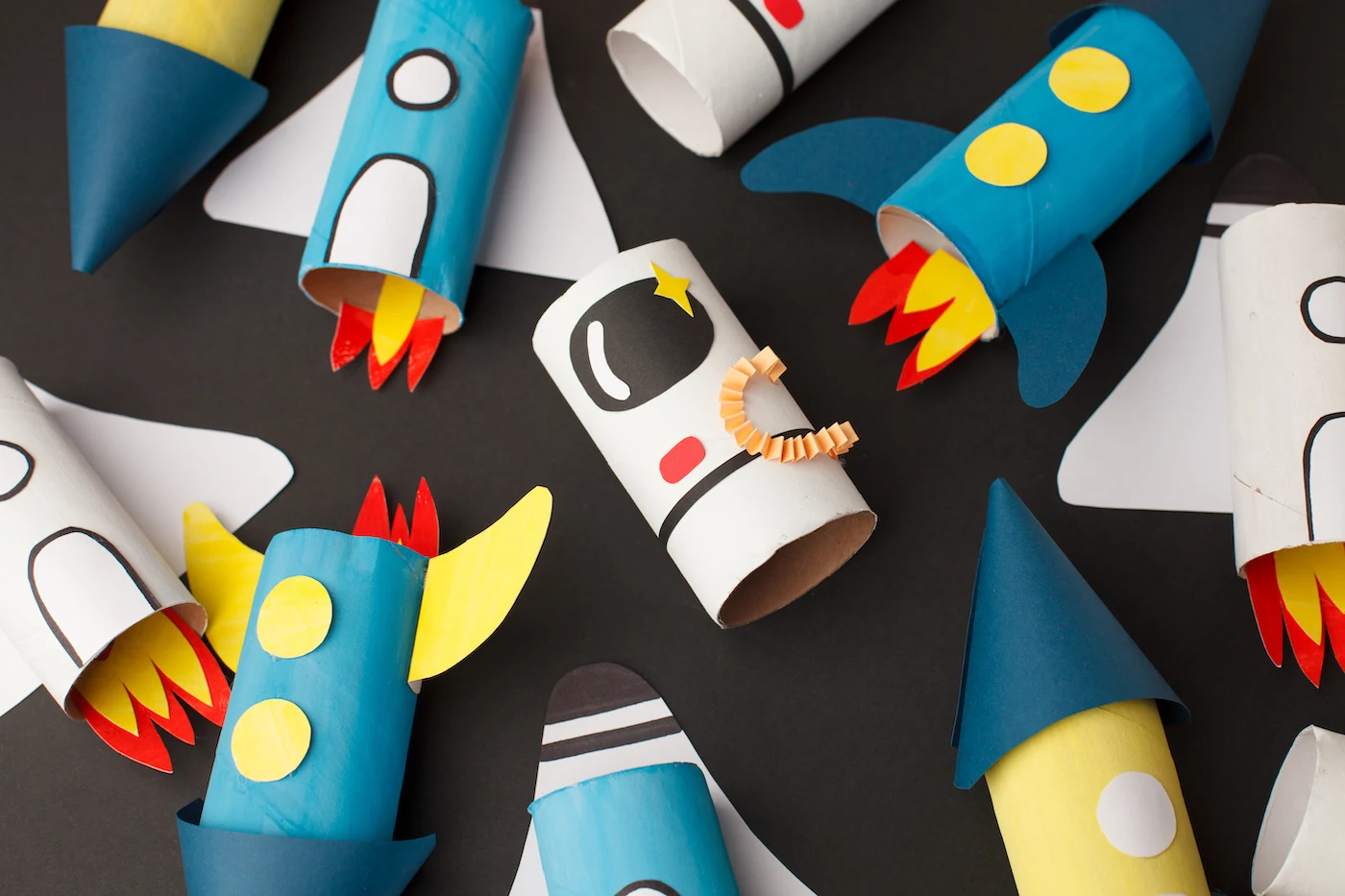 Toilet Paper Tube Crafts
Before we dive into the ideas, let's go through some frequently asked questions about toilet paper tube crafts! If you're ready to dive into the projects, simply scroll down to the list below the questions!
What crafts can you make with toilet paper rolls?
I'm actually kind of excited to share everything that you can do with the cardboard tubes. For years the only thing I knew about was seed starters, and I had no idea there were other things you could make. Turns out there's a lot, from kids projects to wall art to holiday. You'll see in the list.
What is the cardboard in a toilet paper roll called?
The cardboard in the center of the roll is called the "core" and that's what you're going to use for your projects. Sometimes you can slide it out before the roll is done – but for the most part you have to wait until all the tissue is off to use the cardboard tube within.
Are toilet paper rolls sanitary for crafts?
I'm not a doctor, but I'd say yes. They're in your bathroom of course, and exposed to germs. However, the rolls are covered with toilet tissue for 99.99% of the life of the roll. If you don't feel comfortable, I'd sterilize them.
How do you sterilize toilet rolls?
You can either bake them at the lowest setting your oven has, or spray with a bleach and water mixture and let dry. If you choose to bake the rolls you need to watch them (please!) so nothing catches on fire.
What paint can I use on cardboard tubes?
I recommend using Apple Barrel or FolkArt paint. Apple Barrel is the less expensive of the two craft paints, and it's got great pigmentation. This brand is also non-toxic and waterbase for easy clean up, so it's perfect to use with kids.
---
Are you ready to check out some EASY crafts with toilet paper rolls? Grab a TP roll or two and check out the list below!
Toilet Paper Roll Crafts
Learn how to make these easy toilet paper tube crafts for kids and adults! Get a wide variety of fun ideas, perfect for beginners.
---
Are there any cute toilet paper roll crafts you'd like to try? I'd love to hear your thoughts in the comments! I'd also love for you to check out these other posts: