Are you looking for Mod Podge crafts for kids that are easy and GUARANTEED FUN? Here are 20 fun and simple kids crafts they'll love!
Scroll down to the bottom to see a video of 9 bonus craft ideas for kids too.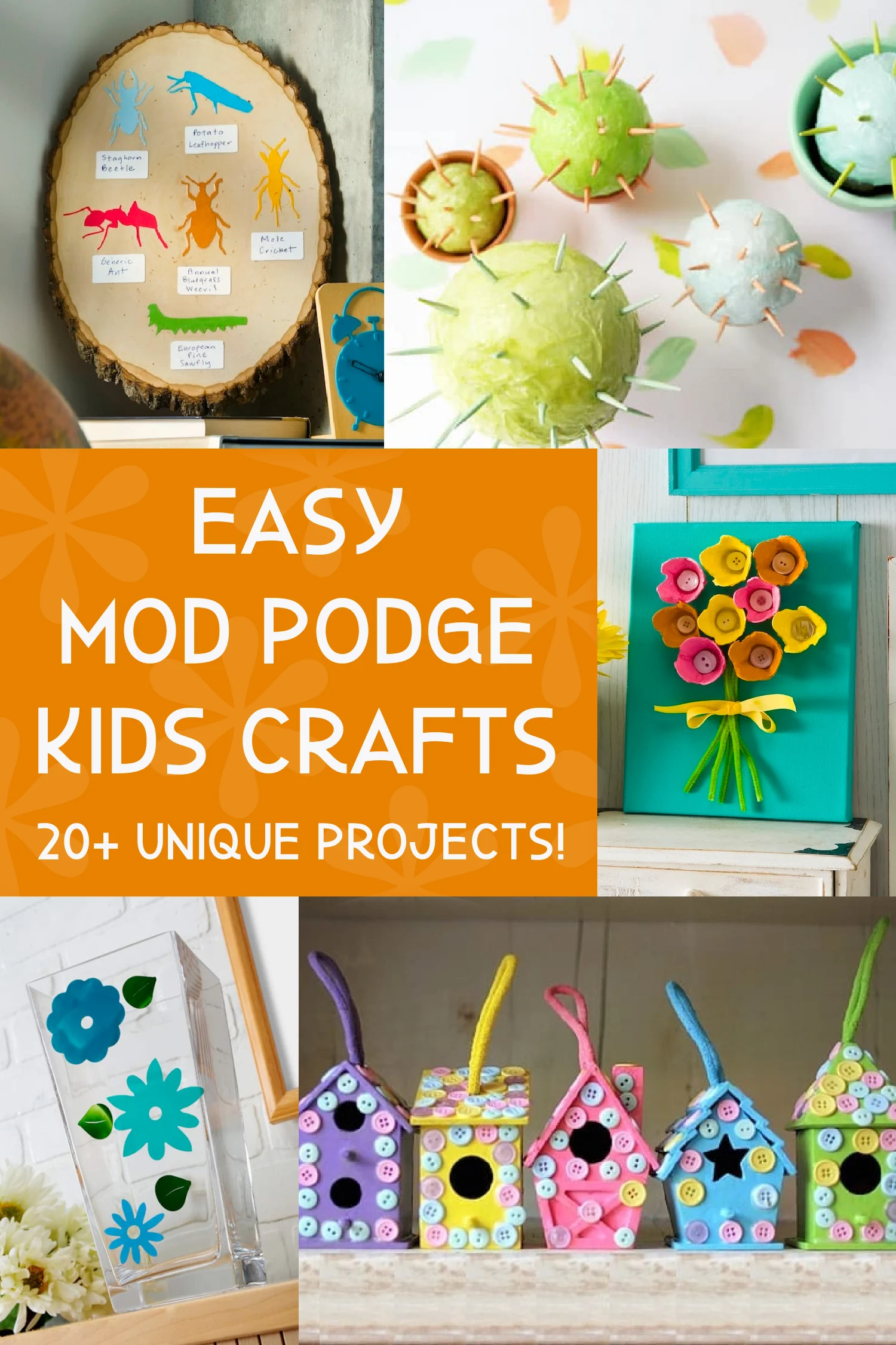 If you're looking for arts and crafts for kids that use Mod Podge . . . you've come to the right place! Some of you have come to the end of summer – and some of you aren't quite there yet. If you aren't quite there yet, don't worry, the kids are going back to school soon! Ha.
Easy Crafts for Kids
It just so happens that I picked 20 of the most fun craft ideas for kids ever. They all use decoupage medium, of course – which is perfect for children because Mod Podge is non-toxic and safe for them to use.
Before I jump into the projects, I wanted to share some tips for crafting with children.
Tips for Successfully Crafting with Children
Prepare the area.
Crafting in your formal dining area with white carpet probably isn't the way to go – a kitchen with linoleum floors is perfect! Get kids set up in a place where the furniture and surrounding area can easily be cleaned. Newspaper makes a great, budget friendly floor or table covering.
Make sure your kids are wearing the right clothes.
Murphy's Law says that if you put your child in their (or your) favorite shirt, it's going to get ruined. Have kids wear old t-shirts or dress shirts, or even smocks if you want to get really fancy.
I know a lot of moms who put their children in oversized t-shirts and underwear only. Then they place them directly into the bath right after crafting time!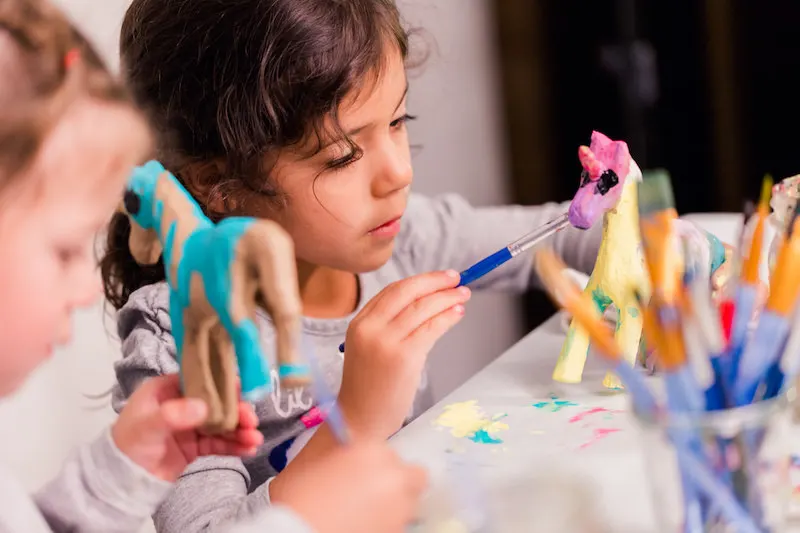 Keep cleaning supplies on hand.
Don't forget to have the right cleaning supplies available in case someone makes an "oopsie." This includes plenty of paper towels and/or rags. A lot of art supplies are easily cleaned up when they are wet – let them dry and you may have a permanent problem on your hands.
Make sure you have the right craft items.
Look for paints and glues that are washable from children's skin and clothes. Don't allow your little ones to use anything toxic – read the ingredients carefully to make sure that the supplies are completely safe, even if ingested. You never know when an errant finger might go into a mouth. Suggestions: tempera paint, Mod Podge, crayons, and construction paper are all safe kids' craft supplies.
Do them when you won't have time constraints.
Do you like to be told to stop having fun after 15 minutes? Neither do kids. While you can't craft forever, allow children time to be creative and finish their projects. Don't try to squeeze in crafting between appointments. It just becomes stressful and not fun for everyone.
Let them have fun.
Picasso didn't come out of the womb knowing how to paint, and your kids didn't either. Let them experiment and try new things. Don't worry about what they are doing as much as if they are having a good time. These arts and crafts for kids are going to guarantee that!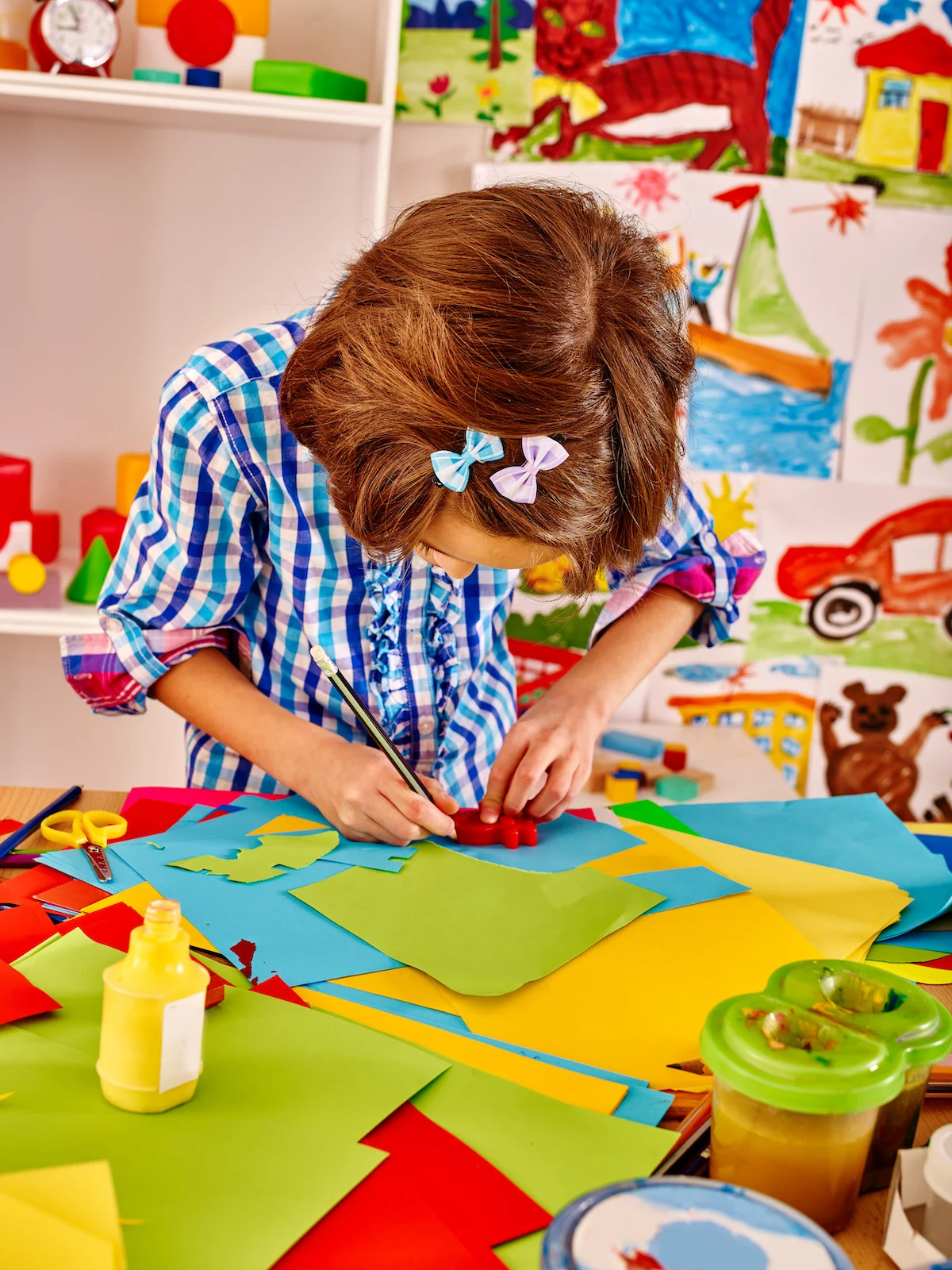 Be patient – don't try to control.
This may be the first time that your child has ever used an art supply or tool. If they ask, show them how to use it. Otherwise, let them try first. Encourage and don't take over. Mixing blue glitter and black paint might be wrong in the adult world, but it's okay for kids.
Be present – no electronics.
Your iPhone might be important, but your children are more important. Set the phone aside for an hour or two so that you can fully engage with the kids. It will be a special time for you and them, and it's easier to interact if you aren't trying to text and answer emails while you are crafting.
Praise your child.
Even if that big black blob that your child says is Uncle Joe looks nothing like a human, tell him or her that they did a great job. We all like praise – that doesn't change even when you are an adult. Give copious amounts of it to children.
Prepare your children for the end.
Kids love creating so much that they probably aren't going to want to stop. When the end is near, give them a warning like "15 minutes until cleanup time." Let them know at regular intervals when the fun is going to end – then they won't be upset that you sprung it on them.
---
Are you ready to see some awesome arts and crafts for kids? Keep reading!
Mod Podge Crafts for Kids
Your kids are going to love these arts and crafts ideas! This is a great collection of Mod Podge ideas that are perfect for kids of all ages; and adults will love most of these as well.
---
Want some additional Mod Podge crafts for kids? Check out the video in this post! Just press "PLAY." Then check out the following articles:
Let me know if you try any of these arts and and crafts for kids in the comments!