Use Mod Podge to make your own DIY window clings on a budget – these gel window clings are so easy, and a great kids' craft! (See the end of this post for a video on how to make DIY window clings using food coloring!)
Skills Required: Beginner. You can make these gel window clings with just a few supplies and no prior crafting knowledge.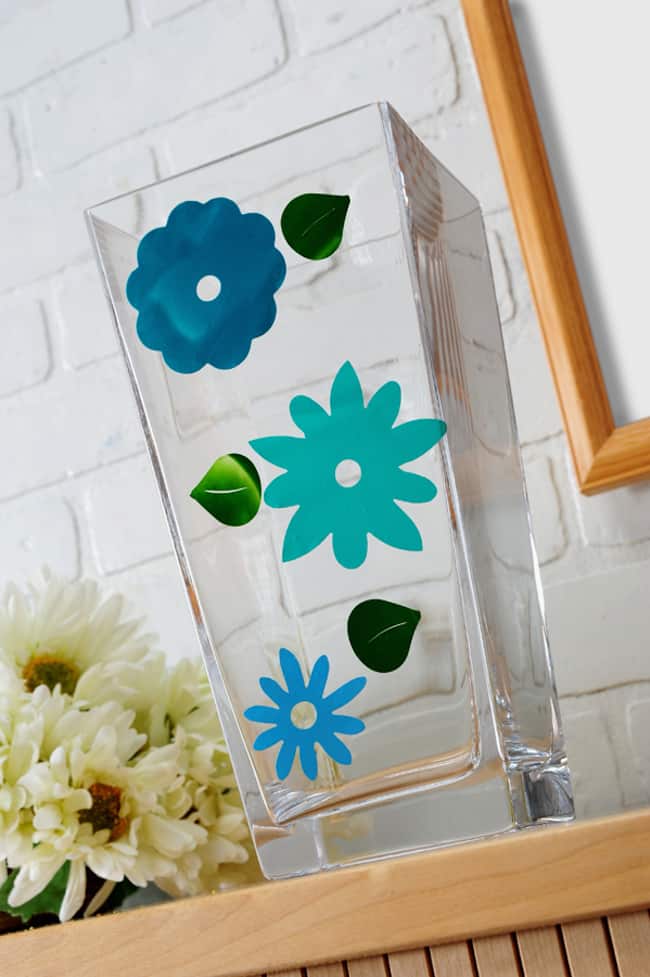 I really think you are going to like this post. I'm not just fancying myself, I really do. It was a fun to use Mod Podge for something other than gluing down – I actually made Mod Podge DIY window clings that you can put on any vase or in any window.
How to Make Gel Window Clings
The biggest secret to these gel window clings is making sure that you have a non-stick surface to create them on. I used Gallery Glass leading blanks, but those aren't necessarily easy to find.
I've also seen people use silicone mats, wax paper, and clear page protectors. You can try these window clings on a variety of non-stick surfaces and see if they work.
The supplies are so minimal, I had everything laying around the house. Can you say budget crafting at its finest? I hope you'll make many and stick them all over everything. I highly recommend it. Here's how they are made.
DIY Window Clings
Gather These Supplies
FolkArt or Apple Barrel paint in your choice of colors
Hole punch, die cutter, craft knife – something to cut shapes with
Palette knife or spreader
Scraper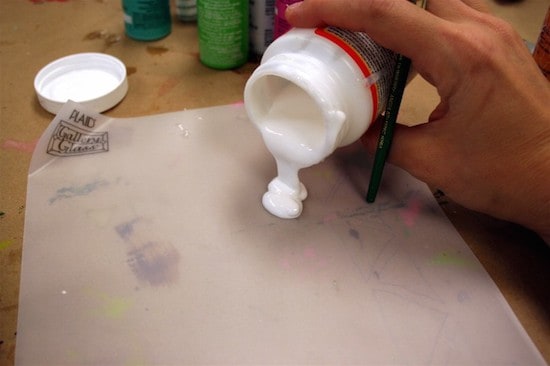 Lay your leading blank (or page protector, etc) down on a surface. Pour some Mod Podge onto your leading blank. This is not a very scientific method, and by "not very" I mean not at all.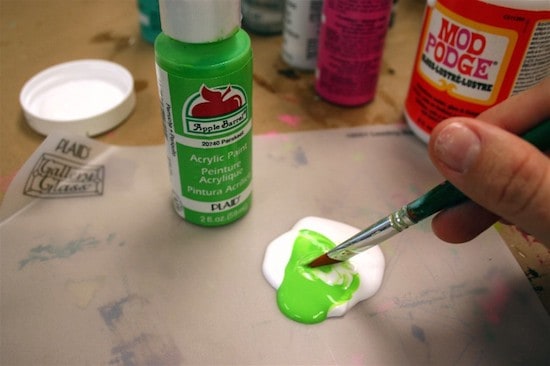 Squeeze some paint (used Apple Barrel Parakeet) into the Mod Podge. Stir it around with a brush.
Note: You can do the mixing in a bowl instead of directly on the blanks, and then pour onto your surface. I just didn't want to waste containers.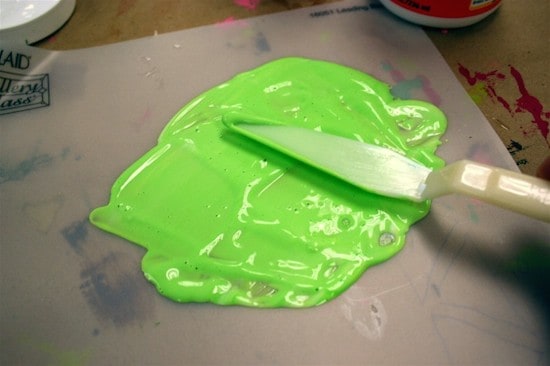 Spread the Mod Podge out onto the leading blank. I found it was easiest with a palette knife – you can do this with a plastic knife as well.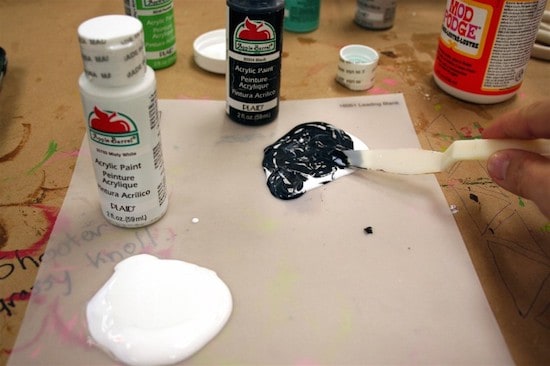 Look mom, I'm doing Snow White and Black too! I'm on a roll!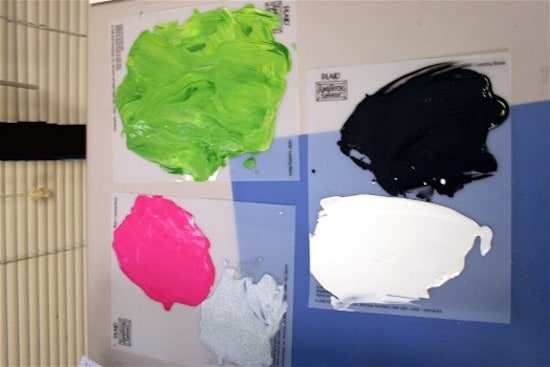 Let your Mod Podge/paint mess (a mess that is going to become gel window clings) dry overnight. Look at the green (that is several greens together). How fun, right?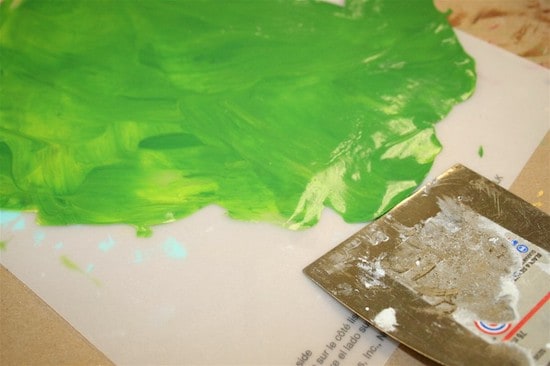 Use a scrapey-doo tool to lift the Mod Podge/paint off of the leading blank. It will peel right off!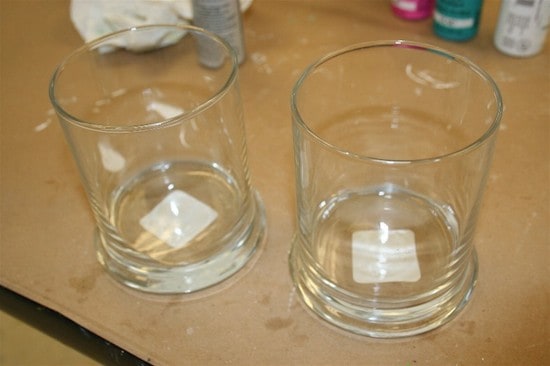 Here are some glass votives. These are going to look different in a minute.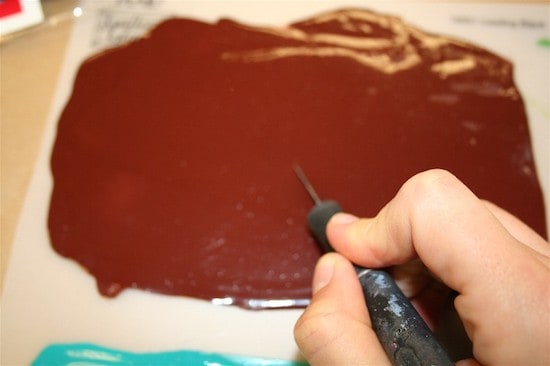 There are three methods for cutting your Mod Podge/paint clings. Craft knife is the first – although I learned a big lesson. Peel the Mod Podge/paint OFF of the leading blank before cutting it, or you will cut the leading blank. You can cut on a craft mat with your craft knife.
You can also cut with scissors as well.
Another method is a hole punch. It makes great polka dots, snow and Christmas ornaments.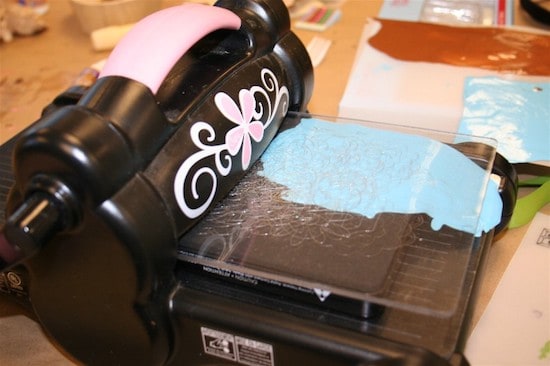 Die cutter . . . can you believe this works? I rolled this stuff right through my Sizzix Big Shot and it cut like a dream!! This is how I decorated the vase in the large photo.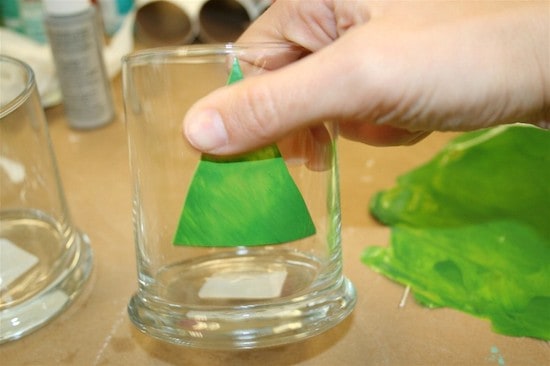 Apply the cut shapes to the glass with your fingers. If you are having trouble with the sticking, either exhale onto your cling shape or heat slightly with a hair dryer.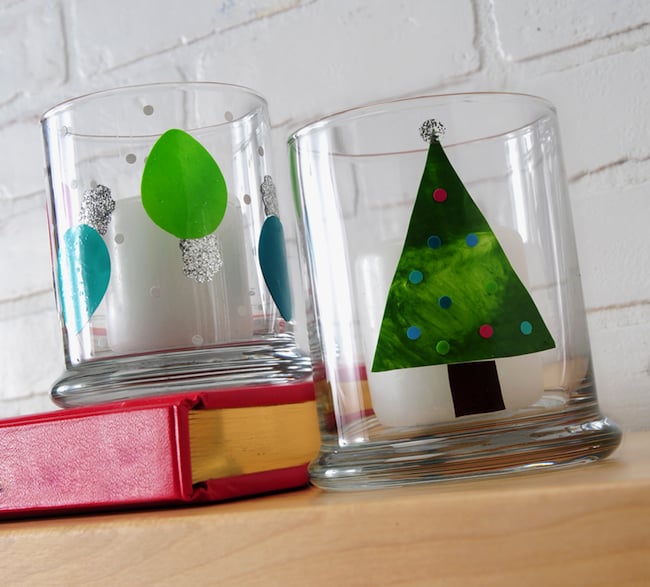 Check out the holiday DIY window clings I did  – Christmas lights with snow, and then a Christmas tree with hole punched ornaments. I'm picturing Mod Podge clings all over Mod Podge Command Central, so that it looks like a circus rather than a place to live. I had a blast doing it – what do you think?
Now for a video! Learn how to do this gel window clings craft with food coloring and a similar technique below: