If you're looking for some ideas for DIY Christmas ornaments, well, you've come to the right place. Over 100 ideas, lots of them made with Mod Podge and some creative magic!
Scroll down to the bottom of the post to get a video of some of the ideas in action. You're going to love watching these ornaments come to life.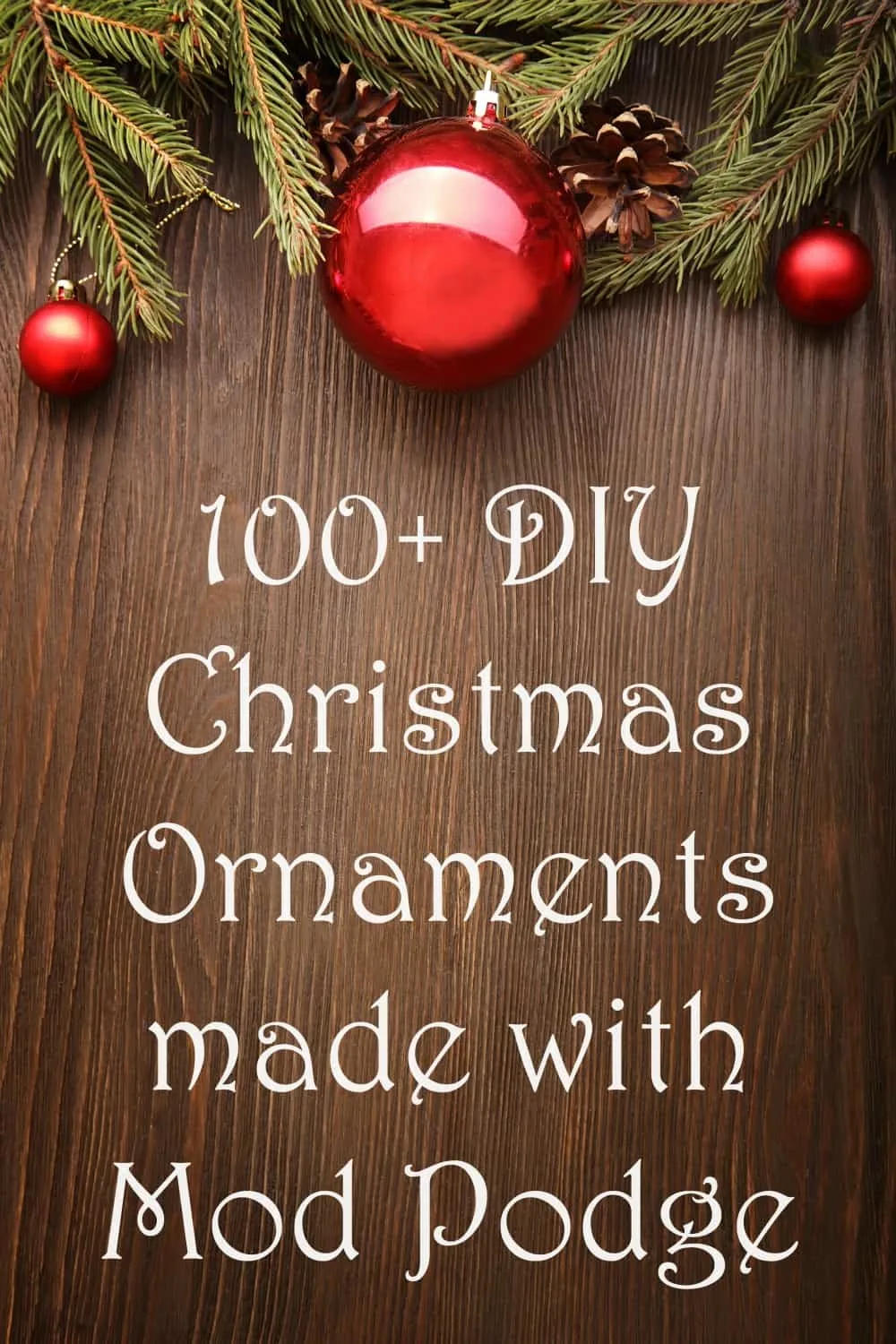 One of my favorite things to make with Mod Podge for the holidays – DIY Christmas ornaments! Seriously, I just can't get enough. Where do I begin with why I love them so?
DIY Christmas Ornaments
Well, you get a chance to use a variety of mediums along with your Mod Podge – paper, tissue paper, fabric, gift wrap, paint, glitter, markers, etc . . . whatever your little heart desires can be added to the surface of an ornament!
Not only that but you get the immediate gratification of completing a little sphere of wonder in a short amount of time. I can take awhile to complete a variety of decoupage projects, but ornaments I always seem to finish right up, and I love that.
Quick and easy is the name of the game when it comes to the holidays as far as I'm concerned.
(get 30+ Mod Podge Christmas crafts here!)
Handmade Christmas Ornament Tips
Before I get to the ornaments, I want to offer my tips for success. I've made a TON of Christmas ornaments over the years, especially with Mod Podge.
Since I'm guessing you want your Christmas tree to be beautiful, I'm guessing you also want your ornaments to be beautiful too – and hopefully last for many years. Here's what I do to achieve ornament perfection!
1. Prepare your surface.
Almost any surface can be used to create a decoupage project. Suitable surfaces include wood, papier mache, terra cotta, tin, cardboard and glass. Only SOME plastics are okay for decoupage.
I recommend testing a small area before completing your entire project to make sure that the Mod Podge will adhere. With glass, you'll want to clean with a mild soap and water or rubbing alcohol and a cotton ball.
2. Choose the correct paint for your surface.
This is if you are painting. Make sure that you check that you have the appropriate acrylic paint to use with your wood, glass, ceramic, or whatever the ornament is made of.
Glass ornaments in particular require a special paint, so I like to use FolkArt Multi Surface paint for every ornament just so it's more durable and I know it's going to work. Brush a few coats of paint on your surface and let completely dry before decoupaging.
3. Decide on a theme.
I like to have a consistent theme for my entire tree. Obviously this isn't required, but if you do want a theme for your DIY Christmas ornaments, get a stack of Christmas paper.
Scrapbook designers are great at picking current design themes and creating papers that all look great together, so you can benefit from that. Just grab a stack that appeals to you and use your favorites to create beautiful ornaments.
Another thing I like to do is get some glitter colors that compliment my paper ornaments and make some solid, glitter ornaments that go along with my patterned ones. It's nice to have designed ornaments on the tree but then break them up with some solid color ones as well.
4. Prepare the items for decoupage.
If you are using scrapbook paper, fabric, or something along those lines you don't have to do anything.
However IF you are using photocopies or printed pictures, you'll make to make sure that you seal them with an acrylic sealer if they were printed on inkjet.
Inkjet will bleed when decoupaged unless you spray both side of the printed page with a spray acrylic sealer. You can learn more about it in my how to decoupage article.
5. Pick your Mod Podge formula.
You can use my formula guide to choose your favorite decoupage formula, but I'm going to recommend Sparkle Mod Podge or Extreme Glitter Mod Podge for your DIY Christmas ornament fun.
You don't always need glitter, however the holidays are a perfect time for it. Just something to consider! Otherwise most ornaments will take the Satin, Gloss, or Matte formulas depending on the finish you desire.
6. Seal your DIY Christmas ornaments.
Whether you use a clear acrylic spray sealer or a brush on clear sealer, you'll want to use something additional after your decoupage is done.
This is so the ornaments last as long as possible AND so they don't stick when you put them into storage. Obviously let them dry completely before you do so. You might even want to use wax paper to store them so that you can ensure there isn't a sticking problem (don't wrap it too tightly).
---
Are you ready for the Christmas ornaments? You've come to the right place! I've pulled together some of my favorites as well as tons from the blogging community at large.
There are over 100 ideas here (including some for kids to make, and lots of options for fabric, paper, glass, photo, and more. If you make one of these (or more because you won't be able to stop at one), let me know in the comments!
To get all of the ideas, you'll need to scroll down the list below. You'll want to go to the bottom because the ideas are so good. Enjoy!
DIY Christmas Ornaments
Learn how to make Christmas tree ornaments using these unique tutorials! These use variety of other materials: paint, glitter, buttons, fabric, Mod Podge, and more. Perfect for the beginning crafter!
---
Ready for a visual? Simply press "PLAY" in the center of the video in this post. I'd also love for you to visit these other holiday posts: