If you love DIY photo ornaments, get over 30 ideas to decorate your home and Christmas tree! These are easy to make for kids and adults.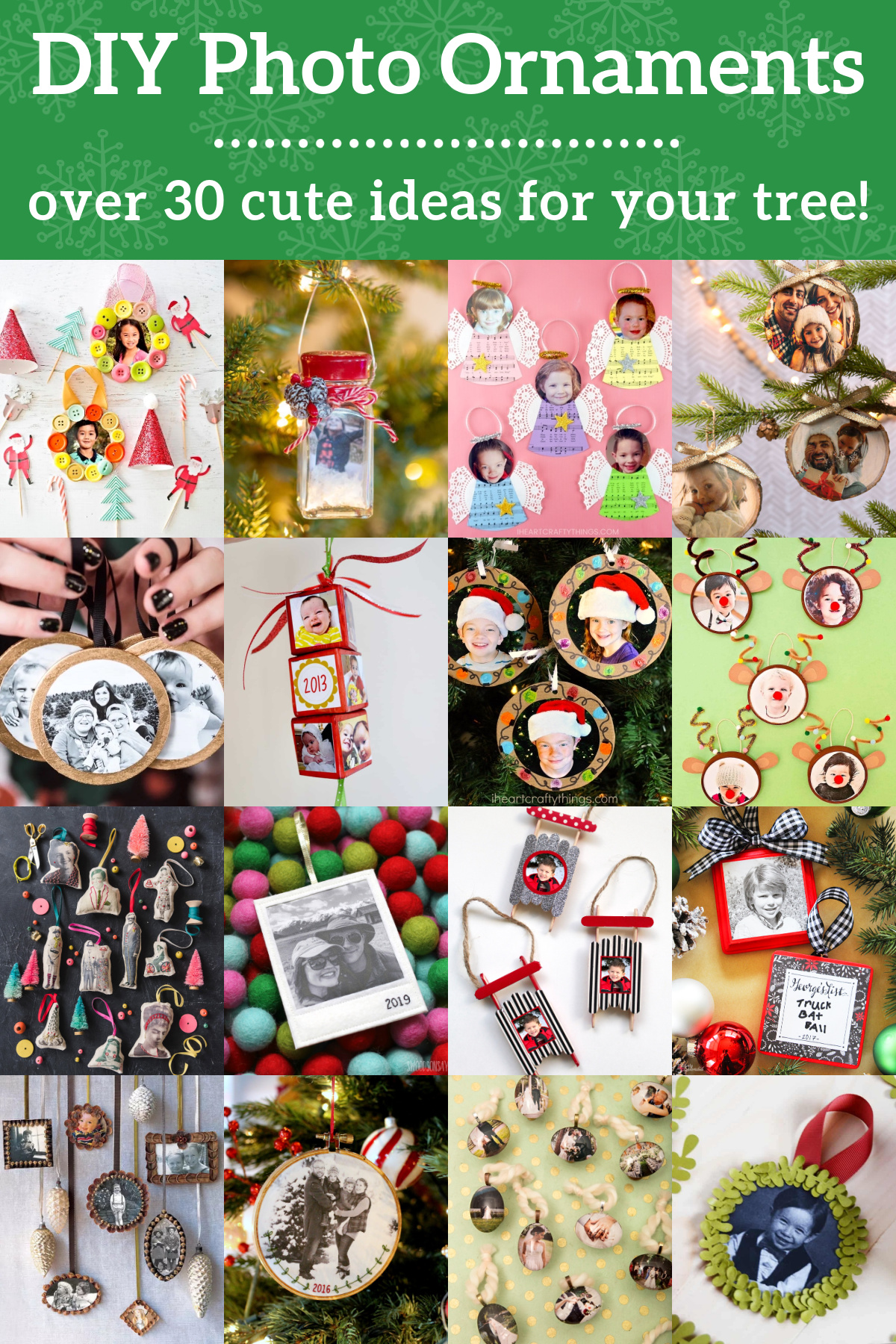 Have you ever made a photo ornament for the Christmas tree before? Of course you have. Because at one point in daycare, kindergarten, or elementary school you were handed a picture of yourself along with some macaroni and glue and told to make one for your mom.
And you're not the only one.
If you were born in the 70s or 80s – maybe even the 90s – it was a DIY Christmas ornament staple in every educational or child care facility across our lovely country. Because what parents didn't want DIY photo ornaments as part of their Christmas haul?
Those parents don't exist. Everyone wanted one.
Hahaha! Whether or not that's truly the case is really irrelevant. Because regardless, those picture ornaments are brought out each year and displayed proudly on the tree. Right? I'm 45 years old, about to turn 46, and my mother still puts my childhood creations (and my brothers!) on the tree.
But photo Christmas ornaments aren't just for kids. They're for everyone! Yep. Today I'm going to show you a list of ornaments made with pictures. Using a variety of creative techniques!
Whether you're a beginning crafter or you've been doing this for awhile, you'll find something on this list you want to make. These are perfect for hanging on the tree or giving as handmade gifts. There are also options easy enough for kids!
Tip: I always give the same advice for photo crafts. Make a color copy of the original photo if you want to preserve it. Many people have ruined original copies of pictures in failed crafting attempts. This is especially true of old photos, in my humble opinion.
Are you ready to check out the ornaments? Take a peek at the list below and let me know your favorites. Have any questions? Leave those in the comments. Merry Christmas and happy crafting!
DIY Photo Ornaments
Try making one of these DIY picture ornaments for your Christmas tree or for gifts! Great ideas for crafters of all experience levels.
---
If you loved these DIY picture ornaments, I'd love for you to check out these other posts: