If you bought some Christmas balls and aren't sure what to do with them, get over 50 DIY glass ornaments to decorate your Christmas tree!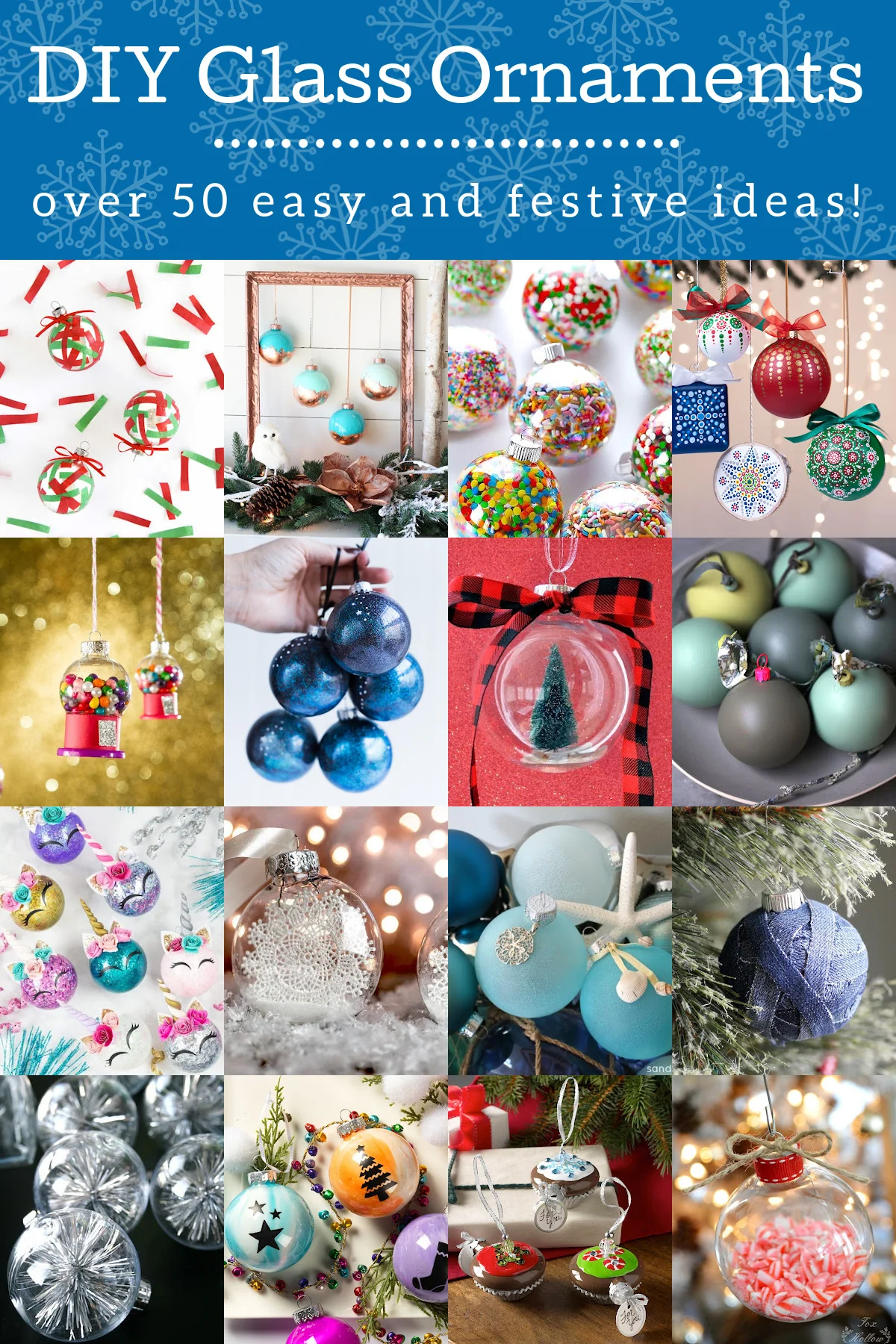 Every year I get a lot of questions about making Christmas ornaments. Which I totally get. Because honestly, the display at the craft store can be a little intimidating. There are a bunch of clear glass balls in a tray and some paints and glitters and Mod Podge.
But what are you supposed to do with it all?
It's not as straightforward as one might think. There's quite a lot that you can do, which is what can make it overwhelming! I'm going to show you how to make a bunch of DIY glass ornaments with ALL kinds of different techniques.
And none of them are hard to make.
Glass Ball Ornament Crafts
I'm really excited to share some great ideas with you, but before I do, I wanted to share my tips and FAQs with you. If you are ready to get to the ideas, just scroll down. Otherwise, I hope these help you during your Christmas crafting journey!
Preparing the ornaments
Before getting started, you're going to want to clean the ornaments. This step is crucial if you want any painting or Mod Podge to stick. You are removing oils from fingers – oils that repel paint.
Thoroughly wash in warm, soapy water, then rinse in warm water and let dry. You can also use rubbing alcohol and a cotton ball. If you're going to paint the inside, you'll want to swirl some rubbing alcohol around on the inside and let dry.
What glue is best for glass ornaments?
I really like to use Mod Podge to glue things to ornaments, like fabric, paper, or tissue paper. To add embellishments to painted or Mod Podge ornaments, I use craft glue. If it's directly to the glass, I use E-6000 for the strongest bond.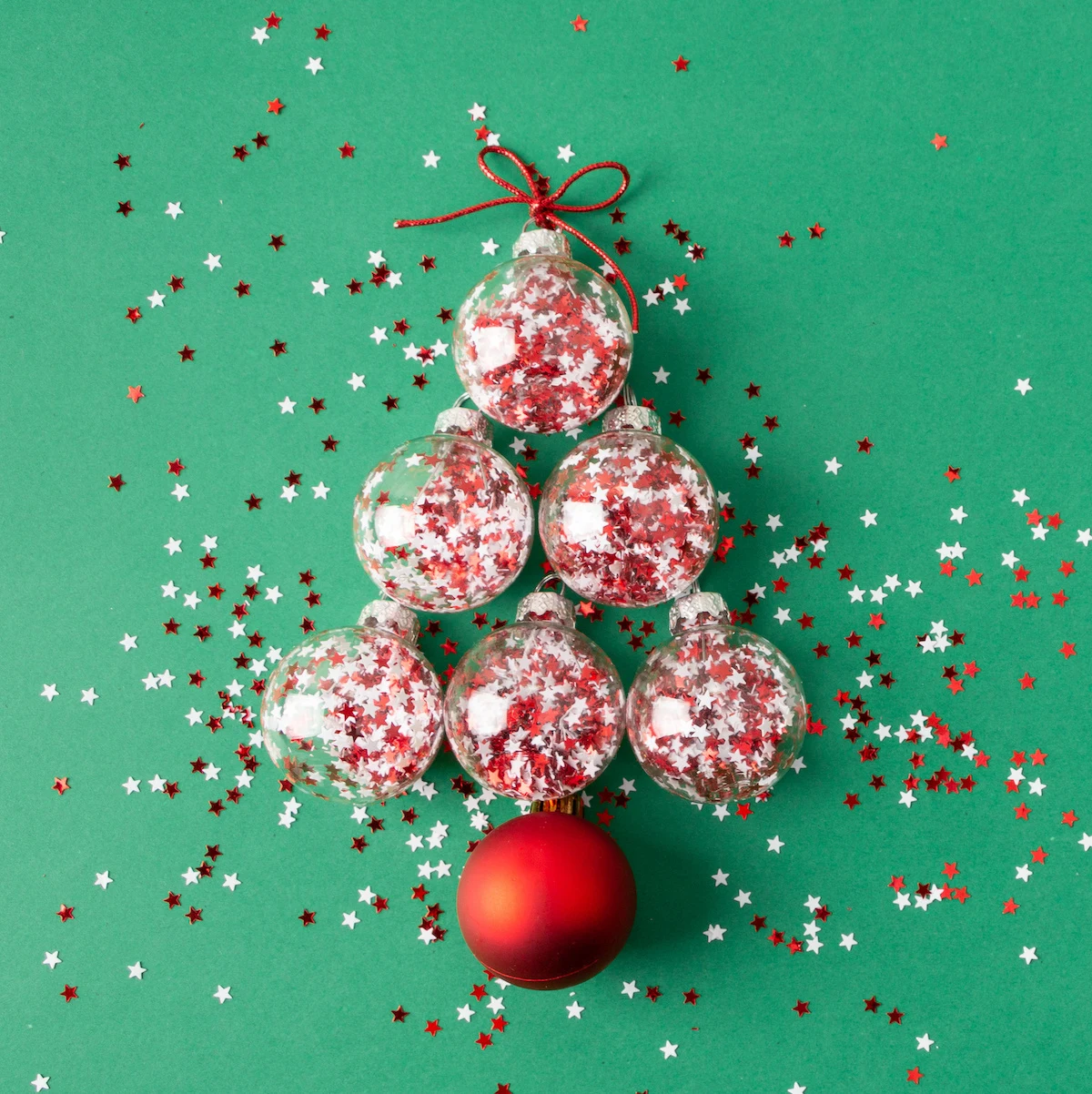 What paint is best for glass ornaments?
You'll want to use one of three things: craft paint made for glass or multisurface, spray paint, or chalk paint. Regular craft paint can be used on the inside of an ornament, but you won't want to paint it on the outside. It's too easy to scrape off. More about painting on glass here.
Does Mod Podge work on glass ornaments?
It absolutely does! I have several examples of tutorials you can try below. I'd also love for you to check out my guide to Mod Podge on glass to get my best tips.
How do you fill ornaments with glitter?
There are a few ways to do it. If you have Mod Podge, you can mix it with glitter. Pour it into the ornament, let it drain out, and the Mod Podge dries glittery on the inside.
You can also use floor wax (I know, crazy!). You pour it into the glass ornament, swirl it, then pour out the excess. Then add the glitter, swirl it, and pour out the excess again. Let dry and you have a glitter glass ornament!
Can I use plastic ornaments?
Yes BUT acrylic products like Mod Podge and regular craft paint don't work very well directly on them. I recommend prepping the ornament first with white primer made for plastic. OR pick a method that doesn't require Mod Podge or paint!
---
Are you ready to learn how to decorate some glass ball ornaments? Take a peek at the list below and let me know your favorites in the comments!
DIY Glass Ornaments
Looking for some cute glass ball ornaments crafts? This is your list, with over 50 ideas using a variety of craft supplies!
---
Did you enjoy playing with Christmas balls? If so you might like these other posts!