Do you love the look of sparkle and bling on your tree? These pretty Mod Podge glitter ornaments are EASY to make – and like a million bucks.
Skills Required: None. Even if you've never used Mod Podge before, you'll find success. It's a very simple project with bold results.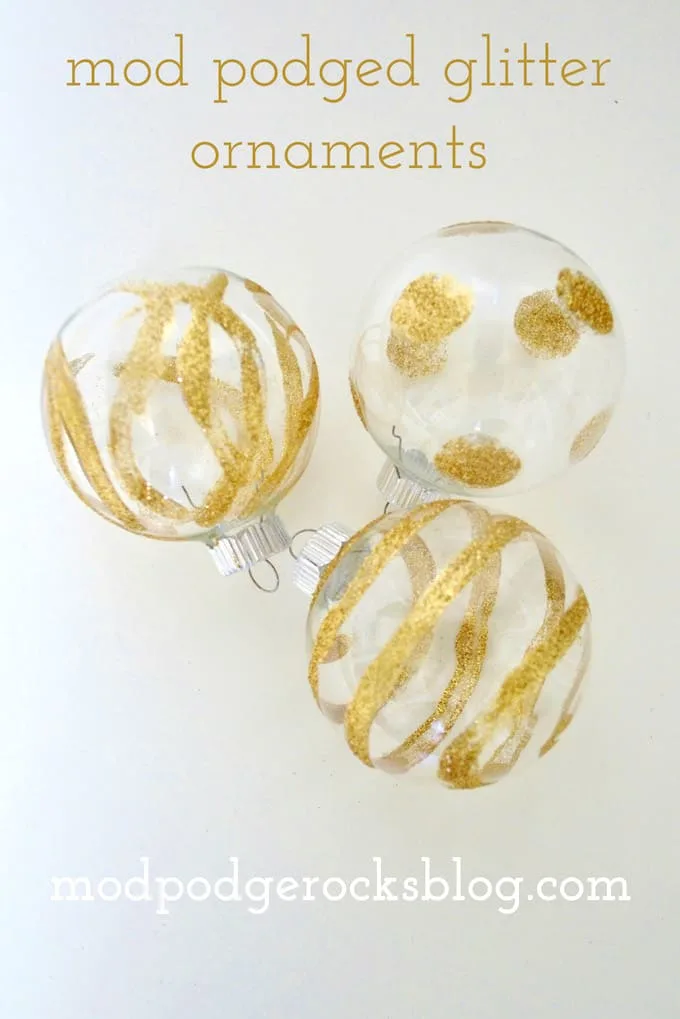 In the midst of the busy holidays, it's always nice to take a crafty time-out . . . and if your craft time produces cute Christmas ornaments that can be used as gifts or even gift toppers, all the better!
Mod Podge Glitter Ornaments
These glitter ornaments also do really well at craft fairs and there are so many ways to customize these cuties.
Before we get started, I'd like to share a few frequently asked questions I've gotten about these Mod Podge ornaments. If you want to get directly to the how-to, go ahead and scroll down to read the tutorial.
Do I need to clean the glass ornaments first?
Yes, wash them with mild soap and water or use rubbing alcohol and a cotton ball. You want to make sure there are no fingerprints or oils on your glass surface.
If you plan to glitter the inside, swirl with rubbing alcohol, pour out, and let dry.
Which Mod Podge do I need to use?
I recommend using Mod Podge Gloss with DIY glitter ornaments since it is shiny – and you don't want anything to dull your sparkle!
Can I use acrylic paint with my glitter ornaments?
You can! Feel free to paint the ornament first with a coat of multi surface craft paint. You'll need several coats to cover the ornament. Let dry then apply glitter with Mod Podge.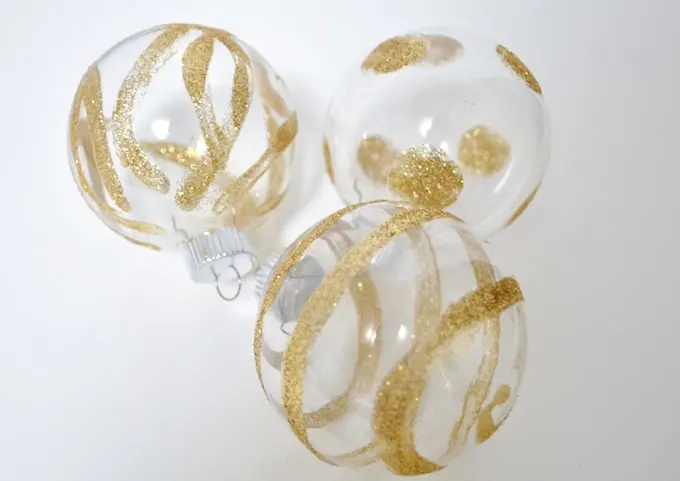 Can I glitter the whole ornament?
Yes! You can use one of these two methods for your glitter ornaments:
Coat the outside of your glass balls with Mod Podge and sprinkle the glitter on (either the entire ornament or parts like we did).
Mix glitter and Mod Podge and swirl around the inside of the ornament. Let drain and dry.
Of course you can't partially glitter the inside, which is why we did this project on the outside of the ornaments.
How do I seal my glitter ornaments?
You can use Mod Podge Gloss to seal your glitter ornaments, however – yes, it will dull the glitter slightly. It doesn't bother me personally because I don't like glitter shedding, and I don't think the dulling is that bad.
However you can also use a super glossy spray sealer like Krylon Glitter Blast, and that limits dulling of the glitter. Like I said, I prefer a little dull glitter to it shedding everywhere!
Are you ready for the tutorial? Let's get started.
Gather These Supplies
Mod Podge Gloss
Glitter (I used gold extra fine glitter)
Round Foam Brush and/or Paintbrush
Spouncer
Step 1: First, you'll want to take your Mod Podge, pour a little bit onto a piece of parchment paper or foil, and create your design on your ornament. I did simple dots, as well as free-form lines. Just don't let this step take too long–Mod Podge dries fast!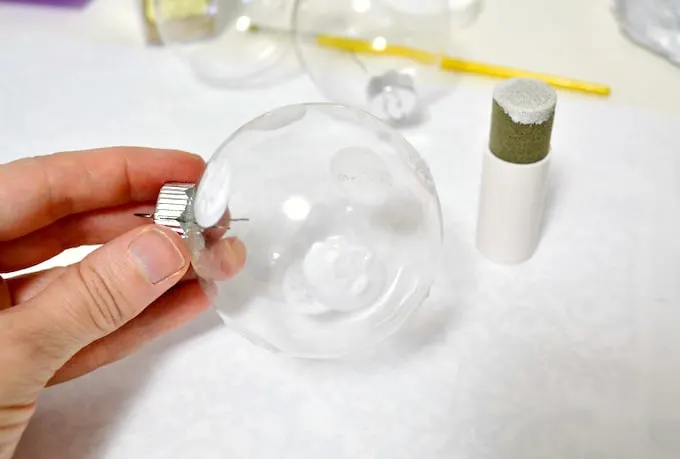 Step 2: Gently sprinkle your glitter all over the Mod Podged parts of your ornament. Let dry.
Step 3: Once dry, use a dry foam brush to gently remove the excess glitter. You may have to go back and touch up some spots (I know I did!)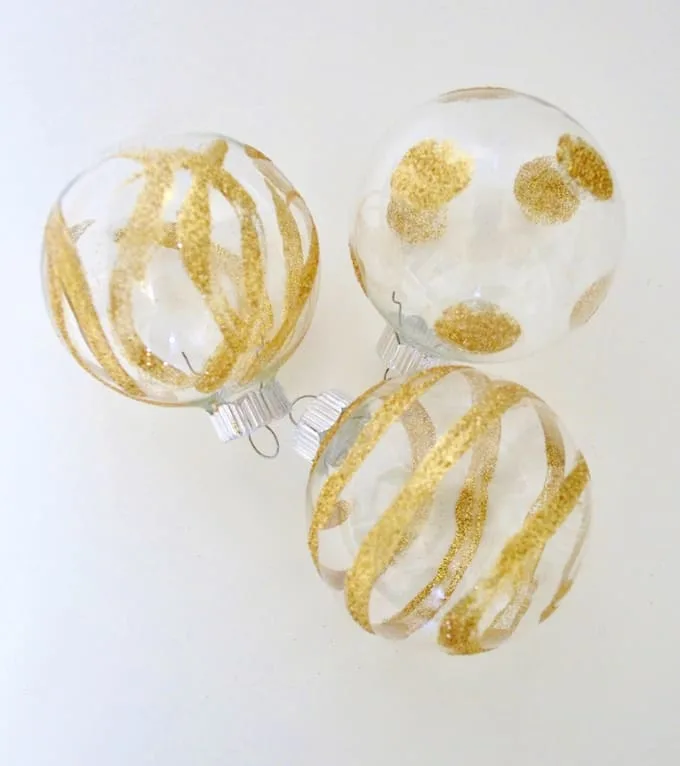 Step 4: Once completely dry, tie a pretty piece of twine or ribbon on end (if desired), and then make another batch–these are so fun to create and gift, it's hard to stop at just a few 🙂
Thank you so much for letting me share my glitter ornaments with you all today! You can find lots of other tutorials and inspiration on my blog! Have a lovely day!
---
If you enjoyed these Mod Podge ornaments, I'd love for you to check out these other posts: