Are you looking for fun and easy decoupage ornaments to make for Christmas? These are so fun and sparkly – any age can try them!
Skills Required: None: Grab a bottle of Mod Podge and some scissors. This is one of the most simple projects you'll ever do.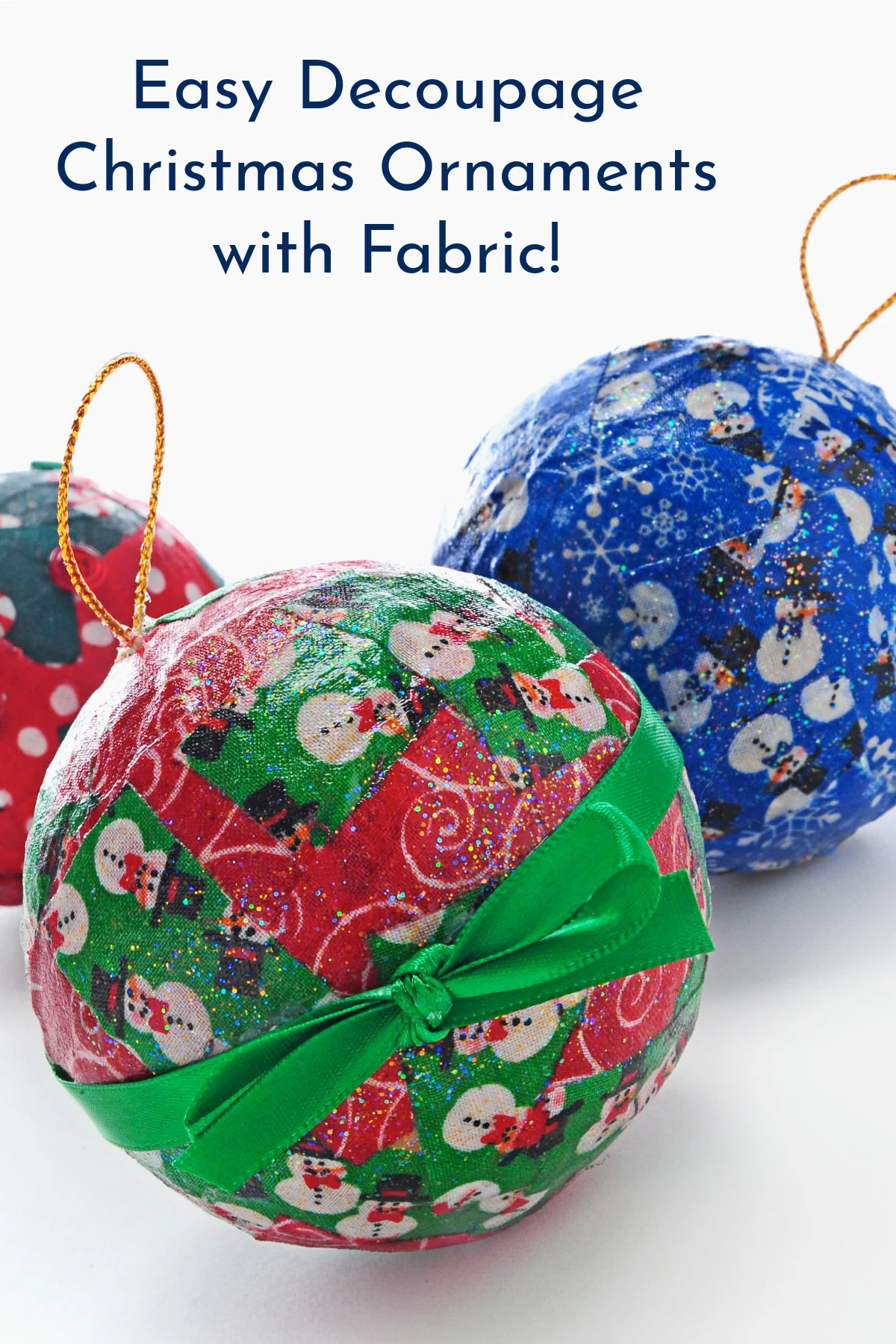 I know that right now many of you have little ones at home – they are out of school, it's cold outside and they are bored. They might need some fun kids Christmas crafts! Kids love making Christmas ornaments!
Good news – Mod Podge is here to help. Since many of you are also setting up trees this weekend, you can set your kids at a table with these fabric scrap Christmas ornaments and let them go to town.
You know – adults actually love making these too. They are perfect for leftover fabric scraps if you're a seamstress, and you can make some pretty pleasing color combinations with your scraps. Once you are done, slap them on the tree (okay, not so much slapping as placing).
These Mod Podge ornaments are so easy and inexpensive, you probably have everything you need already, and your kids are going to have a great time.
(learn how to make a Christmas wreath for kids here!)
Gather These Supplies
Mod Podge – your choice of flavors. I used Glitter Gold, Glitter Silver, and Gloss. Glitter Mod Podge is no longer available so I recommend either Sparkle or Extreme Glitter
Paper mache ornaments – as many as you want to make
Fabric scraps – I didn't have any holiday ones specifically so I bought 1/8 yard pieces from JoAnn. They were only around $.30 a piece with the sales right now
Embellishments – whatever you have laying around; I used ribbon and buttons
Flat paintbrush – one for everyone!
Craft Glue
Scissors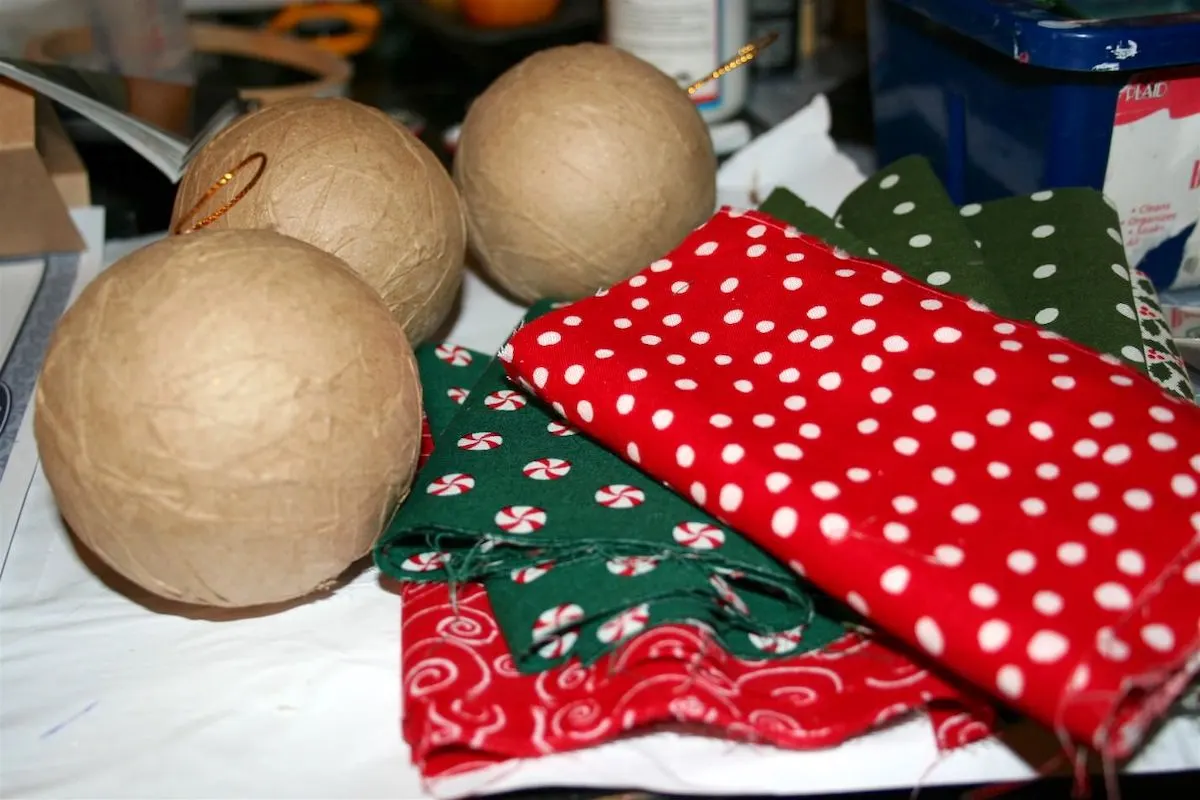 Here are the goods to make the kids Christmas ornaments. A couple of paper balls and some fabric. Oh, styrofoam works too, but I liked these because the hanger was attached. I have little patience when it comes to hanger-ing.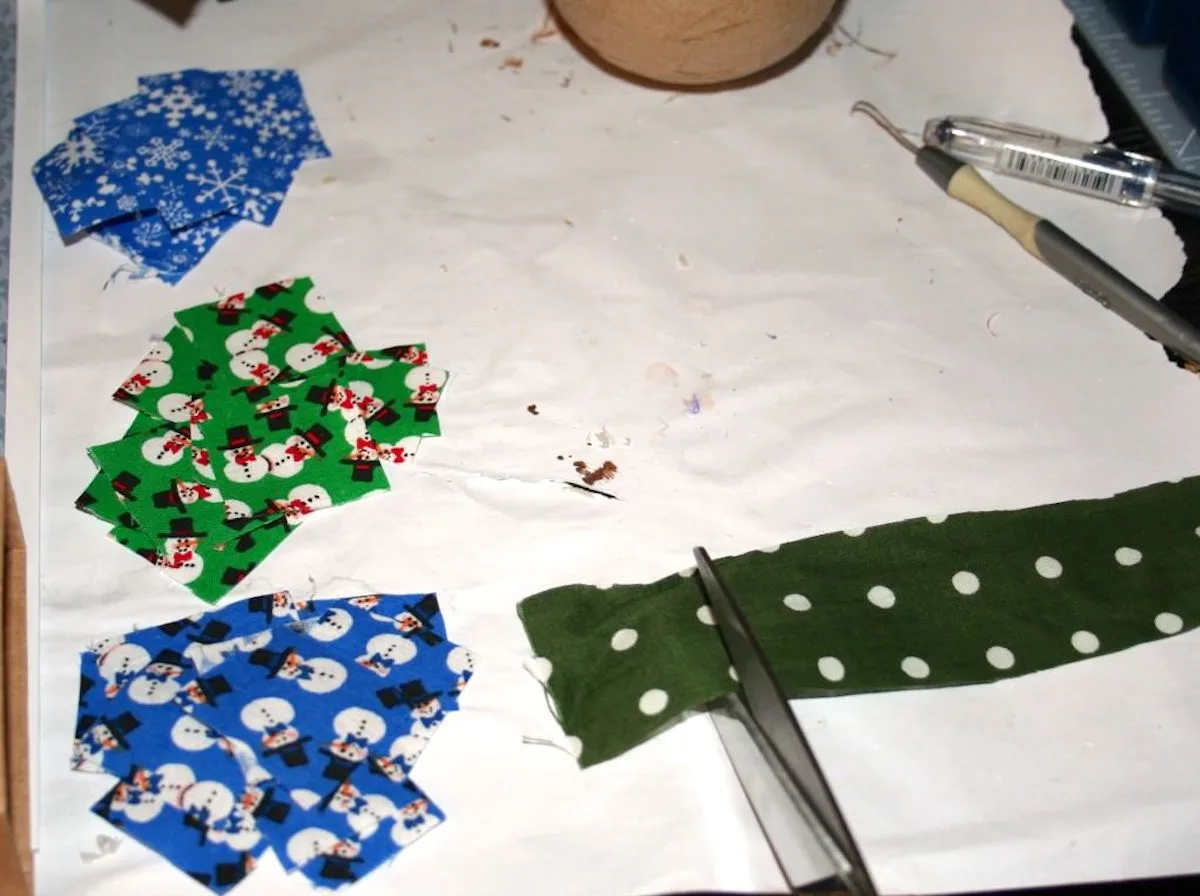 Cut your fabric into manageable bits – circles, squares, octahedrons – whatever! Parents, you obviously might want to do this part depending on the child's age.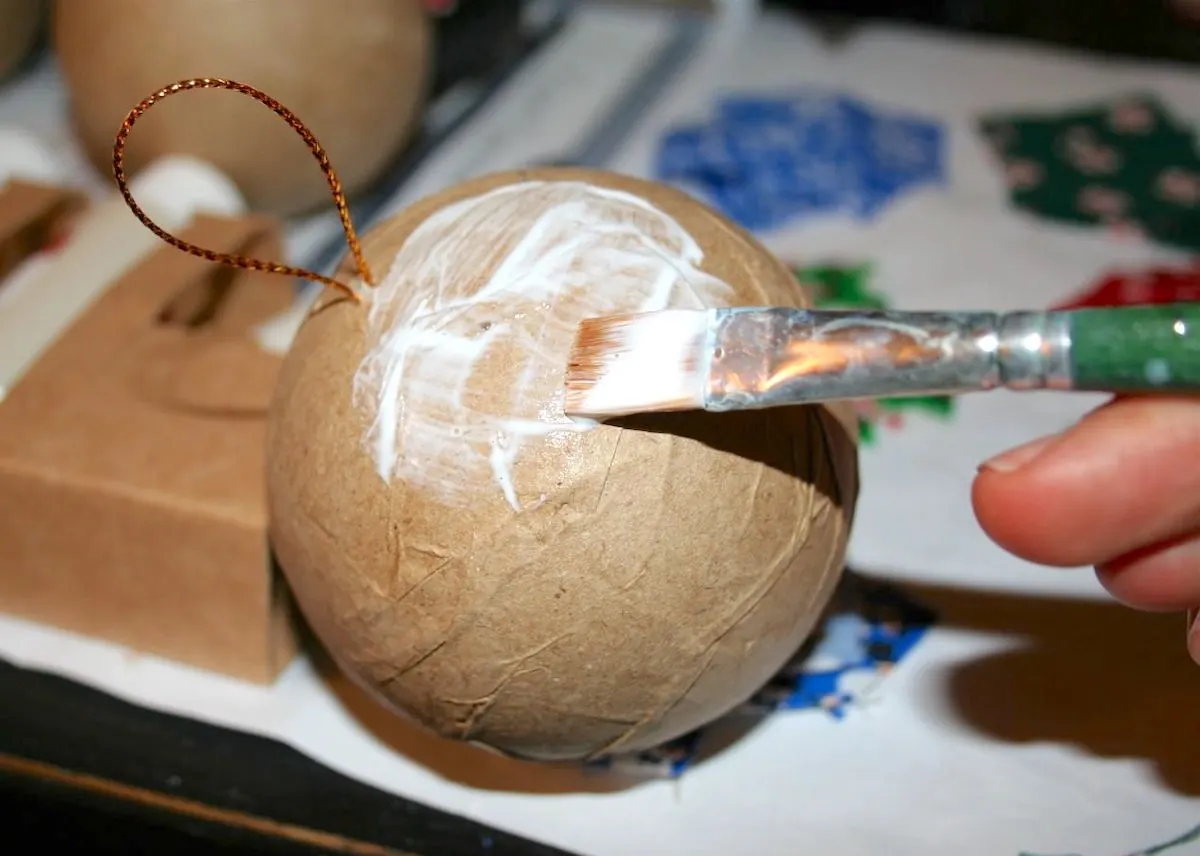 Kids love to get messy, and so do I! Work one or two shapes at a time, putting Mod Podge down on the ball and then placing the fabric squares. Tell the kids not to do too big of an area at once – we don't want crying when the Mod Podge dries and nothing sticks!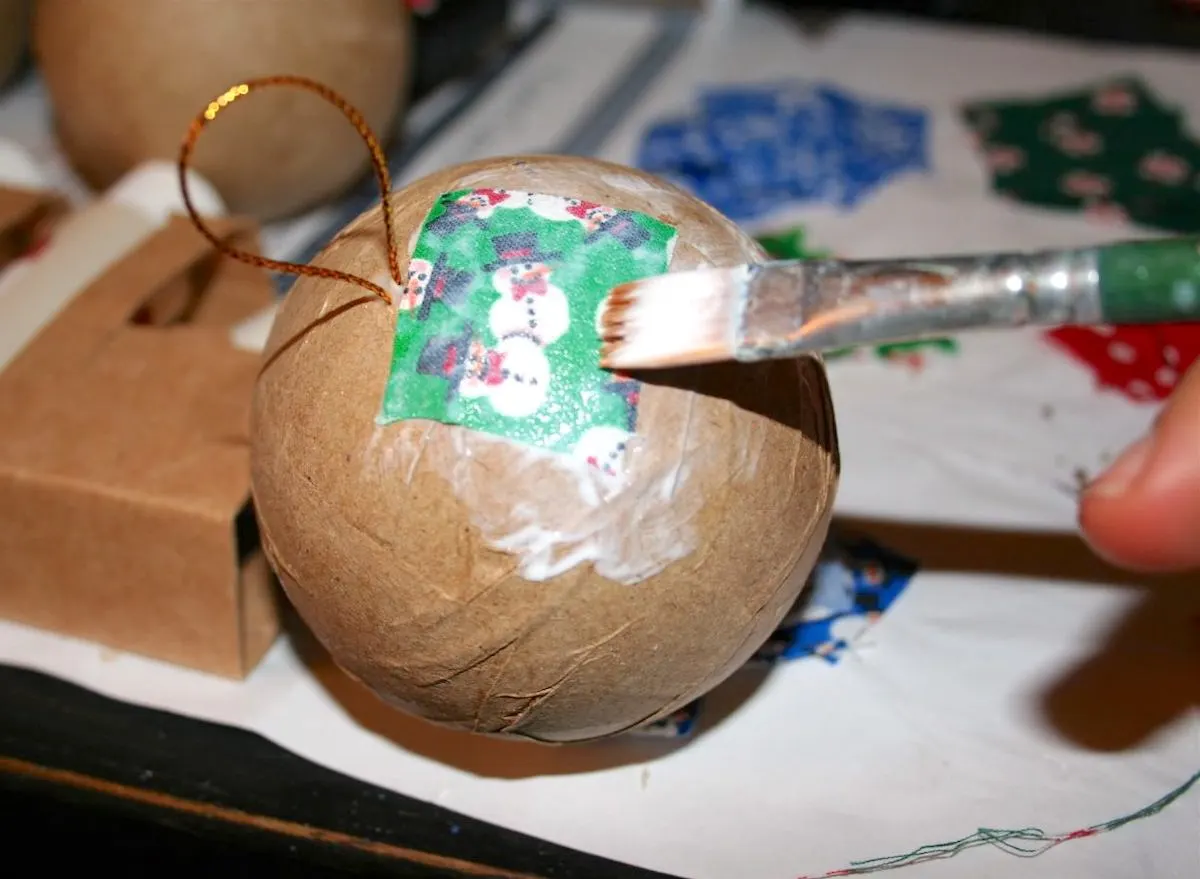 Kids should keep coating and adding fabric. I had a great time! I fully believe adults should join in on kids Christmas crafts. Do you?
Cover the entire ball.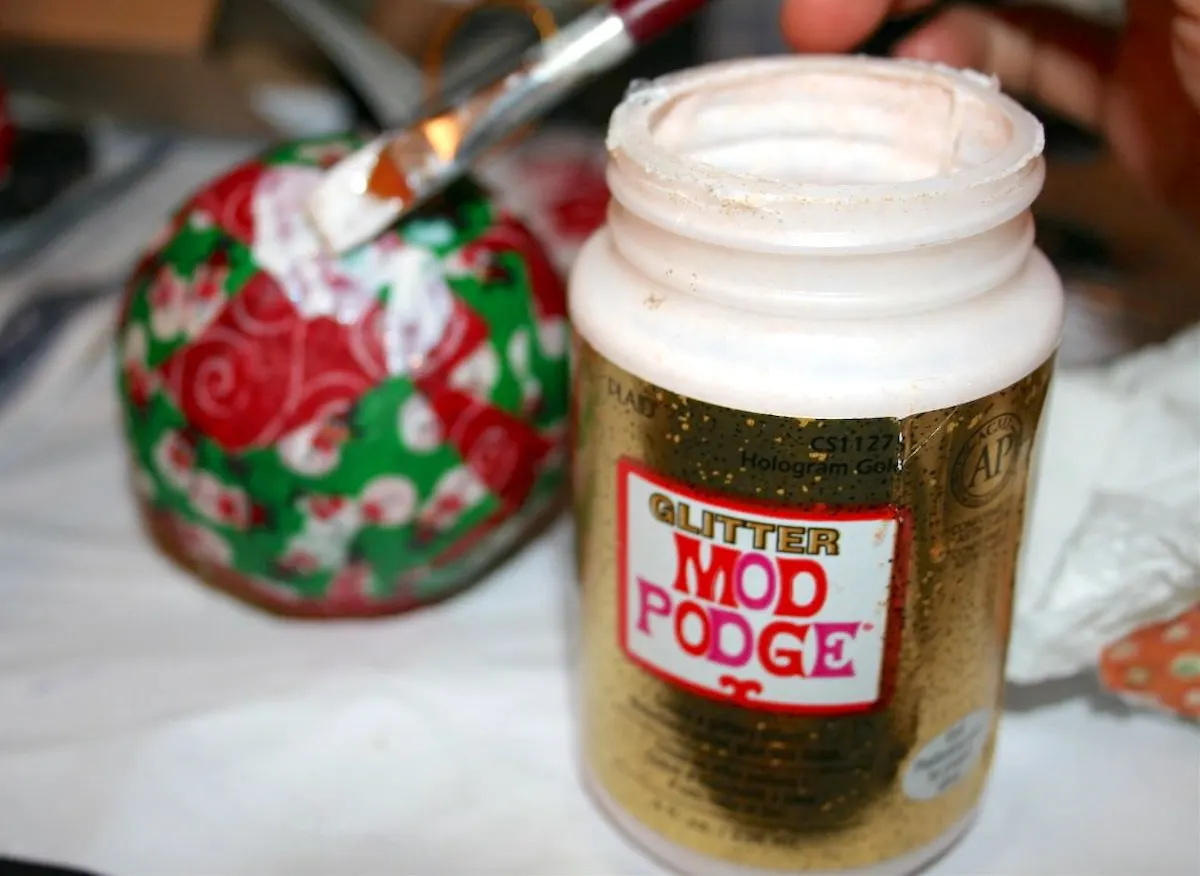 Use your Glitter decoupage medium to coat the outsides. It's so fun and it really sparkles. Add as many coats as you like!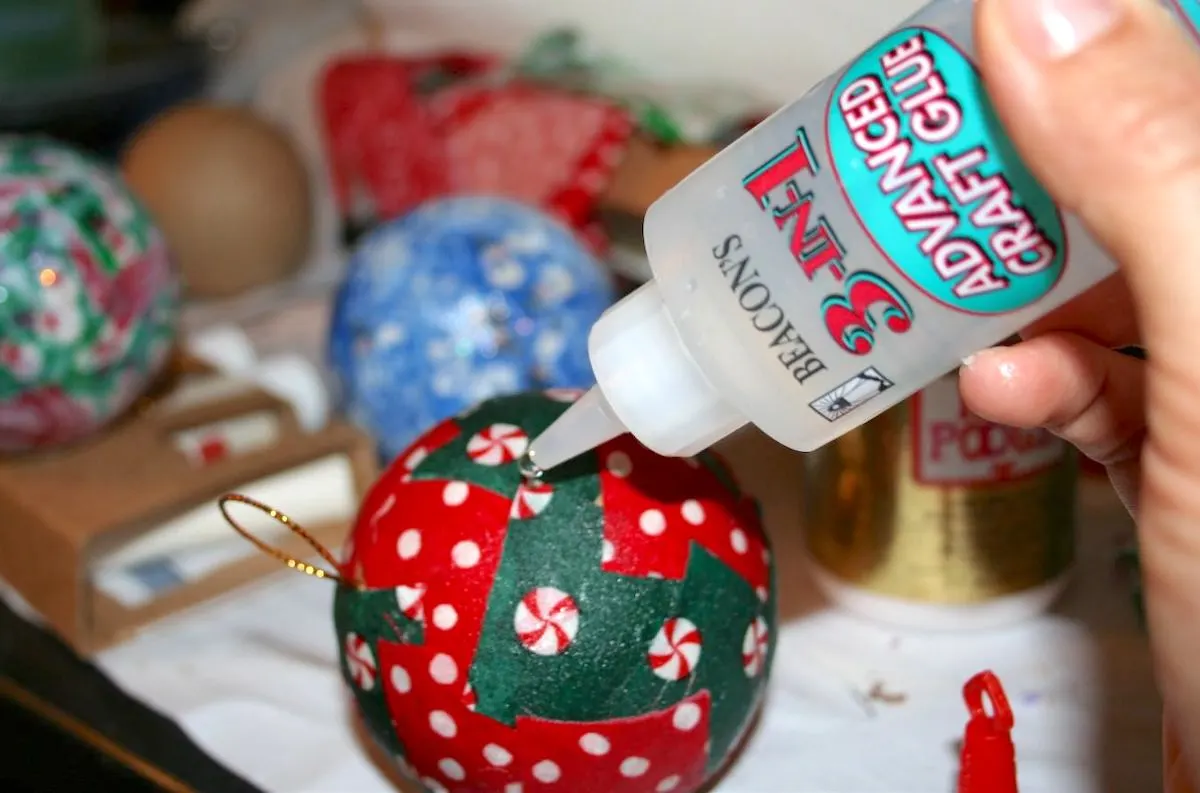 Set the decoupage ornaments aside to dry for 15 – 20 minutes. Use your craft glue to add embellishments. I added buttons, ribbon, etc – whatever floats your boat!
Again, make sure your glue is child safe if the little ones are going to be attaching embellishments. Set to dry for at least a few hours before hanging on the tree.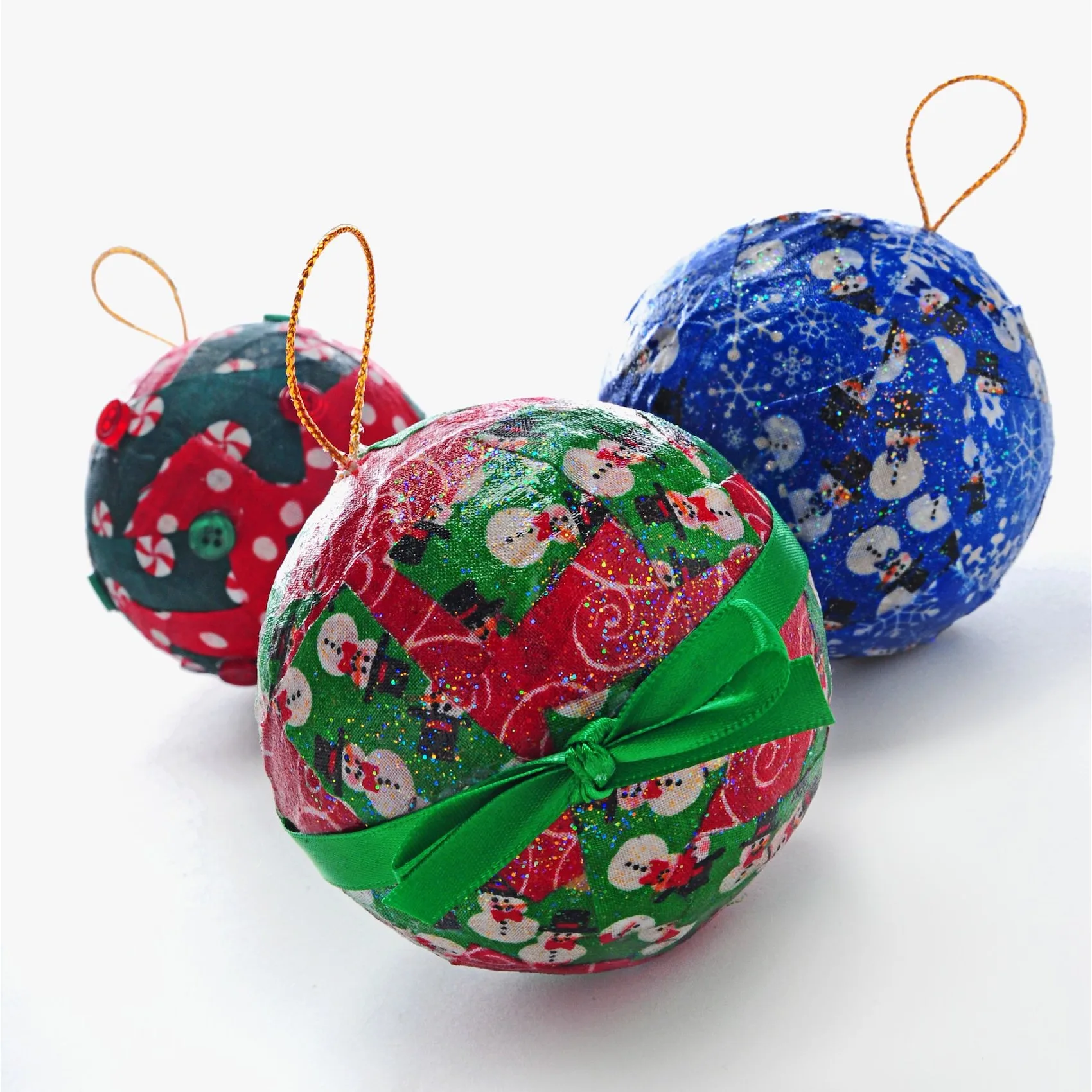 Your kids had a great time making these Mod Podge fabric ornaments, didn't they? You probably did as well! This Christmas craft might be good for them to make as gifts for family members. You can even have them decoupage pictures of themselves or names on top.
And as I said, you can use Christmas fabrics for your decoupage ornaments, but it would also be fun to use any fabrics and embellishments you have lying around. I'd love to know what you would do in the comments!
Yield: 3 ornaments
Decoupage Ornaments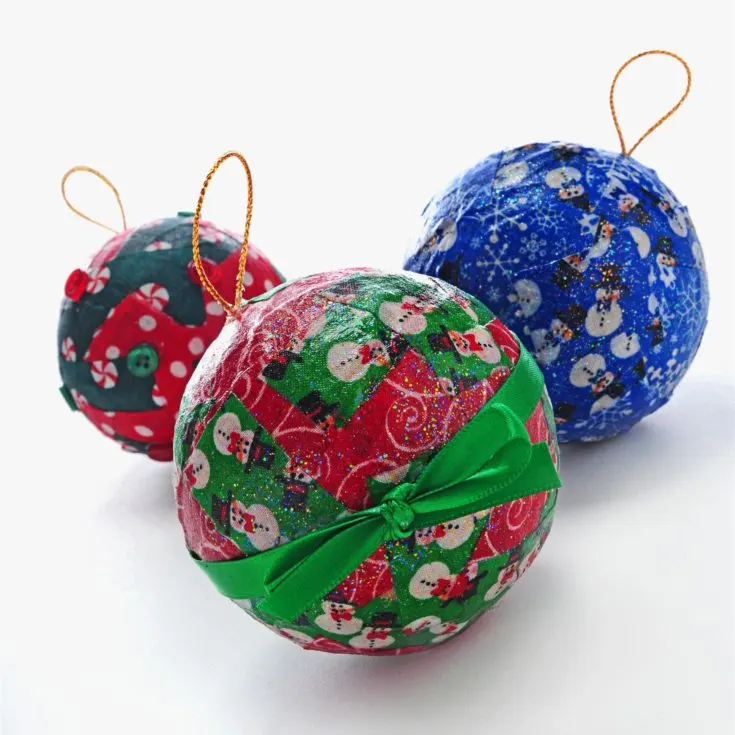 Learn how to make these Mod Podge fabric ornaments with cute scraps! Perfect for your Christmas tree.
Materials
Mod Podge - any formula
Fabric scraps
Embellishments - ribbons, buttons
Tools
Paintbrush
Craft glue
Scissors
Instructions
Cut your fabric into manageable bits using the scissors.
Add Mod Podge to the paper mache ornament - place a piece of fabric down and then brush over it to smooth it down.
Repeat, continuing to add Mod Podge and place more fabric squares. As you cover one side of the ball, let it dry.
Once the ball is dry, flip it over and complete the other side until the entire ornament is covered in fabric. Allow to dry.
Use the craft glue to add embellishments to the ornaments. You can also cut a length of ribbon with scissors and tie around the middle.
Set to dry for at least a few hours before hanging on the Christmas tree.
---
Did you and your kids love making these Mod Podge ornaments? I hope so! Let me know in the comments. I'd also love for you to check out these other ideas: