Use an old window to create fun and spooky DIY Halloween window art – perfect for a vintage or rustic themed holiday! Very easy to make.
Skills Required: Intermediate Beginner. The only reason I would call this more than a beginner project is just the amount of time it requires. You're going to invest a few hours to complete the entire window.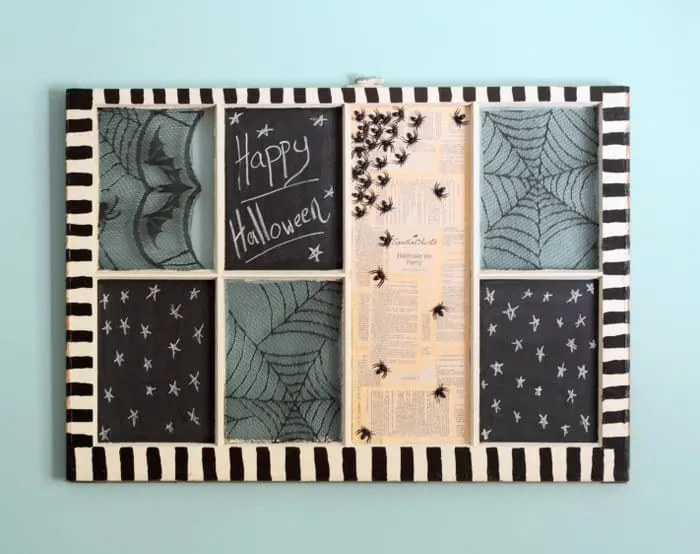 Hi guys, it's Ashlee from My So Called Crafty Life. I am SO excited Halloween is right around the corner, so I am here to share a fun, spooky Halloween wall art idea with you all! If you're into making your own DIY Halloween decorations, this is going to be a fun project for you.
I am a big Agatha Christie fan! I have been reading the Poirot Detective series of hers in order from book one to thirty-seven, and adore them all. I wanted to do a some Christie-themed wall art for Halloween this year.
So I dug out an old window from my parents' old barn and went to town with the Mod Podge! Here's what I did.
Halloween Window Art
Gather These Supplies
An old window
Lace – I used a Halloween lace tablecloth from Michaels
Chalkstock
Old Book
Plastic Spiders
Hot Glue
Foam Brush or Paint Brush
Roller
Ruler
Scissors
Chalk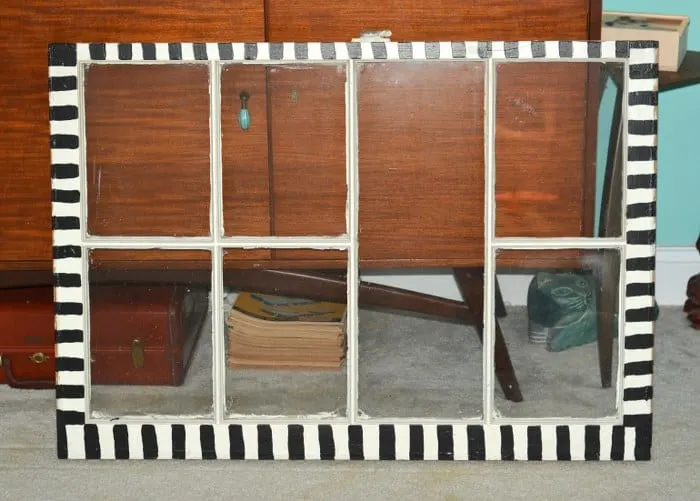 The first thing I did was clean my window and the panes of glass. Once it was all clean, I painted stripes around the frame with some black paint and a wide paint brush. Then I set the window aside to dry.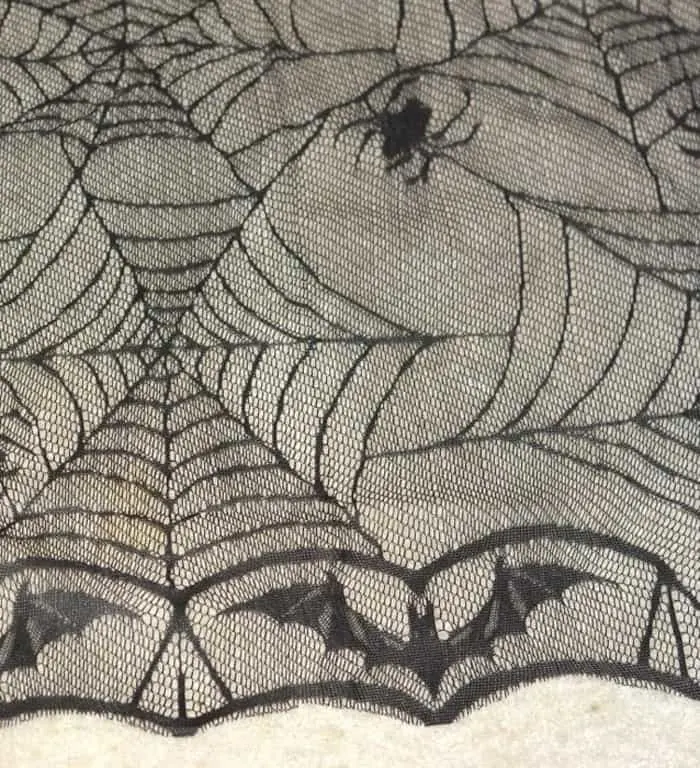 While my paint was drying, I measured my glass panes. I cut my lace and my chalkstock to fit the number of panes I had with my ruler and scissors.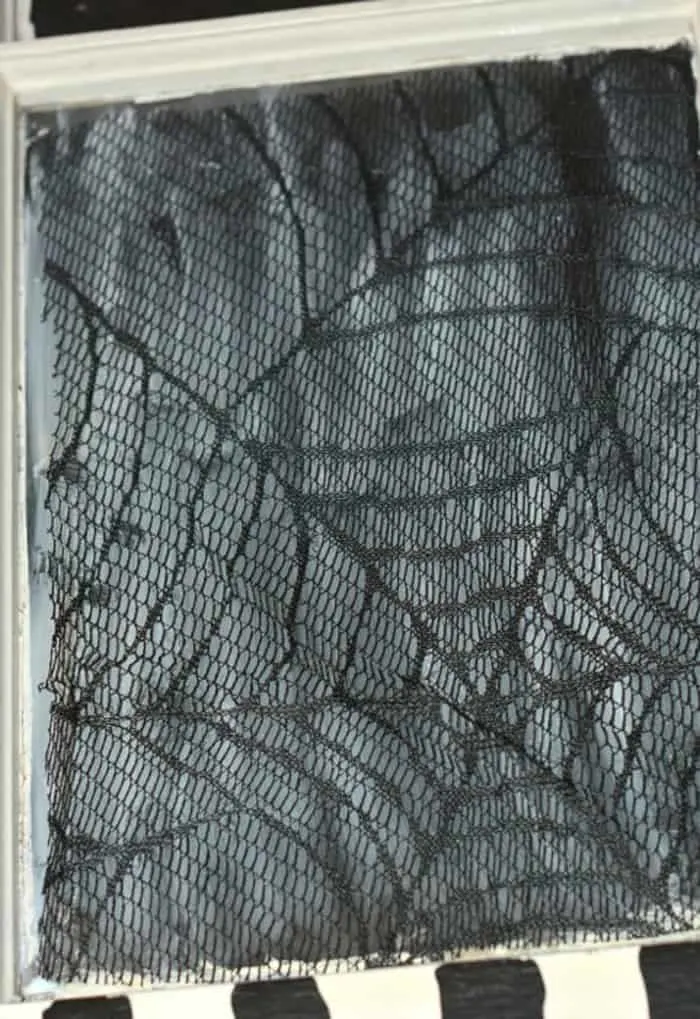 Next I added my lace. To start with I brushed a layer of Mod Podge Matte onto the front of my glass pane. Then I carefully laid the lace onto the coated window pane and lightly pressed down.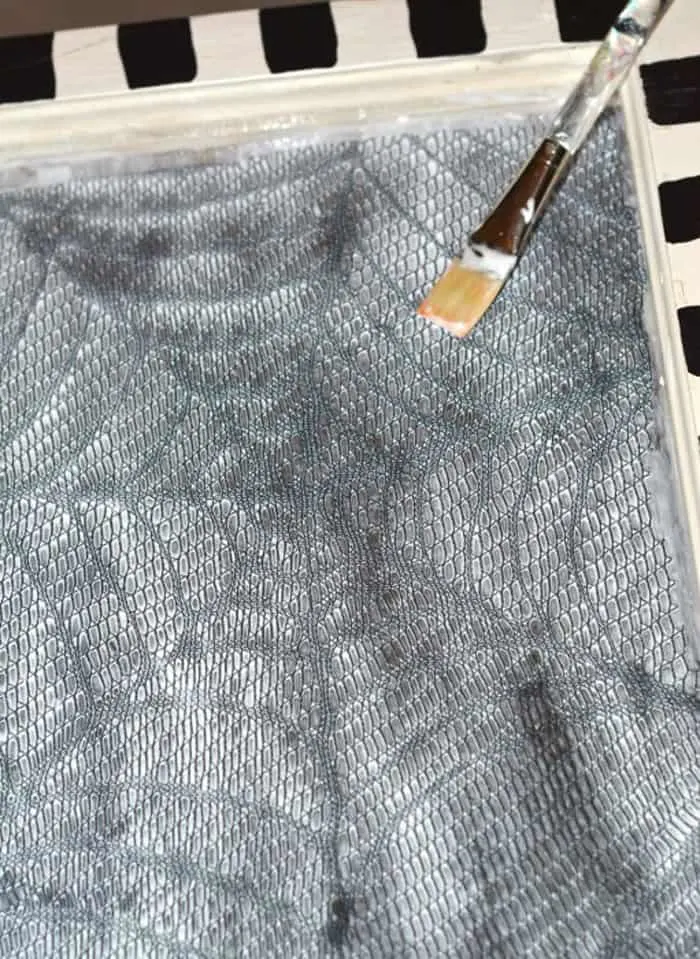 Then I went over the top starting at the corner and applied a thicker coat of Mod Podge Matte over the lace.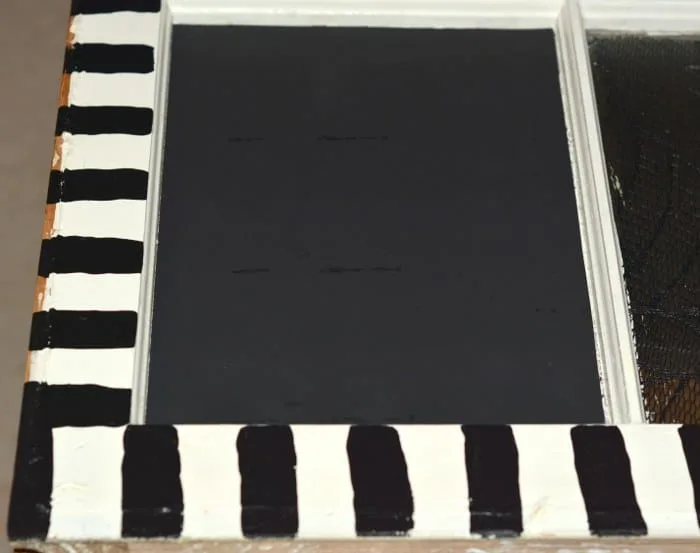 I added the chalkstock by painting a thin layer of Mod Podge Matte to the glass pane and then pressing the chalkstock on top. Then to adhere it even better I ran over the surface of the chalkstock with my roller.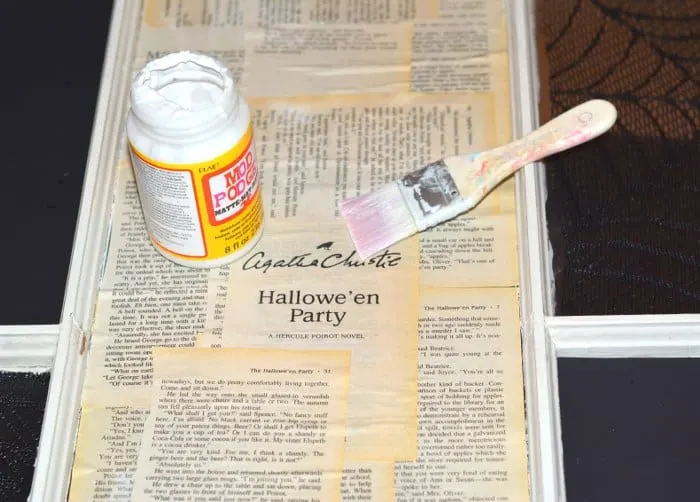 The long pane in the middle I decided would be perfect for my book pages. I snagged a copy of Hallowe'en Party from the flea market. I cut out several pages.
I painted a thin layer of Mod Podge to the glass and also to the back of each page and pressed them one by one onto the pane.
Once the pane was covered, I rolled the roller over the surface. Then I added a few more pages for design and rolled it again. Then I painted a layer of Mod Podge Matte on the top.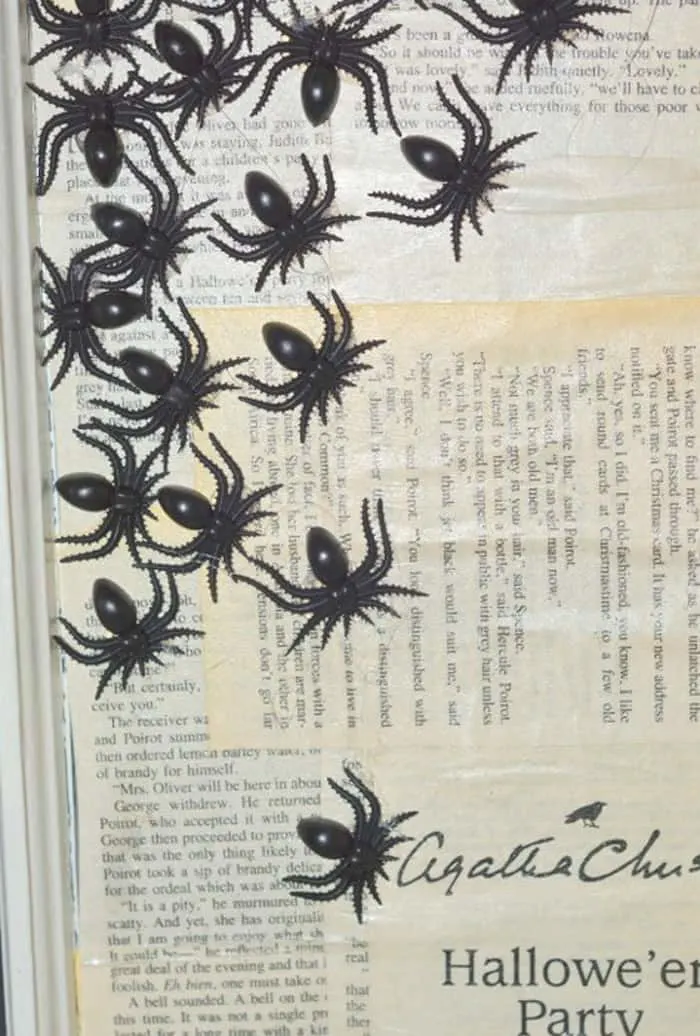 Then I added the spiders. I added a dab of hot glue to the back of each of my spiders and pressed them onto the book page pane where I wanted.
To finish, I rubbed chalk on the chalkstock to prime it and then rubbed it off. Then added my chalk embellishments and it was ready to hang.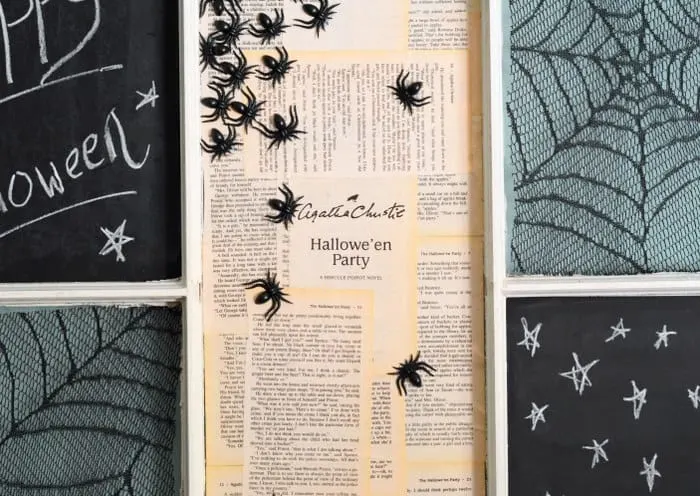 I love how my Halloween window art turned out! I love the lace and how you can see the wall peeking through, the aging of the book pages, and the chalkboard element.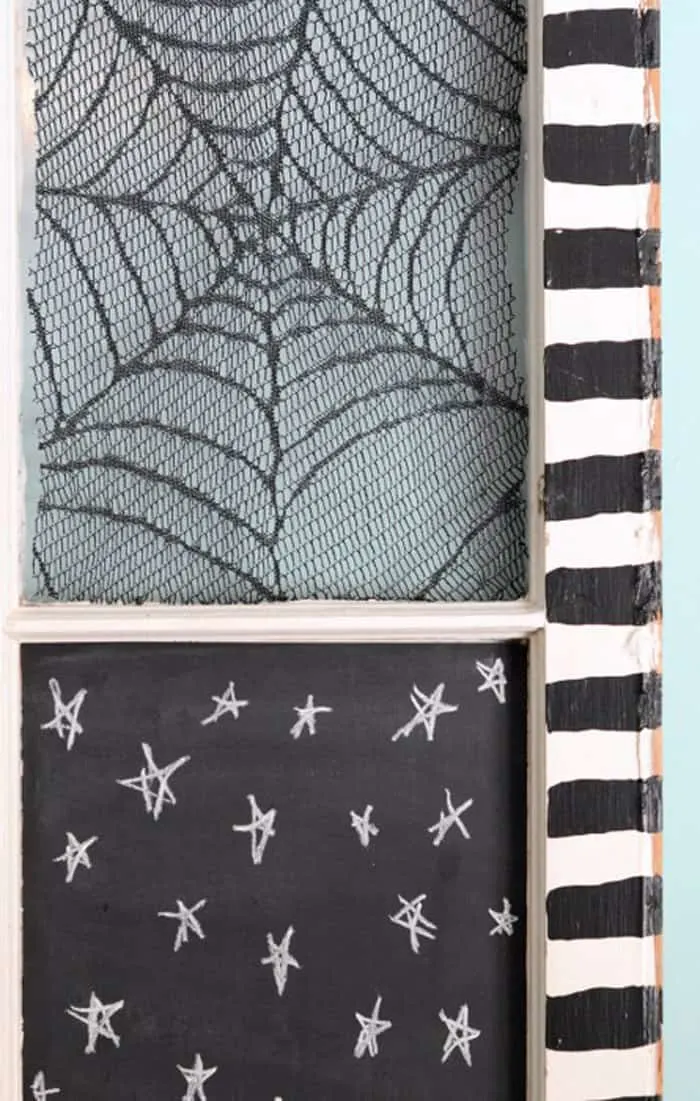 It is a fun Halloween display and really can be customized to your style easily by the lace and book style you choose. I think it would be cute to make it with a cute kid's Halloween book too.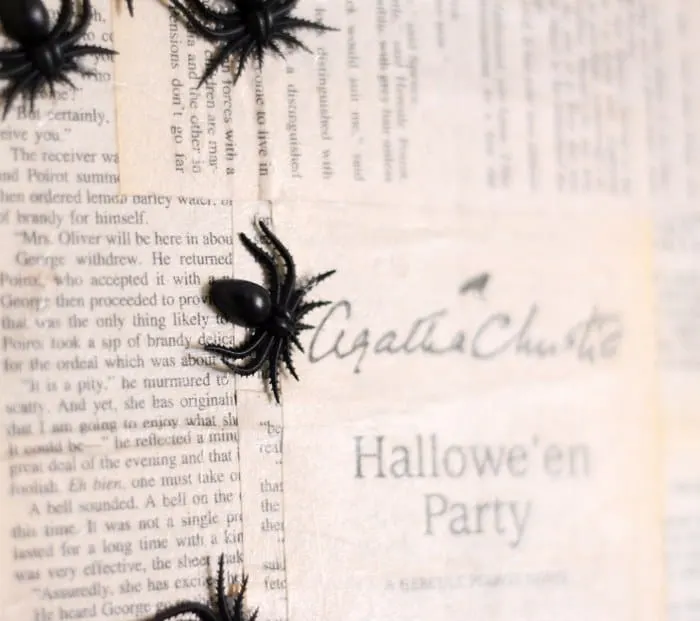 I know this Halloween window art is definitely going to be the star in my holiday decor for years to come. I hope you all will try making your own spooky window art sometime too!
Yield: 1 window
Halloween Window Art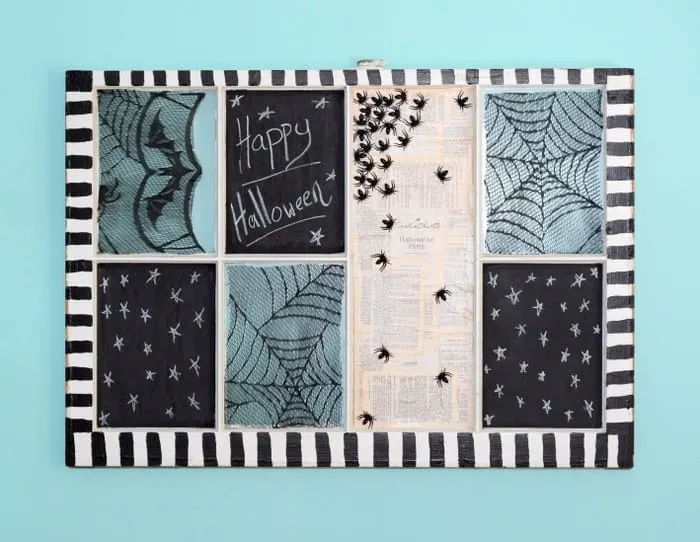 Learn how to make this Halloween window decor with a variety of supplies and Mod Podge. This art would look great displayed on a holiday mantel.
Total Time
2 hours
30 minutes
Materials
Old window
Mod Podge Matte
Black lace pieces
Chalkboard cardstock or paint
Book pages
Plastic spiders
Paint
Chalk
Tools
Paintbrush
Brayer
Ruler or tape measure
Scissors
Hot glue gun
Instructions
Clean the window and the panes of glass. Let dry.
Paint stripes around the frame with black paint and a large brush. They don't need to be exact. Let dry.
Measure the glass panes with the ruler. Cut the lace and chalkboard cardstock to fit the panes with the ruler and scissors.
Add the lace. Brush a layer of Mod Podge on one of the panes. Lay the lace onto the coated pane and lightly press down.
Apply a thicker coat of Mod Podge over the lace and let dry.
To add the cardstock, apply a thin layer of Mod Podge onto a pane and press down. Use the brayer to smooth (don't let the Mod Podge get onto the front). Let dry.
For the center pane I cut several book pages, applied a layer of Mod Podge to the glass, and smoothed them down one by one. Overlap as needed and let dry.
Repeat until the window is covered. Go back and apply a coat of Mod Podge to the entire frame, minus the chalkboard cardstock panes. Let dry completely.
Prep the chalkboard panes as instructed with a piece of chalk.
Add spiders with hot glue to your Halloween window art, randomly as desired. Let dry completely before displaying.
---
If you all would like to see more of my work you can find me on my blog, My So Called Crafty Life, here! I'd also love for you to check out the following craft ideas: