Are you looking for some easy DIY craft ideas to get you started? Here are over 20 beginner Mod Podge projects to teach you! You're going to love these Mod Podge crafts.
Don't forget to scroll down to get a video of a bonus project that's easy as well. It's at the bottom of this post!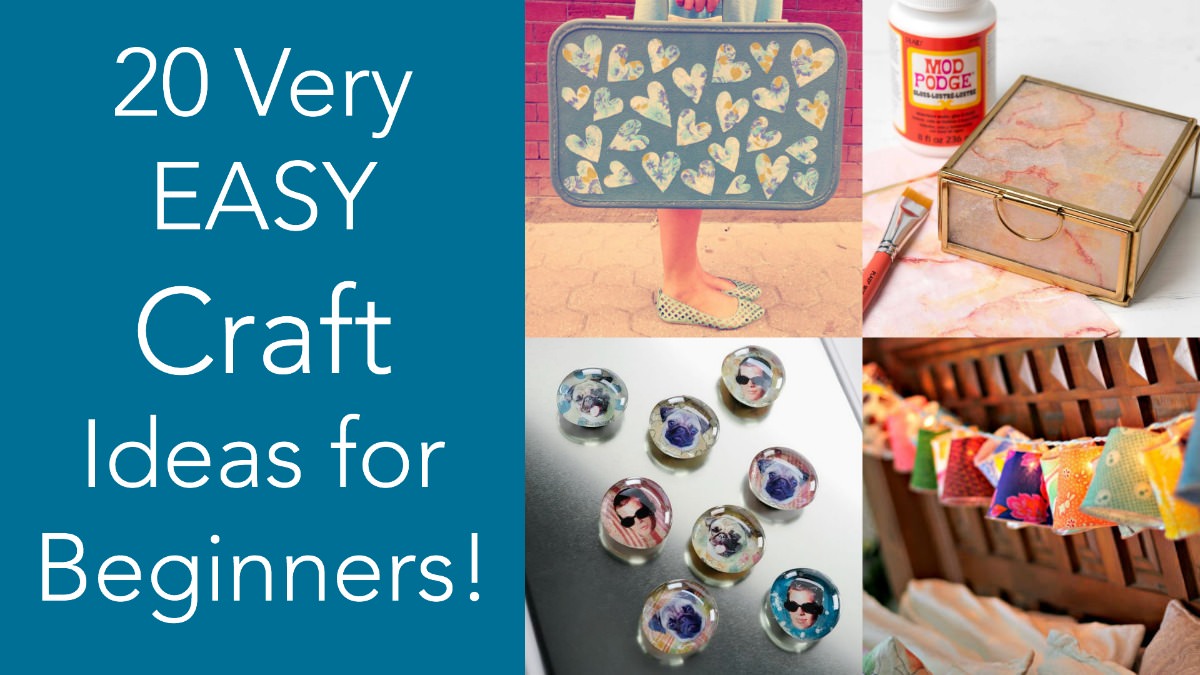 If you are a beginning decoupager or crafter, welcome! I'm pleased to introduce you to your new addiction. There are so many things to do with Mod Podge – I can't wait for you to see.
Mod Podge Crafts
If you are new to crafting, decoupage is going to be your best friend. It's inexpensive to start and it's relatively easy to use compared to other DIY craft supplies. There are so many Mod Podge uses, you aren't going to believe it!
I think the best way to learn to use Mod Podge is to jump in (that's what I did), so I've put together a collection of Mod Podge craft ideas that I believe will inspire you – from home decor to fashion to just plain crafty.
Tools You'll Need
Before you get started, I highly recommend you check out my list of essential decoupage supplies. There are five things I suggest: good brushes, a silicone mat, a brayer, sharp scissors, and a water basin. I have other tools in that post that I recommend for Mod Podge projects, but the five I just recommended are my favorites and ones that I use every day.
The supplies I suggest are good to have around for all sorts of crafting, not just Mod Podge. I would recommend them for any beginning crafter.
Are you ready to dive in?? Now onto the Mod Podge crafts!
All of these craft ideas are relatively easy and as a beginner, you should be able to handle these for your first try. And if you should need a little instruction, please visit the formula guide or my learn how to Mod Podge article with an FAQ. I'm always here to help. Enjoy!
DIY Mod Podge Projects
(click the name of the project to go to the tutorial!)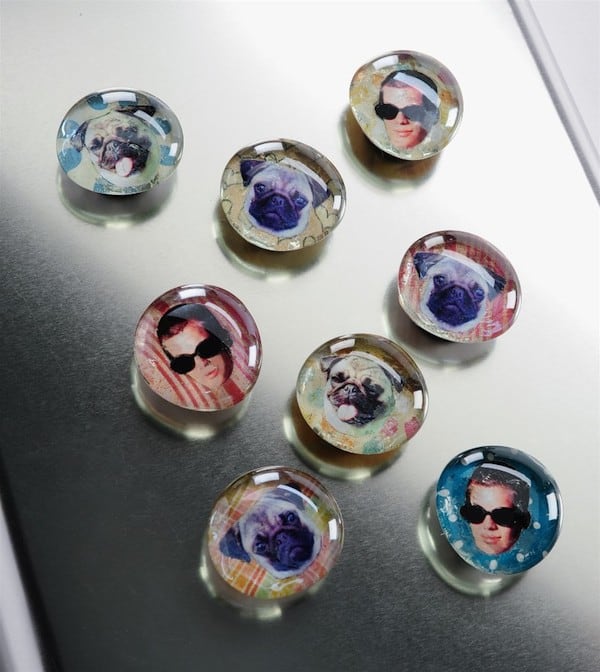 Use your favorite images and scrapbook paper or fabric to create these DIY personalized glass magnets. You'll just need a scanner and some Mod Podge!
You can decorate clothespins with washi tape, scrapbook paper, ribbon, etc. – seal it all with a few layers of Mod Podge so that it stays. Perfect for chip clips or decorating gift bags. You can put magnets on the back and use them to hold pictures on the fridge, too!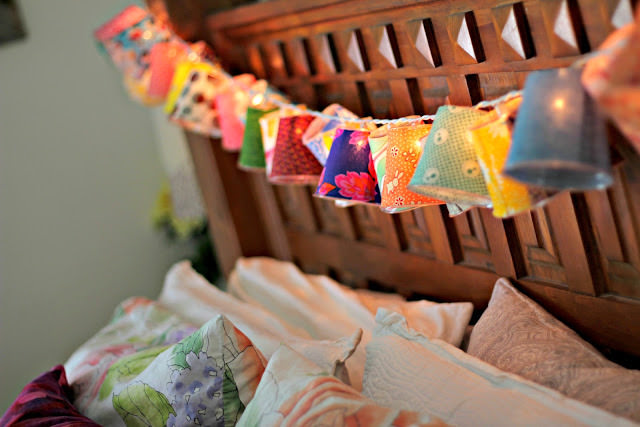 This project is perfect for a person that has a lot of fabric scraps! You can do this with tissue paper as well. You'll use plastic cups – cover them in fabric, cut a hole in the back, and place on a light strand. Great for a dorm room, craft room, or anywhere that needs a little decorative flair.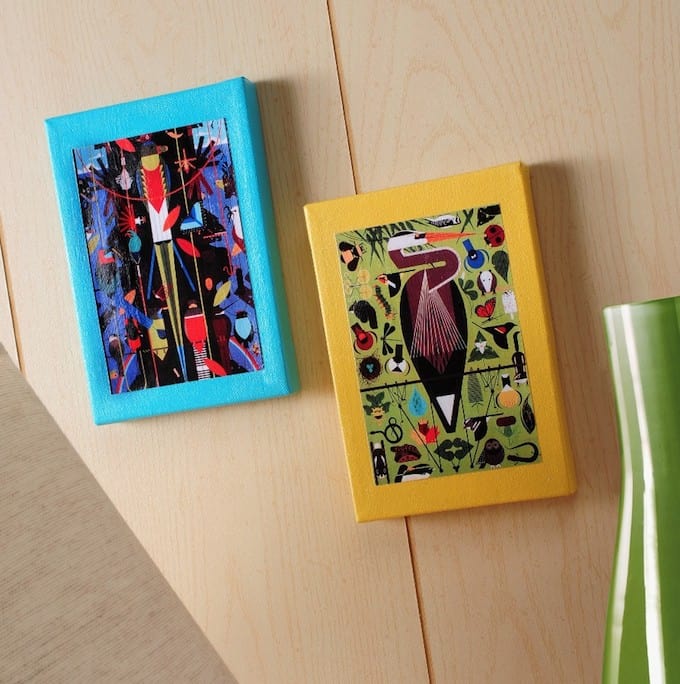 Charley Harper is one of my favorite artists of all time – so it's natural that I would make this themed DIY canvas art using some of his prints! This is the easiest way to transfer photos to canvas, and you can do it with any print of your choice.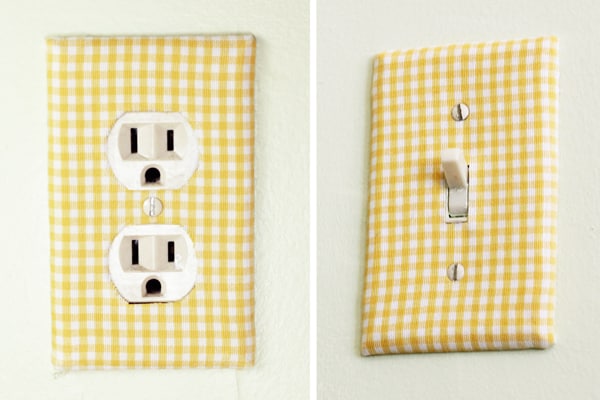 One of my favorite Mod Podge ideas: upholster a light switch plate with fabric! You can do the same thing with paper – you can also mix Mod Podge and glitter together and cover them that way.
Once you do one of these, all the outlet covers in your house will be decorated. Tell your husband or wife not to send me hate mail, please :0
Get another version here.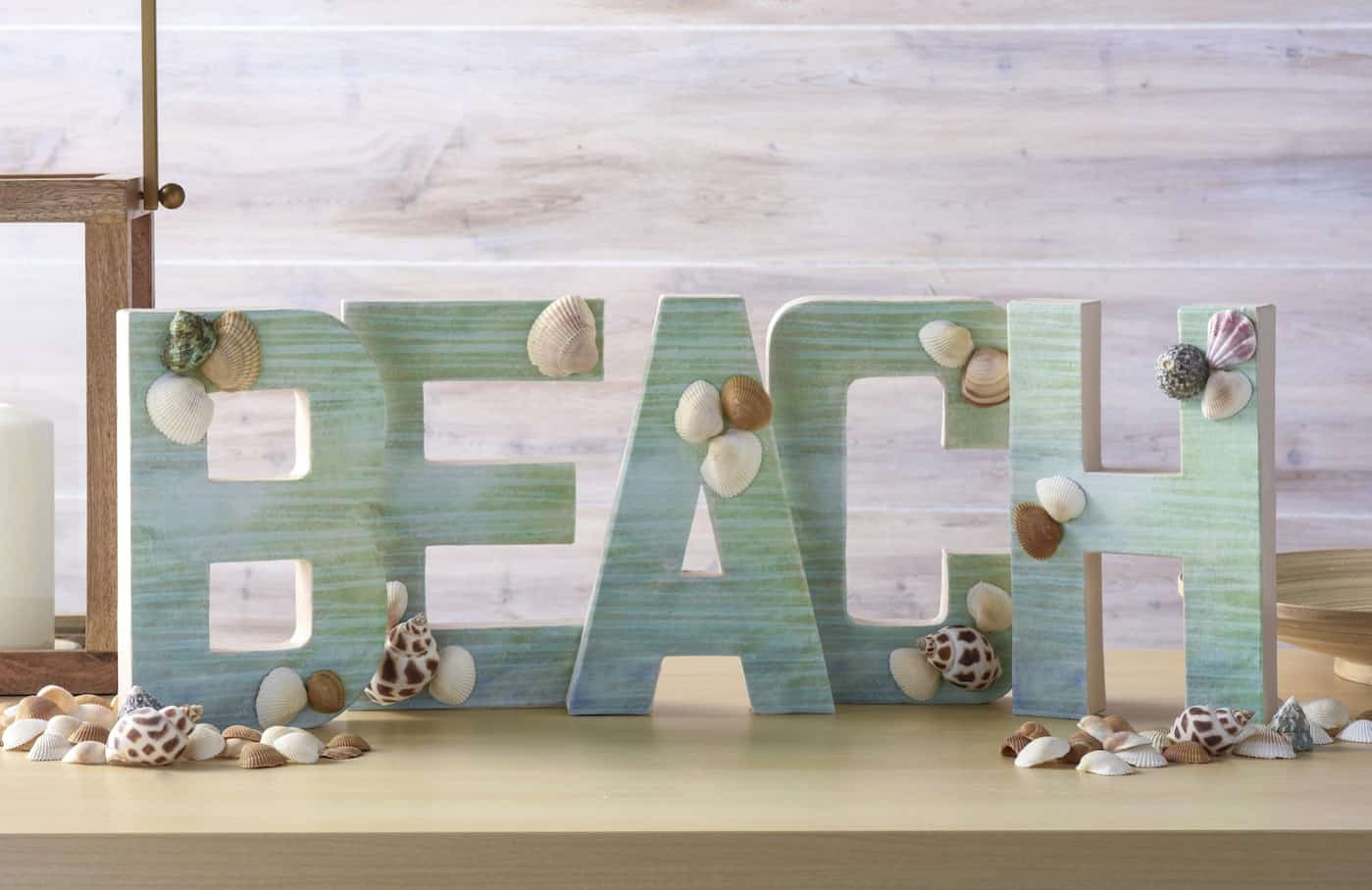 This DIY letter craft would look perfect on your mantel – and it's very easy to assemble with Mod Podge. You can make this project with paper mache letters, but it's also perfectly fine to use wood. Cover the letters with fabric or paper. I'll leave that up to you.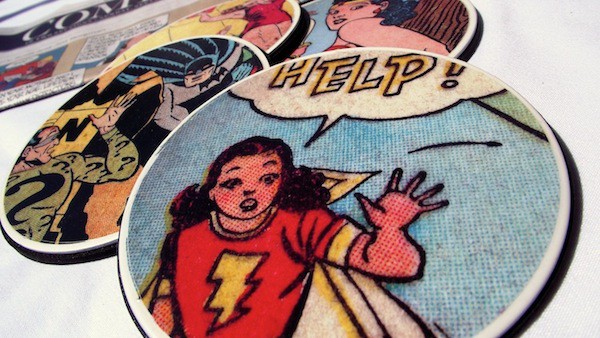 If you are looking for easy Mod Podge craft ideas, these DIY comic book coasters are perfect. Use materials right from the hardware store!
You can use color copies of your comic books or the pages themselves. Another option? Comic book letters, which are just as easy.
Mod Podging small paper shapes to a suitcase is a perfect beginner craft, because wrinkles aren't an issue. You can do this simple craft with fabric or paper (and you can paint the suitcase first with spray paint or acrylic paint).
Once you get a little more experience with Mod Podging, you can try this photo DIY suitcase or this full fabric suitcase.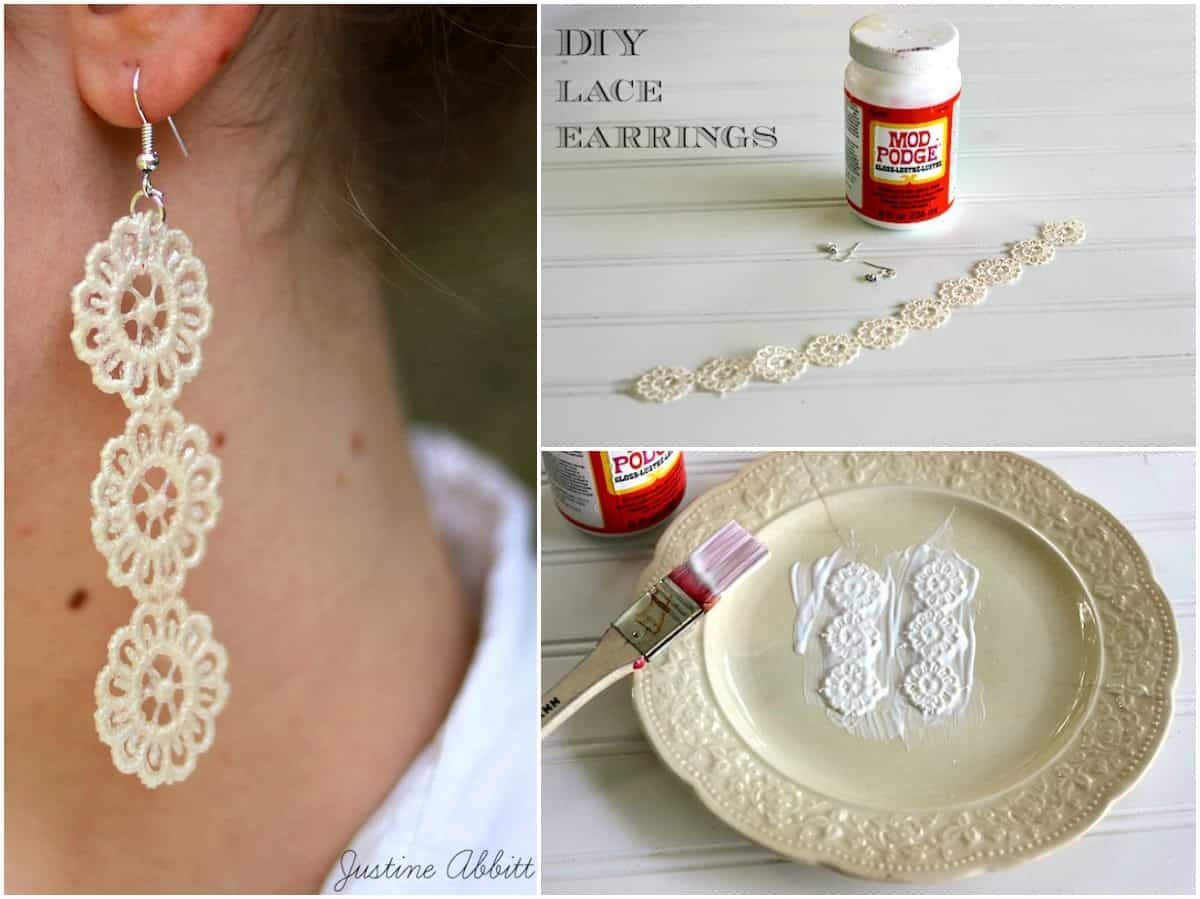 These gorgeous DIY lace earrings were made in 20 minutes with some scraps that Justine had in her stash – they're so easy and make great gifts! If you're looking for easy Mod Podge crafts? This is only three steps, and no experience required.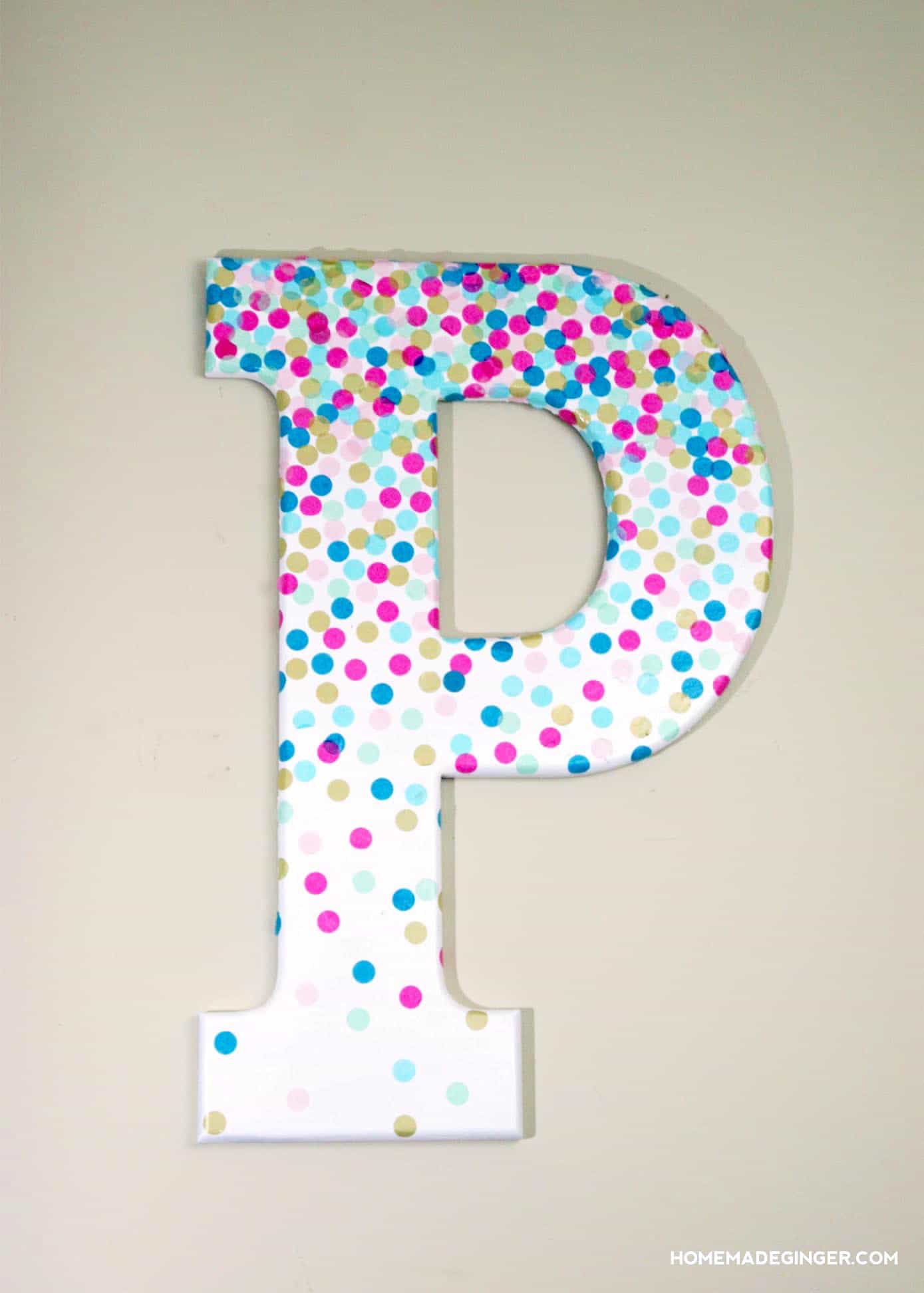 If you love easy Mod Podge projects, try this simple monogram letter art! This technique can be used with a variety of letters, numbers, and shapes.
Speaking of confetti, it's really easy to use with Mod Podge. Check out these confetti crafts as pretty much all of them are for beginners.
These pretty fabric bowls are perfect for holding keys at home or favors for your next party! They would be an adorable take on an Easter basket filled with goodies this spring, or a nice gift for mom filled with a few sweet trinkets for Mother's Day.
Any coordinating mix of fabric will work for the bowls, which makes each one unique.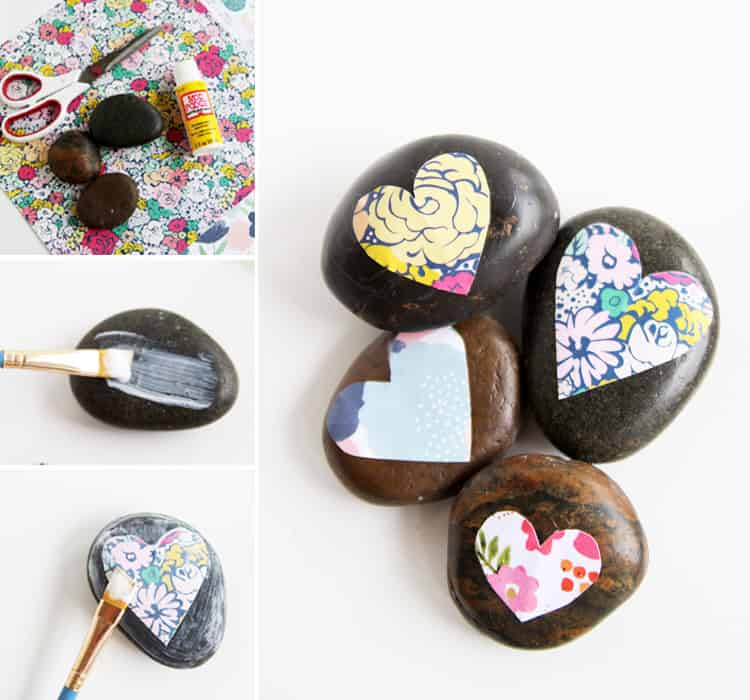 Decorate some smooth stones for your garden or desktop with a little bit of decoupage. It's easy to Mod Podge on rocks and the results are so pretty!
Other Mod Podge projects along the same lines that are great for beginners: 10 painted rocks and rock painting ideas.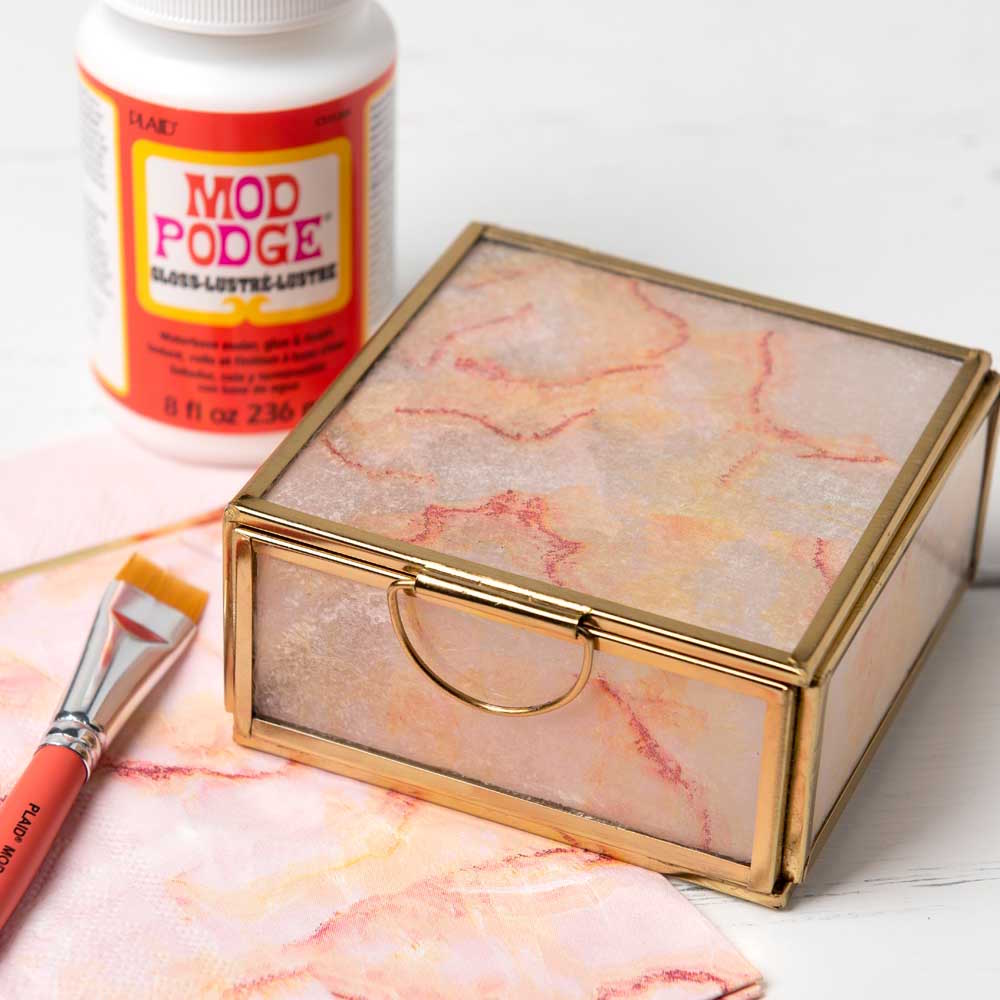 Napkins are very popular in Mod Podge crafts! This decoupage napkin jewelry box will look lovely on your nightstand or as a gift to a close friend.
The nice thing about this project is that instead of using napkins in large sheets, you'll tear them into squares – so you get a chance to practice before working with larger pieces/projects.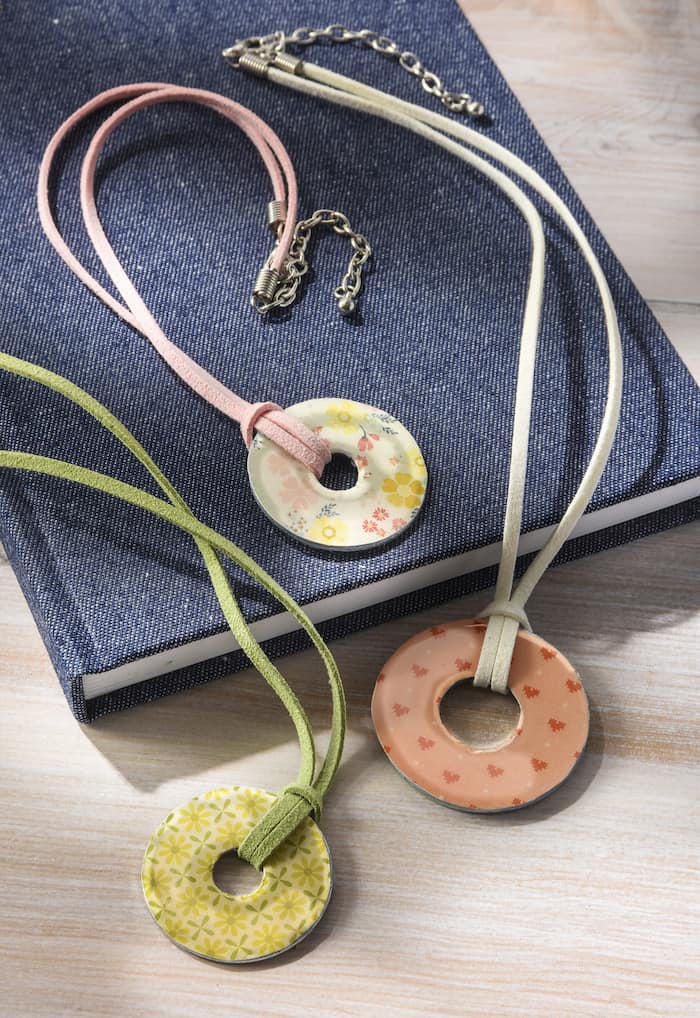 Learn how to make washer necklaces using Mod Podge and Dimensional Magic. These are SO easy and great for kids and adults! In fact, this is a pretty popular craft for kids' summer camp – teens and tweens love them.
The nice thing is that you can dress these necklaces up to make them fancy enough for adults, too.
You won't believe how easy (and inexpensive) it is to make your own mouse pad! A DIY mouse pad is such a budget friendly project, and you can customize it any way you like with your favorite scrapbook paper. You can also use fabric, if the mood strikes.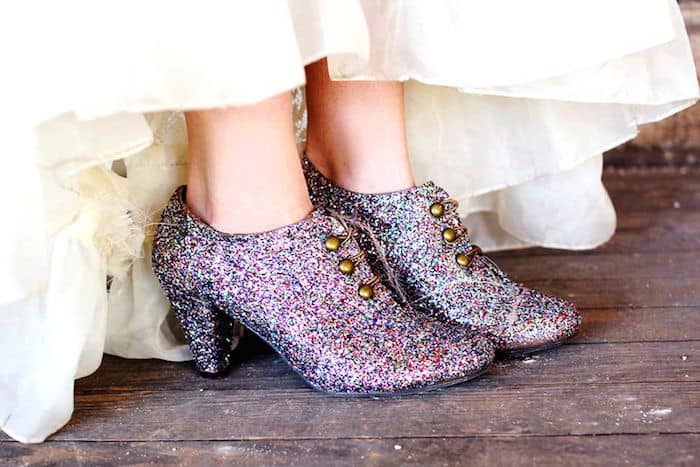 Mod Podge shoes are one of those projects that everyone wants to try! It's not as hard as you think, and you can use any color of glitter to do it. You'll see how to use Mod Podge along with the glitter so that the shoes are sealed, and you don't have anything flaking off. Plus you'll have really fancy feet.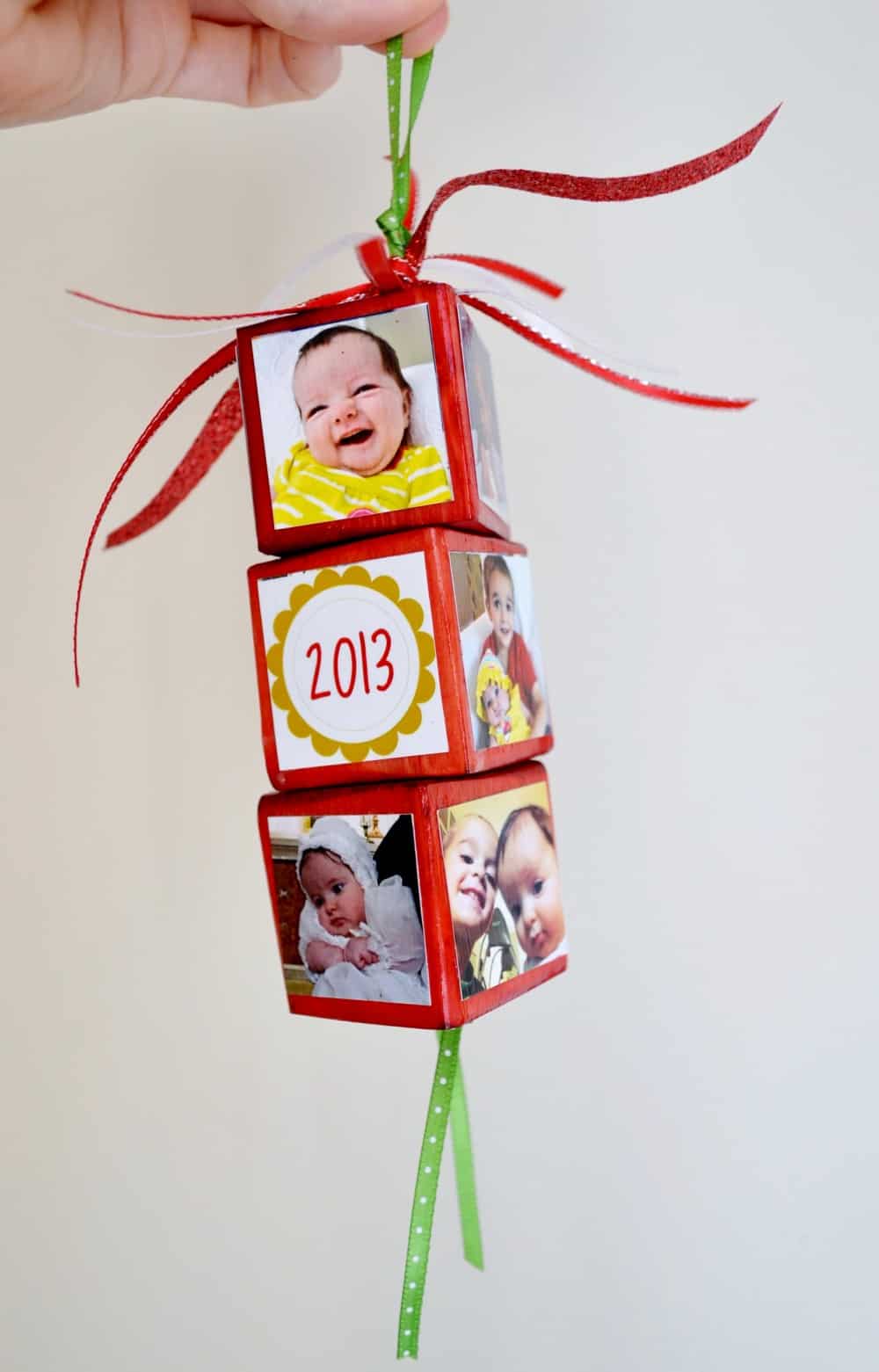 I had to throw an ornament craft in the mix, since a lot of people start their crafting journey during the holidays. Create festive, personalized photo Christmas ornaments using your favorite pictures, wood blocks and Mod Podge. These make great gifts!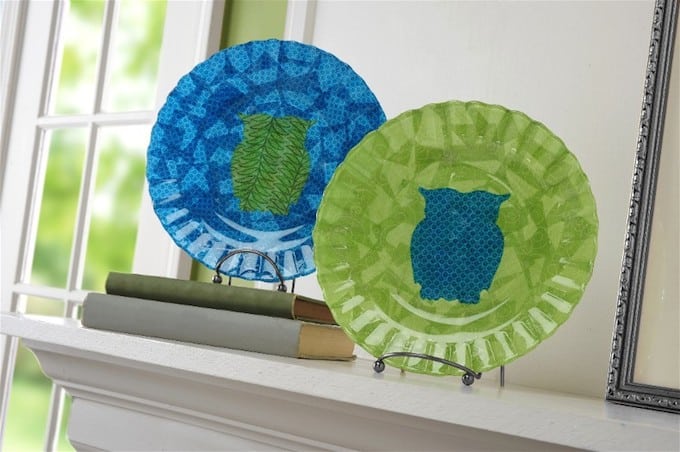 These decoupage glass plates are so easy to make – and they don't have to be owls. Choose your favorite fabric and shape; just add Mod Podge. Cutting the fabric into pieces makes it WAY easier.
If you want to try these plates with a solid piece of fabric, visit this decoupage plates tutorial. Want yet another idea that is very easy? These confetti plates.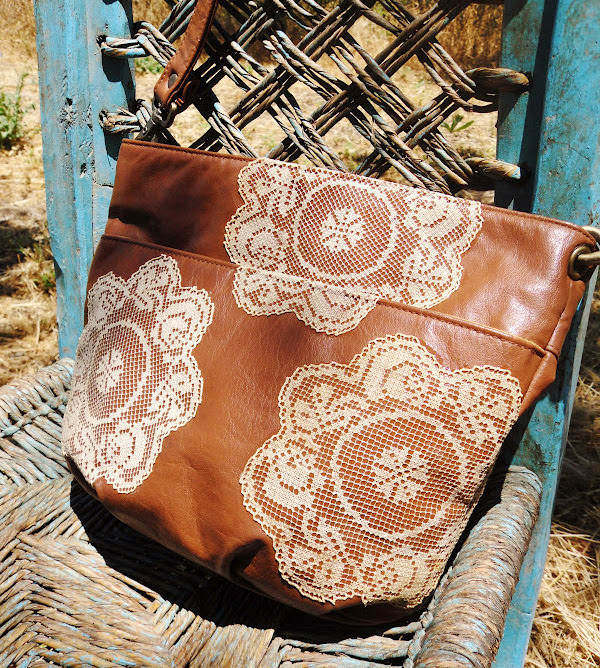 It's not hard to slap doilies on an old purse, and give you the boho look that is so trendy right now. You can Mod Podge doilies to just about anything (for example, doily wall art), and this tutorial will show you how it's done.
Make these cute, DIY luggage tags out of MDF wood – so easy with no special tools! Customize them any way you like with Mod Podge. I suggest making them bright and colorful so that no one mistakes your luggage. These are a fun party favor or bridesmaid gift idea.
---
Let me know if you have questions or comments about any of these Mod Podge projects. Oh, and here's your bonus video – Mod Podge fabric flowers! Just press "PLAY" in the center of the video on this page to learn how to make them!
---
What do you think about our Mod Podge craft ideas for beginners – and are you ready for more?? You need to see this . . .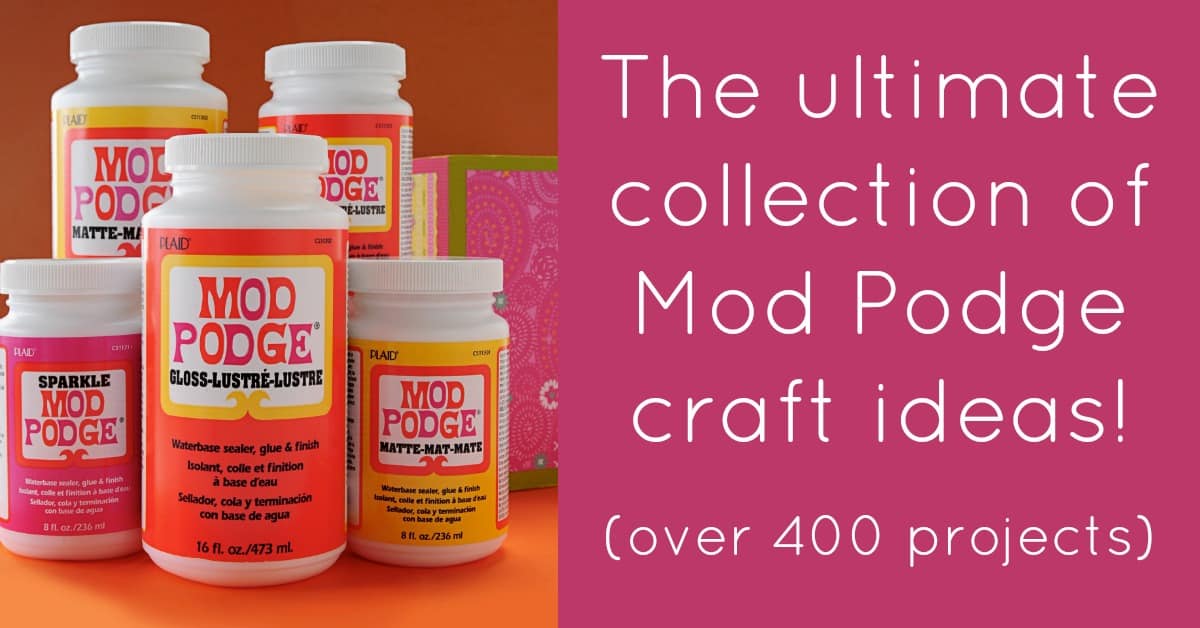 Click HERE to get the ultimate collection of decoupage crafts! This has a lot of ideas to keep you going and fuel the addiction (that you've certainly developed). Enjoy!