Do you need rock painting ideas for spreading rock art around your neighborhood or for the Kindness Rocks Project? Here's some easy stone painting inspiration and tips!
PS – scroll down to the bottom of the post to get a video with my top rock painting tips! You'll also get over 50 ideas for inspiration.
Skills Required: None. Painting rocks is easy, even if you've never crafted before. Get ready to have a great time.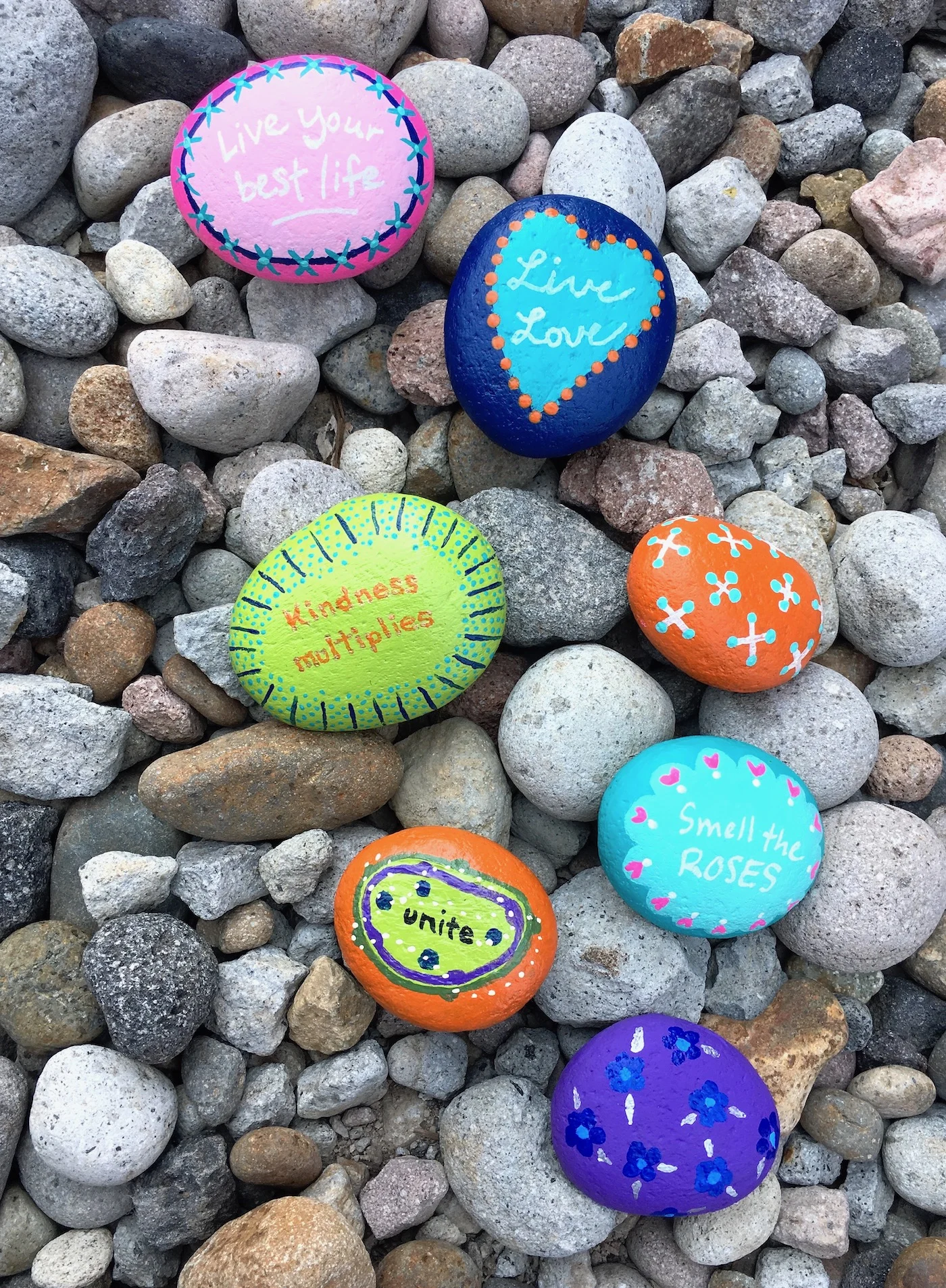 Rock painting is big these days – and I totally get it. You've got one of nature's smallest canvases upon which to decorate, and endless combinations of paint, markers, and embellishments. If you paint a rock you don't like, you can easily move onto the next.
Not only that, but rocks are great fun for adults AND make great kids crafts. Rock crafts are easy, and there are endless ways to decorate your stone surface. Plus if you've seen the various designs, they're such cute things to paint. For all these reasons, I love them!
Then we haven't even gotten to the part where you can distribute painted rock art around your neighborhood and put a big smile on someone's face (have you heard of the Kindness Rocks Project?)
If you haven't heard of them, kindness rocks are a viral trend! Maybe you've seen painted rock art laying around in a random public location – that's quite possibly a kindness rock.
It started with the Kindness Rocks Project and their mission of "one message at just the right moment can change someone's entire day, outlook, life." I happen to completely get behind this mission.
The Kindness Rock Project is the thing that got me started painting rocks in the first place – and now I'm hooked. I've painted so many rocks that I have a lot of ideas (and tips!) for you.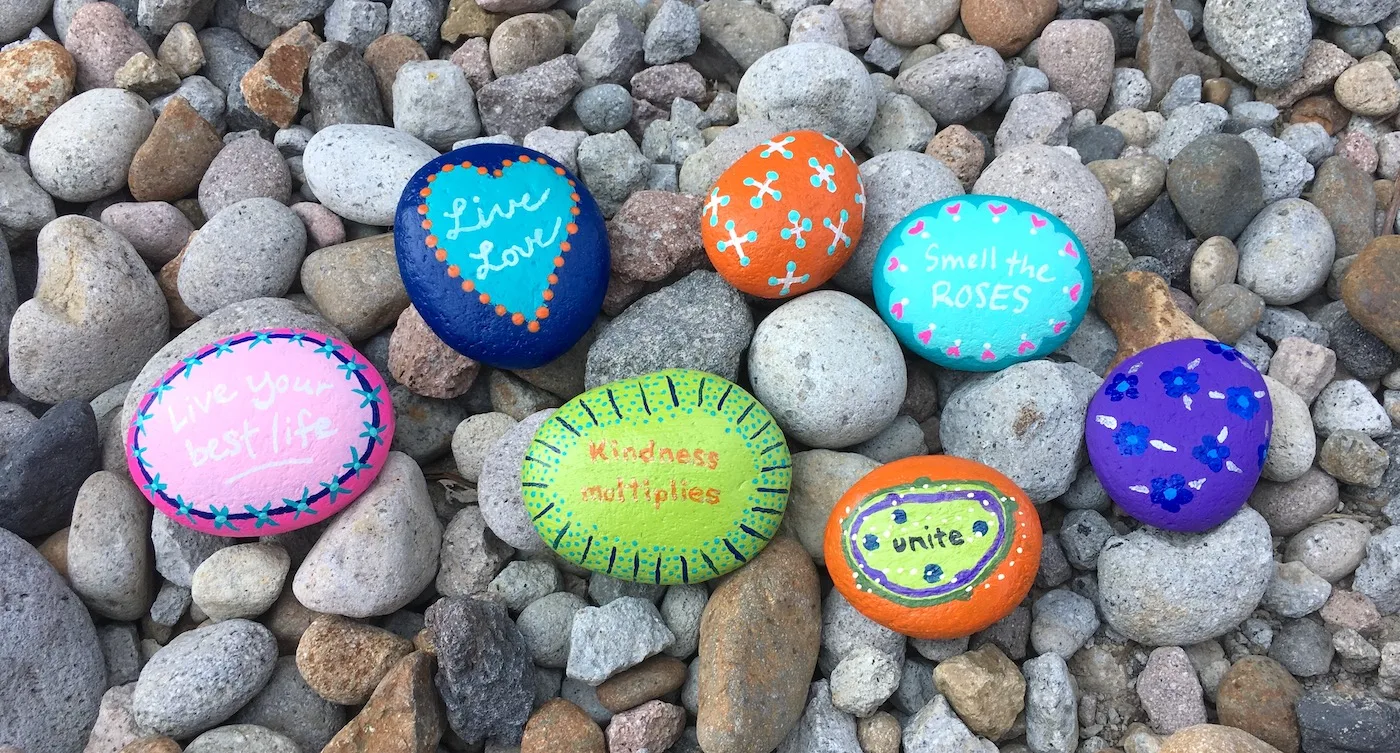 Simple Rock Painting
Before we dive into the rock painting, let me answer a few commonly asked questions for you. These are important to know before you start, and will give you a general idea of what to expect.
How do you prepare rocks for painting?
All you need is a mild soap, water, and a colander (and really the colander is even optional but just makes it easier). Place the rocks in the colander, turn the water on and rinse.
Rub each rock with a bit of mild soap to remove dirt, then rinse again. You can leave in the colander to let dry or place them out on a towel on your counter. If you're really desperate to get started, you can even use a hair dryer.
Will acrylic paint work on rocks?
Absolutely! Acrylic paint is going to be your best friend for rock painting. You'll want to use something that is rated for the outdoors or multi-surface.
What is the best paint to use on rocks?
Funny you should ask! My favorite paint to use for rocks is FolkArt Multisurface. Plaid also carries a FolkArt Outdoor paint and an Apple Barrel Multisurface paint that I love.
I find that the FolkArt Multisurface has my favorite colors, but all three lines are perfect. The Apple Barrel is great for kids' rocks because it's inexpensive yet durable.
How do you seal painted rocks?
I love this question – with Mod Podge, of course! Outdoor Mod Podge is my favorite for this purpose, and then a spray sealer. I find that extra durability of using both together makes the rocks extra tough – and the colors last a lot longer.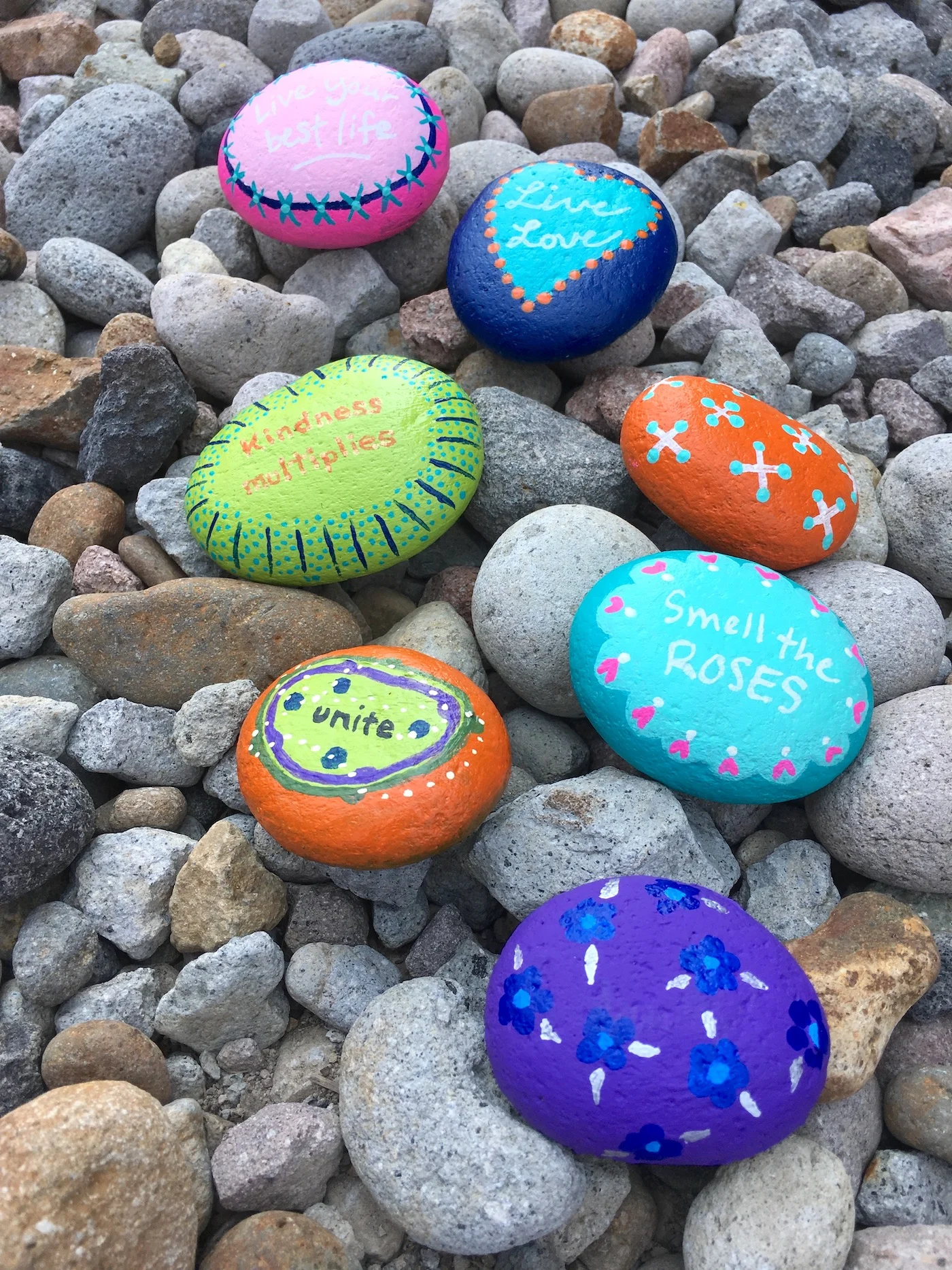 How to Paint Rocks
Let's get to the instructions! First you're going to need rock painting supplies, and I've listed those for you below.
Gather These Supplies
Rocks – the more flat and smooth, the better
FolkArt Multi-Surface Paint
Markers to embellish the surface of your rocks – I recommend Pebeo Vitrea markers or oil based Sharpies (you can use acrylic paint too)
Paintbrushes (and a detail brush for writing)
Brush-on or spray clear sealer
Step One: Wash all dirt off of your rocks if you found them outside. Michaels sells flat river rocks which makes it easy since flat rocks can be REALLY hard to find!
Step Two: Decide whether you are going to paint the rocks or write directly on them. If you are painting, move to step three. If you are writing directly on the rocks, prep the rocks with the brush-on or spray clear sealer.
You won't want to use the Mod Podge Outdoor to prep because it doesn't take markers very well. Your oil based Sharpies especially can get their tips ruined very easily without this prep step!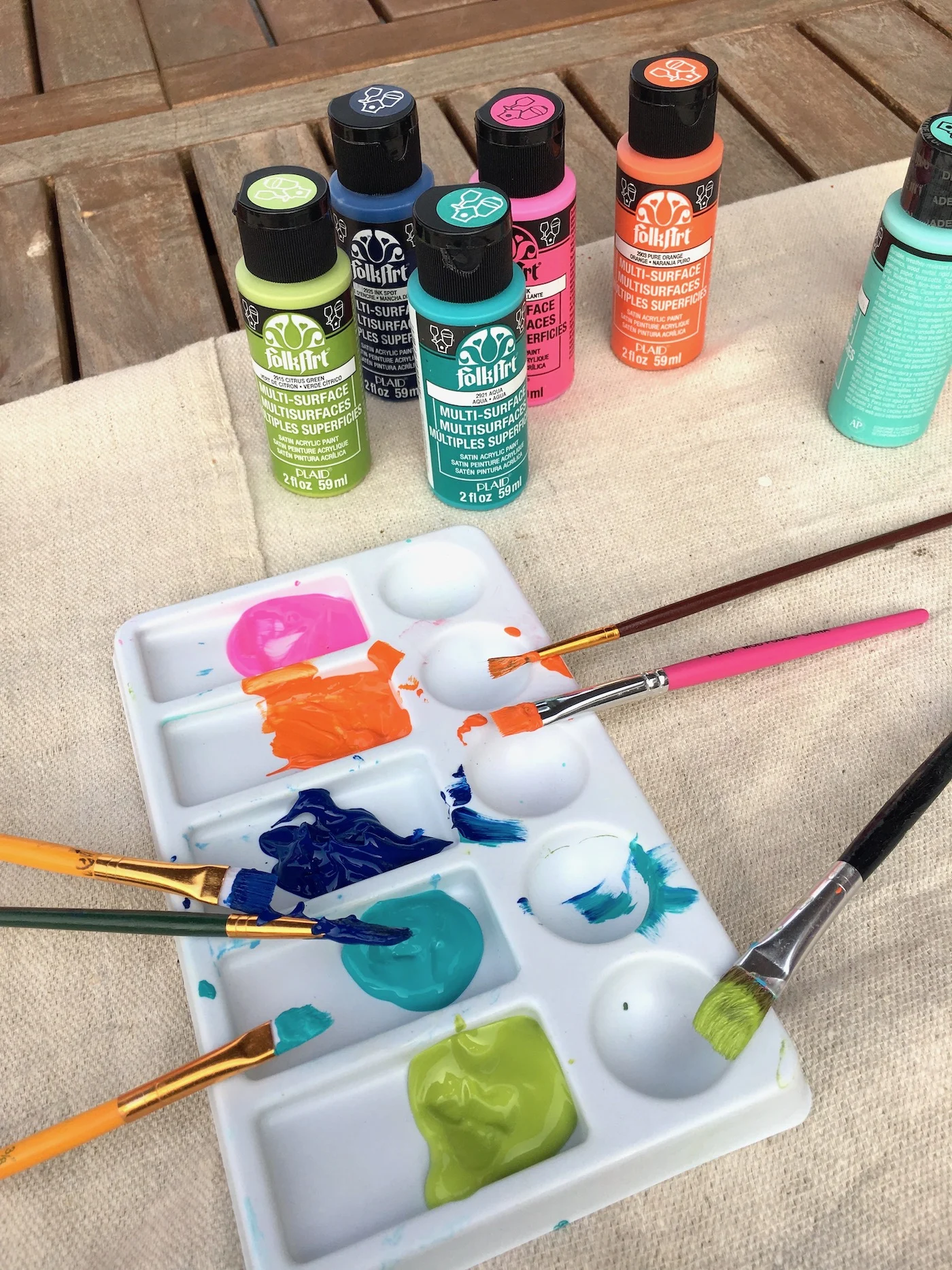 Step Three: Place your paint in a palette and get painting on your rocks! I found that most rocks only needed a few coats of the paint.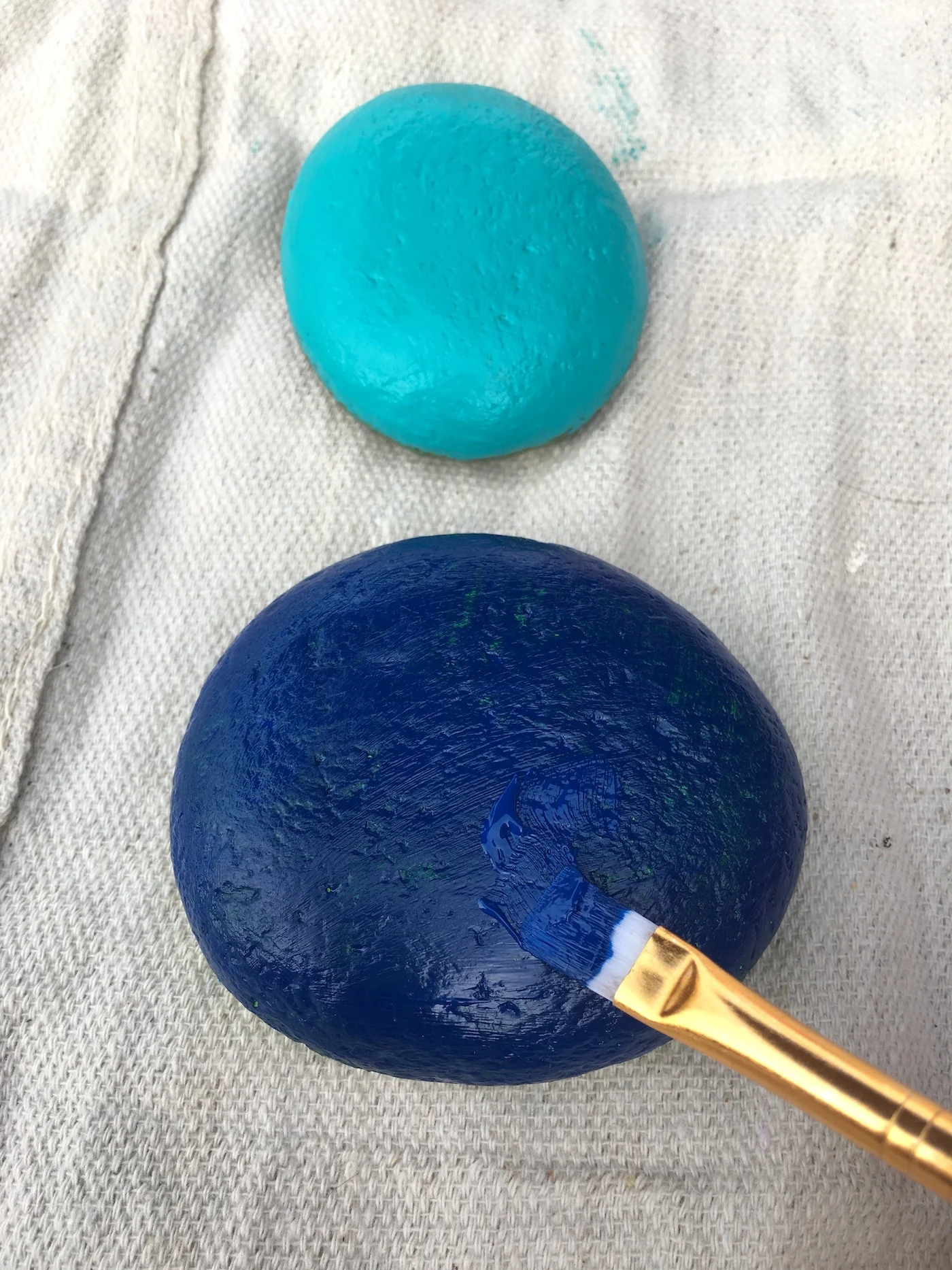 Paint one side, let dry, then flip over and paint the other side. Once you are done painting, let everything dry.
Step Four: If you didn't do the sealing from Step Two before since you were painting, now's time. Trust me.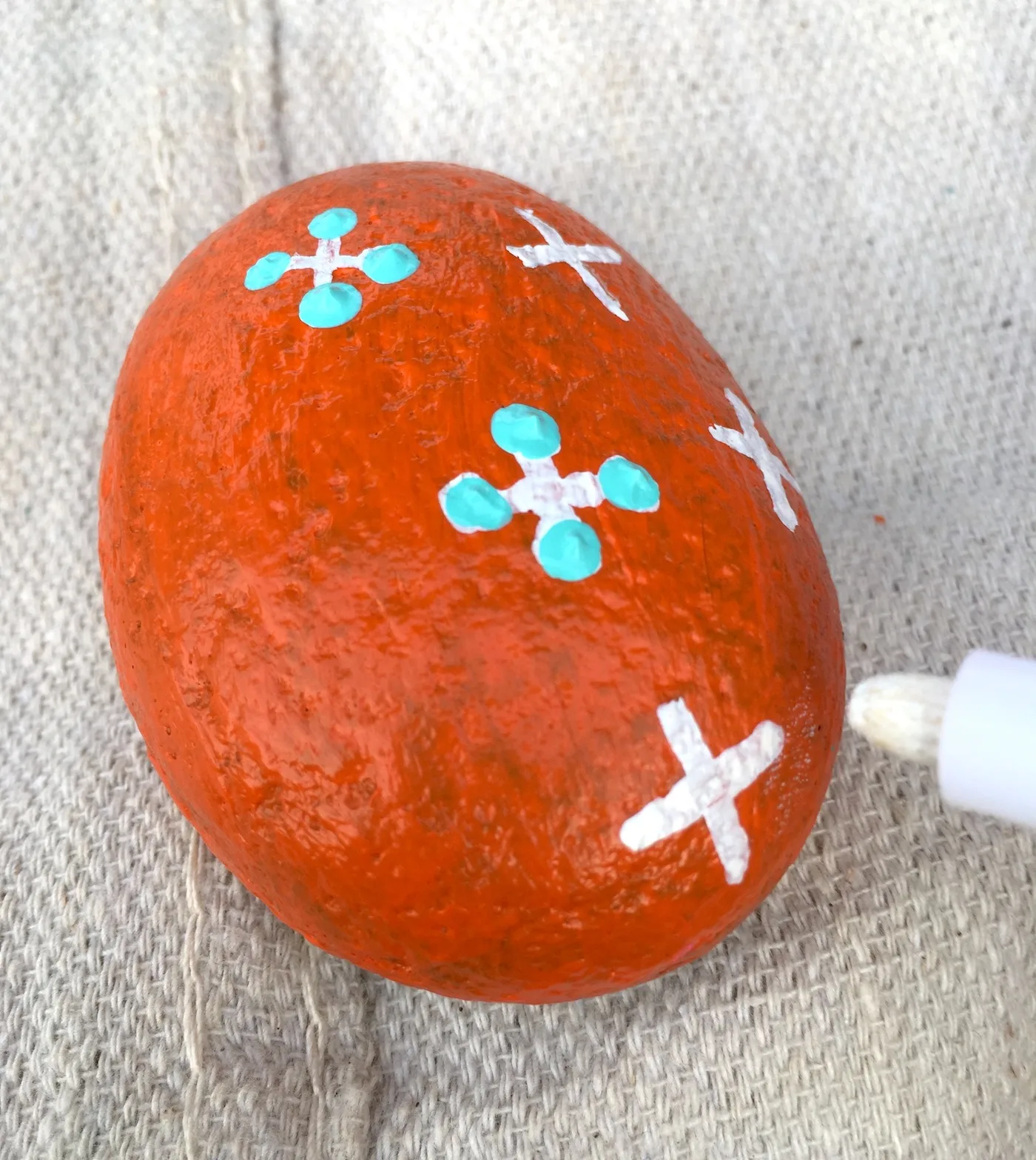 Step Five. Embellish your rocks with sayings, designs, or whatever you like. I made those aqua dots with the end of a paintbrush!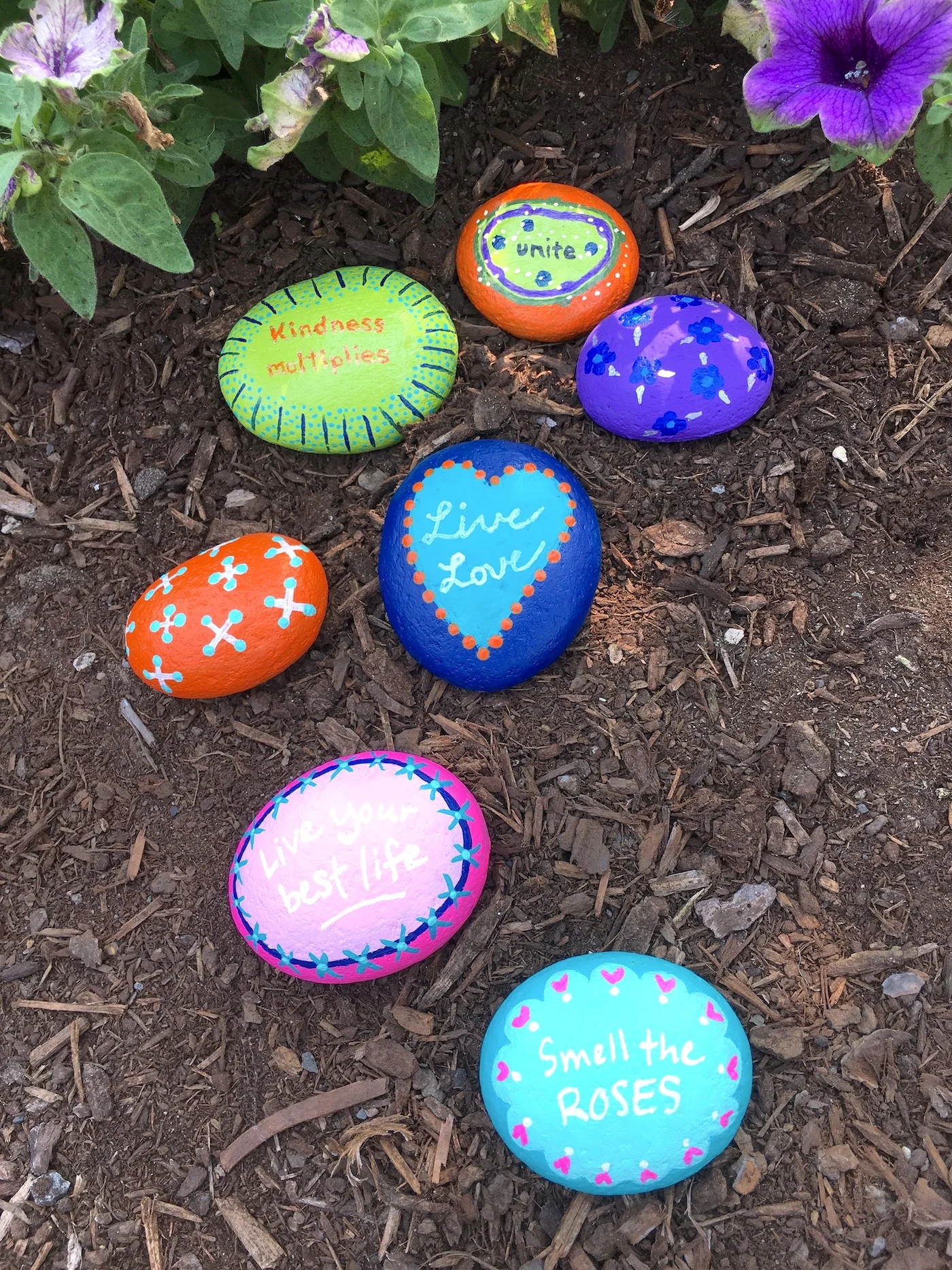 Step Six: Once your rocks are dry, coat them with Outdoor Mod Podge! Give several coats and let dry.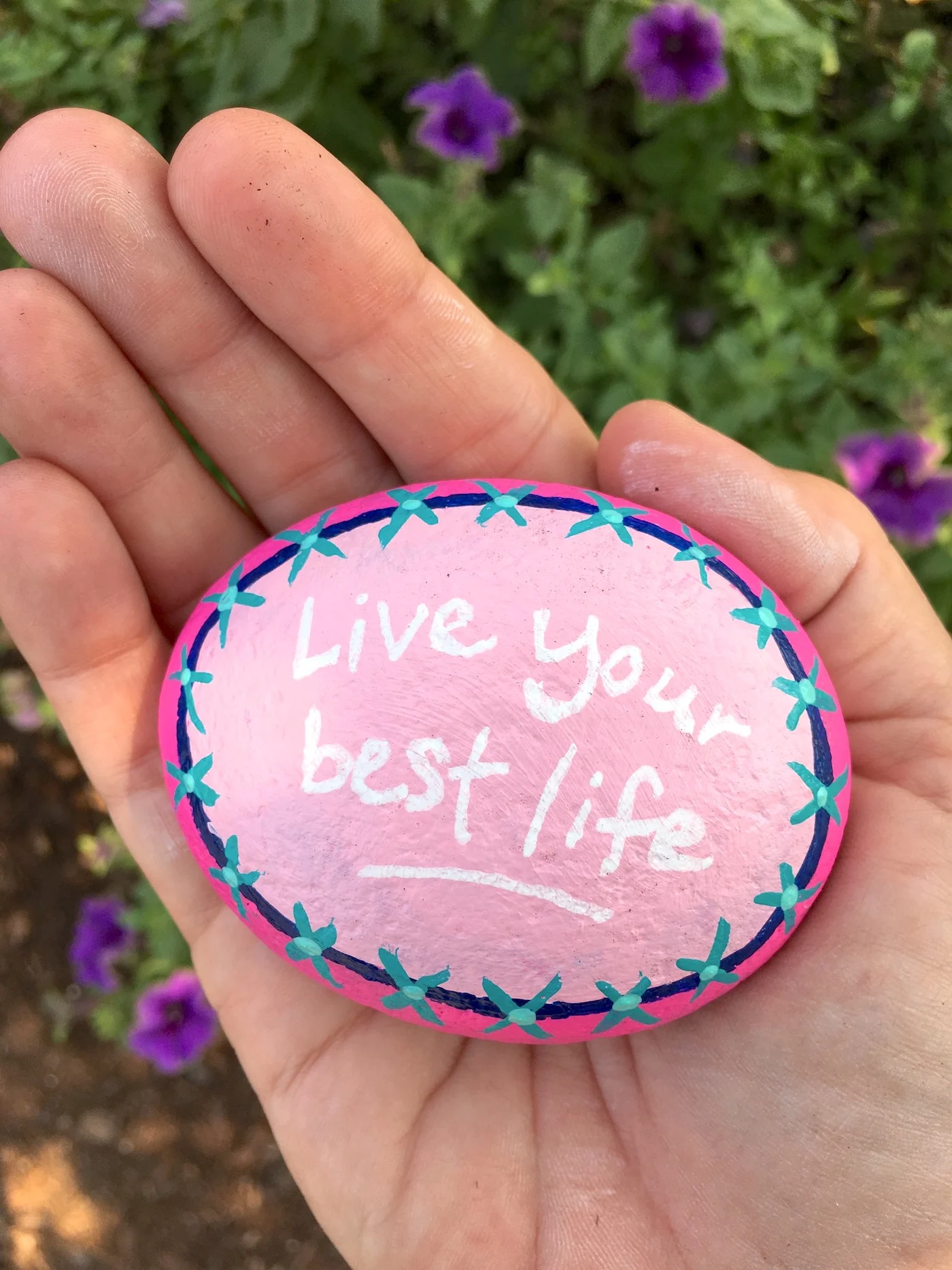 I had a great time decorating my rocks – it's hard to pick my favorite.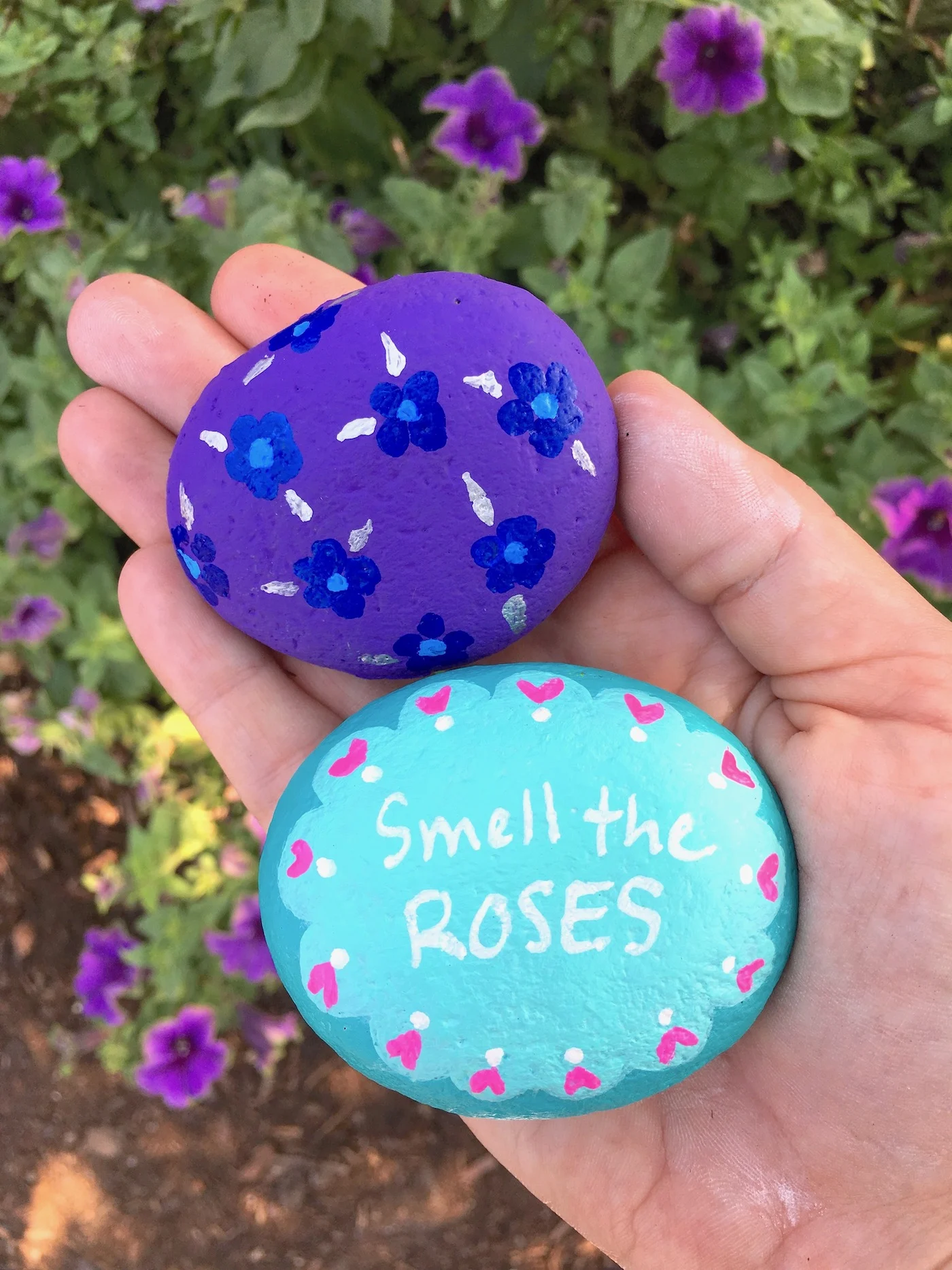 I hope these rock painting ideas will inspire you.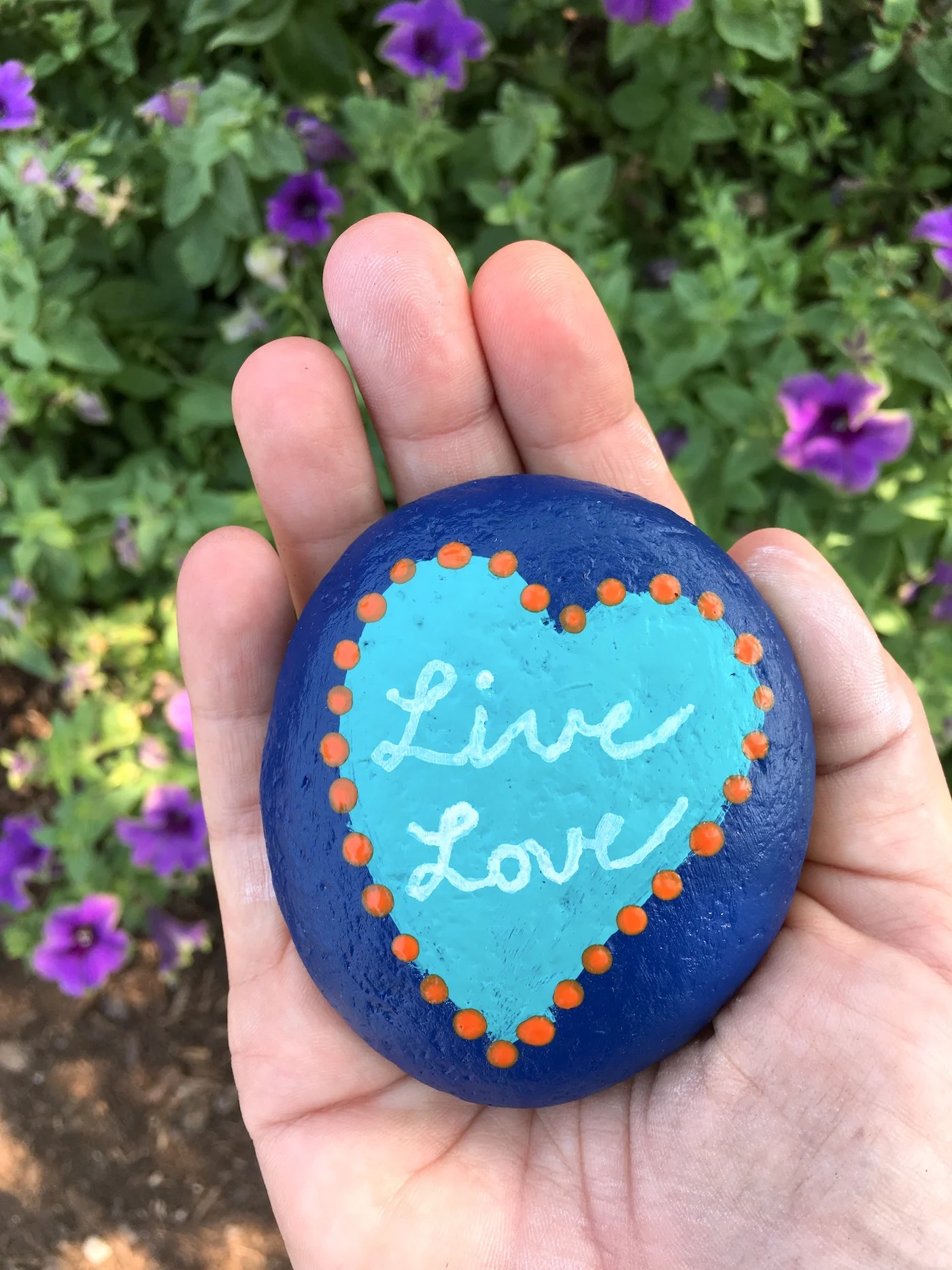 Remember to be considerate when leaving your rocks places. Don't leave them at private residences or businesses without asking, and National Parks/National Forests are off-limits due to their "Leave no Trace" policies. There are plenty of other places to leave your fabulous rocks to be found!
---
If you're ready for some great ideas, I'd love for you to check these stone painting projects out. There are 50 here, and I'd love to know which is your favorite in the comments.
Rock Painting Ideas
Get a ton of inspiration for painting rocks! There are a variety of projects here you'll love, great for kids to adults.
---
If you love rock painting and are looking for more, check out our easy painted rocks! You're going to love these ideas!
Ready to get my top tips for painting rocks? Check out the video in this post. Then let me know what you think in the comments.