You won't believe how easy it is to make your own mouse pad! A DIY mouse pad is such a budget friendly project, and you can customize it any way you like with your favorite scrapbook paper. Learn how to do it here.
Skills Required: Beginner. The process is really simple – you'll need to be able to cut paper and spread Mod Podge. This is a great craft for adults, older children, teens, tweens, girls, boys, etc.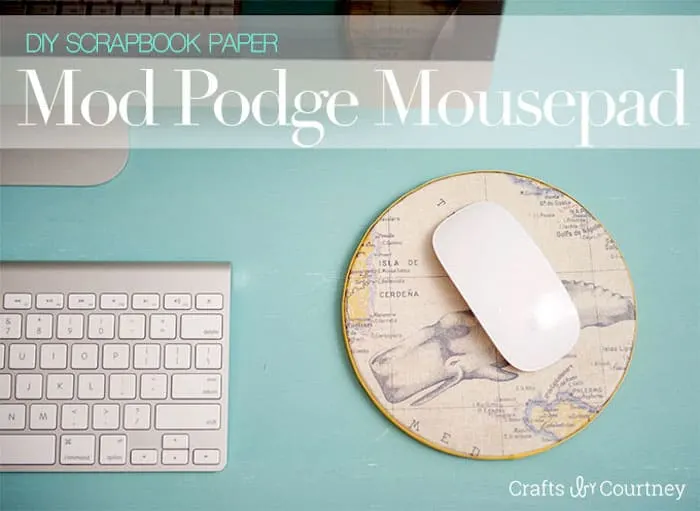 Hi, I'm Courtney with Crafts by Courtney. I'm so excited to be back at Mod Podge Rocks!! This place really does ROCK! Last time I gave a makeover to a thrift store serving tray. This time, I came up with another super easy Mod Podge project for you guys . . .
Make a Mouse Pad
A DIY mouse pad. You won't even believe how easy it is to make your own mouse pad. You can have this project done in an afternoon. It's a great craft for teens as well as adults!
Of course, I had to give this decoupage idea my nautical touch to match my coastal desk. But for those of you who are not into the whole nautical look, I made another one with some super cute patterns. The awesome thing about this project is that you can customize it any way you like.
Steps You'll Follow
There are two parts to this DIY mouse pad – the base and the top. In this project, the base is a cork circle round that you can get from the craft store or online.
They are even at IKEA in a pack of multiples if you have one close by. The pre-cut cork circles make it really easy to make your own mouse pad quickly! You want something that is large enough to be a mouse pad – at least 7.5″ circular.
Another option for the base is to cut a circle out of cardboard. It might not be as sturdy as the cork circle depending on the type of cardboard you use.
You can trace your circle on the cardboard with a plate or other circular item. You'll want to use a sharp cutting knife so that you have clean edges.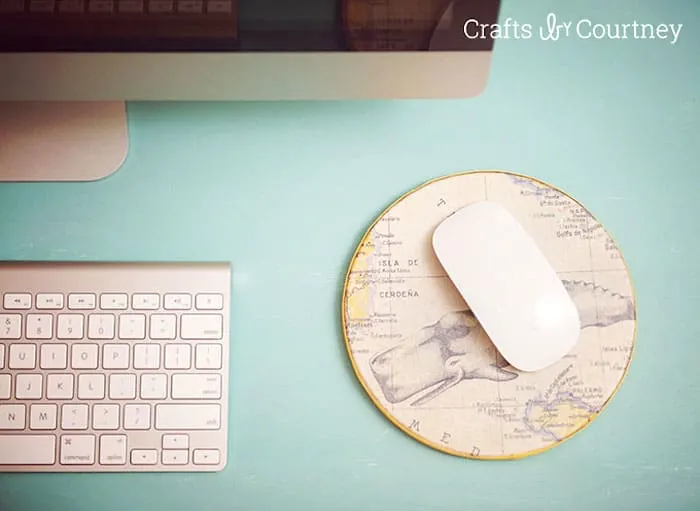 As far as the top of your DIY mouse pad, you can use scrapbook paper, but you can also use fabric.
For both scrapbook paper and fabric, you'll want to pick something a little thicker so that 1) it's easier to Mod Podge and 2) you can't see the cork base through the surface.
Are you ready to learn how to make your own mouse pad? Keep reading!
Gather These Supplies
Round cork circle – at least 7.5″
Ribbon
Foam brush
Scissors
Pencil
Getting Started
I rounded up all my supplies (lots of stuff from Dollar Tree), including some cool scrapbook paper and (of course) my trusty Mod Podge!! I couldn't wait to make my new mouse pad!!
Step 1 – Trace Cork Circle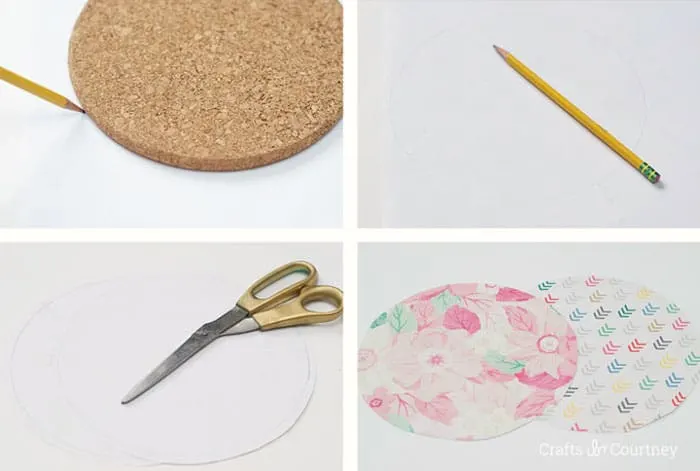 I found this cool round cork at IKEA, three in a pack for $2.99. It was a total bargain I couldn't pass it up. I traced out my circle on the back of the scrapbook paper, then cut out.
If you decide to use fabric for this project, you'll need to prepare it first to be easier to cut (like paper).
Simply place the fabric down on a piece of wax paper or silicone mat and paint a layer of Mod Podge over the top. Let dry. You'll be ready to trace and cut in about 30 minutes.
Quick Tip: When cutting out your circle, leave a little extra hanging over the sides.
Step 2 – Add Scrapbook Paper
Now it's time to add your fancy scrapbook paper! I covered the top part of the cork and the back of the scrapbook paper with some Mod Podge.
Then, I gently placed the paper on the cork. I smoothed down the top with my fingers to keep any bubbles from popping up. I also pressed the sides down. Let dry for 20 minutes.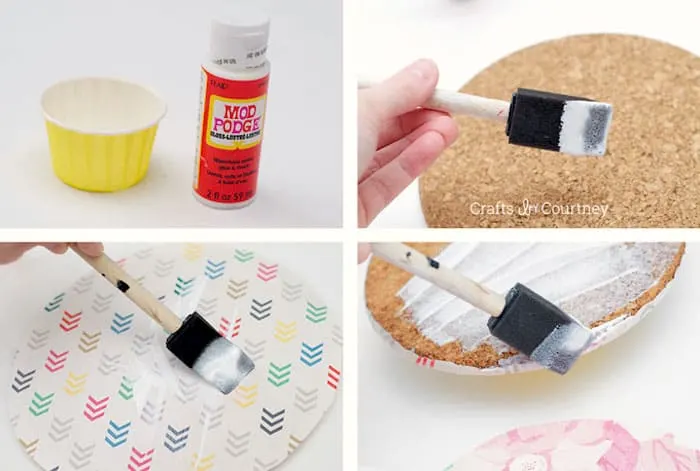 Lastly, I did the other side of the mouse pad the same way. I let dry another 20 minutes.
Step 3 – Add Your Ribbon
To give my mousepad that extra detail, I decided to add some ribbon around the edge. BUT, I didn't have the perfect color I wanted. So the next best thing . . . PAINT!!
I just painted the ribbon on both sides with my choice color. So easy to do, and it's a little trick I use all the time when I don't have the ribbon I need.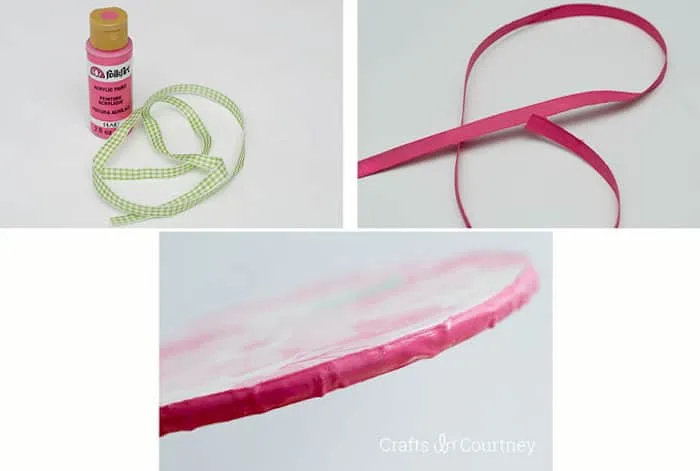 Add the ribbon to the edge of your mouse pad. I covered the ribbon in Mod Podge and started wrapping it around the side of my mouse pad. The Mod Podge keeps it in place perfectly!
Step 4 – Finishing Touches
Finally, I let everything dry for 30 minutes (just to be safe). You can use it right away, but it feels tacky after drying, you can also seal it with a brush on or acrylic spray sealer.
I love that I decoupage both sides of my DIY mouse pad – so I can change it up easily for whatever mood I'm in! I can go nautical, trendy, or super girly.
Sorry honey – I didn't make a "manly" mousepad. You can use the whale version I also made 🙂

So, I'm seriously in LOVE with how it turned out. I didn't end up taking pictures of the other side, but it has a really cool starfish pattern on it.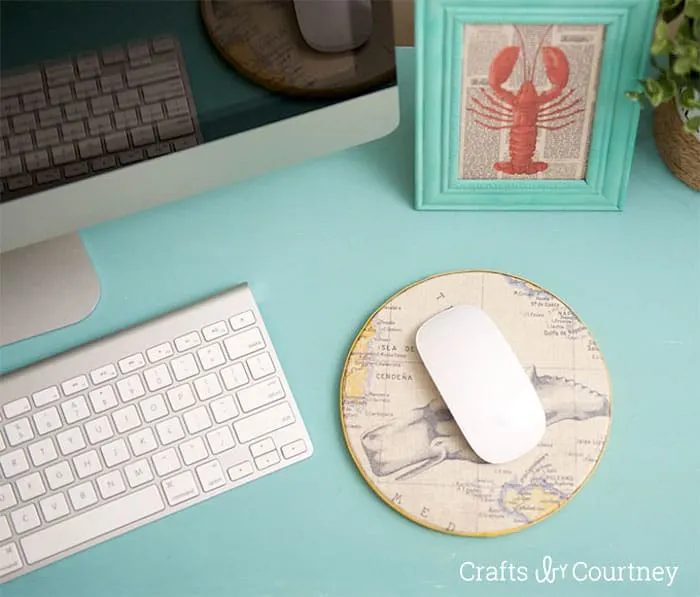 I had my new nautical themed DIY mouse pad done in no time. I just love a quick and easy project like this. And the best part, I already had all the supplies on hand.
So run out to your closest IKEA and grab some of these cool corks. Believe me, I have more ideas I want to do with them! I'm giving my new office a complete coastal makeover!!
Yield: 1 mouse pad
DIY Mouse Pad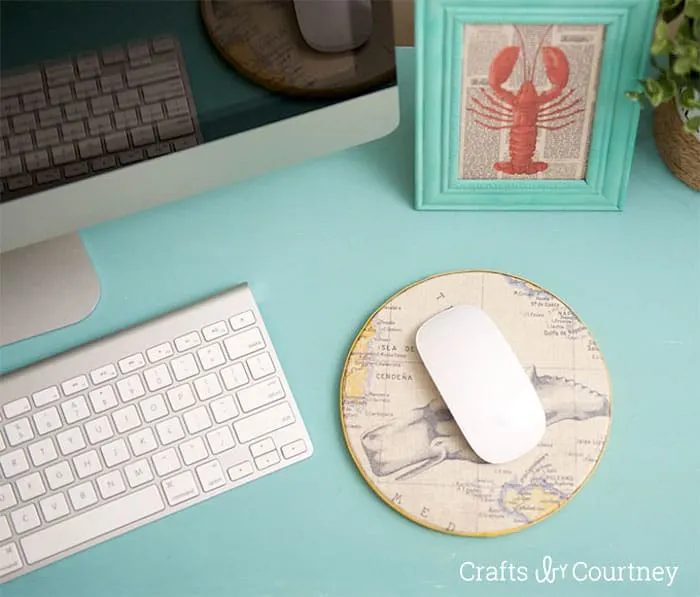 Learn how to make a mouse pad using a cork circle. This craft is inexpensive and really easy!
Materials
Round cork circle - at least 7.5"
Scrapbook paper
Mod Podge Gloss
Ribbon
Acrylic paint
Tools
Foam brush
Scissors
Pencil
Instructions
Trace your cork on the scrapbook paper and cut out.
Cover the top part of the cork and the back of the scrapbook paper with Mod Podge.
Gently place the paper on the cork, center, and smooth down. Let dry for 15 - 20 minutes.
Repeat on the other side of the mouse pad.
Add ribbon around the edge with hot glue or craft glue. Let dry completely before using.
---
Another BIG THANKS to Amy for having me back. I can't wait to share even more projects with your readers!
If you enjoyed learning how to make a mouse pad with cork circles, here's another craft you might like: DIY cork boards! You can also check out these other ideas: