Learn how to decorate plates for your home decor or celebrations using one of these unique ideas! These are perfect for beginning crafters.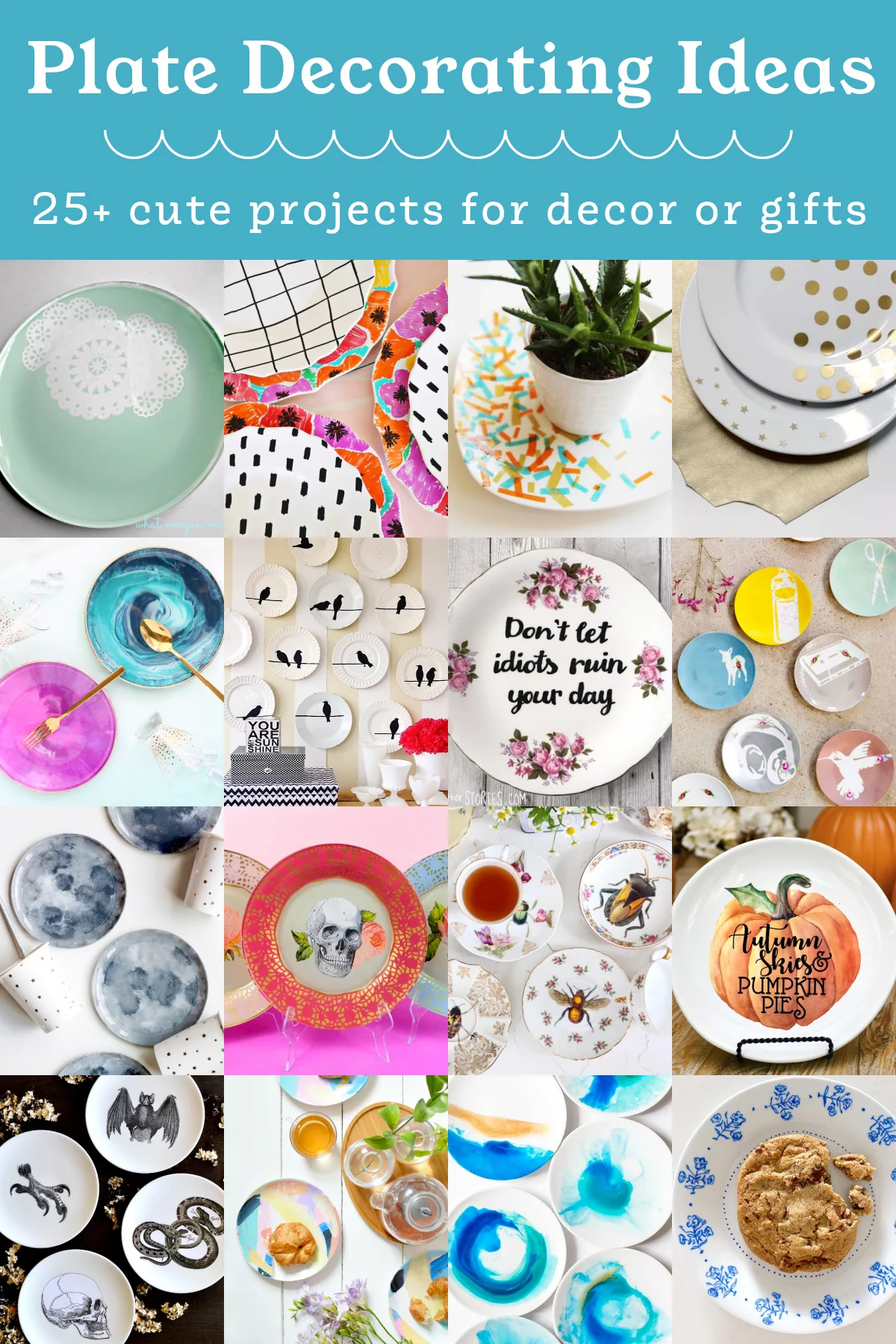 Been to the thrift store lately? There are a few things you can always expect to see – without fail – no matter the location or decade your store is in.
There's always 1,000 pairs of jeans, blown out shoes out the wazoo, and a ton of plates and dishware.
Tell me it isn't true.
I'm not complaining by the way. I love searching through the goodies to find a deal. And you know that feeling when you discover something you love amongst the denim and kitten heels . . . so amazing!
One of my favorite things to purchase at the thrift store is dishware. I love the plates. So inexpensive, and always great for renewing into something fabulous on a budget.
So yes . . . this post is going to show you how to decorate plates. With over 25 ideas, using a variety of creative techniques.
Decorating Plates
Before we get into the ideas, I wanted to share some important tips and thoughts with you. These are especially crucial if you want your project to be long lasting.
You will ALWAYS want to prepare your plate by removing oils using rubbing alcohol and a cotton ball or pad. Cleaning ceramic or glass before you craft with it is important to make sure everything sticks.
What do you decorate plates with?
There are a lot of options! You can use markers (oil based), spray paint, craft paint (glass or multi surface), stickers, alcohol inks, decoupage medium, fabric, paper, vinyl, and more.
What you use depends on if you want it to be usable (and washable) or just for decorating.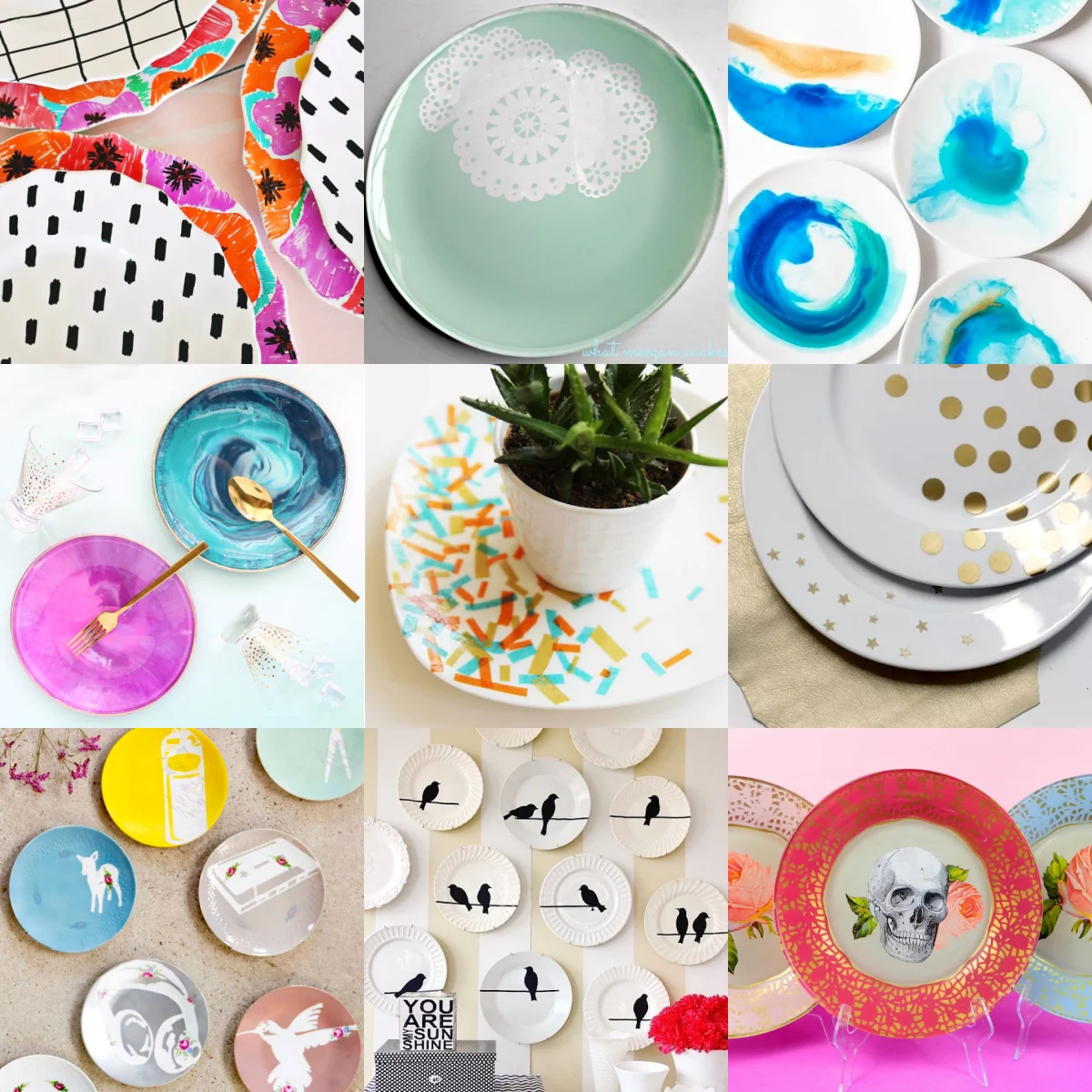 How do you permanently decorate a plate?
You'll want to use something made for glass and/or ceramic. Check the bottle of whatever you are using, make sure it works on glass or ceramic (depending on your plate), and then follow the instructions to a tee.
For decoupaging plates, you'll want to use Dishwasher Safe Mod Podge. That's the only way to make them washable. There is a 28 day cure time you need to follow and Mod Podge is not food safe, just FYI.
What paint to use to decorate plates?
There is a specific type of paint you can use on glass if you want it to be permanent and it will clearly say on the label. They are usually called "Glass," "Enamel," or "Multi Surface." There should also be curing instructions.
Oil based paint markers and spray paint are also typically permanent, but make sure to check on the label.
You can use chalk paint and regular craft paint, but they aren't washable, usually. I always have to clarify that all of these tips are "typically" because the ceramic or glass plate you are working on also makes a difference in the permanence.
For food safety: there are few brands available, but Pebeo Porcelaine 150 is a great one. There are markers and liquid paint, and they are food safe, dishwasher safe, and heat resistant.
---
Now that you've gotten my tips, I'd love for you to check out these projects! Leave me a comment and let me know which one(s) you'd like to try. Enjoy!
Decorate Plates
Get great ideas for decorating plates in a variety of ways! Maybe you want to make them pretty for a holiday or party - or you just want tableware that is new and different. Either way, you'll find some unique projects below.
---
Don't forget to leave me a comment letting know which project is your favorite! I'd also love for you to check out these other posts: