Learn all about the Dishwasher Safe Mod Podge formula! Find out what it is, how to use it, and see some projects you can make.
Don't forget to scroll down to the bottom of the page to see some ideas for this formula, including glitter glasses.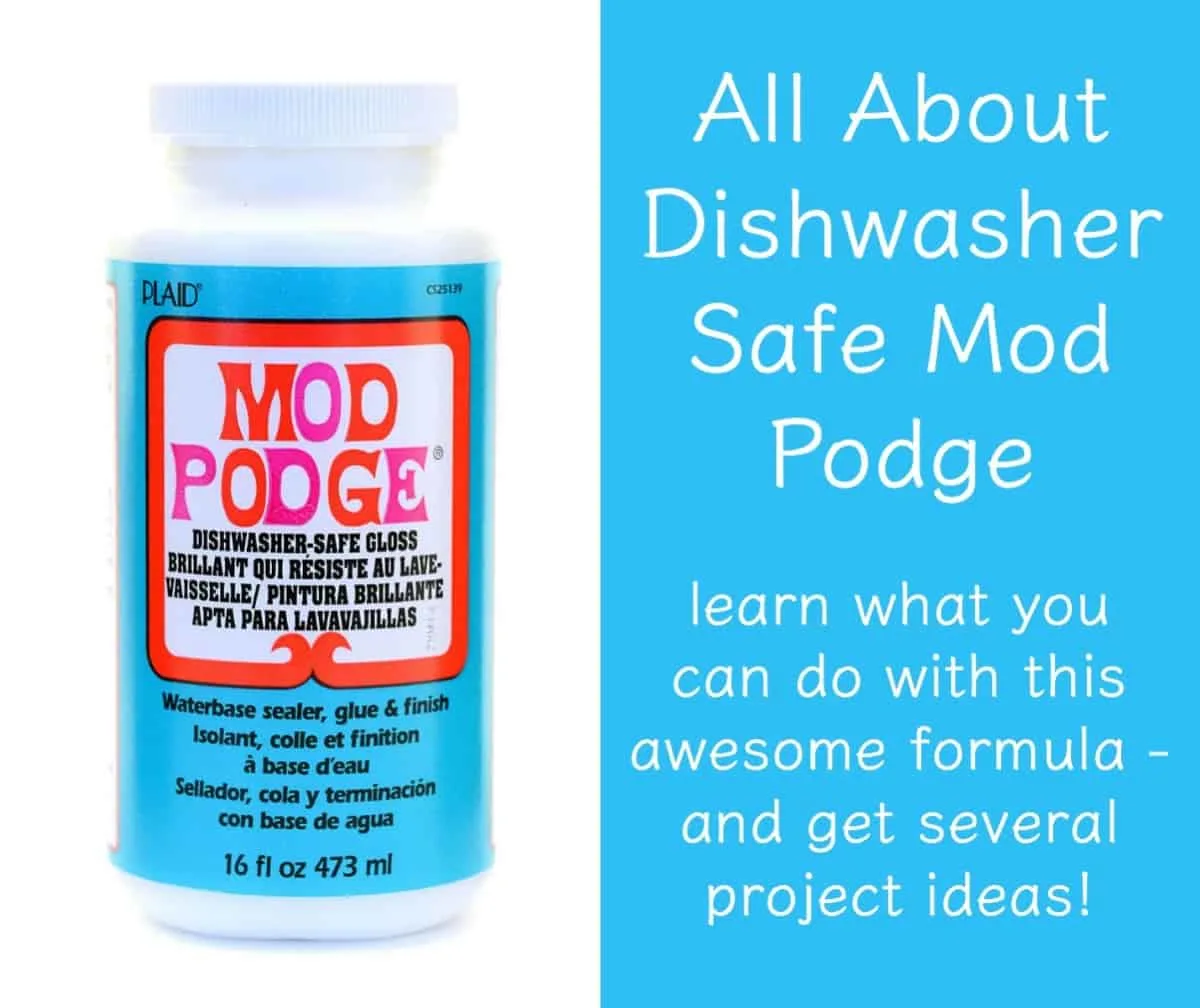 It's always hard to pick my favorite of the Mod Podge formulas, and it definitely depends on the day. However, I will say that Dishwasher Safe Mod Podge is definitely always a front runner, and for good reason. What other decoupage formula can you WASH?!
There isn't one.
Dishwasher Safe Mod Podge is the decoupage formula that you can apply to glass, ceramic, and metal – and then you'll be able to wash the item. And when I say "put in the dishwasher," I mean on the top rack after it cures.
This water based formula is indoor/outdoor durable (though I typically use Outdoor Mod Podge for outdoor projects).
Does it really work? Absolutely!
I've tested many projects with this formula, and if you follow the instructions EXACTLY, your item can be washed in the dishwasher.
If you are wondering about instructions, here you go. These are the steps you should follow for success:
Clean your project surface. I wash glass, ceramic, and metal with warm soapy water – rinse thoroughly, and let dry. If your piece is too large, using rubbing alcohol and a cotton ball to clean.
Roll your bottle on the table to mix it.
Open and use a soft bristle brush to apply the finish to the surface and the back of the design element.
While the Mod Podge is still wet, place the design onto the surface and smooth.
Do not apply the design element where it can be in contact with food or your lips. For example, apply to the back of a glass plate or 1/4″ down from the edge of a cup.
Let dry for 1- 2 hours and then apply 2 – 3 more coats. Let dry 1 – 2 hours between coats.
Cure your project for 28 days.
Wash by hand or in the top rack of the dishwasher.
Now that you've gotten the skinny on how to use it, here are some common questions I get about the formula. I've provided the answers to the best of my ability!
Questions About Dishwasher Safe Gloss
1. Isn't all Mod Podge dishwasher safe? Why do I need a special formula?
This is a common misconception. All Mod Podges are not dishwasher safe. For example, Outdoor formula is highly water-resistant but not waterproof. If you want to be able to wash a decoupaged item in the dishwasher, you need this formula!
2. Is Dishwasher Safe Mod Podge also microwave safe?
Negative. You shouldn't microwave anything you make with this formula.
3. What is the finish of this formula?
It is Glossy – so shiny. You can see what a Mod Podge glossy finish looks like here.
4. What sizes does the formula come in?
It comes in 8 ounce and 16 ounce. You can find out where to buy this formula (amongst others) here.
5. What is the cure time – when can I wash my project?
You need to wait 28 days. Not 10 or 17 or 26 – 28! Please wait the full time frame for the best results.
6. Do I really have to wait 28 days for it to cure?
Yes. Cure time is different than dry time. Dry is dry to the touch. Curing is a chemical strengthening process you can't rush. It is when the formula has reached its peak chemical performance (essentially).
7. I waited the cure time and my project messed up!
You may not have put on enough layers of Mod Podge, or they may not have been thick enough. Or if you didn't clean your surface before beginning, regular oils from hands and other things can cause the formula not to adhere appropriately.
8. Why can't the Dishwasher Safe Mod Podge touch my food or lips?
While it is waterbase and non-toxic (so it won't hurt you), it's not FDA approved food-safe. it would be very unusual for a glue to be approved for use with food! So please keep it away from anything edible.
9. How do I prepare my surface to apply this formula?
Clean with warm soapy water if the item is small – or use rubbing alcohol and cotton balls, especially if the item is larger.
10. Can I still use the formula on wood?
Yes you can. Having said that, you aren't going to want to wash a piece of wood in the dishwasher. If this is the only formula you have, you can still use it like regular Mod Podge.
11. Can I use Dishwasher Safe with vinyl?
No, you don't want to use any Mod Podge formula with permanent or temporary vinyl. Vinyl is a plastic and Mod Podge is an acrylic product, and those don't seal plastic very well.
Permanent vinyl doesn't need to be sealed typically – which is why it's called permanent. I'm not a vinyl expert though! I would make sure your vinyl is dishwasher safe if that is what is you are looking for.
12. Where can I purchase it?
This formula is available on Amazon.com, Michaels, or online at Jo-ann.com.
---
Are you ready for some project ideas using Dishwasher Safe Mod Podge? Check out the links below!
Ready to try Dishwasher Safe Mod Podge? Here are some awesome projects you can start with!
Photo Credit: mesewcrazy.com
Grab some fat quarters and go to work on some plain white dishes with Mod Podge. Perfect for housewarming or wedding gifts!
Use Dishwasher Safe Mod Podge to decoupage these unique drink coasters for summer! Get free nautical papers in a variety of patterns for your project.
There are a million ways you can transform plain coasters with Mod Podge – and tissue paper confetti is one of them! These are made from hardware store tiles. Get the tutorial here.
Photo Credit: ispydiy.com
Using tissue paper on mugs creates a unique watercolor effect - learn how to do it with Dishwasher Safe Mod Podge here.
You can make this DIY glitter mug with Dishwasher Safe Mod Podge – then you can safely wash it without any glitter coming off!
Photo Credit: club.chicacircle.com
This is such a cute idea for a teacher gift! Apply a glittery red apple to a ceramic mug with Dishwasher Safe Mod Podge.
Photo Credit: Allison Murray
You can apply cardstock to glasses and make them safe for the dishwasher! Learn how to do it with your favorite designs here.
Make beautiful glitter glasses with Mod Podge to celebrate New Year's Eve – or any other celebration. The best part is you can wash these!
This DIY travel mug was assembled with a dollar store item, paper scraps, and Dishwasher Safe Mod Podge. It's so easy and inexpensive to make!
Use various colors of tissue paper and Dishwasher Safe Mod Podge to decorate dollar store plates. This DIY is perfect for parties!
Use Dishwasher Safe Mod Podge for this unique wooden spoon makeover – these are so colorful and make great gifts!
Photo Credit: flamingotoes.com
This Fabric Flowers and Polkadots Mug is sooo cute and easy to do – you can probably finish one up in a half hour.
Photo Credit: thesweetestoccasion.com
Enhance a white bowl with tissue paper and Mod Podge! These are fun for parties or housewarming gifts.
---
Let me know your favorite projects or any questions you might have in the comments! I'd also love for you to check out these other Mod Podge formulas: