What is Mod Podge Dimensional Magic? This acrylic epoxy-like product is great for making jewelry, gifts and more. Learn more about it here!
Scroll down to the bottom of the post to get a video all about this fantastic product. You'll get to see it in action as well.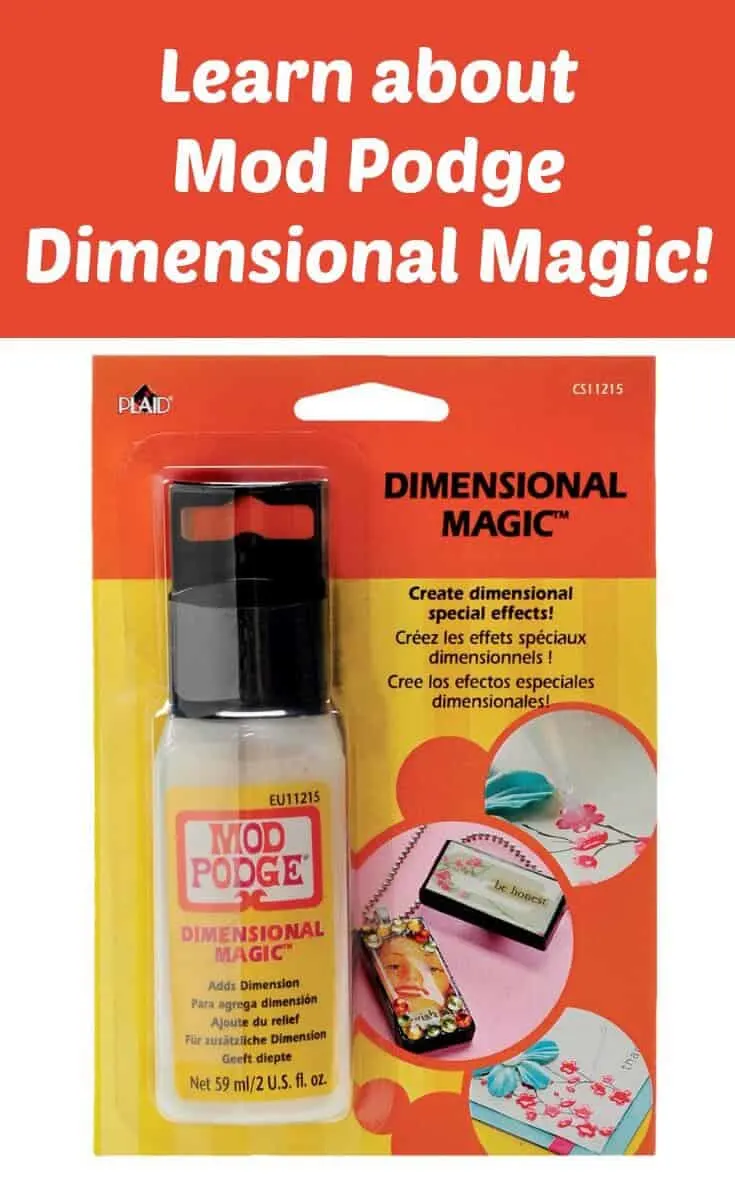 I've been getting a lot of questions about this Mod Podge formula, so I thought I would utilize a blog entry to give you all of the information. Even if you don't think you need to know about this amazing product, I promise you – you do. Dimensional Magic is just plain wonderful. Like everything Mod Podge.
What is Dimensional Magic?
First of all, it's a waterbased product, and it's non-toxic. Secondly, it creates an epoxy-like finish on a project surface. It is not a decoupage medium. So you aren't doing it to do any actual gluing. You're just using it to create a glassy finish.
You can see it in the sample projects or video in this post; it's glassy and three-dimensional, and it adds interest to the surface of your project. Think Envirotex on a much smaller, less-toxic scale. It goes on cloudy but dries completely clear.
What projects do you recommend it for?
Anything really, but it works very well on jewelry, accessories, and cards. Your best bet is to use it to accent small areas. It looks very sharp on bracelets, rings, brooches, belt buckles, necklaces, etc.
I also like it on handmade cards. I'm a big fan of Mod Podging stuff down and then using Dimensional Magic on top of my decoupaged surface.
What surfaces can I use it on?
Just about anything – wood, tin, glass, plastic/acrylic, paper . . . it will dry crystal clear on all of them.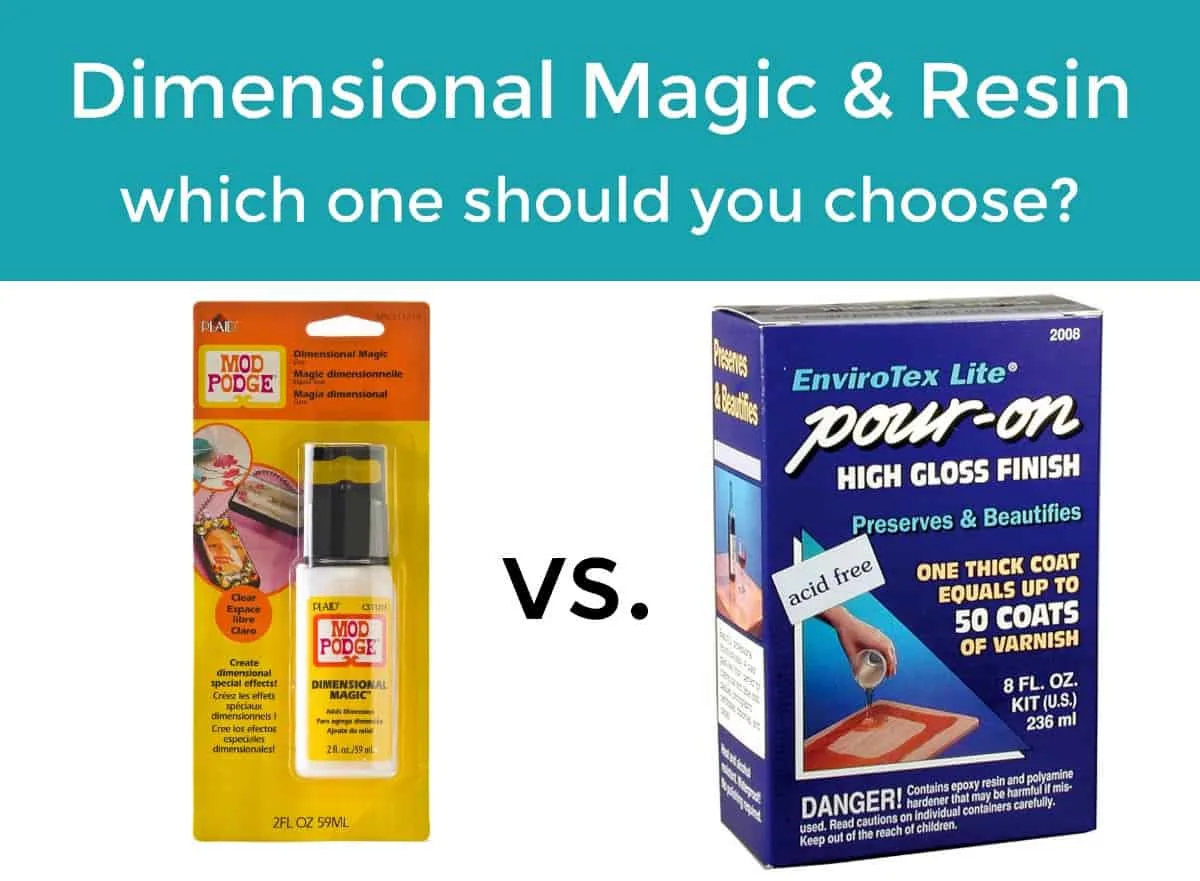 What is the difference between Mod Podge Dimensional Magic and resin?
DM is a waterbase, acrylic product as I said before. This means that you can get it on your fingers and wash it off – and it's not going to hurt you. You don't need to wear a mask or gloves to apply it and the fumes aren't toxic.
There's also no mixing required – the formula can be applied as-is. Dimensional Magic is used for small projects. You wouldn't use it to cover a table.
Resin is a "reactive polymer compound" and typically a two part process. For example, the most common resin (that I have used before) is Envirotex Lite. It's MUCH thicker than Dimensional Magic, and creates a much thicker finish (the box says one coat is equivalent to 50 coats of varnish).
I'm not an expert in reactive polymer compounds, but I can tell you this stuff is toxic. Not that you shouldn't use it, but you have to wear gloves when you do. You mix two parts together, apply immediately, and then it hardens into a VERY thick coat.
Resin is waterproof, heatproof, and hard to mark. It's perfectly appropriate for larger projects such as countertops, tables, large trays, etc. For more reading, I wrote an entire guide all about the differences (and when you use each) here.
Do you have any tips for usage?
Why yes! Thank you for asking. Sometimes when Mod Podge Dimensional Magic dries, because it's waterbase, there's a dip in the middle. When that happens, just layer it! Yes, you can layer it on top of itself and it dries crystal clear.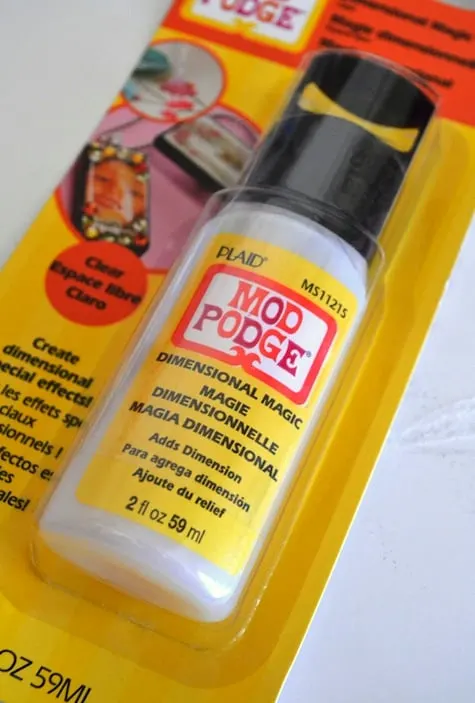 Why is my Dimensional Magic cloudy?
Typically it's because there is moisture below the Dimensional Magic. If you decoupage below your Dimensional Magic, make sure the surface is completely dry for several hours before applying the DM.
If there is moisture below the DM, it can get cloudy when dry.
If your Dimensional Magic gets cloudy, you'll just have to wait and see if it clears up. If it doesn't, you're going to need to re-do the project; there's no way to fix it. That's why it's very important that you let your project dry before application.
Where can I buy

Dimensional Magic?

This is probably the question I've been asked most often. You can get it online at Amazon, and it's also sold at most craft stores including Jo-Ann, Hobby Lobby, A.C. Moore and Michaels (find out where to buy Mod Podge here).
---
I hope this information helps. Complete instructions for usage are on the back of the package, and I'm telling you that it's just about as easy as Mod Podging. I'm off to DM a fake eyeball! Or something. . .
---
Before you go, don't forget to watch the video in this post that tells you everything you need to know about this fantastic project. Simply press "PLAY" in the middle of the video!
Do you want some other guides for Mod Podge? Take a peek at these posts: