Learn all about the glow in the dark Mod Podge formula! Find out what it is, how to use it, and see some unique projects you can make.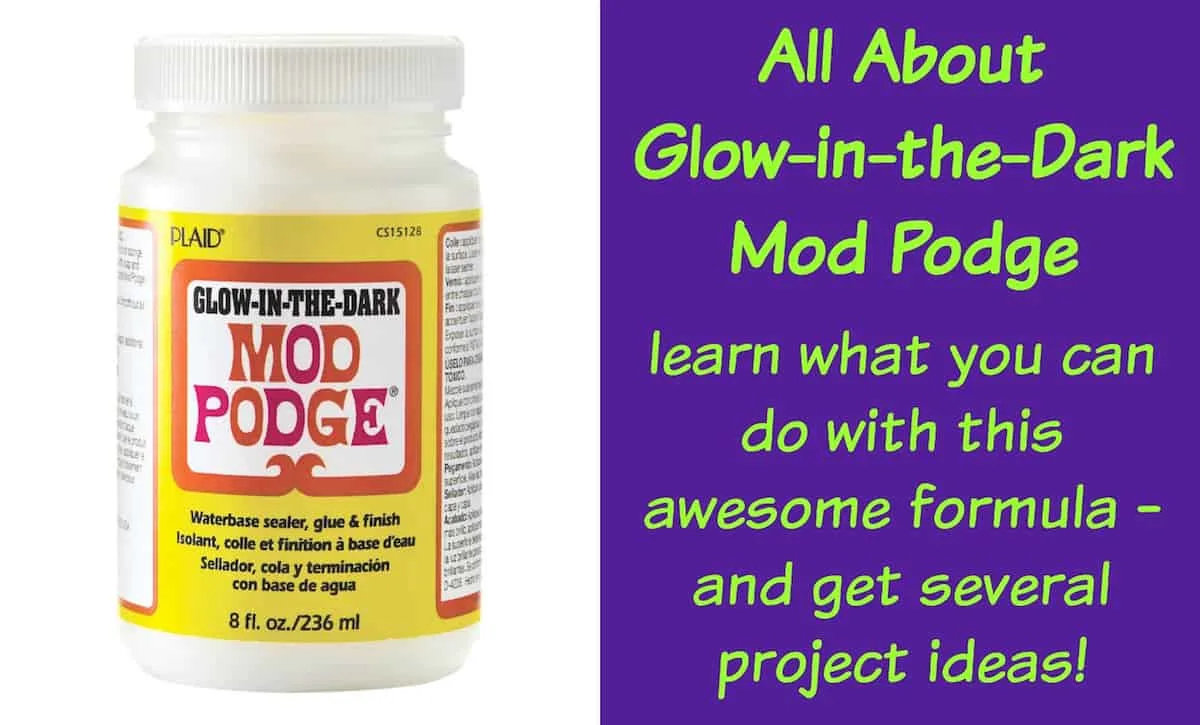 *Note September 2018 – This formula has been discontinued. Having said that, I am leaving this article live on the blog since some people keep their formulas around for many years. If you are looking for a similar product, try Glo-Away. Glo-Away is NOT a glue; it's simply a glowing top coat.
---
With Halloween right around the corner, I think there's a very important decoupage formula we need to talk about: Glow in the Dark Mod Podge! Have you heard of it?!
I'm always surprised to find out that this cool craft product is a mystery to a lot of people. And I'm here to take the mystery out of it. Because all it is my friends? It's the same as basic Mod Podge – except it glows.
Yes, there's no difference! You can use it as a glue, sealer, and finish. It was specifically developed to glow for kids' projects and Halloween (and any other projects you want to use it for), and that's the only difference.
You can use it on the same surfaces and in the same way. You should apply about three – four coats for the best success, as well as charge in the sunlight. It *really* glows if you follow those guidelines!
If you want to see how to use glow in the dark Mod Podge, check out the skeleton video in this post!
Now let's move onto the FAQ!
Questions About Glow in the Dark Mod Podge
1. How is this formula different from "regular" Mod Podge? It's not! It's exactly the same base formula, just with luminescence added.
2. What type of surfaces can I use Mod Podge Glow in the Dark on? This formula can be applied directly onto all types of surfaces such as wood, tin, terra cotta, canvas, paper mache and glass / ceramics. It can be used alone or in combination with scrapbook papers, book pages, and other decoupage papers.
3. How should I apply this formula to my project? Stir Mod Podge glow in the dark gently prior to using.
Applying Mod Podge glow in the dark formula is the same as working with any of the other Mod Podge formulas. It is best brushed smoothly onto your crafting surface using either one of the Mod Podge brushes or a foam applicator.
4. How many coats do I need to apply? Mod Podge glow in the dark is best applied to a crafted surface in a minimum of three to four even applications allowing each coat to thoroughly dry before applying the next.
5. How can I make my Mod Podge project glow? The "glow" is best when the crafted surface has been "charged." To charge your project, place the surface in direct sunlight or a high watt light source for a couple hours.
The more layers of glow in the dark Mod Podge and the longer your project is charged, the longer the glow will last. To recharge the glow, simply place your project in the bright light source again for a couple hours.
5. How should I care for my glowing project? A crafted surface using Mod Podge glow in the dark should be intended for decorative purposes only as it is not dishwasher or washing machine safe. To clean your project, wipe it off using a damp soft cloth; do not fully immerse in water.
6. Can I use this formula outdoors? It's not water-resistant or waterproof. So you would need to use a clear acrylic sealer on top that is made for outdoors. And yes, your project would still glow if charged!
---
Are you ready for some fun projects? Check these out!
Check out these projects that use Glow-in-the-Dark Mod Podge - you're going to love these for Halloween crafting and beyond.
---
Now that you know about the Glow in the Dark formula, it's time to learn about some of the other formulas. Check these out: