You're going to love these easy Halloween crafts! These Halloween projects are fun, unique, and simple enough for adults or children. There are lots of quick Halloween craft ideas in this roundup as well!
Don't forget to scroll down to the bottom of the post to get a video that shows you how to do the glitter glasses in this roundup. You're going to want to adapt that idea to several holidays.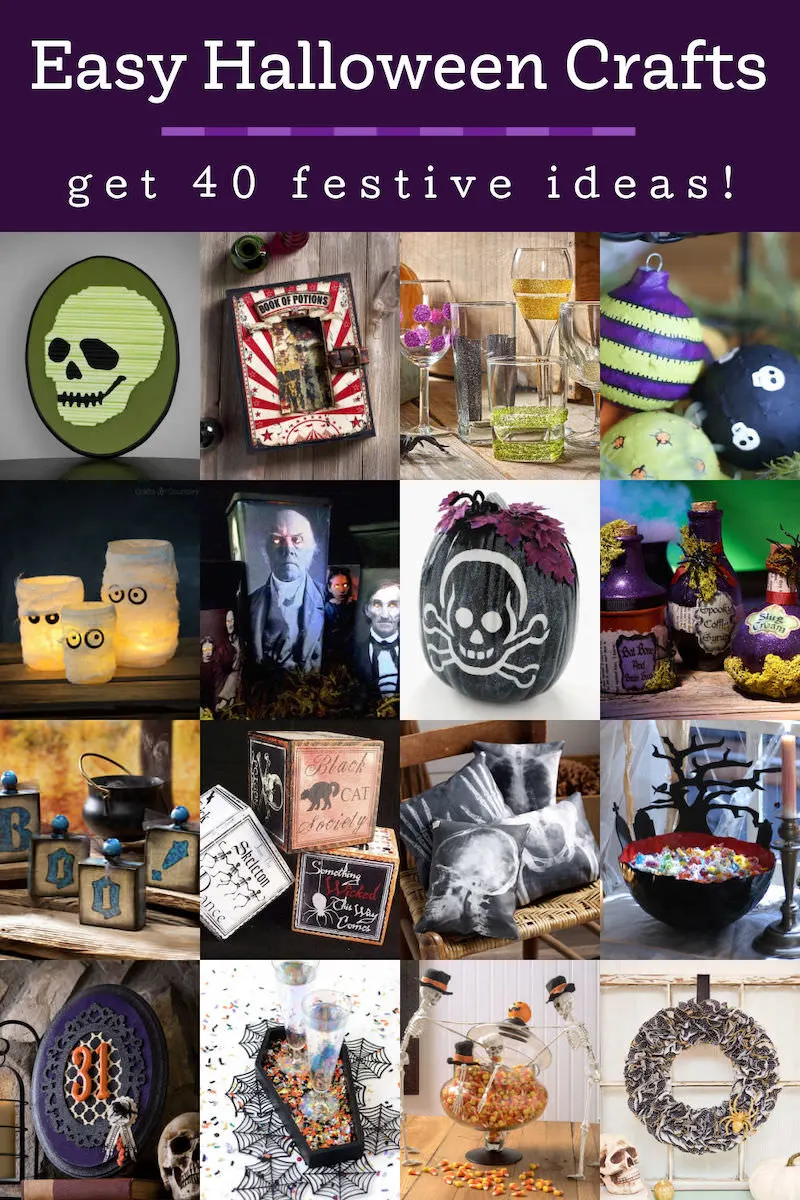 I'm not sure if you heard my squeal in your house, but I'm so excited to share this collection with you. Halloween is my most favorite holiday for a variety of reasons. I love the dress up, I love the candy, and I love the fact that there are minimal obligations. It's just so much fun.
(see all of our holiday crafts here!)
DIY Halloween Crafts
Before I introduce you to the Halloween projects, I want to give you a few tips for supplies – specifically paints and Mod Podge you should consider to get the best results. This is what I use after years of trial and error. These are my favorites!
You might be wondering which paint to use in your Halloween projects, because there are a lot of choices! Here's what I use, because I like to get the best coverage and bang for my buck possible:
Regular Halloween crafts (wood, paper) – FolkArt or FolkArt Multi Surface
Glass – FolkArt Multi Surface or FolkArt Enamels, oil based Sharpies for writing
Outdoor – FolkArt Multi Surface
Halloween kids crafts – Apple Barrel (it's less expensive than FolkArt and works great!)
All of these paints are waterbase, safe for kids, and you can Mod Podge over the top of them (or glitter, etc). They are made in the USA too which is important to me for paint.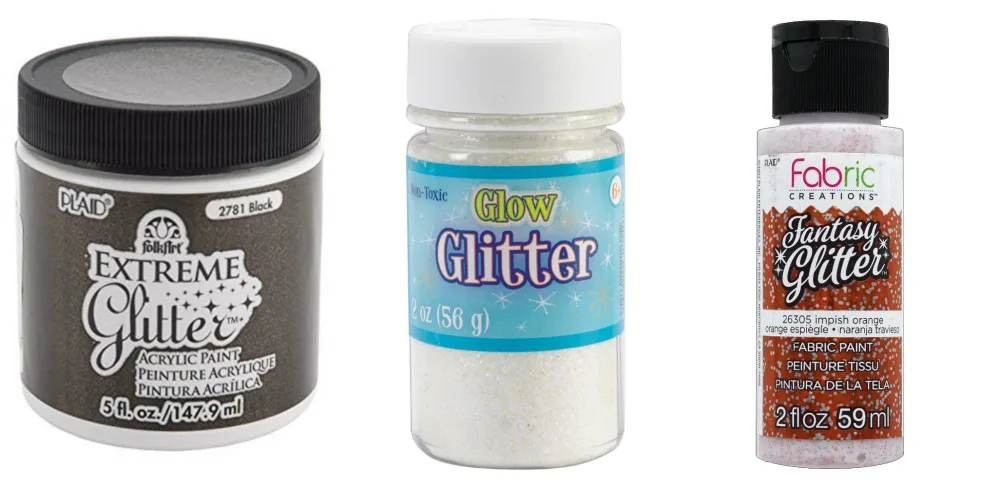 Special Supplies for Halloween Crafts
In addition to regular paints I listed above, here are some other Halloween supplies I use regularly and can vouch for:
FolkArt 3-D – I love the dimensional effects you can get with this paint, and it has a tip applicator
Fabric Creations – this paint is perfect for Halloween fashion crafts, and there are glitter formulas
FolkArt Extreme Glitter – I've used this formula for years. It's great over paint when you aren't decoupaging anything; it has great coverage and a colored base
Color Shift Paint – I wrote an entire article about this paint because I'm so obsessed with it. It gives you a nice metallic color shift on 3D objects (hello pumpkins and skeletons!)
Glow in the dark glitter or pigment powder – because, obvious reasons! I sprinkle it on everything
Mod Podge to Use for Halloween Projects
You'll find that the Halloween craft ideas in this article use a variety of Mod Podge formulas . . . if you click on each title, the tutorial will show you what was used. Having said that, use our formula guide to find the product that meets your needs, and see what the formulas look like here.
My personal favorites for Halloween are the Mod Podge Glow in the Dark as well as the Extreme Glitter Mod Podge (which looks FANTASTIC over black or purple!). I feel like Halloween is a time to let it all hang out, so why not?
Are you ready to get creative? Enjoy these 40 Halloween crafts – they range from easy (including kids crafts) to moderate, and there are a lot of options from skulls to pumpkins to vintage decor. Happy Halloween and have fun decoupaging!
Halloween Crafts
You're going to love these Halloween craft ideas! Get great ideas for both adults and children! Get kids crafts, decor, gifts, party projects, and more.
---
Do you enjoy these Halloween craft ideas? If so, let me know in the comments! I'd love to know your favorite Halloween projects using Mod Podge as well. Also please check out these other posts:
Are you ready to see one of these Halloween craft ideas? Learn how to make the glitter glasses (project #19!). Just press PLAY in the center of the video in this post!