You're going to love these Dollar Tree crafts for fall! These ideas include pumpkins, wreaths, leaves, mason jars, candles, and more. Get over 30 projects perfect for beginning crafters.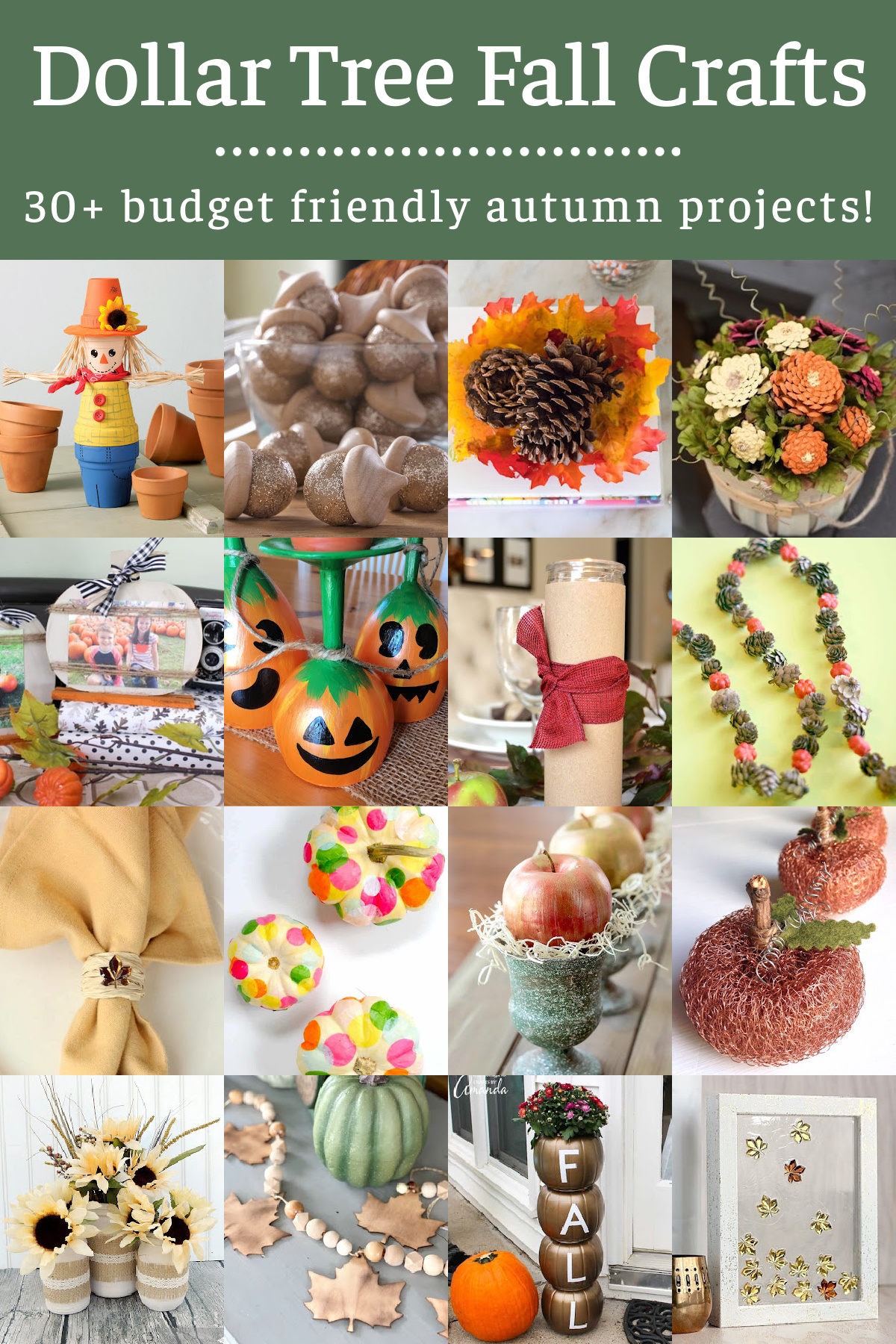 I have something to admit. I'm not proud of it, but it's the truth – I'm a Dollar Tree addict. Here's the problem . . . my grocery store is in the same shopping center as DT.
And NOT just in the same shopping center, but right next door.
So the deal is, I have the ability to complete a grocery shopping trip and then pop right into the dollar store. Without even skipping a step or taking too much extra time. Isn't it glorious?
I take advantage of this ability to visit DT regularly and see what's new. I know the layout of the store well, and once you head in the door you make a right turn for the seasonal and crafts areas. It's really easy to take a turn about the room, so to speak.
I'm excited this year for the Dollar Tree fall crafts . . . and sure enough, they have a lot of stuff I found on my last visit. There were wreath forms, wood shapes, confetti, faux leaves, beads, deco mesh, and lots of other goodies. So many good items for fall crafts for adults and decor.
To get us all inspired, I've put together a list of dollar store fall ideas I think you're going to love. There are over 30 projects for decor, and they all have something in common . . . they're cheap! But that just means inexpensive, not cheap looking.
Not only that, but they're easy too. All of these crafts are very easy to make!
I'd love to know what you think of these crafts in the comments. Do you have any dollar tree go-to crafts for fall? Let me know!
Dollar Tree Fall Crafts
You're going to love this list of Dollar Tree crafts for fall, perfect for making and decorating, and all of them easy!
---
Did you enjoy these seasonal craft projects? I'd love for you to check out these other posts too: