Learn how to make paper mache pumpkins using balloons, twine, and Mod Podge! This is a fun craft for fall decorating and great for families.
Skills Required: Beginner. The steps are simple. You'll be inflating the balloon with twine around it, applying newspaper and Mod Podge to make the paper mache, then painting. This autumn idea is perfect for older kids or parents to do with this children.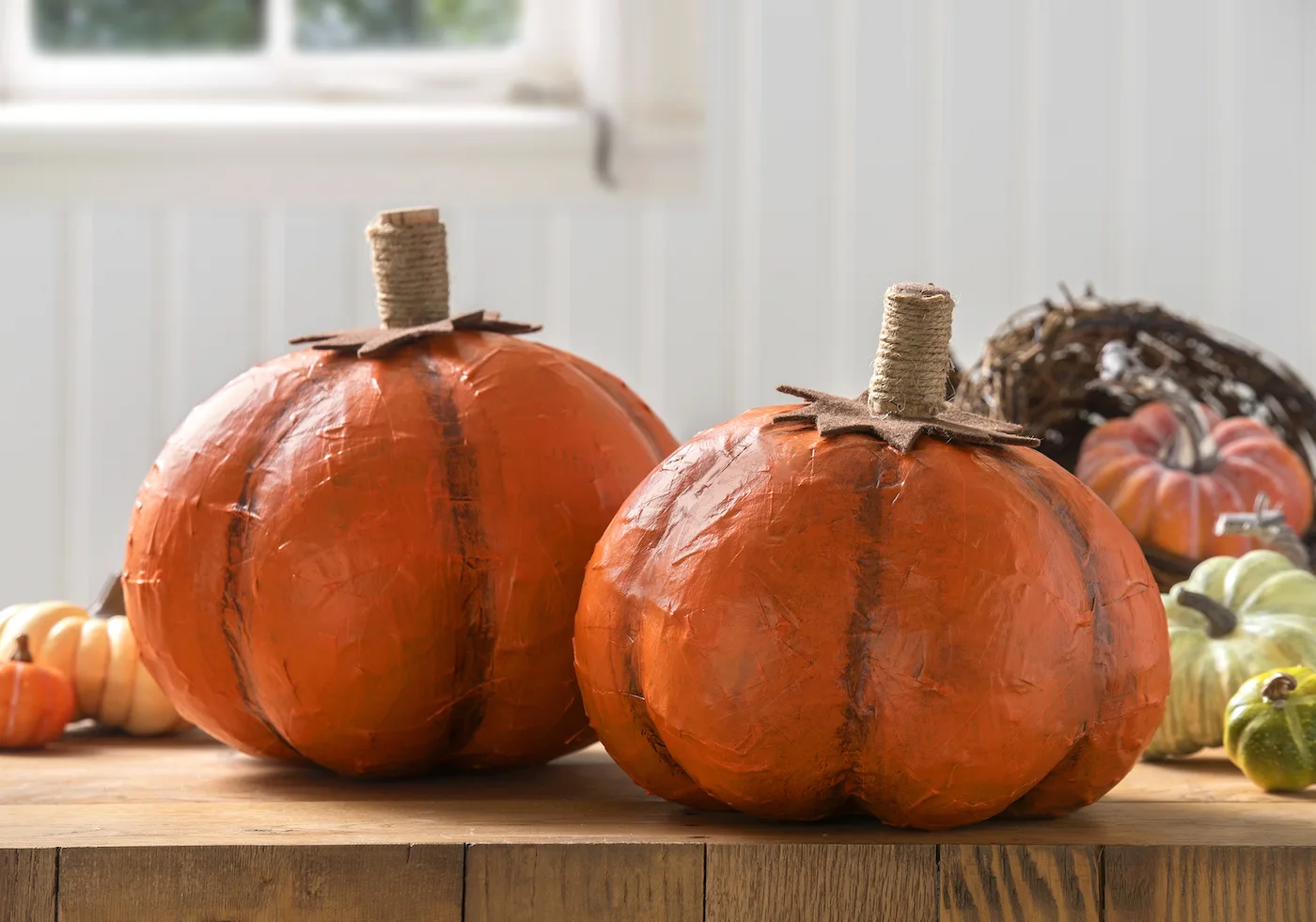 I don't know what it is about this year and my fall decorating, but I'm all about the pumpkins! I think that what I'm looking for is decor that can easily transition from autumn to Halloween through Thanksgiving. So I don't have to change everything out for each holiday.
And we all know that pumpkins fit that description.
Pumpkins are the universal symbol of cool weather! I've been trying all sorts of styles including these pumpkin wood blocks, napkins on wood pumpkins, and even toilet paper pumpkins (on my other blog!).
So my next project? Paper mache pumpkins!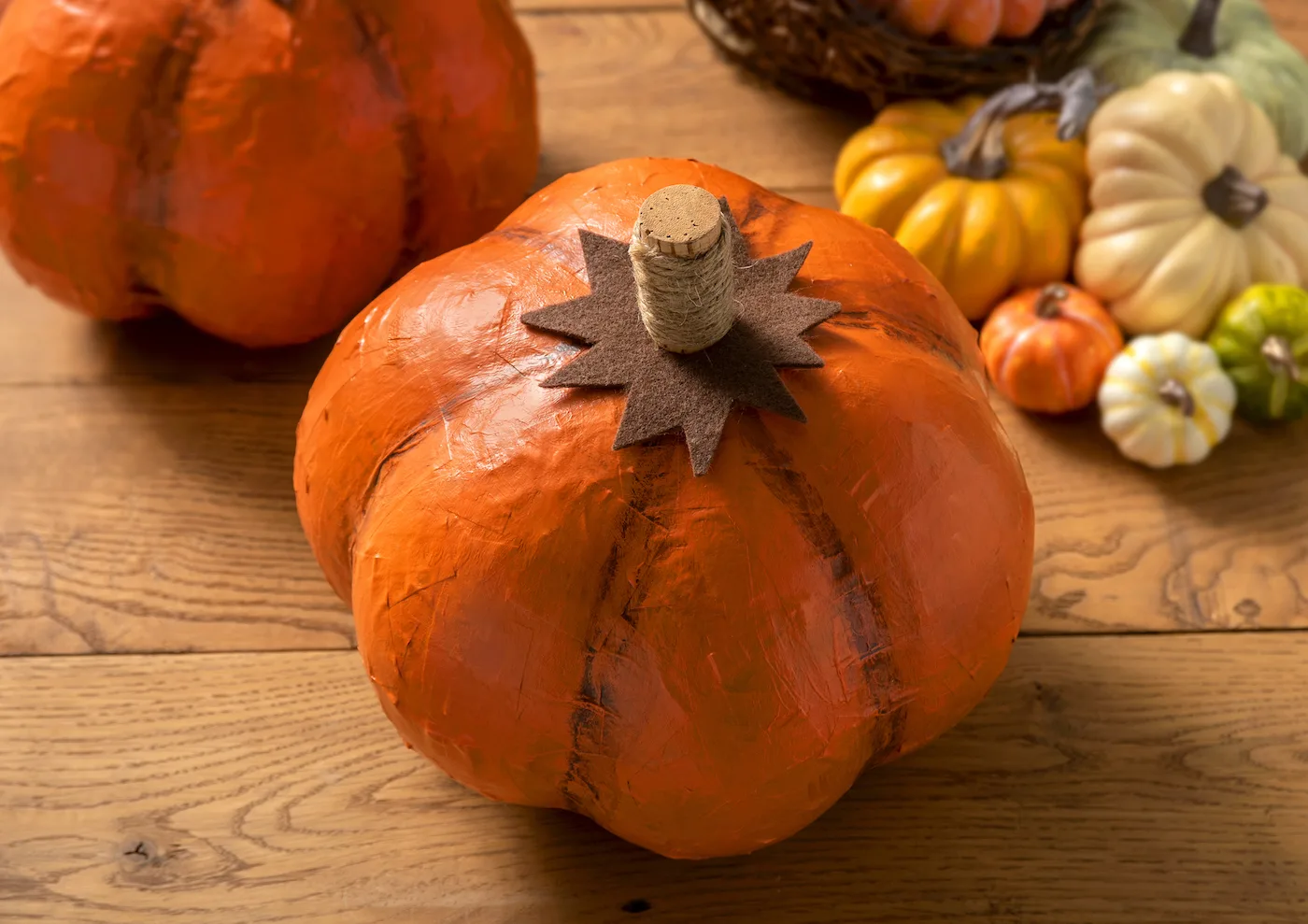 While I was shopping for fall crafts at Dollar Tree, I remembered to buy balloons to give this a try. I already had the felt, paint, wine corks, twine, and Mod Podge . . . and then I grabbed newspaper from the recycling bin.
So for me, these paper mache pumpkins only cost $1.25! Technically less than that because 25 balloons come in a bag. But we don't need to get too technical. I know you hear me knocking.
You have a lot of options for customization of this project. First, you can use really any Mod Podge formula. I used Hard Coat for these pumpkins just to make them a bit more solid, but the Gloss, Matte, or Satin are fine too.
For painting the outside, I used regular acrylic craft paint. But you can use chalk paint as well. Honestly I'd love to try these with chalk paint next!
The topper is made with felt but you could use craft foam or a piece of thicker fabric. The stem could be a twig or something else that has a similar shape to the wine cork. Feel free to get creative!
Are you ready to make these cute pumpkins? I'd love to show you how to do it. You're going to love the process! Keep on reading to get the how-to and let me know what you think in the comments.
Yield: 2 pumpkins
Paper Mache Pumpkins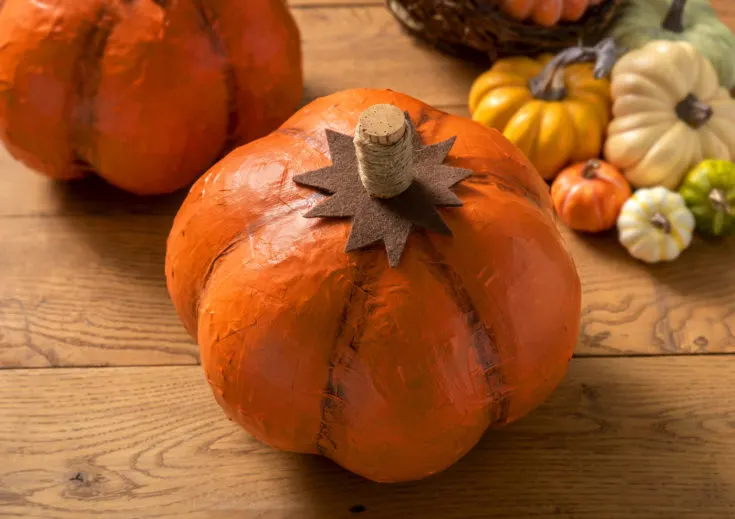 Learn how to make a paper mache pumpkin using inexpensive supplies! This is a fun family activity for your fall decorating.
Total Time
3 hours
30 minutes
Materials
Balloons
Roll of twine
Wine corks - 1 per pumpkin
Newspaper
Acrylic paint - orange and brown
Felt
Tools
Scissors
Paintbrush
Hot glue gun and hot glue
Clip or clothespin
Instructions
Blow up a regular party balloon to slightly over half full. Use a clip or clothespin to hold the balloon shut securely. You will need to add more air in a bit.
Cut a length of twine and secure around the balloon from the top to the base with a knot.
Repeat with two more strings around the balloon, forming a snowflake at the top (the opposite end of the neck that you blow into).
Inflate the balloon to a little more than two-thirds full, or whatever you need to make the balloon tight against the strings. This is to create the pumpkin ribs. Tie off the end of the balloon.
Adjust the strings to make the ribs of the pumpkin more even.
Open a newspaper page and cut into small pieces using the scissors. My pieces were about 1" x 1".
Working in one area at a time, apply Mod Podge to the balloon surface with a paintbrush. Stick a newspaper piece down into the Mod Podge, and then brush over the top. Continue doing this with additional pieces of newspaper and Mod Podge.
Continue applying newspaper squares and Mod Podge, going over the twine, from the top of the balloon towards the neck. You're going to cover the entire balloon with one layer and let dry.
Repeat this process two more times. You want three layers of newspaper and Mod Podge on the balloon. Let completely dry before painting.
Paint the pumpkin with a layer of orange paint and let dry completely.
Paint a few additional layers of paint and let dry.
Dip a paintbrush in some brown paint and tap a lot of it off. Brush some of the paint into the ridges between the pumpkin ribs. If you need to remove paint, wet another paintbrush and brush some off. Repeat with the rest of the ribs and let dry.
Using the felt, cut leaves or a topper that can sit under the wine cork stem. Hot glue it to the top of the pumpkin. A hole was cut in the middle of my topper so that the stem could be glued directly to the pumpkin.
Cut a length of twine. Hot glue one end to the base of the wine cork. Wrap the twine around the cork and secure the end near the top with hot glue. Trim with scissors.
Attach the wine cork to the top of the paper mache pumpkin with a hot glue gun. Let cool completely before displaying.
Repeat to make an additional pumpkin. This time you can make the balloon smaller when you inflate it so that your second gourd is slightly smaller than the first.
Notes
If you don't want ANY newspaper print showing through your pumpkins, consider spraying them with white primer first before painting.
---
Did you enjoy this fall craft idea? I'd love for you to check out these other posts: