Learn how to make these EASY fall crafts for adults you'll love! Featuring pumpkins, acorns, leaves, owls, and more. Get great – and inexpensive – ideas for gifts or decor.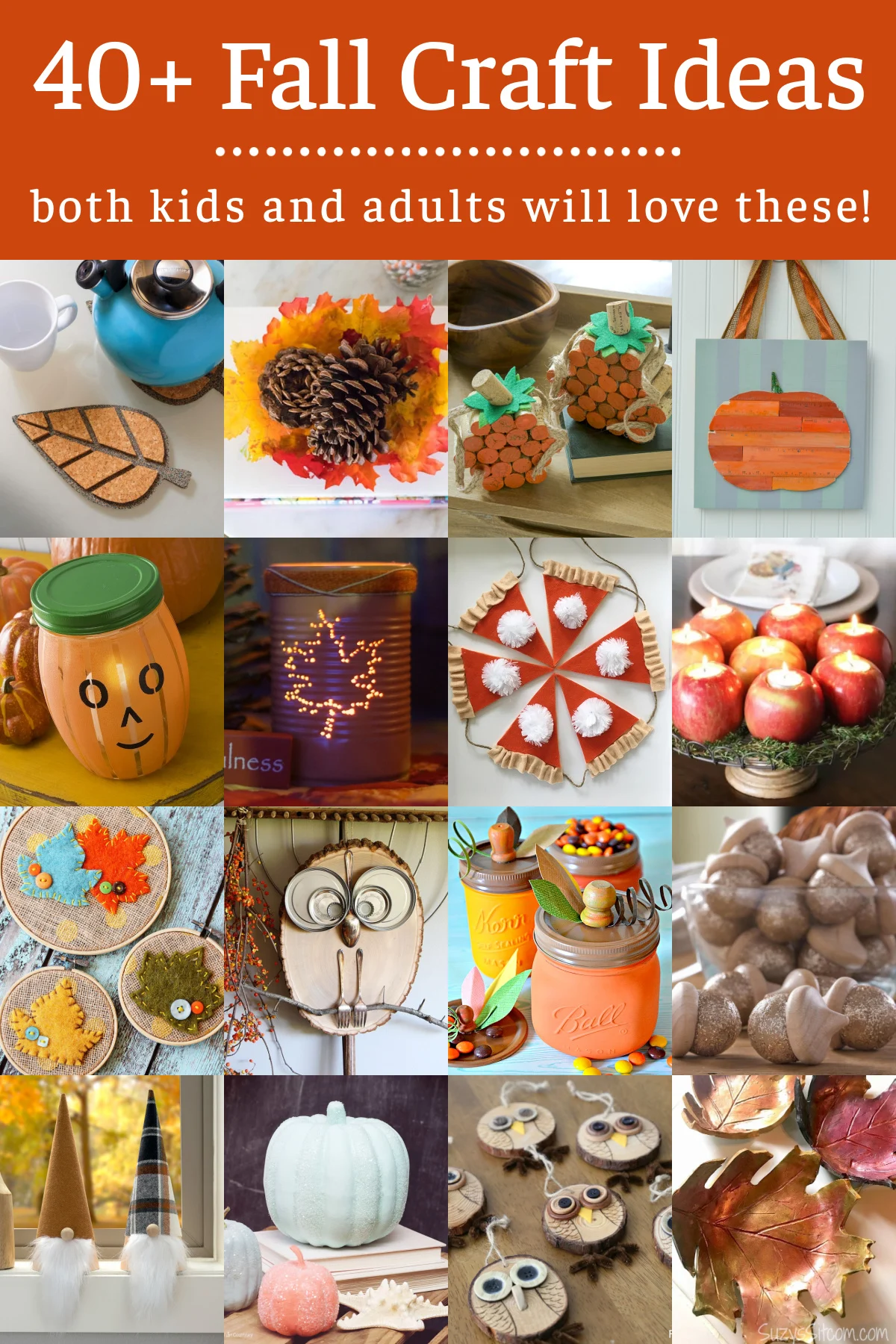 As summer comes to a close, and the temperatures lower . . . I start to feel the happy feelings. I think my fellow autumn lovers know what I mean.
The weather gets crisp, and the pumpkin recipes and lattes start a flowin'. I want to get creative with oranges and mustards and browns. And I might even use some glitter – you just never know.
Because I'm so obsessed with autumn crafting and the amazingness that results from it, I'm excited to share some fall crafts for adults with you today. Because sure, the kids love crafts – but we big people do as well!
Crafting for Fall
Before I share these DIY fall crafts with you, I wanted to address a few topics. I get asked about the following quite a bit, so here are a few tips you might be interested in. If not, go ahead and scroll down and grab the list.
Supplies You Can Use
Autumn is a great time to use things like paint in muted colors, burlap, kraft paper, and those sorts of things. I also love glitter in fall colors, and more natural materials like clay and cork.
Besides using craft supplies, don't forget to dig around outside for things like pinecones and acorns. But don't forget to dry them in the oven to melt off sap and also kill the beasties. Learn more about baking out the beasties here. The same process works for pinecones.
Preserving Leaves for Fall Crafts
You can definitely use Mod Podge to preserve leaves for projects! Grab yourself a piece of wax paper, Mod Podge (Gloss is fine), and a foam brush.
Ideally you will do this with fresh leaves. Lay the leaves out on the wax paper, and paint a layer of medium over the top. Let dry and flip. Do this one more time, so that there are two coats on each side. Let dry completely before using or displaying.
---
Are you ready to check out these fall crafts for adults? Take a peek at the list below and let me know which ones are your favorites in the comments!
Fall Crafts for Adults
You're going to love these 40+ autumn crafts for adults! They are perfect for your fall decor and more.
---
If you enjoyed these autumn crafts for adults, I'd love if you'd check out these other posts:
You should also check out our Halloween crafts for adults, Thanksgiving crafts for adults, Christmas crafts for adults, and winter crafts for adults. Bookmark them for later!