You can make your own fall sign in three easy steps! You're going to use wood, scrapbook paper, and letters. This autumn sign is easy to customize!
Skills Required: Intermediate Beginner. This autumn sign project will test your knowledge of Mod Podging pieces of paper without wrinkles. I give you tips below, but it helps if you have prior experience with Mod Podge since this is a large piece of wood.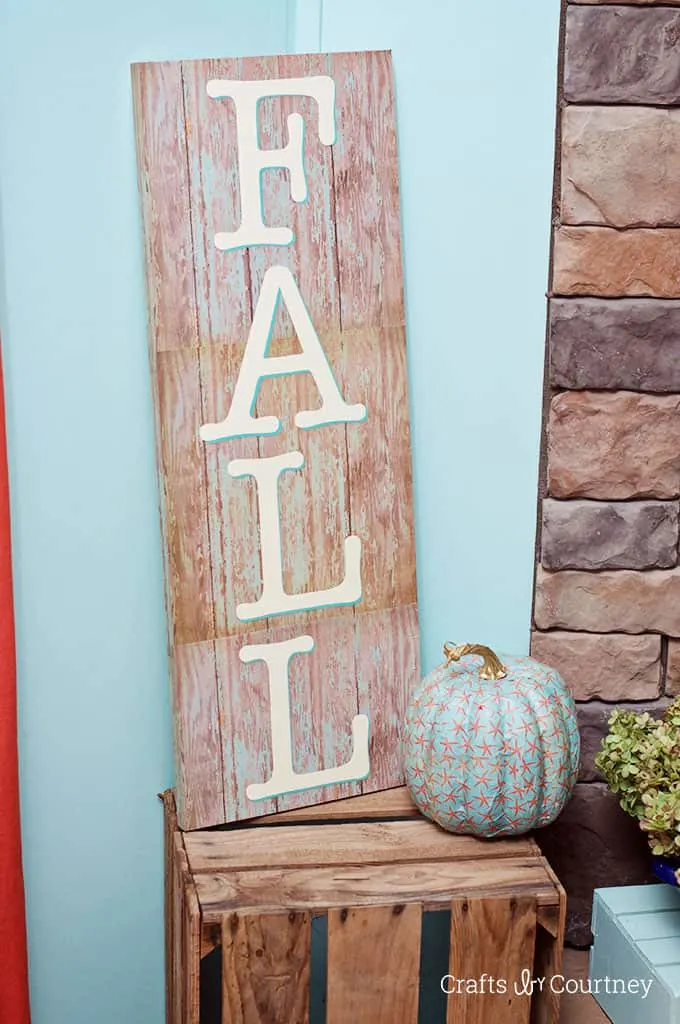 Since autumn is here, I really wanted to make a new DIY fall sign for the house. I made a Harvest sign last year using vinyl, so this year I thought I'd give Mod Podge a try and see what I could come up with.
I was debating on a Halloween sign or Fall, and finally Fall won out. I knew I would be able to keep it up a lot longer if I did!
What I was really excited about was using some wood patterned scrapbook paper that I've had in my stash for awhile now. I'm sure you know the feeling of pulling something out of your stash and finally using it. What can I say – it's a rush.
DIY Sign
Since you're going to be Mod Podging a larger surface (a piece of wood), I wanted to give you some tips and tricks for fall sign success. First let's start by going over the three steps for this project:
Cover the Sides
Add Scrapbook Paper to the Top
Seal the Letters on Top
We'll get to those steps in a moment. First let's talk surfaces.
Surface to Use
You can get wood for your fall sign just about anywhere – a construction site, a lumberyard, a home improvement store. At some Home Depot or Lowe's they'll even cut a board for you to the size you want (and they have bins of extra pieces!).
There's no reason to purchase an expensive board (pine is fine). Just make sure the board is relatively smooth and it doesn't have any huge knots that will impede your Podging.
You can even use canvas or an alternative surface if you like. It doesn't have to be wood!
My only recommendation for you is that you stick with a surface 12″ wide or smaller – OR the width of your scrapbook paper if it's less than 12″. That way you don't have to patchwork everything together. It will make your life easier.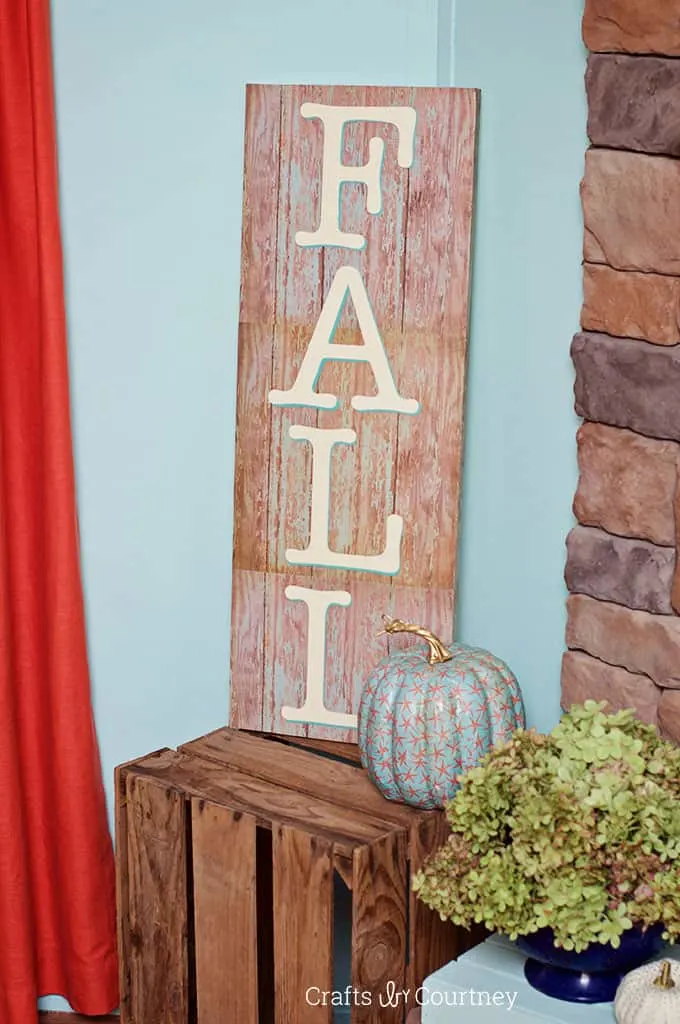 Applying the Paper
Thicker paper is better for avoiding wrinkles with Mod Podge. If your paper is relatively thick, you're going to be just fine by:
Placing a medium layer of Mod Podge on the wood and the back of the paper
Quickly place the paper down on the wood and smooth using your hands or brayer
Let dry for 15 – 20 minutes
Place 1- 3 coats of Mod Podge over the top
If you happen to be using a thinner paper (or wrapping paper, for example), you should consider misting the paper with water before you apply the Mod Podge and place it down.
I had to do that in my floral DIY coat rack project. It works quite well! I keep a misting bottle in my craft room for Mod Podging thin papers.
Finishing with Letters
You can Mod Podge letters on the top of your autumn sign, but don't limit yourself to paper letters. Wouldn't it be fun to use paper mache letters – or wood letters? You could even stencil them onto the board directly with acrylic paint (yes, you can paint on top of Mod Podge).
---
Now that we're done with the FAQ, continue reading to get the complete autumn sign tutorial!
How to Make a Fall Sign
Gather These Supplies
Wood – about 12″ x 32″ in size
Paper letters (cut with a die cutter or scissors, or letters of your choice)
Craft knife and mat
Let's get started!!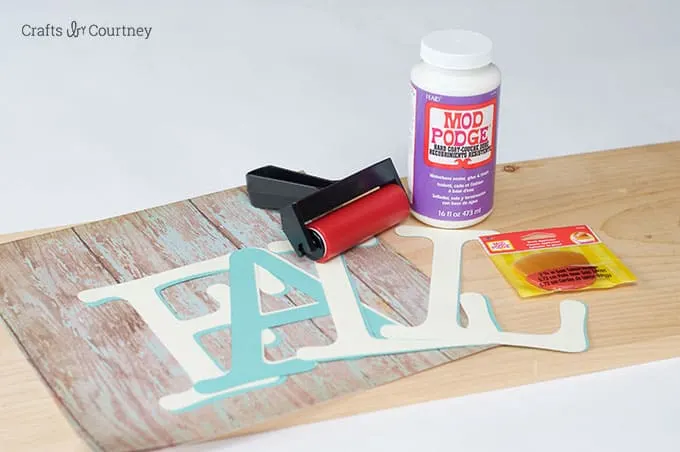 Step 1 – Cover the Sides
I cut my scrapbook paper into strips, then covered the sides of the wood with the strips and the Podge.
I added a little more Mod Podge on top with my applicator and used my "handy dandy" Mod Podge brayer to smooth out any bubbles. If any scrapbook paper comes up, add a little bit more Mod Podge and then smooth down again.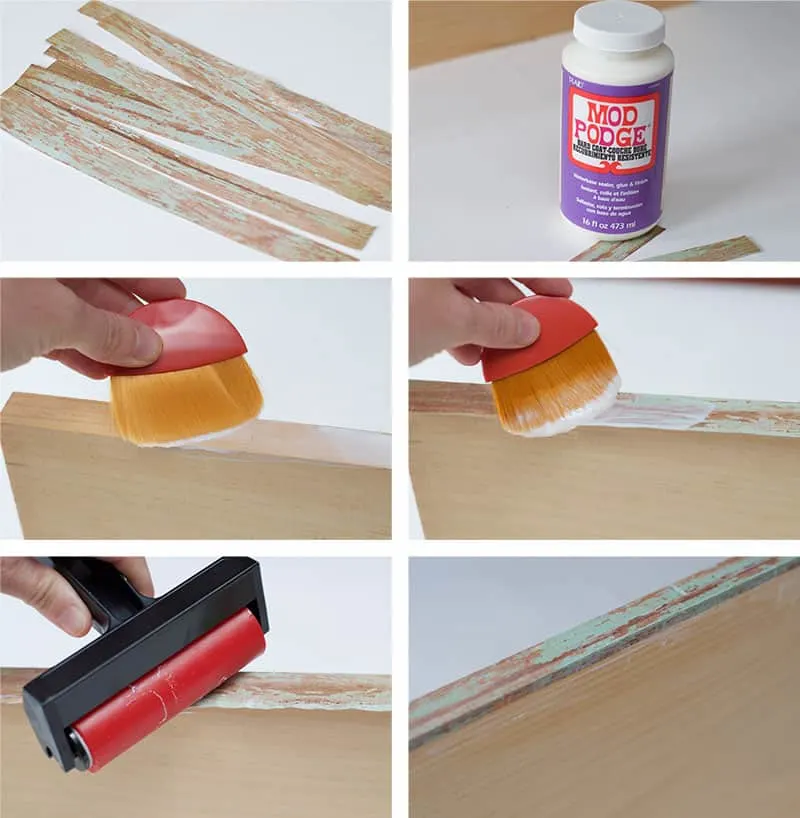 Step 2 – Add Your Scrapbook Paper on Top
Now it's time to add your scrapbook paper to the top of your autumn sign!! I needed three pieces of scrapbook paper for this part.
I started at the top, by adding a layer of Mod Podge to the wood then laying my scrapbook paper on top. Once again I used my roller to smooth out any bubbles.
After I had all three pieces down, I covered the top of the scrapbook paper with more Mod Podge. Since the scrapbook paper was not the exact size of the wood on one edge, I waited until the Mod Podge dried and cut off the excess with my X-Acto knife.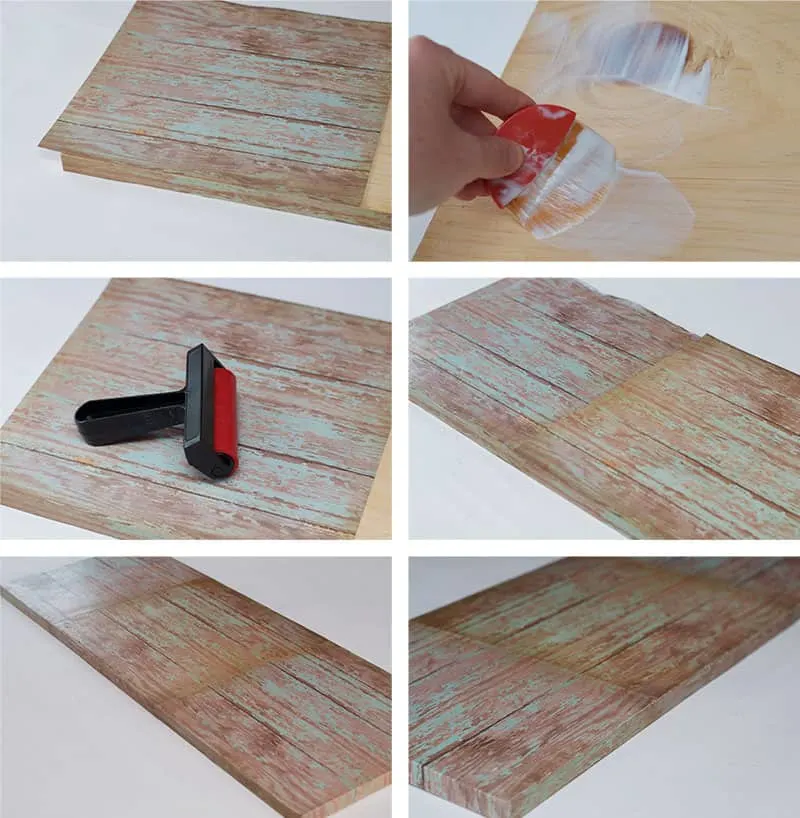 On a side note, I found this scrapbook paper at Hobby Lobby. You can also find woodgrain scrapbook papers online.
Step 3 – Add Your Letters
You're going to need letters for this craft. I used my Silhouette cutting machine to cut my letters, but you could always find pre-cut letters at the craft store, print letters and cut, etc.
Whatever is easiest for you. There are options if you don't have a cutting machine.
I really wanted a drop shadow effect with my lettering, so I cut out two sets of letters in the same size but different colors. I laid out my first set of letters, then added my Mod Podge. Once it dried I then added the next set of letters.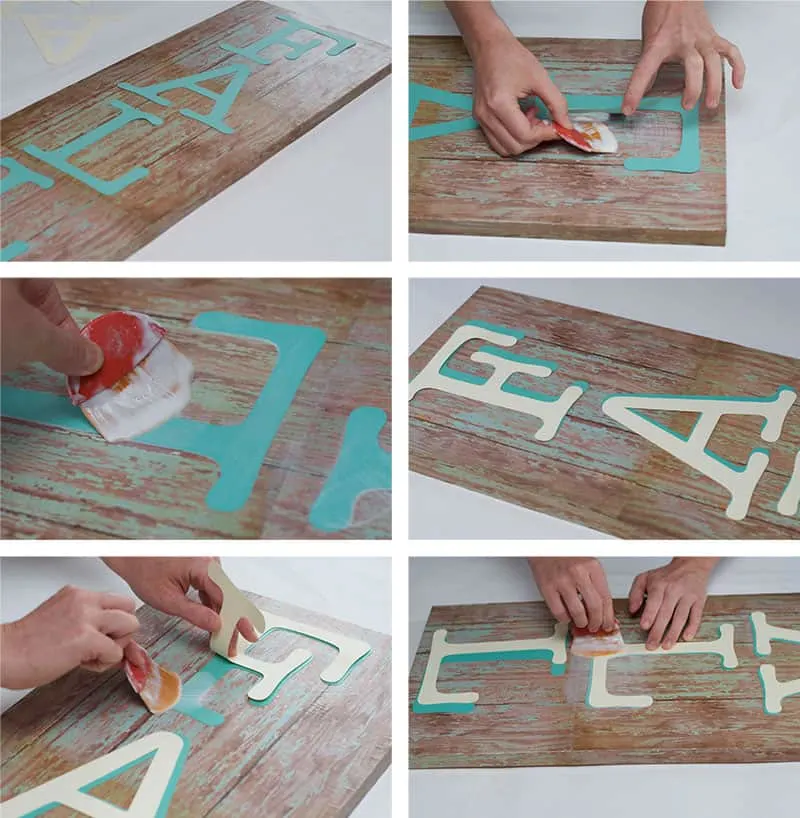 Finishing Touches
After I let my fall sign dry for an hour, I was ready to display! Decorate around your sign with pumpkins, like these coastal sand fall pumpkins.
What do you think of my autumn sign?!?! I'm super excited how it turned out, and I love the colors here. I feel it fits my style perfectly.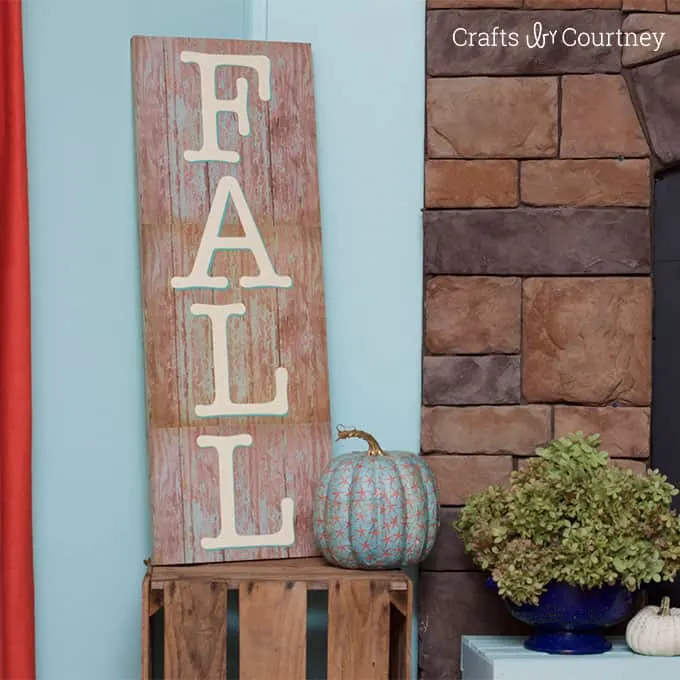 Fall is such a fun time to decorate, it's just makes me feel so happy. What about you? Now I need to make a sign like this for Thanksgiving – and Christmas – and every other holiday!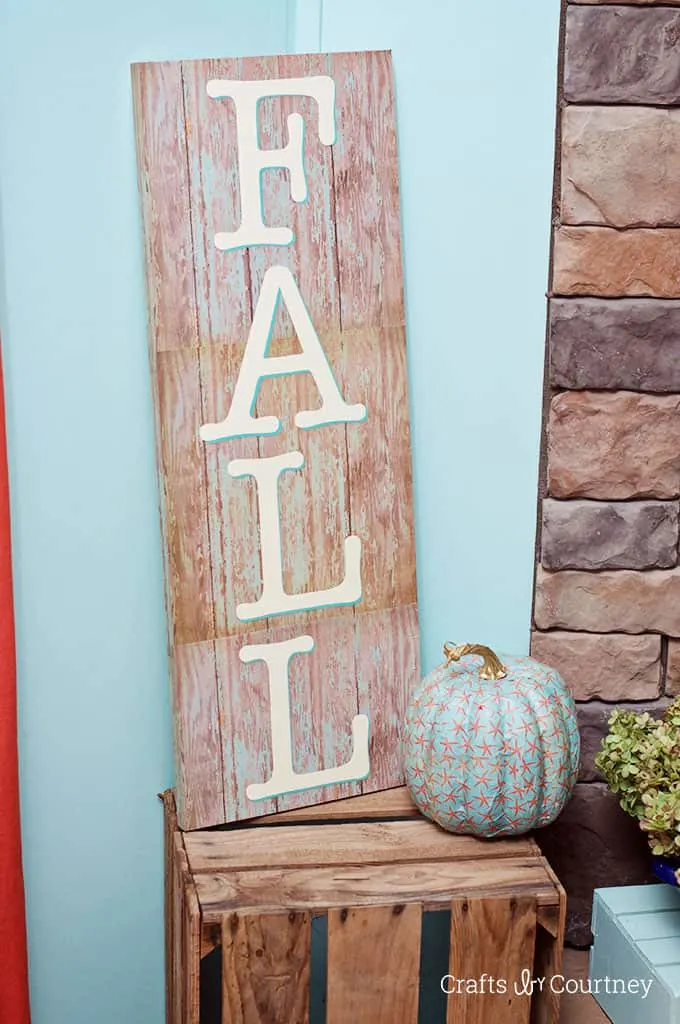 Learn how to make a fall sign the easiest way possible! This is a perfect seasonal craft for beginners.
Total Time
1 hour
20 minutes
Materials
Mod Podge Hard Coat
Wood - about 12" x 32" in size
Paper letters
Tools
Craft knife and mat
Ruler
Pencil
Instructions
Measure, mark, and cut the scrapbook paper to fit the wood (including the sides).
Add Mod Podge to the sides of the wood. Place the strips down and roll with the brayer. Add more Mod Podge as needed.
Add paper to the front of the wood. I started at the top, by adding a layer of Mod Podge to the wood then laying the scrapbook paper on top. Use the brayer to smooth out any bubbles.
Repeat until the top is covered. Let dry for 15-20 minutes.
Apply a top coat of Mod Podge and let dry for 15-20 minutes. Trim the excess paper off around the edges with a craft knife.
Use a cutting machine to cut out the letters, or use pre-cut letters from the craft store. For a drop shadow effect like mine, cut out two sets of letters in the same size but different colors.
Decide on placement and apply Mod Podge to the back of the letters; smooth down. Let dry and Mod Podge over the top.
Let the sign dry for an hour before displaying.
---
If you guys want to get even more crafting inspiration, be sure and visit my blog. I'd also love for you to check out the following ideas: