Learn how to paint acorns – they make the perfect budget fall craft! Pick your favorite colors for your painted acorns, then display.
Skills Required: None. Even if you've never crafted before, you're going to enjoy painting acorns. All you need is a paintbrush and paint; it's quite simple!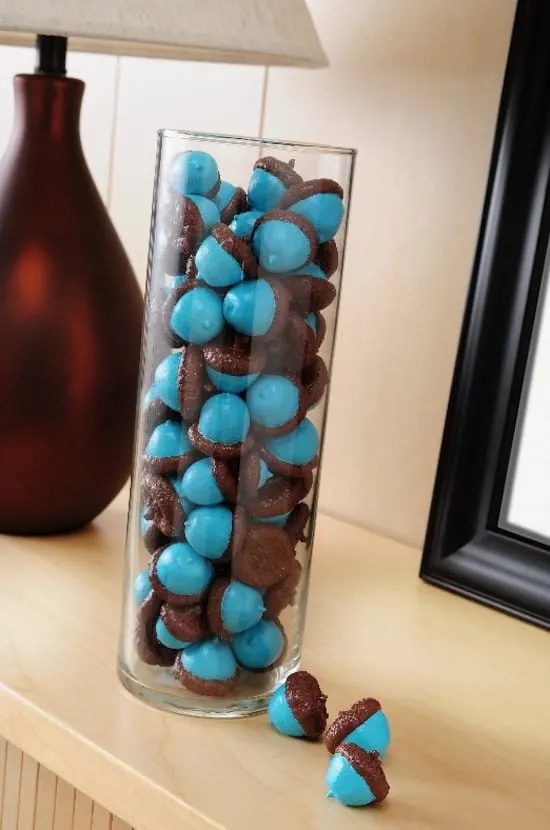 If you are wondering what I think about in my spare time, then let me give you a clue. Painted acorns. And I'm going to teach you how to paint acorns today.
I recently filmed some Mod Podge videos, and outside the studio door were some enormously wonderful acorns. Like a good Mod Podger, instead of thinking about them as squirrel food, I thought about what I could do with them that would be crafty and fun.
Paint them, of course.
I present to you my fall acorn display. I got the color palette from a post I did another blog . . . . then I sealed my nuts with Mod Podge. Now stop laughing and read the instructions. This is so easy, you won't believe it. It's also budget crafting at its finest!
(check out our fall crafts for adults and Dollar Tree fall crafts for more good ideas)
Painting Acorns
Gather These Supplies
Acorns – preferably on the large side; otherwise you will be painting for two centuries
FolkArt Acrylic Paint – Calypso Sky, Maple Syrup, Titanium White
Paintbrush
Satin Mod Podge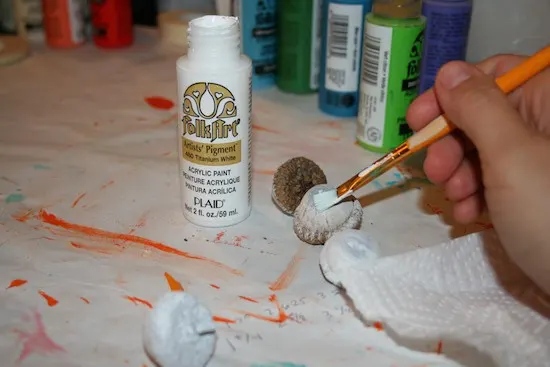 I'm going to tell you that the basecoating step is up to you, but I chose to paint my acorns white first so that the color would really pop. It took awhile, but it's a pretty mindless task and perfect for when the kids are napping and you are trying to catch a little boob tube.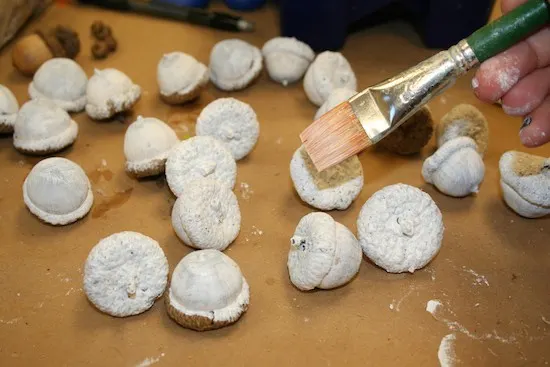 A little further in the nut basecoating . . . switched brushes to a larger size for more coverage. Allow to dry.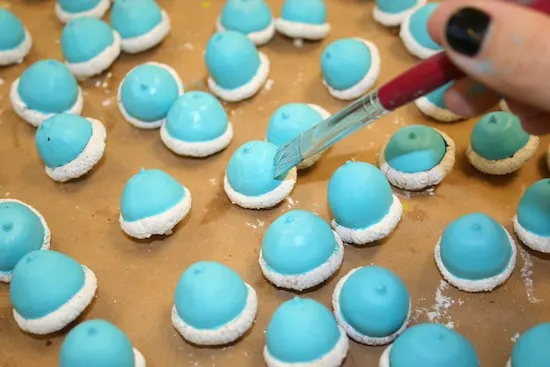 Time for the blue base! I have to tell you that while I was painting these, a little beastie (worm) crawled out of an acorn to see what I was doing to his house. If you see a hole, there might be a beastie in there. Just keep that in mind.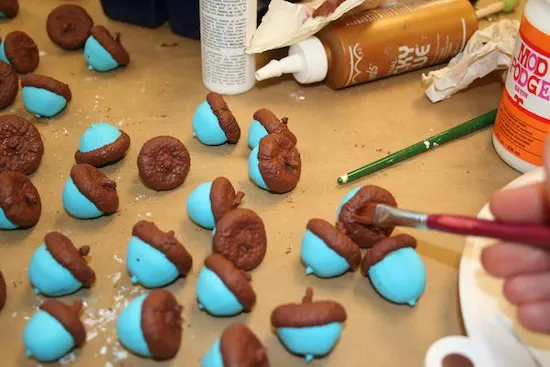 Time for the brown tops.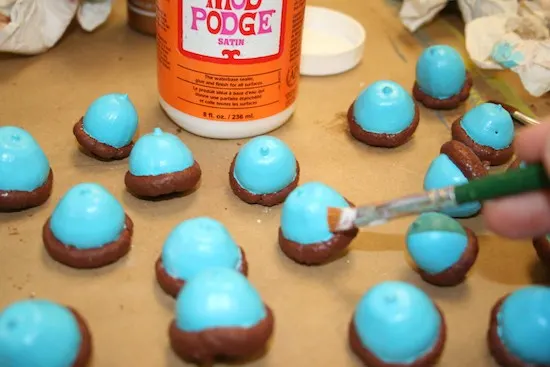 Seal these puppies up with a little Mod Podge, then display in a glass container. Aren't they cool? Pin them here: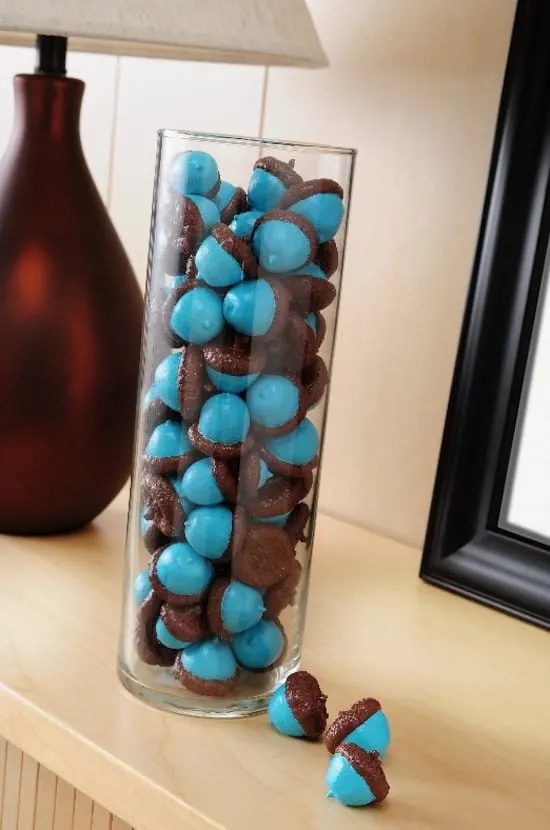 Are you ready to paint – and maybe teach others how to paint acorns as well? The acorn painting task is perfect for misbehaving husbands or children who haven't gotten good grades so far this year.
I have to admit though, I really enjoyed this fall decor project and spent $0 on it – I already had all of the supplies. You could also use this for a fun Thanksgiving craft. Nature makes the best craft surfaces, don't you think?
Yield: 50 acorns
Painted Acorns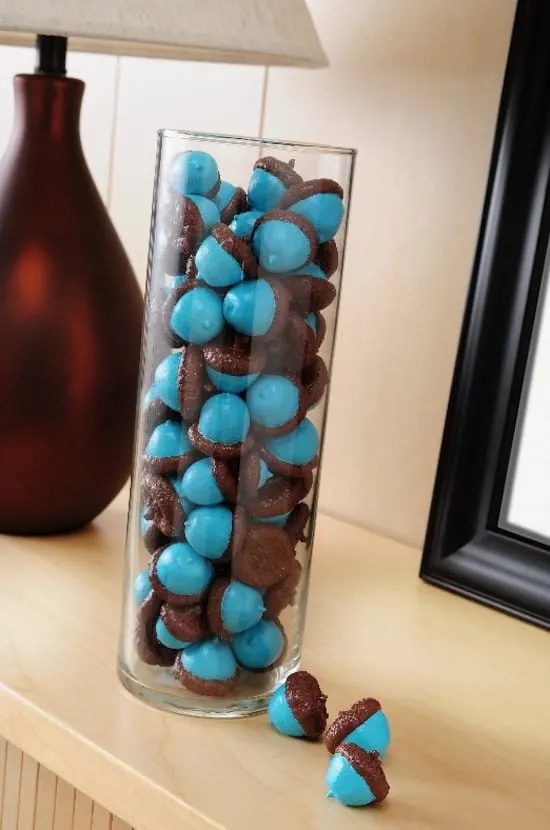 Painting acorns is easy! Learn how to do it to make a simple fall display in the colors of your choice.
Total Time
3 hours
30 minutes
Materials
Acorns - large are preferable
Mod Podge Satin
Acrylic paint - two colors
Instructions
Collect as many acorns as you would like; the larger the better. Wash them and let dry. Bake in a 200 degree oven for a few hours to kill any bugs inside.
Choose your base color. Paint the bases of all the acorns, one side at a time, using the paintbrush. Set aside on a covered work surface and let dry.
Flip the acorns over and repeat. You may need two coats of paint depending on the color you chose. Let dry.
Paint the tops of the acorns; again, you may need a second coat. Let dry.
Seal all acorns with Satin Mod Podge and let dry. Add to a vase to display.
Notes
My project was free - I already had the glass vase. If you need to get a glass vase, I recommend Dollar Tree.
---
Now that you know how to paint acorns, I'm going to share another article that I'm guessing you'll want to reference in re: the beasties – how to dry acorns for craft projects.
And I'd also love for you to visit some other acorn crafts. Because who can get enough nuts? This is also part of a collection of cute things to paint, so go check that out too.