Looking for easy DIY fall signs to compliment your autumn decor? Here are 12 styles – with rustic, farmhouse, vintage, and more!
When it comes to autumn, I enjoy decorating. That's because I really love the colors brown and orange (and even a nice yellow ochre shade) . . . after all, I'm the girl with the bright orange front door. The colors of the season inspire me, as well as the unique textures and smells.
If you're a "fall appreciator," you know exactly what I'm talking about.
Fall Wood Signs
This year my mom and I were discussing fall signs, as she likes to change out the one on her porch every month. She was thinking about some ideas for DIY fall signs since it's about that time, so I sent her some ideas. This list below? It's the very list I sent my own mother . . . so you know it's good.
If you're looking for some autumn signs to make, you're going to enjoy this list. Before I dive in though, there is one important issue I need to discuss with you. It's going to make or break your fall sign.
Choosing a Base
The first thing you want to do for any fall sign you plan to make is choose a base. There are a lot of possibilities, but here is what I would suggest you think about:
Pre-made, unfinished wood pallets (made for crafting)
Wood scraps from another project
Scraps from the home improvement store (sometimes they will even cut them for you if you ask nicely!)
Old pallet wood (learn more about it in my 15 pallet projects article on DIY Candy)
Wood surface from a thrift store
Old cabinet door
Canvas – either new or painted over from the thrift store (because it doesn't have to be wood!)
Whatever you decide, there's not much you have to do to prepare your surface. The nice thing about fall signs is that they can be distressed – and to a certain extent, the more distressed the better! You just need to make sure your surface is clean, and you're ready to begin your projects.
Besides that, the most common supplies you'll use are acrylic paint, Mod Podge, and stencils. There are a few other options though. That's what I love about these DIY fall signs. There's a little something for everyone! Keep reading to get the ideas.
DIY Fall Signs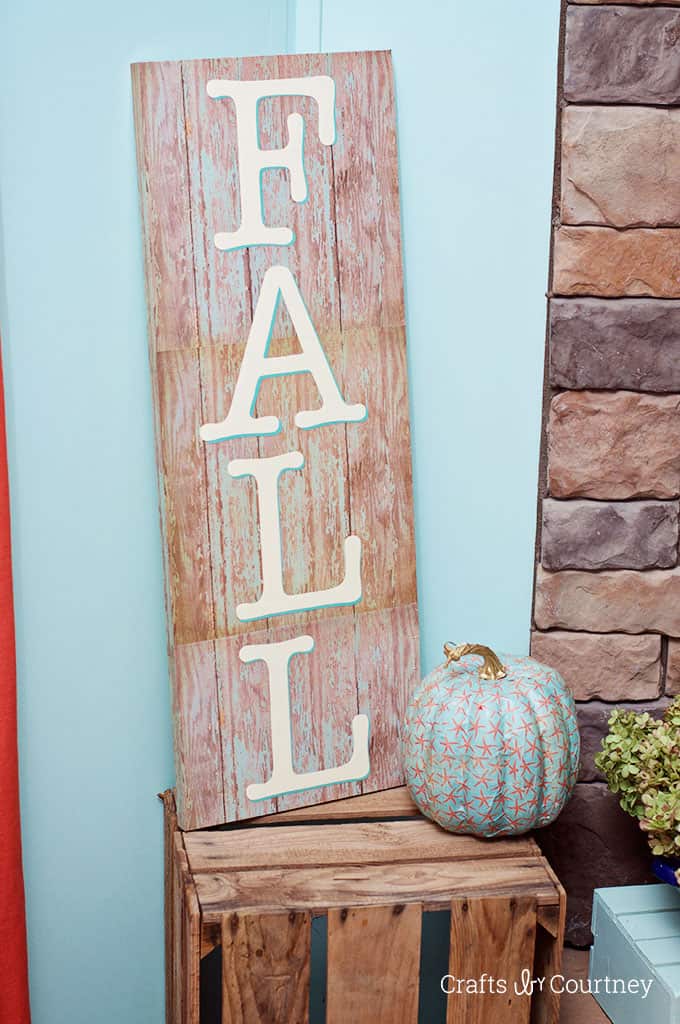 You can make your own fall sign in three easy steps! You're going to use wood, scrapbook paper, and letters. This autumn sign is easy to customize!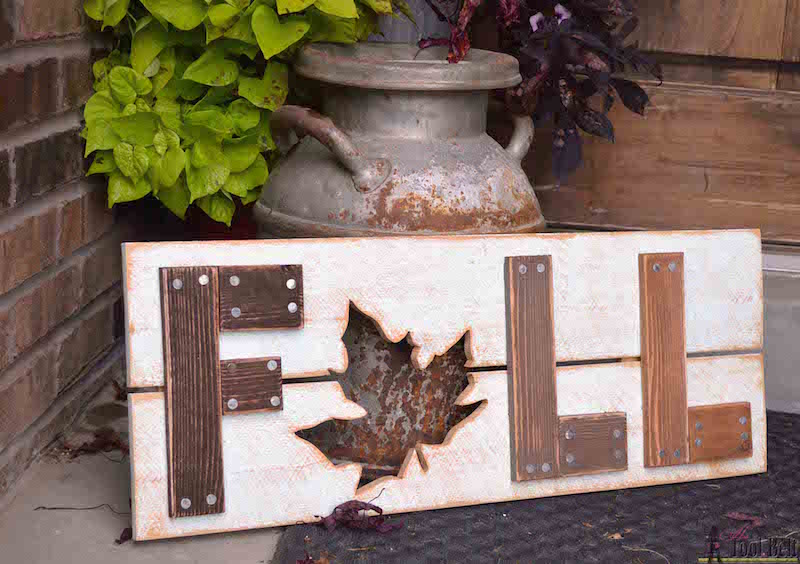 Amy really nailed the rustic look with this sign that uses fence pickets! Not only that, but the background is a shutter. I love the leaf cutout so much I can hardly stand it. She executed so well!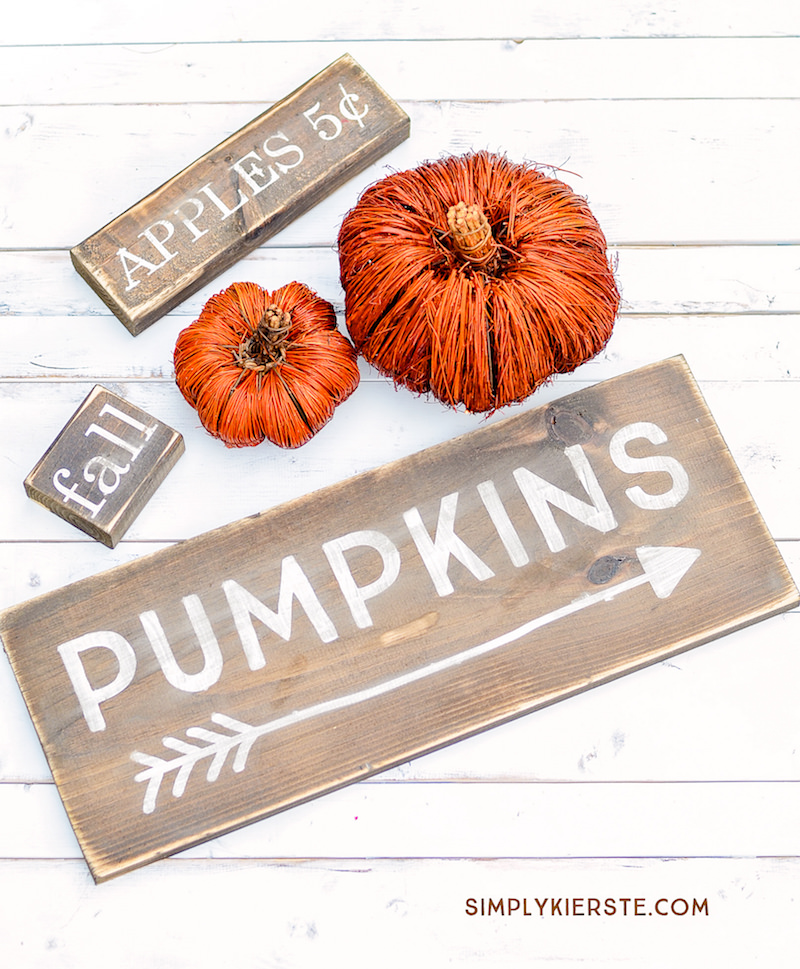 Kierste made these fabulous farmhouse style signs with pieces of scrap wood. The technique is really simple and even if you don't have crafting experience, you can make them.
This DIY fall sign is overflowing with awesomeness! It's kind of elegant, but not too elegant that you wouldn't pair it with just about anything. Plaid offers the free printable for the artwork on their site, which is a perfect bonus.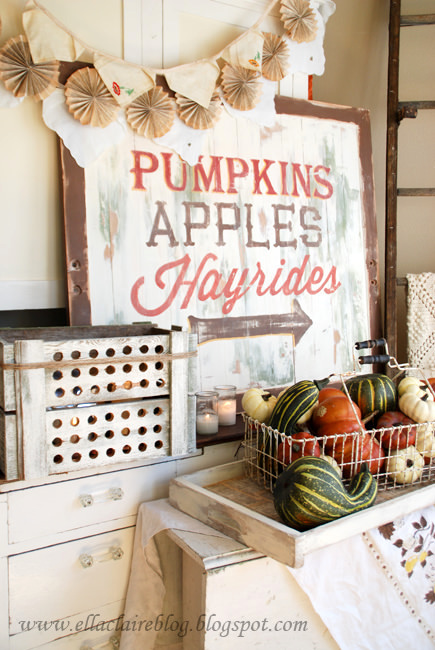 I love Kristen's method for making the paint look distressed on this sign – and that it involves grout! The background is just perfectly worn. Oh, and pumpkins, apples, and hayrides are my favorite too. This is one of my favorite DIY fall signs and I can't wait to try this technique.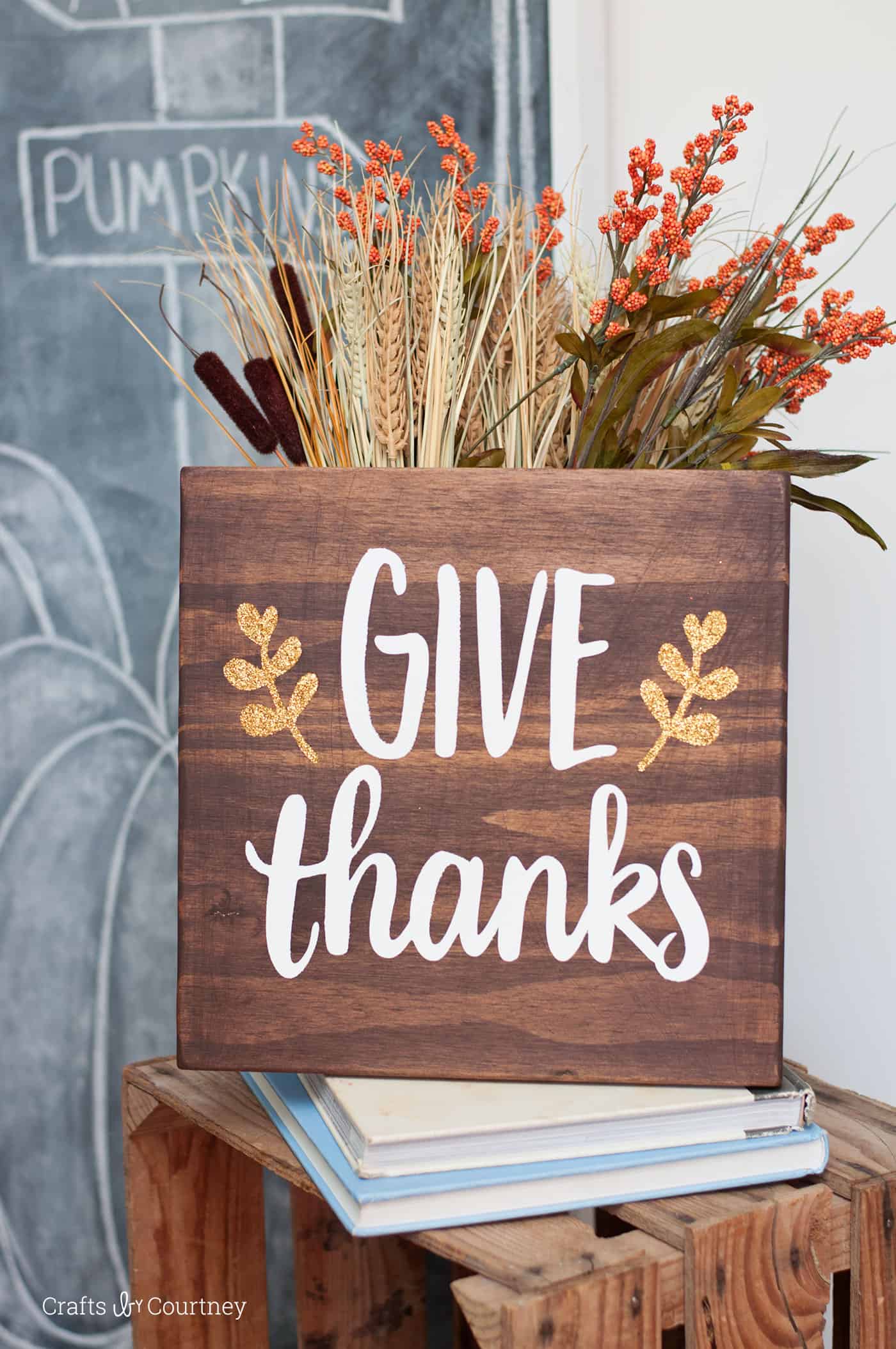 If you have a diecutting machine like a Cricut, this "Give Thanks" sign will be perfect for you. Then it's just a matter of painting and choosing your design (which is my favorite part!).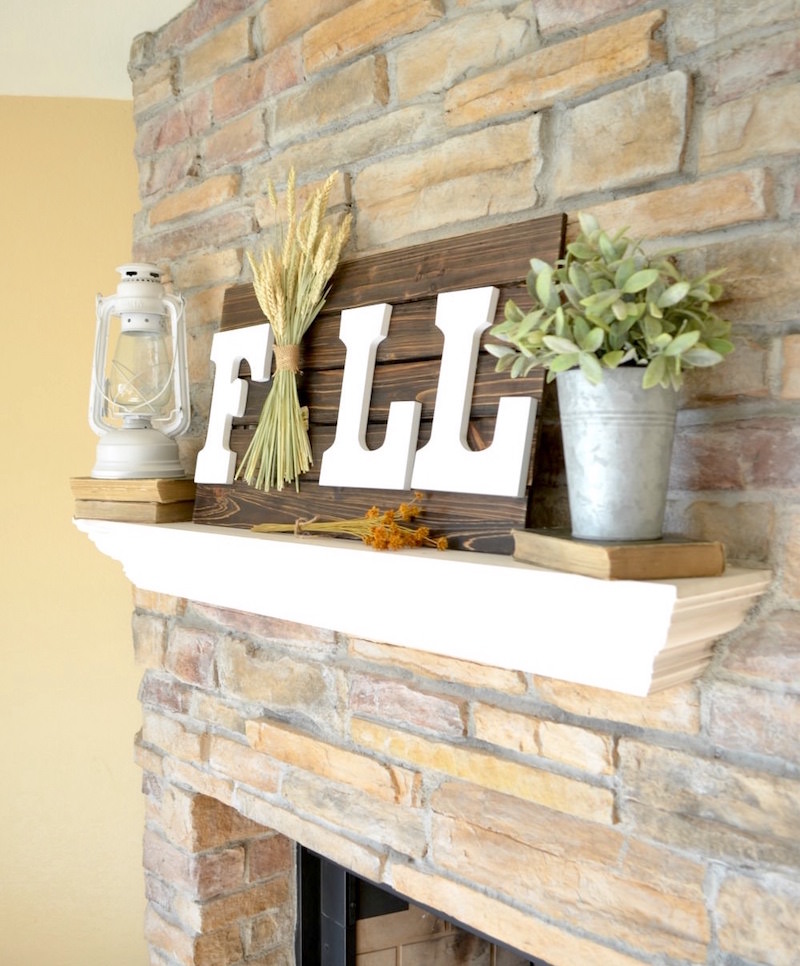 When it comes to DIY fall signs, Sarah is correct – this is pretty much the easiest ever! At least, it fits into the category of not needing to have craft skills to make it. Plus let's face it, the sign looks awesome!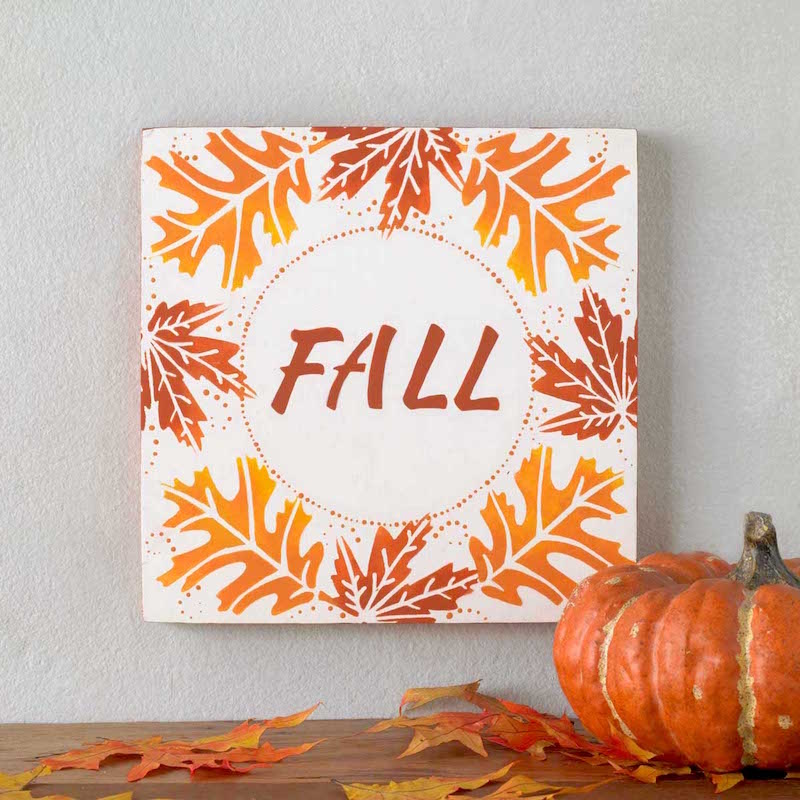 If you don't think you can stencil, I beg to differ. Anyone can stencil, but it's just a matter of knowing how to get clean lines. And the way to do that is to paint the area with Mod Podge first and let dry before using your stencil color on top. Now you're ready to make it!
This pretty fall season sign was made with a piece of scrapbook paper (under $1!), scrap wood, and Mod Podge. It's the perfect decor piece!
The metal letters make this sign! I don't know what the corrugated metal reminds me of exactly, but it's very barn-y and rustic. This sign would compliment a variety of autumn decor.
You don't need a steady hand to paint this autumn sign. If you don't get it exactly right, that's okay – it just adds to the character and charm.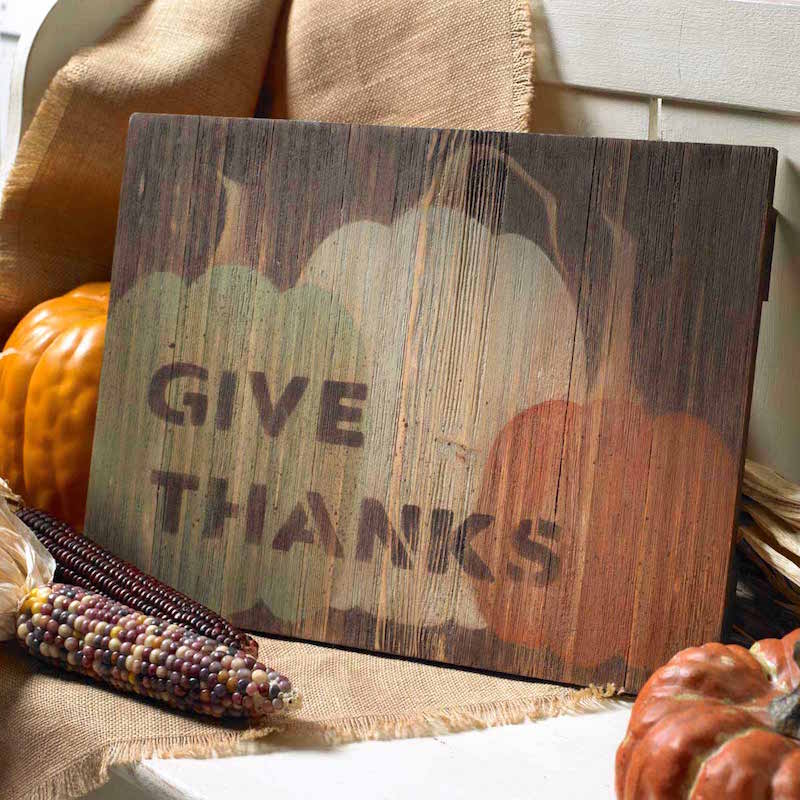 You'll have to wing it and paint your pumpkins freehand for this project, but the results are very beautiful. You can pick the paint colors of your choice to coordinate with your own decorating scheme.
---
Which of these DIY fall signs are your favorite? Have you tried any of these yet? Let me know in the comments!