Painted pumpkins are a fun home decor craft for fall and Halloween! Learn all about painting pumpkins, including the best paint, here.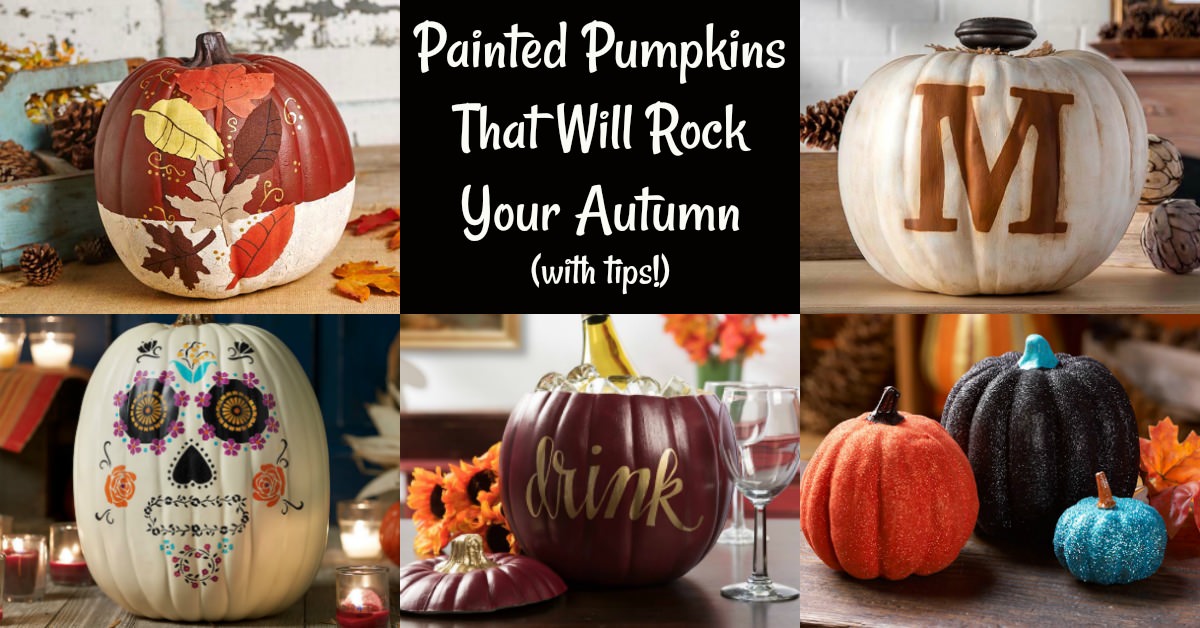 Have you decorated pumpkins yet?? I certainly hope so, though a lot of people love waiting until the last minute. While I love carving pumpkins, I really love painting them!
There's something to be said for buying a faux pumpkin at the craft store and doing something unique with it. Paint is a huge part of that, but Mod Podge is as well. I always use it to seal my creations.
Of course you can use any of these pumpkin painting ideas for real pumpkins, too. It's not going to make the gourd last any longer, but it's still pretty fun!
No Carve Pumpkin Ideas
For this roundup, I picked some of my favorite no carve projects, and I think you're going to love them as well.
When you don't carve a pumpkin, your best bet is to either paint it, or decoupage it, or both. That's what we're doing with all of these ideas. Some are one, the other, or a combination!
Best Paint for Pumpkins
If you're wondering what kind of paint to use, I can help you – because I've tried them all. You can use the following types of paint on pumpkins, real or fake:
The outside of a pumpkin (whether it is really or fake) is really smooth, so I find that watercolors (or anything runny) isn't as great for painting them.
My favorite type of paint is FolkArt multi-surface. It works well in terms of sticking to the surface of the pumpkin, and the colors cover well and remain vibrant (plus can tolerate some weather).
Spray Painting
Spray painting pumpkins is totally possible and not hard to do, though you need some patience. Place the gourd down on a paper bag and spray at least 12″ away.
You'll want to spray several times, using a light coat every time you spray. It's pretty standard spray painting, but you have to be careful around the curves. You also have to wait until the top dries so that you can get the bottom.
Pumpkin Painting Stencils
You can use any stencil, however, my favorite are the flexible or adhesive kind because of the curves. The cardboard or paper stencils only work well if you have a l-a-r-g-e pumpkin surface on which to use them.
Stenciling on punkins is pretty easy to do and fun. I usually like to basecoat the entire gourd, let dry, and then stencil using complimentary colors.
---
Are you ready to dive into these pumpkin painting ideas? Let's roll!
Painted Pumpkins
Get a ton of pumpkin painting ideas using a variety of mediums: chalk paint, acrylic paint, chalkboard paint, and more! Pumpkin painting is a fun activity for the entire family.
---
Which of these pumpkin decorating ideas is your favorite? Do you have any questions about these projects or any techniques? Let me know in the comments!